Author: Bill June 23, 2021, Updated: June 23, 2021
On June 26th, 2020, Celebrity Edge will the first cruise ship in 15 months to sail from the US with paying passengers.  Last week, a crew member on this ship tested positive for COVID-19, but the cruise line says everything is on track for this weekend's cruise.
Color Status Red
This initially came to light when some cruisers noticed that the CDC categorized Edge as 'Red'.  This color code indicates certain crew restrictions are to be in place, and other criteria must be followed, and is attained based on specific criteria around cases onboard the ship.  This CDC infographic explains what determines the color/status of each ship. The red status does NOT mean that the ship is not able to sail with guests.  It does mean that crew members will be required to don masks, limit socializing outside of work hours, change meal service (for crew), and other changes.  

We reached out to Celebrity, and a representative explained the status and situation:
"During last week's routine crew testing, all of our more than 900 crew tested negative with the exception of one asymptomatic positive crew member. That crew member has since been moved off the ship and all crew have retested negative within the last 24 hours. We remain in final preparations for Saturday's sailing and Celebrity Edge will sail with an approved CDC certificate. We look forward to welcoming our guests back onboard."
It should be noted that while all the ship's crew has been vaccinated, some were recently vaccinated, and will not be considered, "fully vaccinated" until June 25th, the day before the first cruise.
Vaccinated Guests Will Not Require Masks
All crew and 95%+ guests onboard upcoming Celebrity Edge sailings will be fully vaccinated by the sail date.  While crew may be donning masks, fully-vaccinated guests will not be required to wear masks once onboard the ship, which is inline with the CDC's Conditional Sail Order.  Two weeks ago we were onboard Celebrity Millennium when two vaccinated guests tested positive, were asymptomatic, there was no community spread, and for all but a few guests, the cruise experience didn't change at all.  You can check out our live blogs as well as a video summary where we discuss the way this was handled.
There are a lot of questions about onboard protocols, and for these sailings, the guest experience is expected to be relatively normal, except for capped capacity.  In this post we discuss the various rules and restrictions for upcoming sailings.  Note that many are specific to a port, ship, or individual cruise.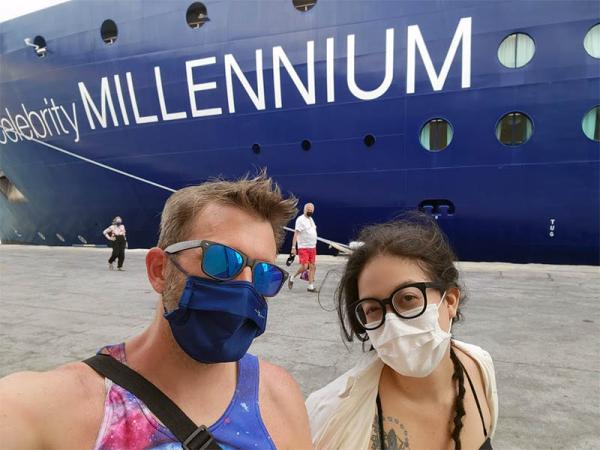 We'll be On Board Sharing the Experience with You
We'll be boarding Celebrity Edge on June 26th and staying on for the next two weeks, sharing everything we can about the return of cruising to the US. Follow us on Facebook, Twitter, and Instagram, and subscribe to our YouTube channel!  We will be broadcasting live, answering your questions, and posting lots of videos and photos of our journey.