Author: bill April 11, 2020, Updated: May 31, 2020
In the first of this two part series we discussed just some of the ways that the cruising experience could change after things start up again - especially in terms of planning and arriving at your cruise.  Once underway, some cruise for the onboard experience, and others for the ports, so we'll lay out our predictions for how those things may change as well.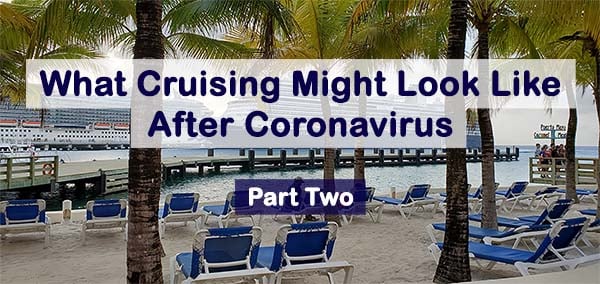 Guest Activities & Spaces - Bringing Passengers Together...or Not
Even the largest or the least densely-packed ships still have a limited number of places for a relatively large number of people to go.  Some lines however have in the past, had activities that pack guests in tight.  We're thinking of poolside contests, late-night dance parties, and in some cases mad rushes to buy $10 t-shirts that probably shouldn't have cost any more than that to begin with.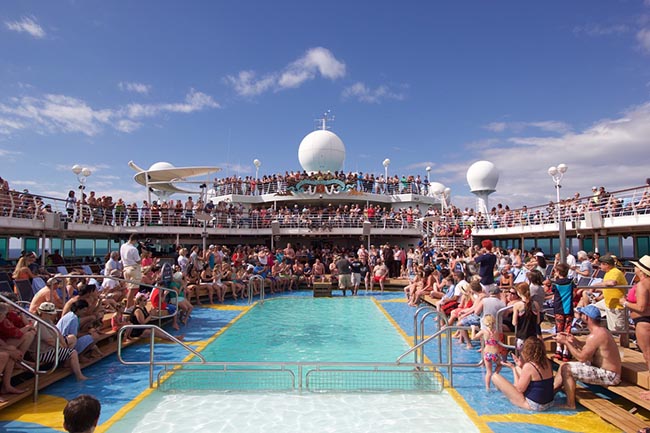 It would seem possible that crew and officers might limit capacities in certain public spaces so that these things can still take place, but with less crowding.  Some night clubs for example, have been capacity constrained in the past, with guests waiting to enter until some leave, and we could see this type of practice become more commonplace.  This of course is easy for spaces with flexible seating and layouts, but short of drastically cutting capacity, most theaters can't simply increase the spacing between seats.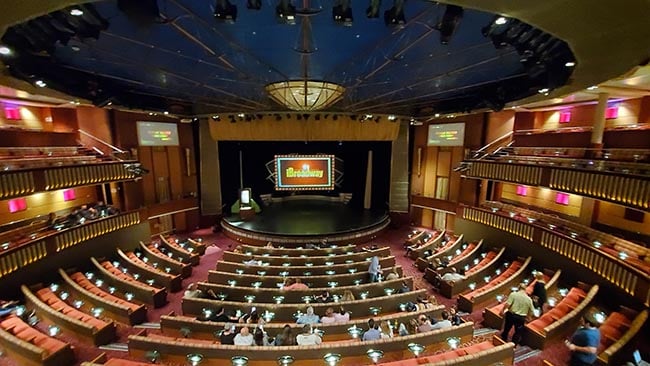 On some more crowded ships, this might also mean taking advantage of specialty dining venues for normal dining, especially during lunch or breakfast when they might not otherwise be used.  Reducing empty spaces in favor of keeping guests spread out could be the name of the game here.
These changes might be shorter lived than others - and of course guests will come in close contact with other guests regardless.  Still, if for no other reason than putting guests at ease while the mental wounds of this pandemic are fresh, it seems cruise lines would want to avoid putting guests in situations where they're packed tight - to the extent this is reasonably possible.
Spreading Out Entertainment
Somewhat related to the thoughts about onboard activities in general, entertainment options could change quite a bit for multiple reasons.  For one, if theaters and other venues do reduce capacity, it could mean an evening show with three performances instead of two.  Beyond that though, we could see cultural changes that have to be reconciled with new financial realities for cruise lines.
Every culture has different standards and expectations of personal space, and if these personal spaces become larger in the long term, then lines could need to move towards less-centralized entertainment options.  Instead of a big evening show in the theater and a house band by the pool, we might see more small performances (a guitarist by the pool, a singer in a lounge, etc.  Some lines of course, already do this to some degree.  Why isn't it more popular already?  Cost.  Bringing on more entertainers to add to the options costs money that lines don't have to spend right now - but there may be other ways.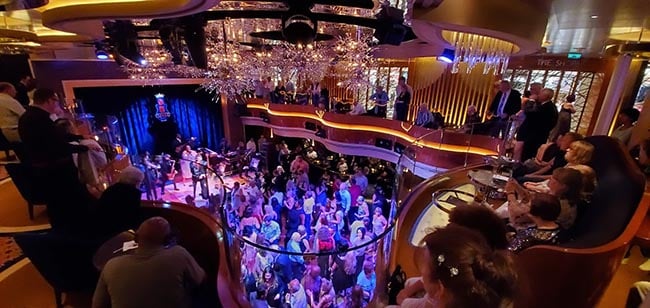 Lines already aim to have entertainers they can use in multiple ensembles.  This might mean a solo violinist that also plays bass by the pool by day.  Getting more of these "combination" acts could increase options for entertainment coordinators and cruise directors.  Doing this could also mean paying those performers more, but that is easily offset by having fewer entertainers overall, and freeing up guest staterooms so they can be sold instead of given to some staff.  These changes are easy to imagine for musicians, so perhaps the take-away is that comedians and others that aren't well-established headliners should be ready to take on some additional rolls.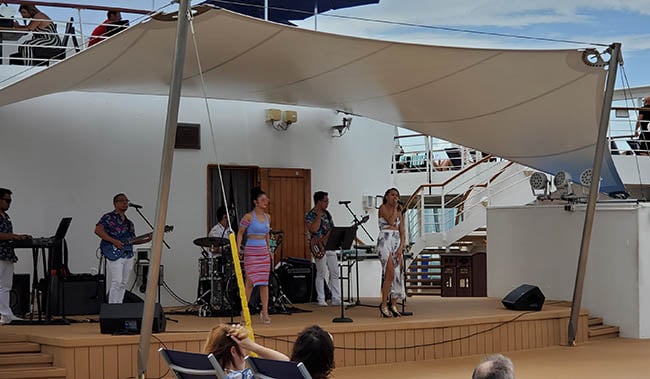 Ports: When You're a Guest, You're Not Family
It's easy to get stuck in a mental bubble when cruising, especially in parts of the Caribbean where areas right by cruise ports can seem rather homogenized.  The reality is that when you arrive in a port, you're entering a country that gets to make the rules for your visit, and while tourism is a big economic driver for many places that ships frequent, nations must still look out for the wellbeing of their residents.  
Much like embarkation procedures might change, similar things could be in store for disembarking in ports of call.  Customs and immigration authorities already request manifests with guest information before a ship is allowed to disembark guests, and there could be new requirements to what comes with those manifests.  Might some ports require titers showing antibody levels for some diseases?  Vaccine records?  Guest health declarations and more rapid screening procedures, such as temperature checks would seem an almost certain reality.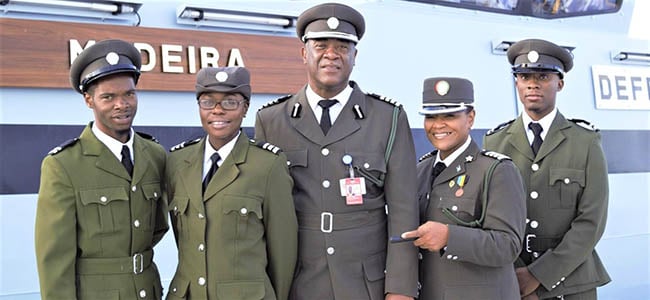 Imagine hearing this on your next cruise:
"Good morning, this is Captain Unger from the bridge.  We've arrived in the waters just off Sint Maarten, and are waiting for the local authorities to validate all guest health records sent by the ship, as well as guest and crew coronavirus antibody titers passed along from the lab in Miami.  Once this is complete we'll take on the pilot, and we expect to be alongside roughly 30 minutes later.  As we wait, please enjoy complimentary breakfast in any of the six restaurants we've opened for the morning."
Changes like this could mean some delays disembarking, which could likely be offset to some degree by schedule adjustments.  This could also open up new businesses, such as lab services run in embarkation ports so test results can quickly make it to the next port, or medical workers stationed at ports of calls alongside private security, ready to further evaluate any guest or crewmember for their fitness to enter the country.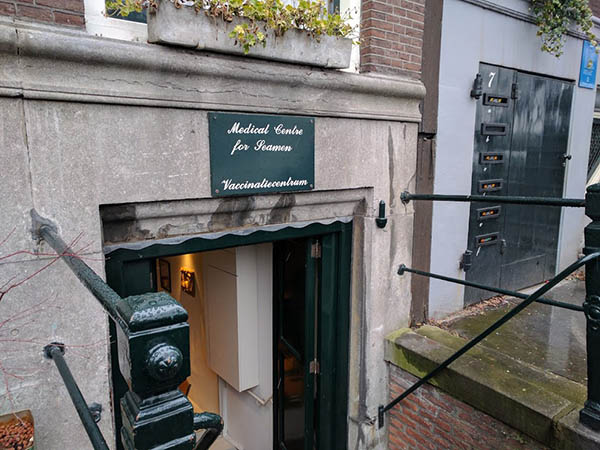 Various countries are almost certainly already in the process of reviewing ship quarantine rules, many of which likely haven't been dusted off in decades.  The process of allowing a ship to dock and evaluating individual persons is one thing - but what if as a whole, the ship's passengers are seen as a risk?  How does a country balance the safety of its people, with tourism-based economies?
Enhancements to Onboard Medical Centers & Staff
Whether to help with a little motion-sickness, an illness, or perhaps a scrape from that ATV excursion you thought was a good idea in port, cruise ships already have multiple nurses and doctors, ready to tend to the needs of guests and crew.  Onboard they also have equipment for a battery of medical tests and procedures, as well as many pharmaceuticals.  Side note here: despite their capabilities, and what you may read on other sites, trust us that unless a ship is in the middle of the Atlantic, far from land, and the most urgent of situations comes up, a scalpel isn't touching skin onboard a cruise ship.
As new tests come out for new diseases, it would seem reasonable for these to be added to medical centers' regular inventory - especially when talking about rapid-antigen tests done in single tubes, with minimal reagents.  What is testing without action upon validation though?  In the case of a world more aware of the risk of rapidly spreading disease, there is likely to be far more personal protective equipment (PPE) available.  Instead of only providing PPE for medical workers and some extra for crew who might be assisting, an onboard supply of N95 masks and other equipment for passenger use would seem reasonable.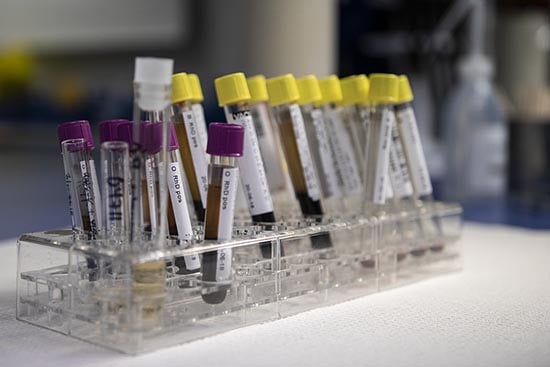 To bolster the medical staff, some security staff could be cross-trained in sterile procedure and other basic medical/patient-care tasks.  This would make it easier to screen large numbers of guests, whether at the request of a port, because of a known outbreak, or simply because guests will likely be far more quick to present themselves to doctors and nurses if they think they're feeling unwell during their cruise.  Changes like these could be a great way of increasing the level of care guests can receive, putting immigration agencies at rest, and instilling guest confidence, without incurring significant costs or taking up additional space.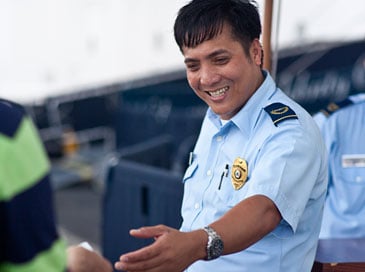 Summary
Space is limited on ships, and now more than ever, for cruise lines, so is money.  The common threads to a lot of the changes we can expect to see during your cruise involve doing more with less, and verifying guests are well before there is a problem.
You can bet that whether it's these or other changes, lines (as well as ports and tour operators) will work hard to ensure the most visible changes to guests are those that will increase confidence, and others will be as transparent as possible.  For those of us who are chomping at the bit to get cruising again, we'll likely be pretty amenable to changes that help make that happen - except for those drink package price increases.
Check out the video we posted on why planning your future vacation today can be a great way of looking forward.