Author: Bill December 30, 2021, Updated: December 30, 2021
The final day of any cruise is a bit depressing for many.  With most Caribbean Virgin Voyages cruises spending that last day at The Beach Club at Bimini however, there is a lot of fun and relaxation to distract you from the reality that work be just a day away.  For us, we relaxed, even tried out a new activity, and then enjoyed a very peaceful final evening on board Scarlet Lady.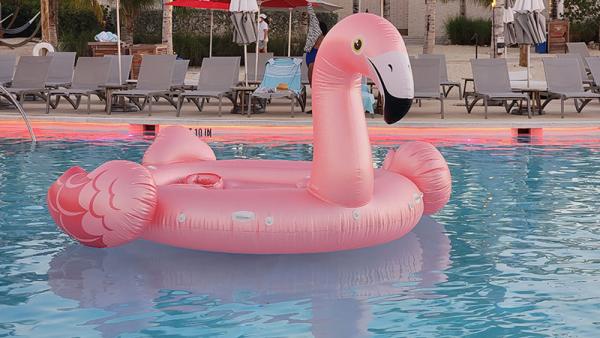 A First Time Diner 
If I sailed any other cruise ship and found out that they had a diner that serves breakfast all day every day, that's where I'd eat breakfast every day. See, I don't do mornings, so it seems ideal.  Scarlet Lady, however, has later breakfast options than most ships, so it wasn't until my last morning of this cruise, the 14th morning I spent on this ship, that I tried Diner & Dash.  Diner & Dash not only serves breakfast all day, but it's located in The Galley (the casual food-hall concept), so depending on the time of day, you can order other items at the same time.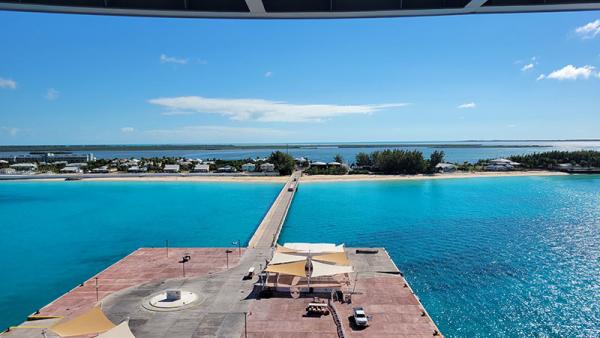 As we were docked at Bimini, the aft of the ship had a lovely view of the island, so I sat down at a tale outside and ordered a custom omelet, espresso, and vegan sausage.  Virgin Voyages is a particularly great line for vegans and vegetarians.
The Beach Club at Bimini - Many Options, None Required
In Bimini, guests can enjoy the casino at the Bimini World Resort, excursions leaving from Kayak Beach (a short walk from the pier), and self-exploration.  The main attraction, though, is The Beach Club.  To get to there, you walk off the ship and get on a tram, similar to what you'll find at Walt Disney World. About five minutes later you walk right in - easy.  Enjoyment of the facilities, and the food, is complimentary.  
Virgin sells this resort as an Ibiza-like experience, and to be honest, that's a bit of an oversell, or at least a poor description.  Never the less, it is our favorite cruise line private destination.  The quality of the food, furnishings, and overall experience trumps what all other lines offer, though for families with young kids, Royal Caribbean's Coco Cay is pretty great.
We spent the first part of our day just hanging out by one of the pools.  There is plenty of seating, and while our cruise was at just under 50%, I don't suspect seating will be any challenge at full occupancy in the future.  One of the pools has a bar right up against it (though not a swim-up bar in the traditional sense) with some chairs suspended from the ceiling, allowing guests to dangle their feel in the water while sipping a drink or just relaxing.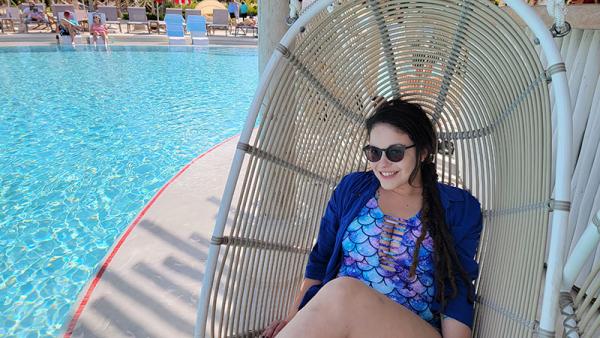 As the day went on, the hype team got the crowd going near the other pool, giant inflatable animals/rafts were brought out, and some merpeople were even spotted.  Something I liked on this sailing compared to others, is that they seemed to keep the eastern pool the "party" pool, and the western pool was still lively, but a lot more relaxing and not as loud.  Both sides have all the same amenities though: a beach just steps away, a dining area, a bar, plenty of servers walking around to take orders, and shady spots as well as places to get some sun.  .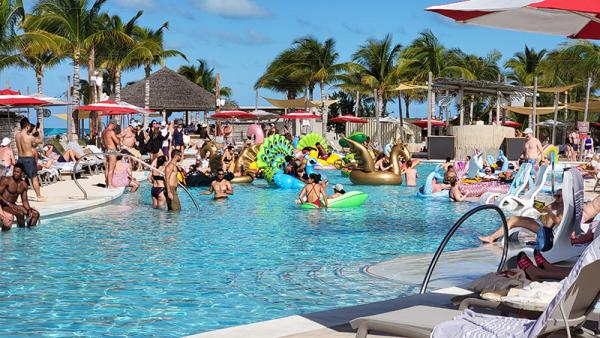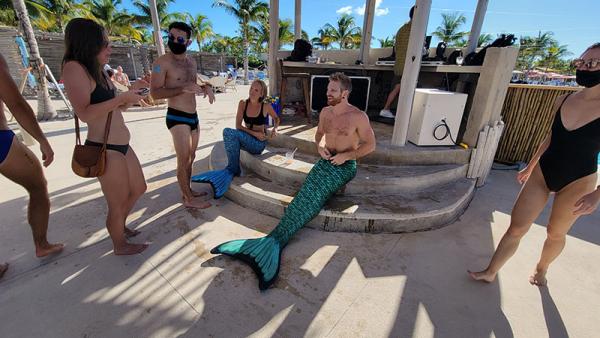 The food at The Beach Club is worthy of mention.  I love cruising, but I've come to plan my day in a way that I don't have to eat the food at cruise line private destinations.  Except for MSC's Ocean House, which is only for Yacht Club (suite) guests, and Royal Caribbean's Coco Cay Beach Club (which carries a significant up-charge), the food at cruise line private destinations is just okay at best.  It's usually some sort of BBQ, with limited options, served buffet style.  Not only is the quality of the food excellent here, but there are a good range of options, and they even change the menu half way through the day.  I've enjoyed pretty much all of the vegetarian and fish options they have available at this point, and the rum cake is probably the best I've had anywhere.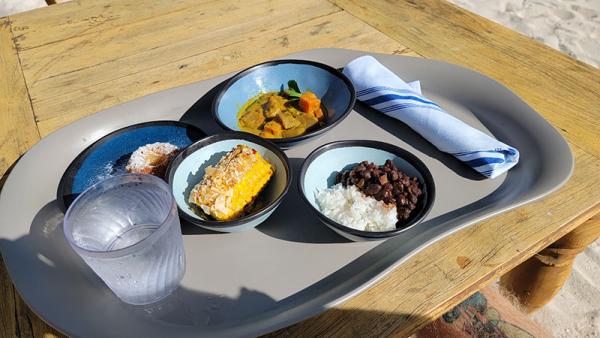 After relaxing, eating, and drinking a bit, we opted to try an organized activity at The Beach Club, as we'd not done that before.  Called, "We Run This Beach", the entertainment team (including the awesome Jordan) got sailors into four teams to compete in several activities.  These included timed sandcastle building, a bucket-brigade challenge, speed tic-tac-toe (hugs and kisses, to non-US readers), and more.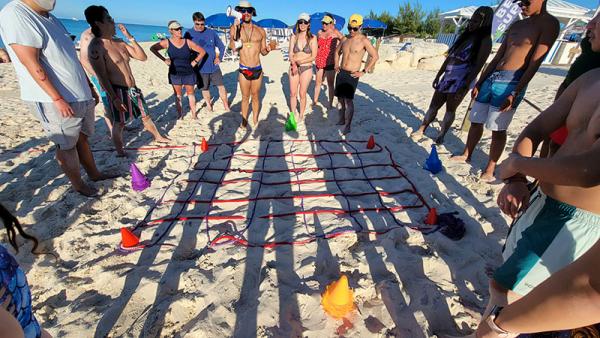 Many of the challenges were somewhat physical, but significant athleticism was definitely not required.  There was one major exception, and that's happened at the end.  Our team tied with another and they broke this tie with a game of tug-of-war.  Larissa opted out of this to avoid injury (foreshadowing) so the other team dropped one person from their team.  I thought we had little hope, as the other team was not only strong, but probably outweighed us by 30%.  Determination and strategy served us well though, as we won!  The only casualty came during a loud pop originating from my back near the end of the game, and is why I suspect I'll be writing my next several articles sitting as if I am in finishing school.  Whatever, we won.  Who needs to be able to bend over, or comfortably move their body in any direction?
All of Virgin's calls on Bimini include late stays - at least until a bit after sunset.  This keeps the day from feeling rushed, but also makes it so you can enjoy the setting as it transforms.  The sun gets low in the sky and bonfires turn on along the beach, with red lighting around the pools' edges.  We stuck around a bit to enjoy this, and watched Phantom Folktales, who do the pop-up shows onboard, come out to sing songs and play music at each of the bonfires.  This wrapped a beautiful and fun day in port, and one that was fun, while considerably less indulgent as our first visit: Scarlet Lady Day 3 Mermaiden Voyage - Poppin' Bottles @ Bimini Beach Club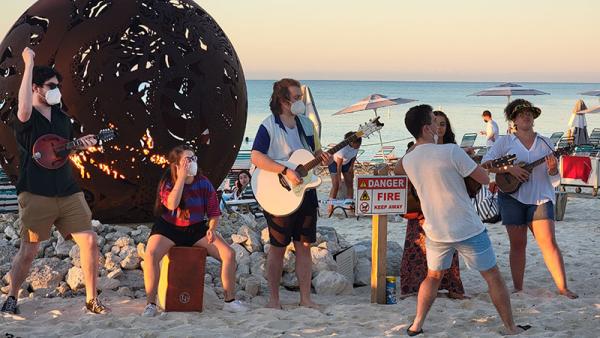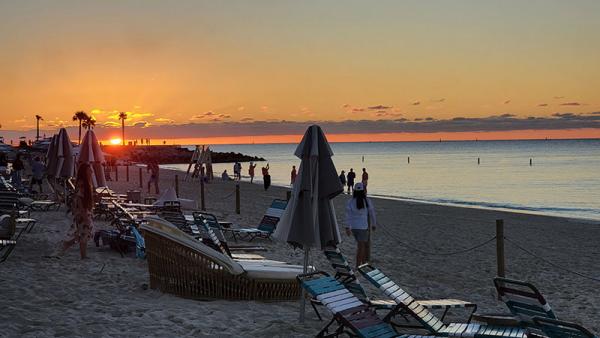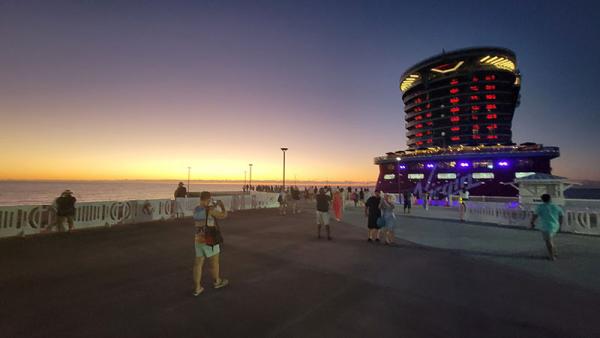 Taking it Easy
This year there are three ships I sailed at least twice in short succession, and I realized a really nice perk of this: it takes the pressure off.  On this cruise, especially by the last night, I didn't feel the pressure to see and do it all.  Following a badly-needed shower, Larissa and I decided to have dinner in our room.  Once again, enjoying Ship Eats.  Standard cabins on Scarlet Lady aren't large, but fortunately the way room service items come makes it a bit easy to leave food stored as you enjoy the other courses.  We ended up staging on the vanity, and then enjoying our meal on the sea terrace.  The cool weather (by Caribbean standards) along with the great food (vegan berry cheesecake for the win) made for a lovely and intimate dinner as we sailed from Bimini.
Following dinner we realized we needed to pack, but once that was done I did need to leave the room for a little bit to stretch my ailing back.  I hopped in a hot tub at the Athletic Club and enjoyed some peace and quiet.  In fact, it was oddly quiet on deck, and around the ship - though the Manor (nightclub) I found out, was hoppin'.  
Eventually I dried off and even though I wasn't hungry, we got pizza, ice cream, and then a nightcap.  The Pizza Place (that's the name) and ice cream shop (Lick Me 'til Ice Cream) on this ship were just too good to not enjoy once more, and it just felt like the right way to close out the evening.  Our last drink was enjoyed at the Sip champagne bar, which, while popular, is often a more relaxed place for a drink at night.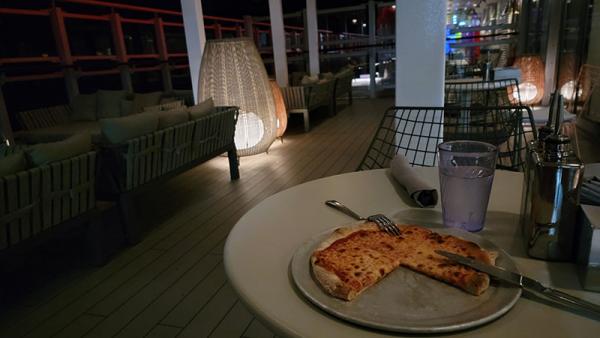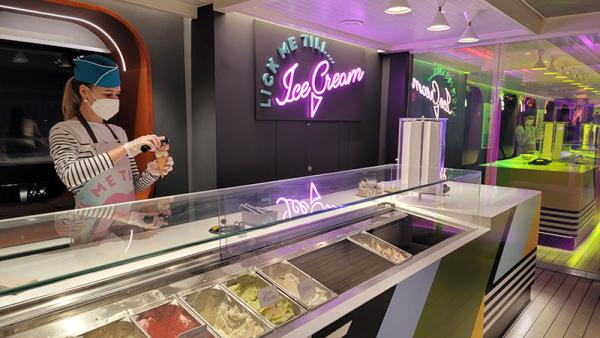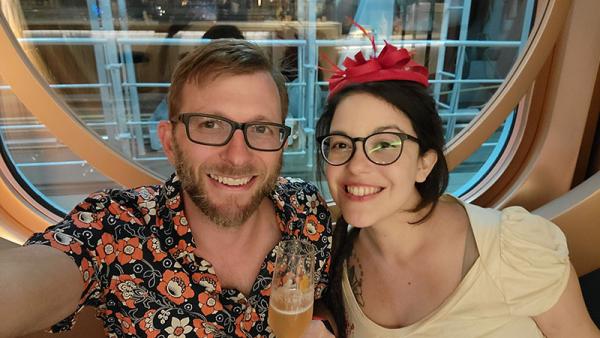 Disembarkation Morning
Virgin Voyages has you choose your departure time in the app anytime starting on the last day of your cruise.  That time isn't enforced, but helps keep a steady flow for disembarkation, which runs later than many cruisers are used to.  We left our room for good at around 9:20am and had our final breakfast at Razzle Dazzle.  This has become somewhat of tradition at this point, which is comforting, despite the sadness of a great trip coming to an end.  I went pretty traditional on this morning, with the Razzle Dazzle Breakfast (eggs, potatoes, tomatoes, and vegan sausage), plus some sweet toast with colorful sprinkles.  The real winner though was the apple pastry that was fantastic, but photographed like a ball of uncooked dough, so just imagine something pretty and very delicious.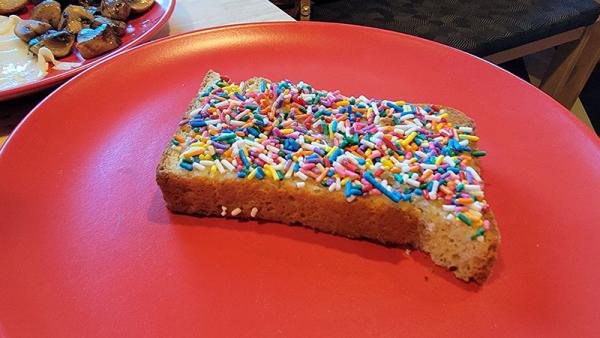 As fortunate as I am to cruise so often, this was a particular sad departure.  In the past few months this ship has really started to feel like home, in a similar way that Edge feels to me (though they're still quite different experiences).  Scarlet Lady is comfortable to me, and stepping off I realized that despite having more cruises ahead, I don't have another Scarlet Lady cruise on the horizon.  We're leaning toward a June cruise, and again, while I'm the luckiest person I know, June seems a long time to be away from home.  I'll bet that next month's group cruise on Celebrity Apex helps with that feeling though.  In fact, in the terminal as I approached customs, I got an email saying that my upgrade bid was accepted on Apex, so we'll again be enjoying a Sky Suite.  Now that's how you end an unconventional holiday cruise.