Author: Bill August 14, 2021, Updated: August 16, 2021
The first (and only) full day of our cruise started with docking at Coco Cay.  Because this was my first visit to Royal Caribbean's private destination, I wanted to see it all.  Starting with complimentary in-room breakfast was a good way to save time and not oversleep so we could have a perfect day.  Of course we had plenty to do both on and off the island.
Perfect Day at Coco Cay
Many cruise lines have private destinations (islands, or just stretches of beach).  Royal Caribbean has several, but their first, and perhaps most interesting, is Coco Cay.  The island is located in the Bahamas and for years was relatively rustic, with no pier and relatively modest accommodations - but of course with beautiful beaches.  Several years ago, however, the cruise line started a major project on the island and transformed it into what they now call, "Perfect Day at Coco Cay".  For the sake of brevity, I'm sticking with "Coco Cay".  This project included the addition of multiple restaurants and bars, a massive pool called Oasis Lagoon, and significantly, Thrill Waterpark, with slides, a wave pool, and other attractions.  The beaches, as well as some dining and water activities at Coco Cay are all complimentary to guests - though there are some up-charge areas, including the water park and an area called Coco Beach Club which offers elevated facilities, amenities, and dining.  You can click the map below for a bigger view.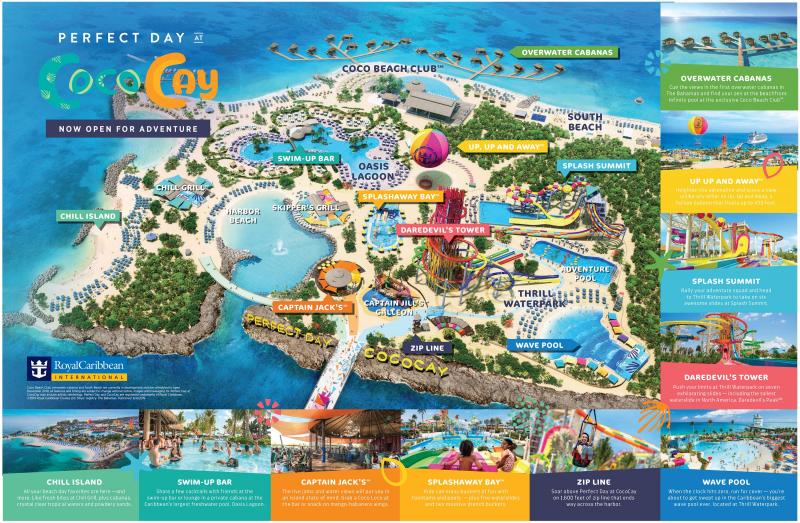 My Initial Impressions of Coco Cay
Upon stepping off the ship, there were small electric carts/shuttles ready to take us down the pier and near the main entrance.  From what I understand, these are always offered, and because there were so few guests today, there was no wait for a ride at all, so almost no one was walking.  I'm all for a nice walk in a pretty place, but I figured we'd be getting in plenty of steps in the sun, so we jumped on.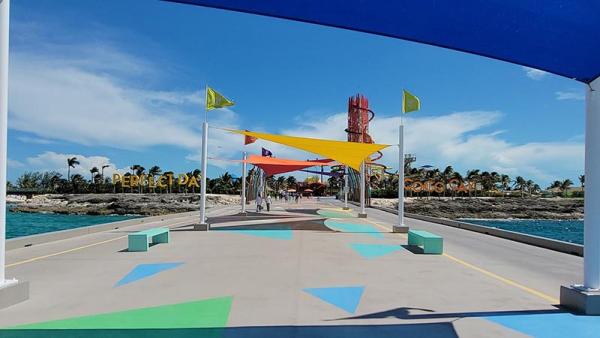 My first thought was we got off the cart was that things looked very well-polished, but a bit too manufactured.  Immediately in front of me was a large entertainment space called Captain Jack's, a pirate ship with splash areas for kids, and the entrance to the Thrill Waterpark (with the 135 foot Daredevil's Tower).  For a moment, I thought maybe they'd done "too much" to the island and turned it into a theme park of sorts.  The brightly-colored areas and plastic facades were cute, but not for me.  I didn't want "family themed," but I quickly realized this was just one small part of the experience and the island.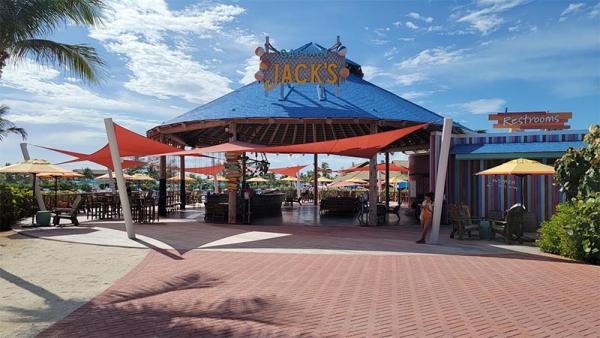 Finding My Perfect Day
Our first stop was to the Oasis Lagoon, which is a 33,175 square foot pool (the largest in the Caribbean) that has a gradual entry area, a swim-up bar (featuring 'dry seating' on the other side as well), and is surrounded by sandy areas with shaded loungers.  The pool is so large, with so many enclaves and sections, that a bridge goes over the middle of it so you don't have to walk all the way around.  We set up shop in the sand and had some drinks at the swim up bar.  As much as I'm not a big "hang out by the pool" person, I really liked this.  Good drinks, warm air, shade, and comfy seats in the water.  What's not to like?  One neat touch is that the entrance to the pool as well as the area around the bar have a somewhat padded feeling, and I can imagine that if you're standing in the pool for a long period, perhaps socializing, this is a nice feature.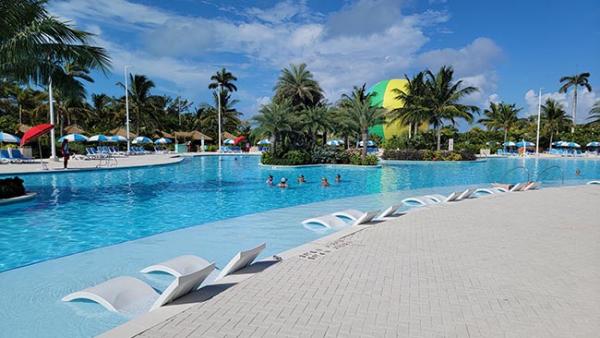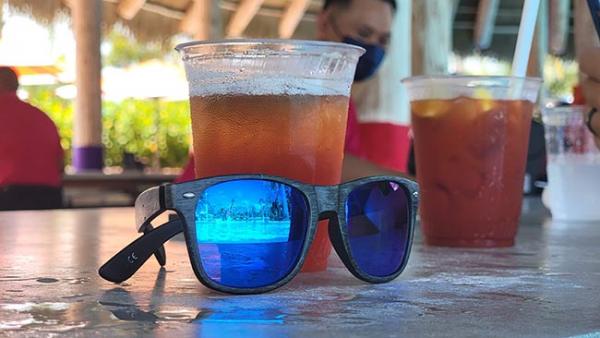 After a couple drinks I wanted to see more of the island, so we started walking and found Chill Island.  This area is apparently part of the "original" Coco Cay.  The beach sand was soft and white, the water turquoise, and there were pretty breakwaters off to each side.  Personally, when I picture a private island, this is what I imagine.  While relaxing here, you're just steps away from Chill Grill where you can get a variety of snacks and lunch items - and of course, there are bars sprinkled about the area.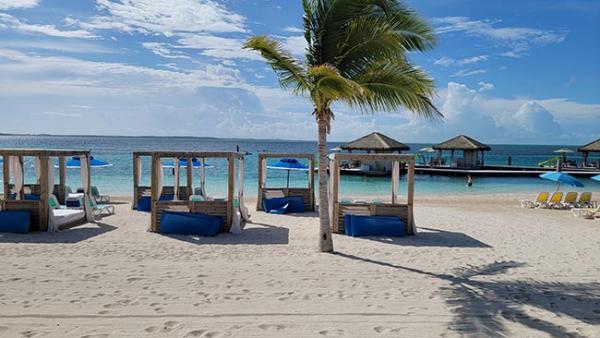 Not far from Chill Island is another stretch of beach near the Coco Beach Club.  Here I immediately noticed a floating bar, which many friends had talked about in the past.  It's probably about 75 feet from the beach, and depending on the tide, you have to swim or dog paddle for at least a few feet before climbing up onto the wooden structure with a bar in the center, seating on three sides, and plenty of standing room with holes in the railing to serve as cup holders.  I liked this arrangement more than I thought I would - though I was hoping to see some stingrays or sharks, which others said are commonly seen from here.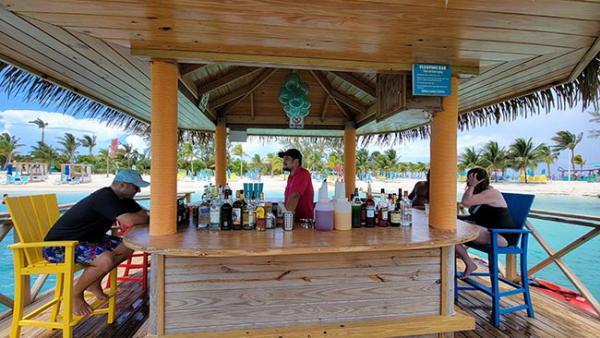 While there were only a couple hundred people on the island for our visit, the capacity is 9,000 to 12,000 people, and guests tell me that even when a ~6,000 passenger Oasis class ship is visiting, there is still plenty of space and things don't crowd much. For me, I don't mind being at a popular place, as long as I don't have  to hunt for somewhere to relax, and by all accounts, the massive expansion of this island makes this a non-issue.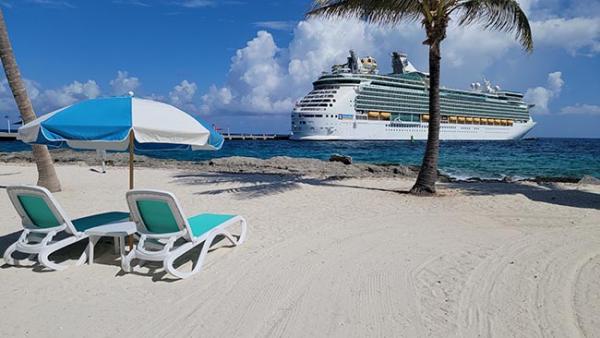 Trying Out Thrill Waterpark 
Admission to the water park varies from cruise to cruise, but it's often $100 or more per person.  There is an option to purchase a poolside cabana, which includes water park admission, and for families of four or more, this represents, to me, a better value.  For our Simulated Voyage, Royal was nice enough to open up Thrill Waterpark for anyone who wanted to experience it.  I'm not usually excited about water parks, but I had to at least try it out.  After putting my bag in one of the complimentary lockers, I asked a crew member what I should try first.  Without hesitation, she told me to try Daredevil's Peak, which, at 135 feet, is the tallest water slide in North America.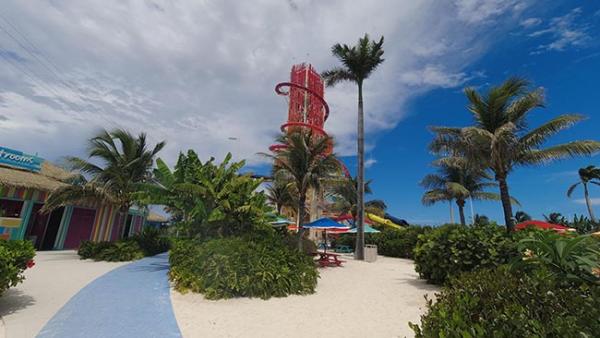 I followed the signs and got to the base of Daredevil's Tower, a colorful structure that you can see even from the neighboring island of Great Stirrup Cay (NCL's private island).  Signs at the base of the stairs confirmed what I'd suspected: if you want to enjoy these slides you'll be getting your steps in for the day.  I climbed up, and noticed ahead of me was a lifeguard who was wiping down all of the railings with disinfectant - something it looks like they do each time guards rotate through their positions.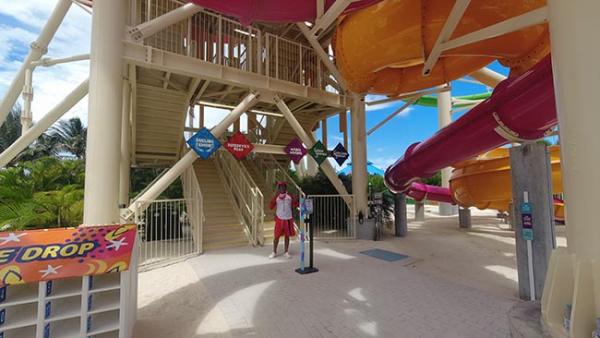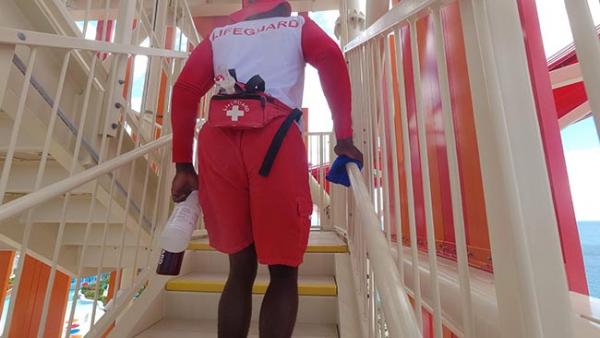 The red slide looked conventional enough from the top - but the views were anything but ordinary.  I'd contemplated asking Royal if I could get some drone footage of the island, but I don't know that I could have gotten a better perspective than I got from here.  Entering the tube at the top of the slide, I held my glasses in one hand and my action camera in the other - which turned out to be a great decision.  This slide was VERY fast.  The speed at which I immediately began sliding was such that water was constantly hitting my eyes, meaning it felt fun, but I had only limited views of crazy light patterns in various parts of the slide.  As fast as I was going, it lasted longer than expected, and ended with a splash.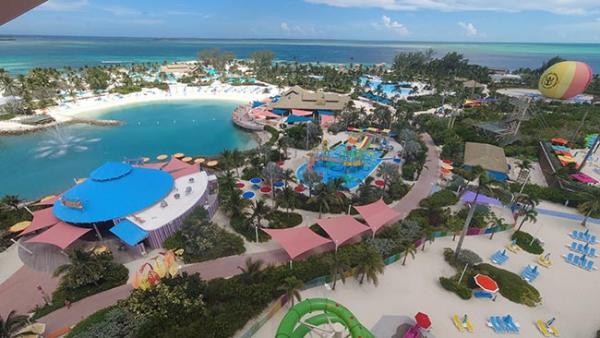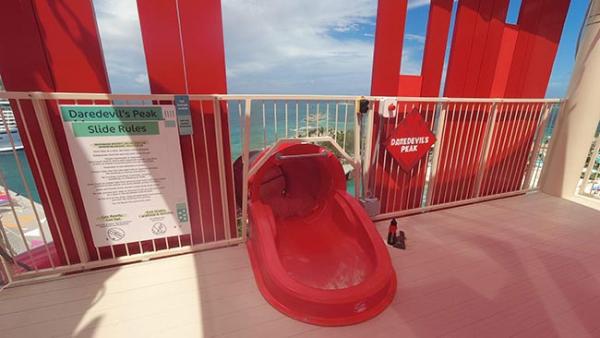 I decided to try out another slide, this time the yellow side of Dueling Demons.  This one also starts high up, but not quite at the top of the tower, and the neat part is that you stand in an enclosed tube, and suddenly the bottom drops out from under you, starting the experience.  This one didn't last nearly as long, but that initial drop, similar to AquaDunk on some DCL ships, was what made it really fun.
At this point, I was tired and waterlogged, so while I walked by the wave pool, the Adventure Pool, Splash Summit, and other slides at Thrill Waterpark, I opted to head back to the ship, stopping briefly at Captain Jack's to say hi to some friends of a friend, who turned out to be talented musicians.  They performed songs while playing instruments, beat-boxing, making sound effects, and cracking jokes.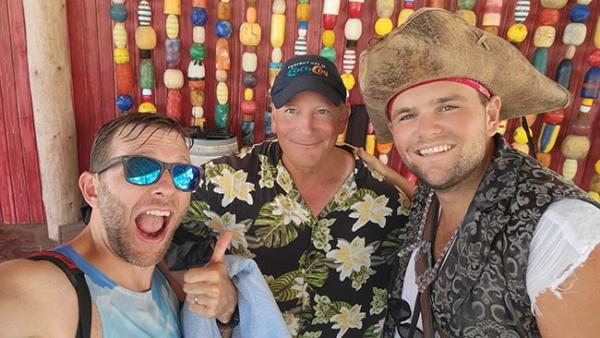 I Have to Mention The Food
It's easy to point to the water park and some of the flashy features as things that differentiate Coco Cay from other cruise line private destinations, but after visiting many of them, it was actually the food that was impressive.  Usually these types of destinations have one or two places to eat, with the same set of BBQ options and little more.  I lost count of the dining venues at Coco Cay, and didn't even get a chance to visit Coco Beach Club on this trip, but I noticed that there were a wider variety of food items (all complimentary) than I've found elsewhere.  Sure, it all fell into the "beach food" category, but everything I had tasted good, including the portobello sandwich, veggie burger, and tacos.  The tacos were great because you could pick exactly what you wanted on them, and the tortillas were made fresh right in front of you!  This would have been an easy thing to buy packaged, but warm fresh tortillas are always a good thing.
Overall Impressions of Coco Cay
Royal has done a great job here, definitely exceeding my expectations. They seem to have absolutely done on the island what they strive to do with their fleet (especially their newer vessels): they have something for everyone.  I like cruising Royal Caribbean.  They're not always my 'go to' line, because I don't need the high-energy activities and family venues.  Because they tend to offer plenty of spaces I do enjoy a lot, the line is an easy choice when I'm going with friends that have different tastes or travel with children.  Coco Cay is the same story here, but with sandy beaches.  I'll not hesitate to head ashore to enjoy the island again, and I know that everyone I am traveling with will find multiple things they'll love.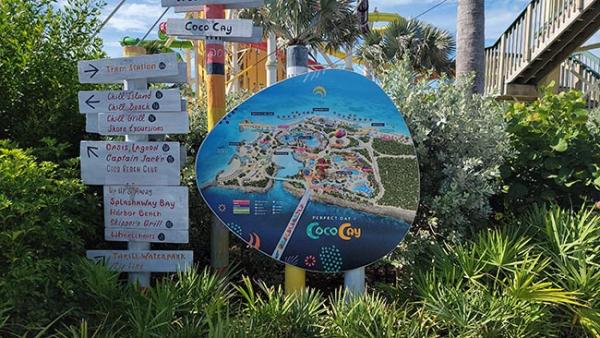 As verbose as the name is, it is fitting, in that I really did feel I had a Perfect Day at Coco Cay.  I'll be back in just a few weeks while sailing on the new Odyssey of the Seas, and hope to check out some parts of the island I've not yet experienced.  Coco Beach Club, I'm looking at you.
Back on Mariner of the Seas
After a much-appreciated shower back onboard, I wanted to check out more of the ship.  Having just one full day makes it so hard to see much of what is offered on a large ship like this - especially when the full day includes a lot of time spent ashore. 
I took a brief stroll on deck, but quickly realized I needed to head far from any non-air conditioned spaces.  Passing some chairs on the pool deck, I noticed there is a nice variety in styles of seating, which makes things look a lot classier than the uniform boring deck chairs.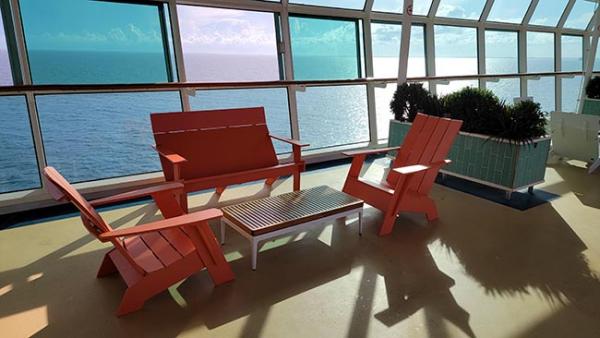 One venue I'd not yet checked out was Playmakers, the sports bar on Mariner of the Seas.  There are a lot of TVs, billiard tables, an arcade, and a decent size food menu.  There are additional charges for the food, but many items are only a few dollars, and the quality seems sound.  I had some tuna nachos, but if I ate meat I'd definitely be inclined to try the truffle burger, as it looked amazing.  Playmakers also has a good beer selection, as does the pub which is just across the way on the Royal Promenade.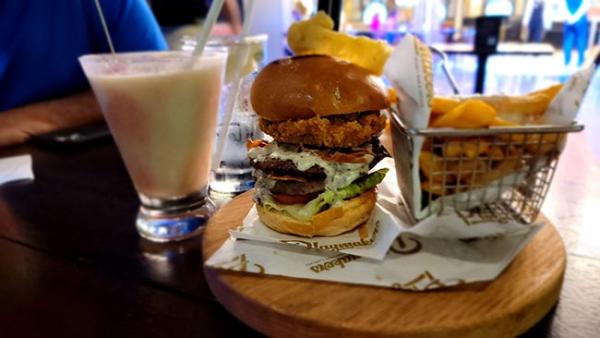 Our second and final dinner on the ship was at Izumi.  This specialty restaurant has both sushi and hibachi options.  We sat at the sushi bar, but you can still order from a large menu that reaches far beyond sushi.  I ordered entirely too many things (salad, a sushi roll, udon noodles, some sashimi...) and enjoyed each dish.  What I need to remember for next time in Izumi is to keep it simple.  On land I'm mostly vegetarian, and on ships I do enjoy sushi quite often, but when in Izumi I end up ordering some things that are just too heavy, including some rolls that are fried.  They're unique, and taste good, but I really should have stuck with raw fish and hot tea - it makes me hate myself less after the meal, if nothing else.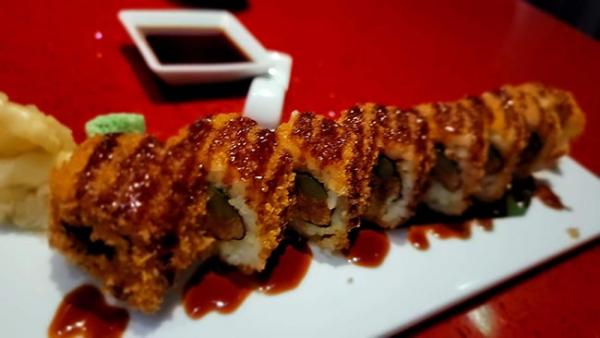 On the way to post-dinner drinks, I ducked into the logo shop, and across all the cruises I've done this year, I've been surprised that there hasn't been "Welcome Back" merchandise, commemorating the return.  Perhaps lines don't want to memorialize the worst time in the industry's history, but I would think guests would buy the merch - I know I would.  I did see a tropical shirt with small RCI logos on it, and was about to pull the trigger when I decided that $50 was steep for a shirt that has brand logos.  Now I'm regretting this and may pick one up on my next Royal Caribbean cruise.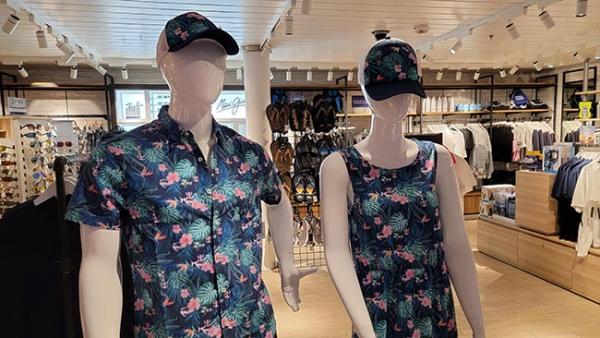 Leaving the shop, I got a small dessert at Cafe Promenade.  Some of the items looked mass-produce, but I saw caramel pots de crème and went for that.  This turned out to be a great decision.  It was flavorful and creamy but not overly sweet.  I hope they stick with this recipe, as I'll be looking for it again. I also saw crew serving guests at the Coke Freestyle machines.  I don't drink soda, but I know these machines are really popular, and yes, they're still operating!  Like the buffets, though, it's the crew that will serve you whatever you ask for.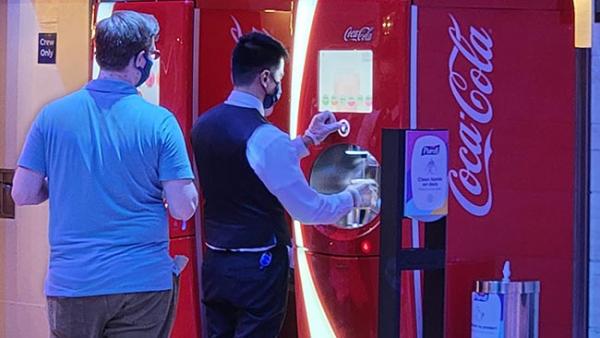 We decided to wrap up our evening at the Bamboo Room again, the tiki-themed bar on the Royal Promenade. As I mentioned on the first day, this was indeed my home-base of sorts.  Despite the lack of scotches I enjoy (something I suspect will change - soon in fact, we'll see when we return to Royal Caribbean soon), the bartenders were again great at picking up on what I liked, what I didn't, and modifying drinks to suit me.  You know it was a success, as I drank entirely too much - but hey, I was on a mini-vacation!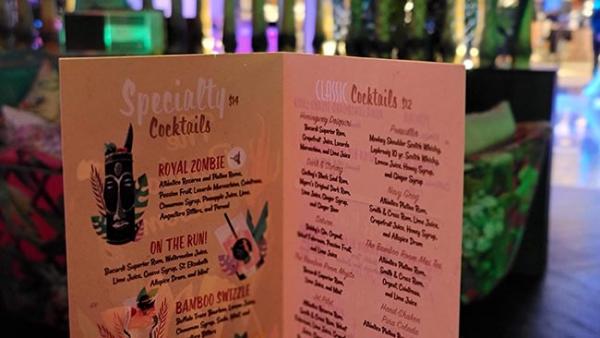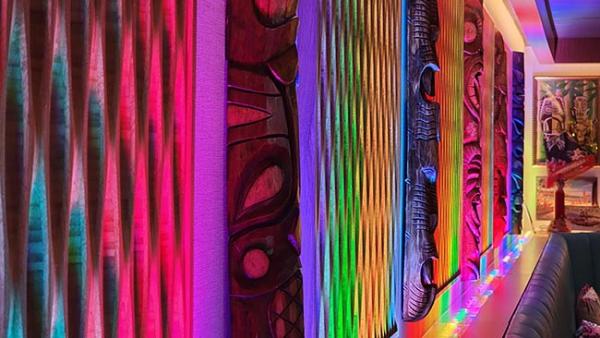 Disembarkation
Getting off the ship was a bit different than pre-COVID.  Breakfast options were still available, but after breakfast you headed back to your stateroom and waited there for your luggage tag number to be called. I rather liked this, as guests weren't crowding spaces with their luggage.  You could still leave the room, for example to stop at Cafe Promenade or Starbucks, but I think overall, guests waiting in their staterooms worked well.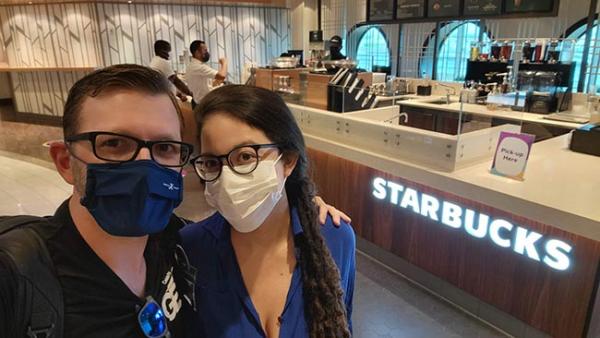 I also enjoyed this because it allowed me the option of sleeping a bit later.  We disembarked the ship at 9am and never had a line or slowdown.  Walking on deck, they scanned our cards.  We continued onto the jetway and through the terminal until we reached the facial recognition terminals for immigration control.  I'm not exaggerating when I say that we went from "okay let's leave" to being outside of the terminal and walking to our car in less than five minutes.  I know the process will be a bit slower with a fuller ship, but I don't see why overall this flow can't be maintained.  
Wrapping Up a Two Night Cruise
Two-night cruises are a tease.  The last two-night sailing we were on was Celebrity Infinity back in February of 2020 (the last cruise we took before the industry pause).  On Infinity, though, we didn't get off in port, so we had the day to enjoy the ship.  On this cruise, it felt like we just used the ship for transportation to Coco Cay and then dinner.  That's no complaint, but it was wildly different than other sailings, and there are so many parts of the ship I didn't see at all, including many live entertainment options.  What I did take away was a feel for what unvaccinated sailings look like and how they work, which, while different than the vaccinated sailings we've done on Celebrity Cruises this year, was still really enjoyable.  I also realized that every ship needs a Bamboo Room.  One in my home would be nice, too.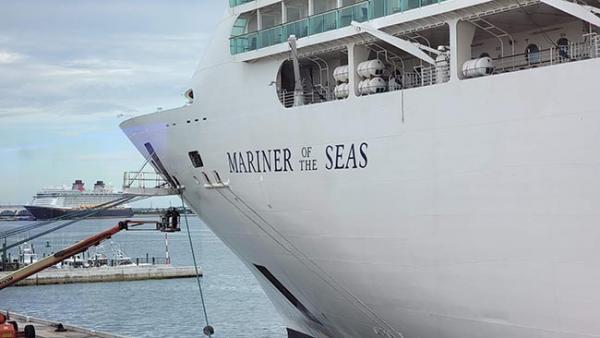 Big thanks to Royal Caribbean and the luck of the draw for us getting selected to go on this sailing.  I'm now all the more excited for our upcoming Odyssey of the Seas cruise.