Author: Bill December 28, 2021, Updated: December 30, 2021
I love visiting new places, but sometimes, sea days are my favorite.  This sea day, however, was a work day for me.  Once I punched out though, it was time to enjoy Scarlet Night, a particularly interesting evening on Scarlet Lady.
A GREAT Work Day at Sea
I don't have too much to share from the day, as I had my nose buried in a laptop - something I'm able to do because Scarlet Lady has by far the best and most reliable WiFi I've experienced on a cruise ship.  Also, it's included in the cost!  You can pay for streaming, but the included WiFi is fast and reliable, too.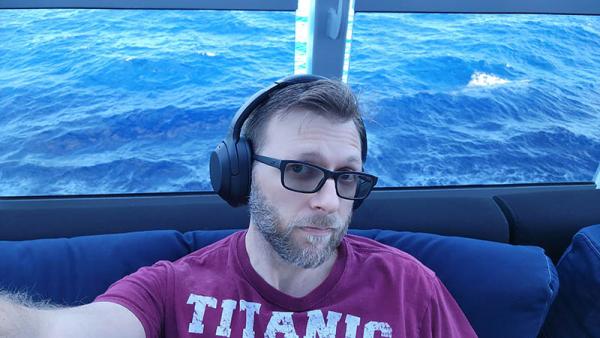 I did make sure to work some places with nice views, and I did take a short break to relax in the hammock on our sea terrace (verandah).  With only a couple exceptions, all sea terrace rooms on Scarlet Lady have a hand-crafted hammock you can enjoy with a nice view.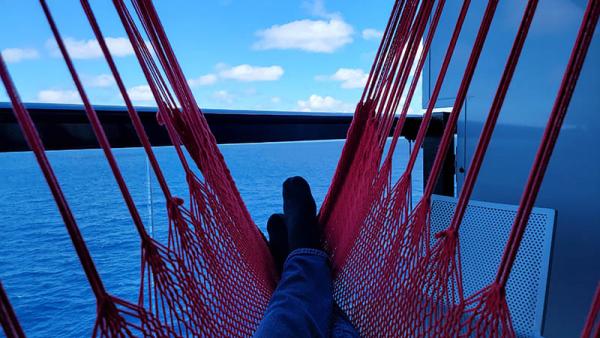 For lunch, I wanted something quick, and this bring up another unique feature of this ship: grab and go food.  Around the ship you'll find coolers with some prepared sandwiches, salads, etc.  I've enjoyed this option a few times, as the food is always really fresh.  Interestingly, Virgin Voyages doesn't use any single-use plastics, so the containers are actually re-usable.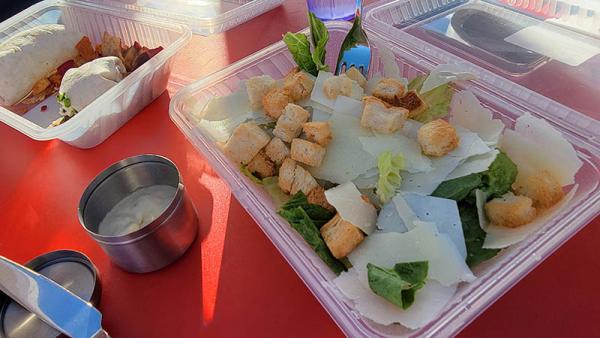 A Cocktail & Some Tentacles
After work I headed to On the Rocks, which is the bar at the roundabout (atrium).  This is the centerpiece of the ship, and where you'll board when you cruise on Scarlet Lady (seriously, get a quote, and sail Virgin - it's a great experience).  Already though, things were starting to feel a bit different, as I noticed the first signs of Scarlet Night, the big theme night on board.  
While enjoying a drink I also noticed that among the great spirits at the various bars, they have a nice selection of Japanese whisky at this bar.  In general, I've found Virgin Voyages is stocking a wider and nicer selection of liquor than most cruise lines.  This is reflected not only in selection, but the creative flavors of the cocktails.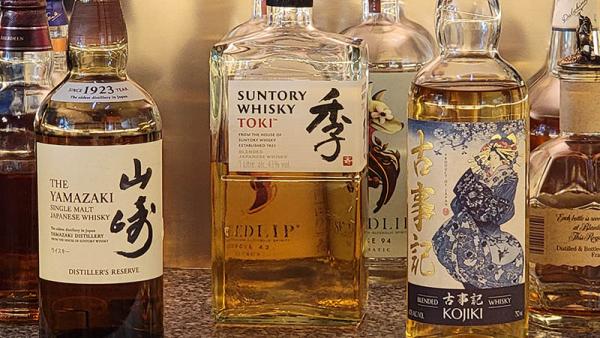 Extra Virgin
We'd not visited Extra Virgin yet on this cruise, or the previous one, so we headed there for an Italian dinner.  Don't picture spaghetti and red sauce here - they've got some less common selections, but I suspect most guests will find them quite approachable.  We ordered far too many things, but the highlights, for me, were the ribollita vegetable soup, and ricotta bomboloni, which was essentially tiny donuts with ricotta and black currant compote.  Be sure to get the cheese plate, too.  You can see Extra Virgin's menu, along with all of the Scarlet Lady menus here.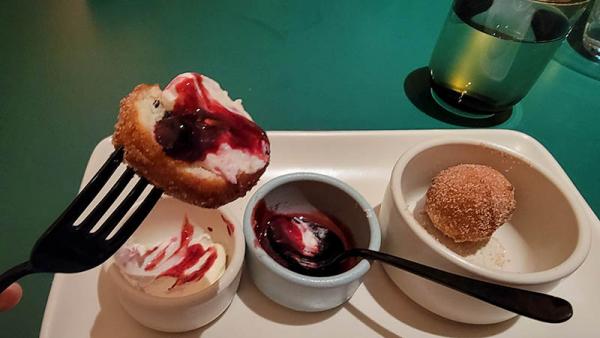 Karaoke Under the Stars
When Virgin first started sailing, I didn't notice public karaoke - just private karaoke rooms in Groupie.  Groupie is definitely neat, but now they've also added more traditional karaoke in lounges.  Tonight though they had Karaoke Under the Stars at the Athletic Club (where the catamaran net is all the way up top and aft), with a giant moon, great audio, and some really impressive singers.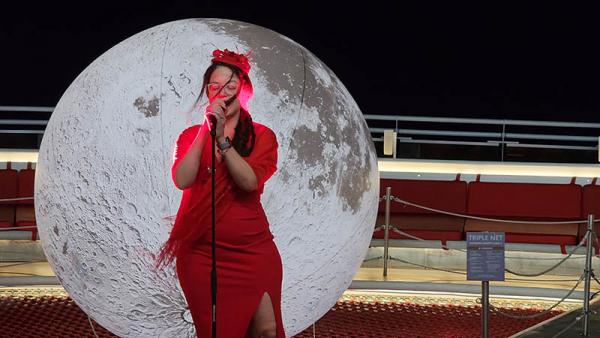 Scarlet Night
I think I may need to do a video about Scarlet Night - it's quite the spectacle.  Virgin describes this as "a fully immersive celebration of the fabled love between the mysterious Goddess of the Sea and the Sailor who won her heart."  The short version though, is that guests and crew all wear red, and special entertainment events take place around the ship, ending in a massive and wild after party by the pool.  I've sailed on Virgin three times now and am still finding new things going on during Scarlet Night.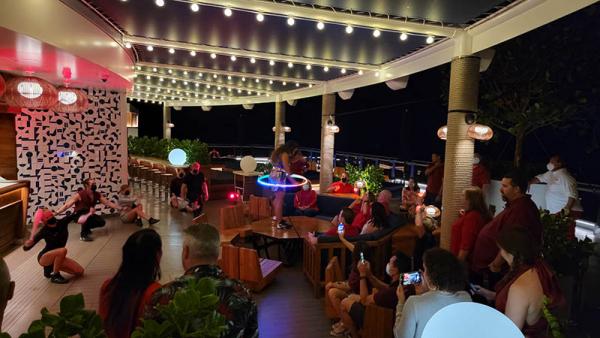 We caught, in addition to a fake wedding (one of the events), some of the folks from Phantom Folktales performing at The Dock, dancing, some quick trivia (with free champagne), and lots of wild decorations.  There is also a net set up where sailors write notes, some funny, some sweet, some rather vulgar, and post them up for others who come after them.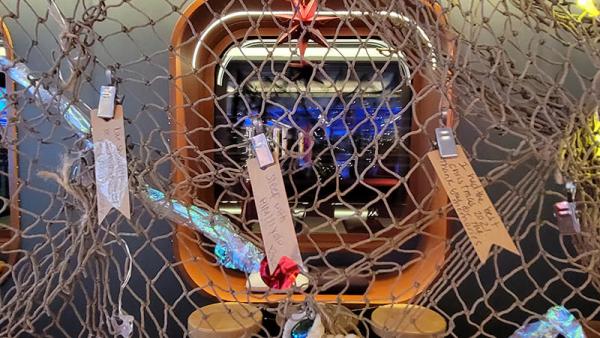 The final event of the evening is the after party by the main pool.  This is LOUD, but rather amazing to watch.  Whitney the Hostess sang, there were some mild acrobatics, tons of dancing, and guests end up taking the party into the pool in front of the massive glowing octopus.  Don't miss this.  Even if you're only stopping by to see it for just a moment before finding someplace more quiet.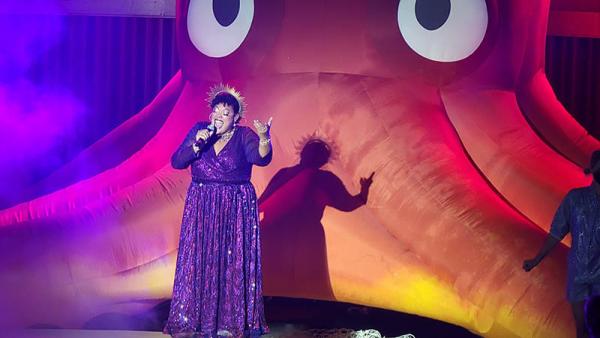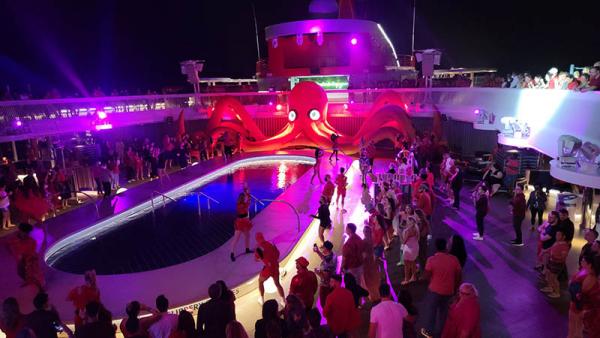 Stray Observations
You won't find towel animals on Virgin, but there are lots of cute little touches.  For example, the comfy blanket in rooms (great for cool nights in the hammock) is sometimes folded into a big red V when your room is cleaned up.

The sunset tonight was gorgeous, and I have no overarching point here, I just wanted to share photos of the last moments of sunlight.


Something I don't love about this ship: signage.  It's just not good.  Scarlet Lady is a gorgeous ship that you want to see all the parts of, but you won't find a deck plan anywhere but your room.  The signs near the elevators don't always make it clear where things are, and the lack of deck plans mean that you never really wrap your mind around the layout.  I hope they change this soon.