Author: Bill December 27, 2021, Updated: December 30, 2021
I love going to new places, which made today's port call on Scarlet Lady a mixed bag.  I went to a city I'd visited, but with some new elements.  While we didn't do all we'd endeavored to experience, we had a nice day.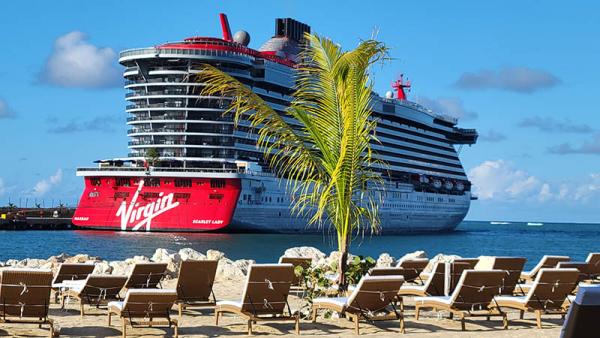 Brunch in The Wake
One of my favorite things about Virgin Voyages are the breakfast options.  Several restaurants serve breakfast, with menus in line with their themes, plus there is great room service, like we had yesterday. They also keep breakfast options going late.  The Wake, which is a steak and seafood restaurant on Scarlet Lady, served brunch today (and most days) until 1pm.  
The menu includes bottomless drink options, egg dishes, pork belly, a great vegan option, brioche French toast, crepes, and more.  One of the items common among the bunch and dinner menus is a wedge salad that is out of this world.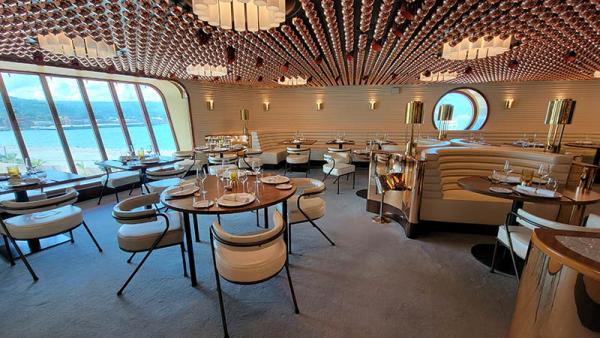 Today, we were seated at what I can only assume is a table reserved for the most prestigious cruise bloggers to be dining at that restaurant in that particular five minute period.
Our server, Niels, was fantastic not only at his job, but he was a funny and charming guy.  I mentioned that when we were on a couple weeks ago our Filipa was on as well, and that he served her (they're both Dutch).  He immediately recalled her table number, spouse, and everything.  Meanwhile, I take pictures of what I have for breakfast so I can remember when I write this blog. 
We had had the "egg" in a hold vegan dish, avocado asparagus eggs benedict, and the French toast, along with lots of coffee and a pastry.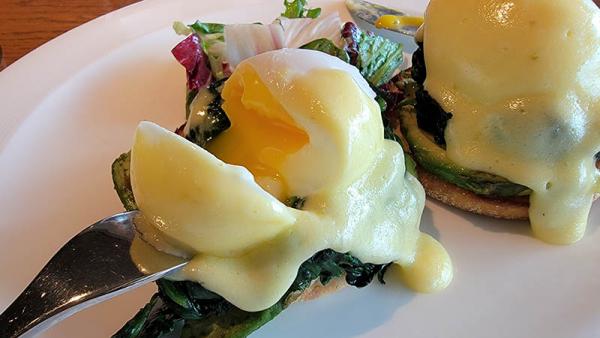 New Port, Who Dis?
We've been to Puerto Plata, in the Dominican Republic, on at least one cruise before.  This port visit was different though, as most ships visiting here dock at Amber Cove, a resort-style port facility built by and for Carnival Corporation, located about 25 minutes from the city.  We docked at a brand new port that opened less than two weeks ago, which is situated right in the city.  
Stepping off the ship you walk right into a port facility called Taino Bay.  I'm usually not a huge fan of these, as it feels like you're forced to walk through a dense mall - similar to exiting a theme park attraction and being funneled into a gift shop.  This facility however, I found, very nice.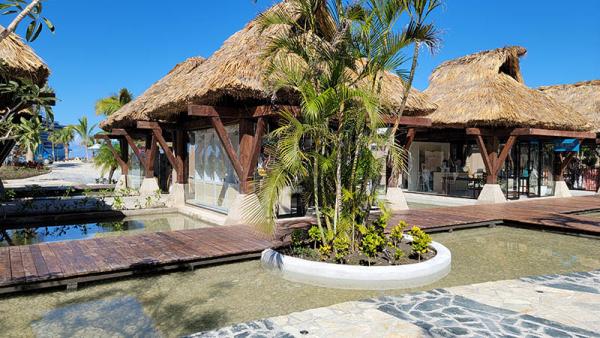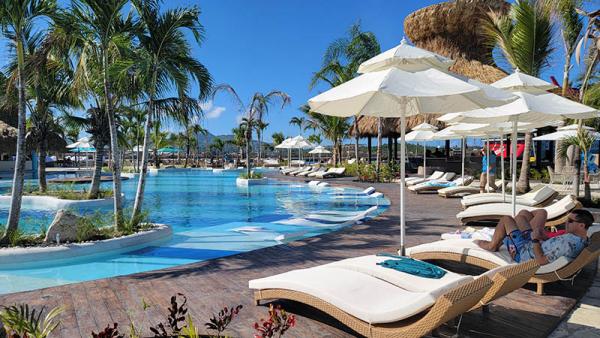 Yes, there are shops - plenty of them.  They're beautiful though, as they're in glass buildings with straw roofs, situated along walkways next to pools of water.  It's all very pretty.  Much to my delight, after chatting with Roberto from Liquid Blue, a tour company (he writes the informative blog on that site - check it out for tour and other information in DR), I learned that many of the shops are independently owned.  They've got local hand-crafted items and art, as well as big brands at very fair prices.  It made me happy to find out that despite the very polished look of the port, truly local businesses are involved.  It was great talking to Roberto, and you should definitely check out their unique variety of cool stuff - just look for the sign that says, "Local Surf Shop".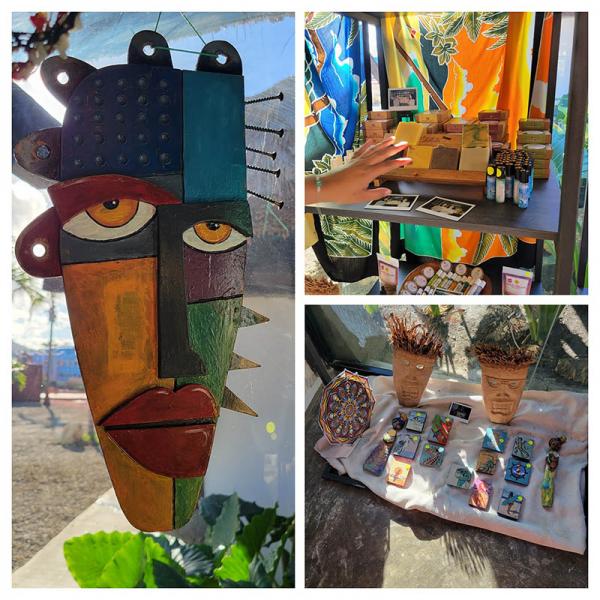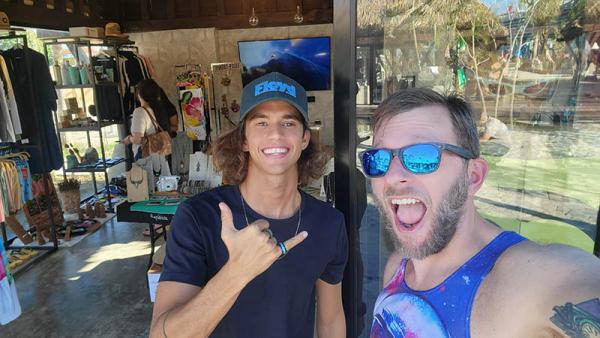 In addition to shops, there are restaurants and bars as well as a very nice pool.  The pool (with swim up bar), loungers, and overall property really felt like a high-end resort - much nicer than other "port resorts" I've seen.  There are loungers on a sandy area by the water as well, though it's not actually a beach (as there is a rock breakwater along the edge).  We ended up spending our day near the pool and at the bar, chatting with the locals working there.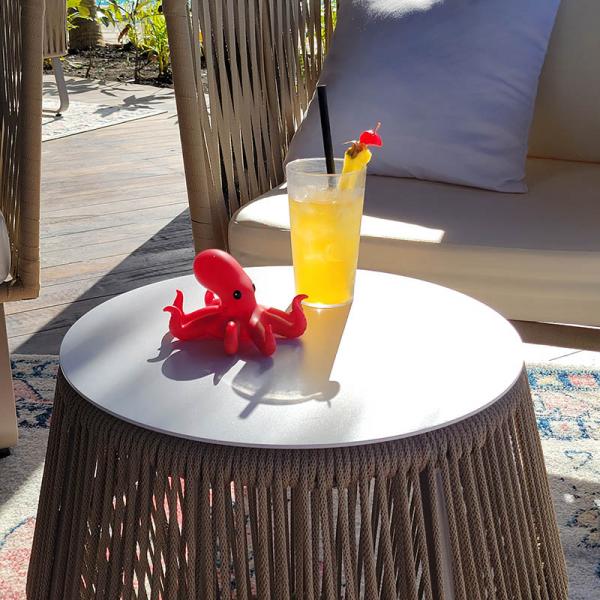 Now, ordinarily we'd relish the opportunity to get out and explore the city.  With the temptation of this new port experience, and COVID considerations, we opted to skip hopping in a local cab.  Further, the teleferico (cable car) up the mountain is a great experience that we've enjoyed in the past, but it's currently closed for maintenance.  In the end, we ended up enjoying a relaxing day in port, and opted to head ashore at around 4:30 ship time, which was an hour behind local time.
Coffee and Pizza Make the World Go 'Round
Following a much needed shower I needed a pick me up and headed to Grounds Club, the onboard coffee shop.  I've worked from here a few times, and they have a nice atmosphere, great coffee and tea (see my vid on JoJo tea), and outlets all over.  I also enjoyed a cookie with my coffee.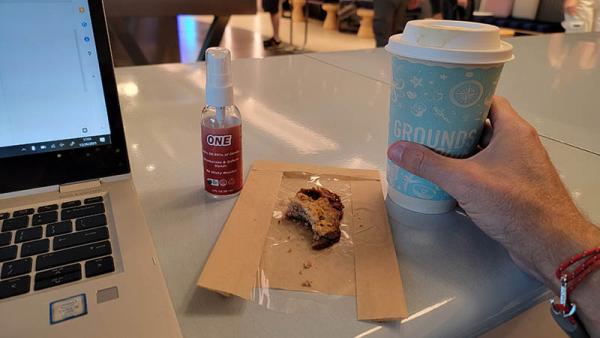 We roamed about the ship and ran some errands before realizing we wanted a more substantial snack since dinner was going to be later.  The onboard pizza place (named, Pizza Place) has made to order pizza that never fails to impress.  We asked for an egg and truffle pie to go and took it to the Loose Cannon for trivia.  It was a very popular event and filled the space, so we ended up skipping trivia and enjoying our pizza in the attached Social Club.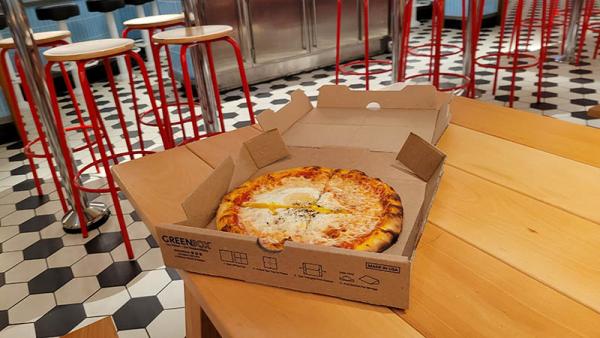 Red Bar
Razzle Dazzle, the vegetarian-forward restaurant, has a bar in the back - but it's very easy to miss.  In fact, it wasn't until last night's Grog Walk that we even tried it out.  They've got some interesting signature drinks, including an old fashioned with fig jam and popcorn.  It sounds like a wacky combination, but it really comes together nicely.  
Another nice perk of this spot is that it's not too popular (at least, so far), so we had the opportunity to have a nice chat with our new friend Tom as well as the bartenders.  
The Wake Part II
For dinner we went back to The Wake, partially because our friend Filipa recommended the dorade (a fish), and said it was the best meal she had on the ship.  The fish was deboned tableside, and was perfectly cooked and flavorful.  Note that because The Wake is a steak and seafood restaurant, you'll likely want to order sides with your main course - though the portion of fish was quite large.  We also enjoyed, like this morning, the beautiful wake view.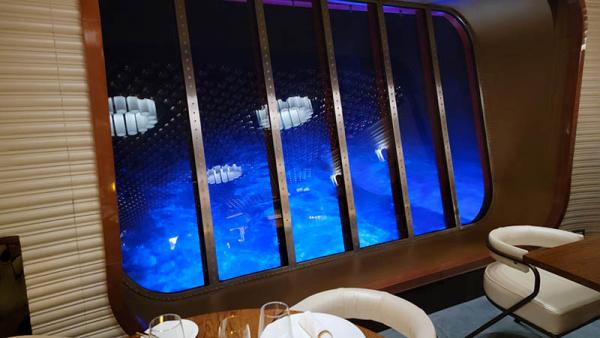 Ships in the Night
Not another bad play on words in my headings, Ships in the Night is a show in Scarlet Lady's Red Room, which is the closest thing this ship has to a theater.  Depending on the event, it may be configured with seating on two sides facing a stage, seats facing each other with a center performance area, or completely open, as it was for the Unnamed Danceshowpartything which you can see in our ship tour.  For tonight's show things were configured like a traditional theater - and this was, by far, the most traditional-style show on the ship.  Still though, Richard Branson's Virgin made sure to do it their way.
To be honest, I felt the show started a bit slow, but maybe I was just tired.  The host of the show opines on topics ranging from love, to the quirks of millennials and unique challenges of modern culture.  The scenes are tied together with singing by the host and others, coordinated dancing, and some acrobatics.  Songs were takes on pop-songs of various vintages - in many cases Postmodern Jukebox arrangements.  The talent was solid, and the set was really impressive.  Giant LED panels suspended from the ceiling move around the stage as the vibrant displays are painted with images that made it often impossible to discern when the panels were moving and whether silhouettes of dancers were on the screens or in front of them.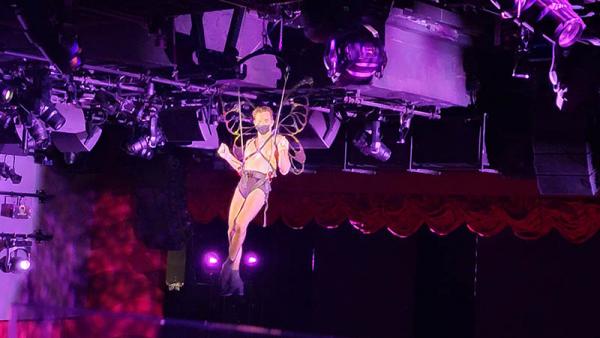 How did Virgin make this their own?  Some of it came down to iconography and the cheeky Love Boat ending, but one thing that was distinctly Virgin Voyages was, to me, the fact the host was a man wearing women's gowns throughout most of the show, and it was not inherent to any part of a narrative or story line.  Virgin wants people to be themselves, and in so many ways it shined through during this performance.  On our last sailing there was a moment that a bar server began singing karaoke with a guest.  Everyone was having a good time and just being happy, and that makes us happy in turn.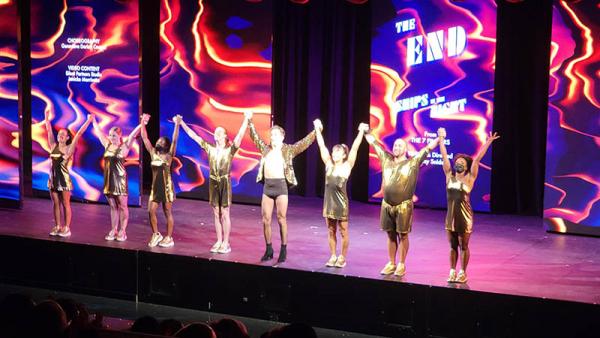 Tomorrow is a sea day, and I'm working during the day - but as always, I'll enjoy doing so with a sea view. 
Stray Observations
Cruise lines don't' allow guests to bring things with heating elements (except for some hair accessories).  Virgin Voyages will actually loan you an approved clothing steamer - just ask your stateroom attendant.

Guests onboard may not easily notice, but the lights on the balcony (or Sea Terrace, as Virgin calls them), which are usually red, are currently alternating red and green for the holidays!