Author: bill December 25, 2021, Updated: December 30, 2021
We're on Virgin Voyage's Scarlet Lady for the third time, but something is quite different, and I don't just mean the itinerary.  See, since cruising returned to the Caribbean over six months ago, some lines have required masks, and others haven't.  Virgin Voyages, with 100% vaccination rates, at embarkation testing, has not - but their guidance has just changed.  Over the next five nights we'll see what has changed, and if the experience has been compromised.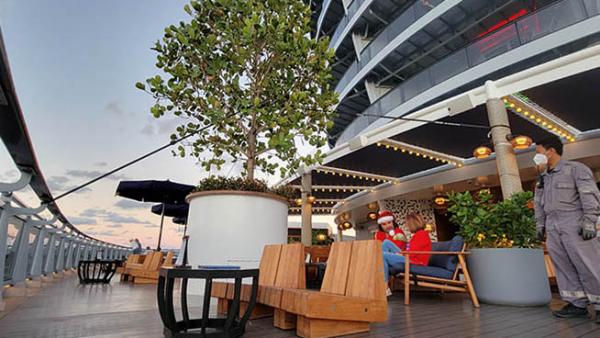 Virgin Voyages' Scarlet Lady Primer
Virgin Voyages is a  new cruise line with, so far, one ship, Scarlet Lady.  The line is only for adults, and promises to do things differently than other lines.  If you're looking for more information on this new option in cruising, we've got lots of posts, including a live blog from their MerMaiden (first) voyage out of Miami back in October.  You can also watch a full ship tour, and a video with five things you should know about Virgin Voyages.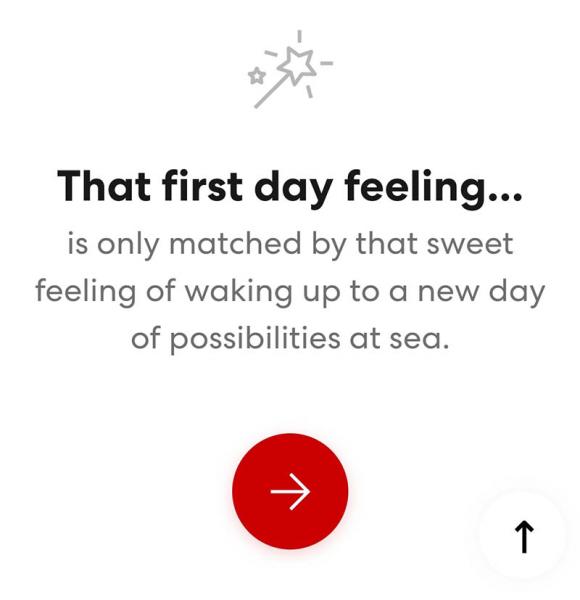 Masks on Virgin Voyages
I saw guests on the cruise prior to ours (we embarked Dec 24th) received a letter that "strongly recommended" sailors (guests) wear masks when indoors, because of the threat of the omicron variant.  I told Larissa, my spouse, that I wondered if by our cruise they'd change that to a requirement.  
Before embarkation, we received an email from Virgin Voyages that explained that they are now asking guests (rather than "recommending" to wear masks indoors.  A subtle difference in wording, but we were curious how this would play out.
Read about mask, vaccine, and other requirements for cruising.
Embarkation
Arriving at PortMiami we quickly scanned QR codes on signs and registered for testing before filing into the terminal to have the tests performed and wait for results.  A little over an hour later, we were walking onboard.
Previously, we stepped on the ship and almost all guests were maskless.  Crew wore fabric masks indoors.  This time the crew all wore KN95 masks, and many guests - though not all - were wearing various face coverings.  We went right to our room to drop off luggage, and found two masks and a note from the captain.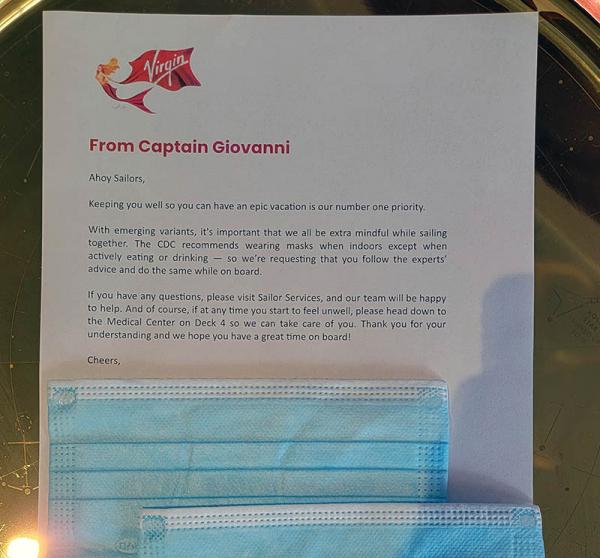 This time we have a standard Sea Terrace room, which you can see a tour of here (from a previous cruise in the same type of room).  The bathroom is very small - 1990s cruise ship small - but the shower is quite large, so there will be no elbow-bumping while washing my hair. 
First Hours Back 'Home'
We often say that Celebrity Edge feels like home, and this is still very true.  With this our third cruise on Scarlet Lady, as we build relationships with crew and know our way around.  
We were pretty hungry after boarding, so we grabbed lunch at The Galley, which is the casual "food hall" style eatery on deck 15.  Today though, with infection rates up on land, we did things a bit differently and ate outside.  This is another way in which this venue shines.  We were able to sit outside, enjoy a nice view, and a server took our order, then brought us our food.  I had a simple buffalo mozzarella sandwich from Hot Off the Press and Larissa had…I don't know, I was hungry and focussed on me, myself, and my sammich.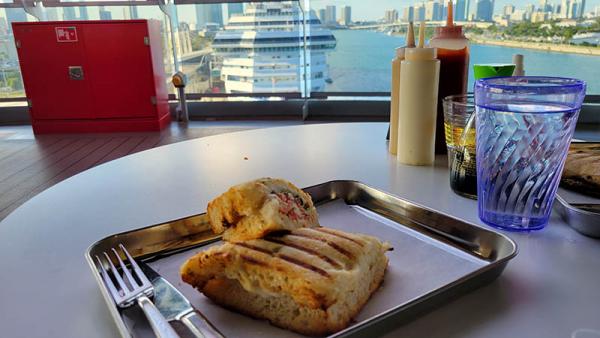 The next few hours we were still feeling out the situation onboard, and with the cool temperatures (relative to South Florida - it was in the low 70s) we went to The Dock, a large outdoor area with a bar, day beds, mez carts, and relaxing music.  I could have fallen asleep there if it wasn't for the excitement of being back at sea.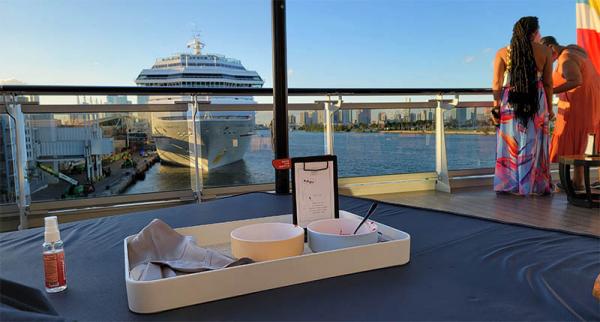 Going Inside for Dinner
We certainly don't plan on spending the whole trip outside, and eventually it was time to have dinner.  Razzle Dazzle is a "vegetarian forward" restaurant, which has plenty of options for omnivores as well.  We had reservations but found plenty of availability anyway, and a good amount of space between guests.  Much to our delight, we had wait staff that immediately recognized us from a couple weeks ago.  
I had a simple impossible burger, with great fries, a side of shishito peppers, and vegan berry cheesecake for dessert.  We ate quickly, and the wait staff, Paul and Mariana were kind enough to help us get through our meal in a bit of a hurry so we could make it to Cocktails with the Hostess.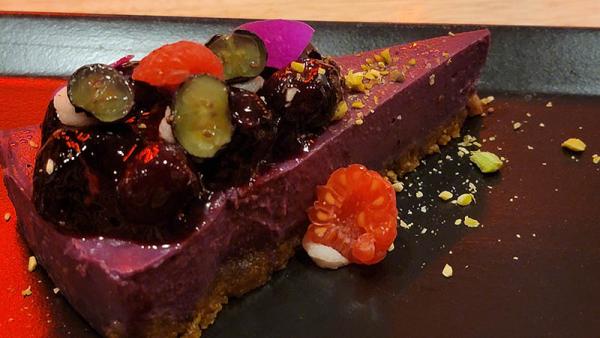 Evening Entertainment
Cocktails with the Hostess, now labeled as "Cocktails with the Hostess - Mask Required Event" is in The Manor nightclub, and is a series of songs performed by the ship's hostess.  Currently, Whitney The Hostess is onboard, and she is not only a great singer, but a lovely story-teller as well.  Interestingly, you had to reserve this event in the app, for capacity control reasons, and while it filled, I'd estimate that fewer than half of the guests showed up.  Those who didn't show missed out on a great performance.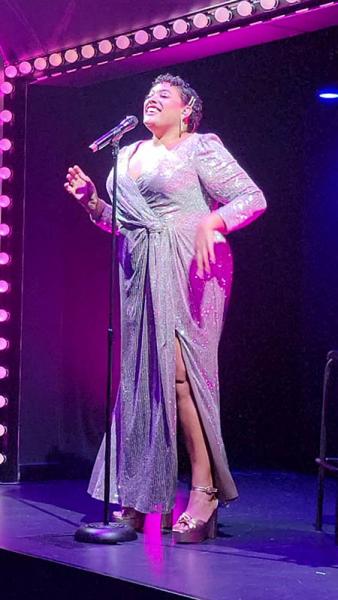 Wanting to get some fresh air and see something new, we went to deck 16 aft to see Phantom Folktales.  This is a concert by a group I briefly show in the ship tour I released recently.  Usually, they do unscheduled pop-up shows, which are a real treat.  We decided to see what their actual concert was like, and were glad we did. 
They perform what I'd describe as modern folk, with a large group of performers playing instruments and singing.  I felt like I should have been sitting around a bonfire in the Western Carolinas…or maybe the Irish countryside?  It's a mix.  The show took place at the Athletic Club, which is where the often-photographed catamaran net is found.  Despite the name, there are plenty of places to comfortably lay around…and of course bar service.  The crew even brought around blankets, for those wanting a bit of warmth on a cool and windy evening on the top deck.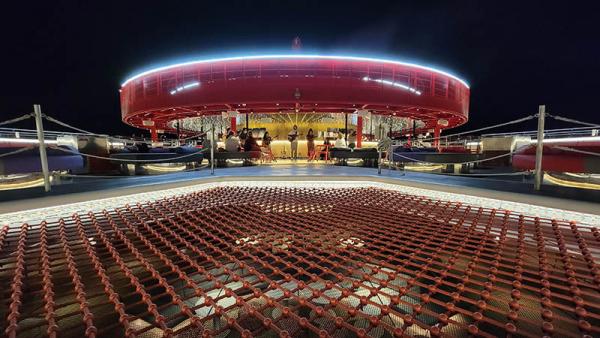 Finally, we headed to the room to put on bathing suits and hopped in one of the hot tubs at the Athletic Club.  Spending Christmas Eve sitting in a hot tub at sea, sipping cognac, was a wonderful, if not unconventional way to spend the holiday.  It was serine after the previous concert, but then they geared up for the PJ Party Under the Stars.  On an earlier sailing this was not well attended, but it was hoppin' tonight.  The popularity definitely made me happy that this took place on deck with lots of wind, rather than in a club or lounge.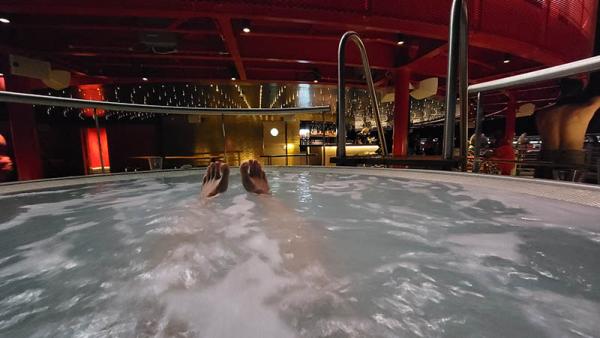 Guests wore pyjamas, sometimes "normal" but sometimes amazing, like the gentlemen from Orlando that we met rocking matching unicorn onesies.  A very nice touch, like the earlier blankets, was entertainment staff (in PJs, of course) walking around with cookies and milk for guests.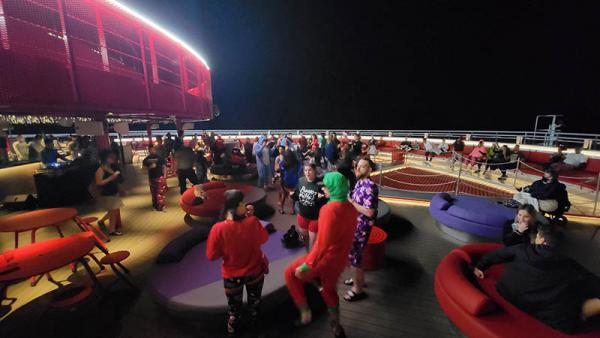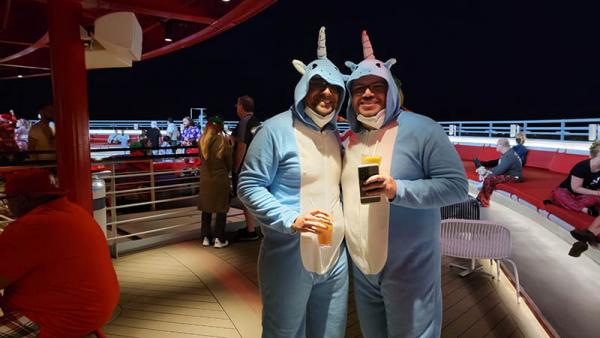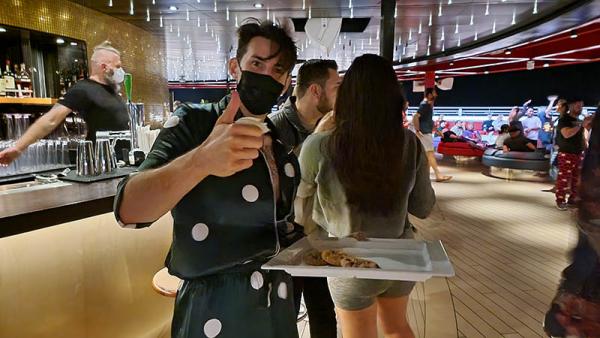 Conclusion 
After a lovely first day, I can definitely say the onboard atmosphere is different from recent cruises, with everyone very aware of the spike in COVID cases in Florida and elsewhere.  Still it's very relaxed, and the masks, when indoors, are only a mild inconvenience.  There are many guests not wearing masks - and I do wonder if enforcement will happen, or in general how behaviors will change.  Guests booking were expecting a maskless cruise - but things change.  Hopefully everyone continues to have a great and healthy sailing, as I'm confident we will.  What else remains to be seen is how we and other guests might adjust their plans, and whether we'll spend more time outdoors.
Stray Observations
Virgin has plenty of towels by the pools…but not at the Athletic Club hot tubs.  This should be an easy fix.

We ordered room service for the morning.  I love their Ship Eats program, and noticed that the app doesn't let you order for a time when there are already many orders.  This is much better than aiming for a time and coming too early or late.

It does seem like some more popular events have been adjusted, to take place in larger spaces or outdoors.  

Royal Caribbean's terminal in PortMiami was lit up for the Christmas holiday and looked pretty neat on the way out.