Author: bill December 26, 2021, Updated: December 30, 2021
Like many children growing up, Christmas day was among the only times I was excited to get out of bed.  Today I woke up and I honestly didn't remember it was Christmas, but I was as excited as ever, because I woke up on a cruise ship.  That's a pretty good gift.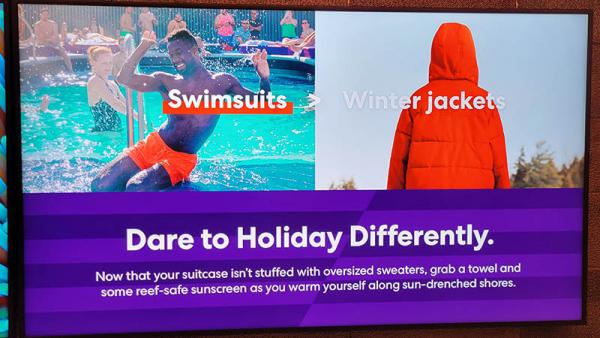 Sleeping of the Fun
We got a late start to the day as last night's adventures at the PJ party went on late, and may have involved a few cocktails.  I slept very well, despite Scarlet Lady's mattresses being a bit firm, but better than some cruise lines.  I was also wise enough to bring electrical tape as the bright LED lights on the room's thermostat are brighter than I'd like.  You can check our cabin tour for more. 
When I did wake up, in part due to the light-leak around the black out curtains, I knew I needed coffee before conquering the ship.  Fortunately, before tuning in, I ordered breakfast for the morning.  As with my previous experiences with Ship Eats, the food and coffee was delivered on time and hot.  I can't say enough good things about the quality of the food and overall room service experience.  We had some eggs, veggies, coffee, and finally tried a berry nutella French toast dish that is certainly way over my calorie threshold, but oh-so-delicious.  One thing of note, the breakfast meats are available vegan at the click of a button.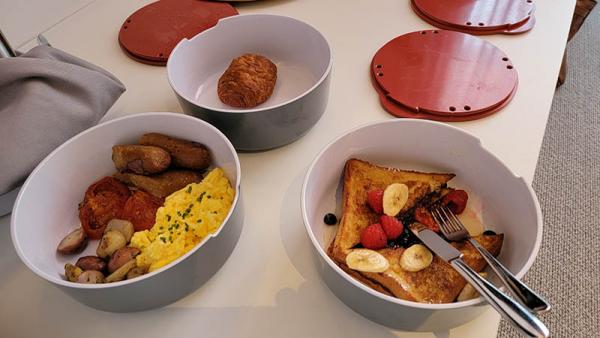 Juice at The Dockside
After finally getting moving, we stopped at The Dockside to try out some of the fresh juices we'd seen available.  Several bars offer non-alcoholic and alcoholic fresh-squeezed concoctions, which meshes with the health and wellness subtheme that Virgin seems to have.  Party and fitness, yin and yang.
About the Fitness Part
I'll confess that until today I'd not exercised on Scarlet Lady.  It's easy to say "you're on vacation, don't worry about it!"  I agree, but spending a lot of time cruising, I need to stay active on land and sea.  Virgin does make that easy though.  They have group fitness activities, ranging from spin, to HIIT, yoga, and even bungee.  All of these classes are complimentary, though there is a charge for missing a reservation.  On this sailing we were delighted to see that they added many more classes, as in the past they were filling up, leaving all but a handful of folks disappointed, especially for some of the sessions that only accommodate a small number of sailors.
Instead of one gym, they have several areas.  There are spaces for HIIT, outdoor fitness activities (including a boxing ring), a spin room, an entire room for cardio, and another for strength training.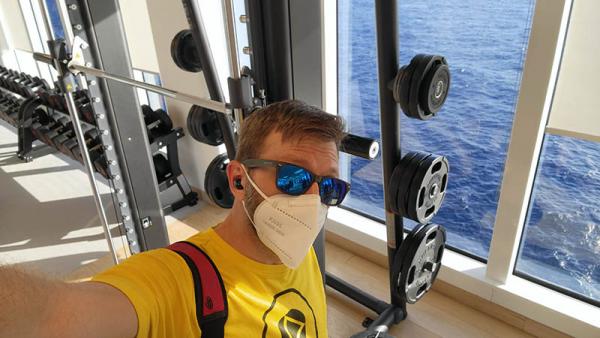 I was wondering how the mask situation would work, because as discussed yesterday, the guidance from the cruise line has changed in the last few days.  For Larissa's class, which has a max capacity of only ten or so, there were no masks.  When I ran on a treadmill, I found only three other people in that rather large room (probably because I work out later in the day, not in the morning), so I was fine not wearing a mask.  In the strength training area the free-weights mat had a few people, so I kept on my masks, but wasn't bothered by those who didn't.  Lifting weights in a KN95 is definitely extra credit, but not terrible.  
We also hit up the outdoor equipment around the Athletic Club, but that was more fun than fitness before heading to The Dock for a gorgeous sunset while doing a live video on YouTube and Facebook.  Check it out if you want to know more about our cruise, and be sure to subscribe!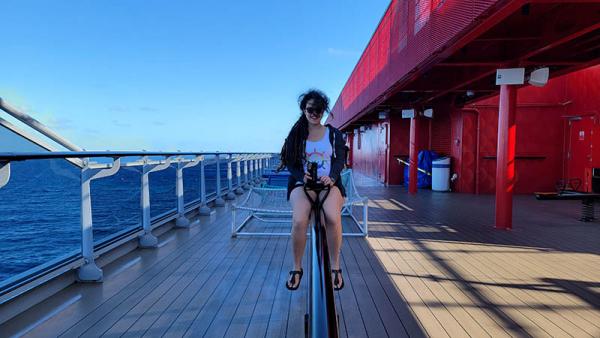 A Mexican Holiday at Pink Agave
Pink Agave is an upscale Mexican restaurant, and usually, this is one of the busiest dining venues on Scarlet Lady.  Tonight, however, that was The Wake, which I suppose is a bit more traditional for Christmas.  Pink Agave was nearly empty.  We ordered a variety of starters and sides, as there are so many great options.  If you like spicy food, be sure to ask for a small side of diced habaneros.  For the holiday, they had some additional items on the menu, one of which was a black bean soup that was impressively good.  Spicy, savory, and great flavor.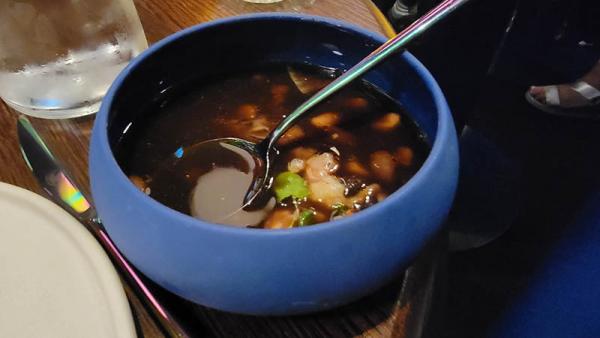 Of course I couldn't skip out on the chocolate tacos for dessert.  I have these every time because, to quote the song, "these are a few of my favorite things."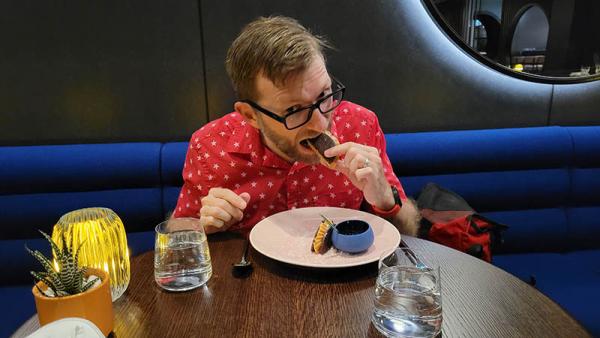 An Important Tip 
Larissa, being my social host and event coordinator, signed us up for a few things when we arrived at the terminal in Miami.  While some things can be booked in the app at home, entertainment, fitness classes, and other events have to be booked once connected to Virgin's WiFi.  You can actually do this when you arrive at the terminal in Miami, as they have a WiFi network set up that works as if you're onboard.  The moment you get there, book the events you'd like to attend.
Grog Walk
One of the events we signed up for is called a grog walk, more commonly known as a pub crawl.  I wasn't sure what to expect, but thought it'd be a tasting of sorts.  I should have known that Virgin would be a spin on this.  A common thread on this ship is that things tend to be very social.  From seating configurations, to the shape of one of the pools, many things are situated in a way that promotes socialization.  
For this event, sailors couldn't simply walk up and get a drink though, you first had to complete a challenge.  Jordan, from entertainment, explained everyone would get a card with a task.  You might need to find another sailor of the same sign as you, or write a haiku about the ship.  One sailor had to draw a photo of someone you don't know and then give it them, and we received what you see below :-)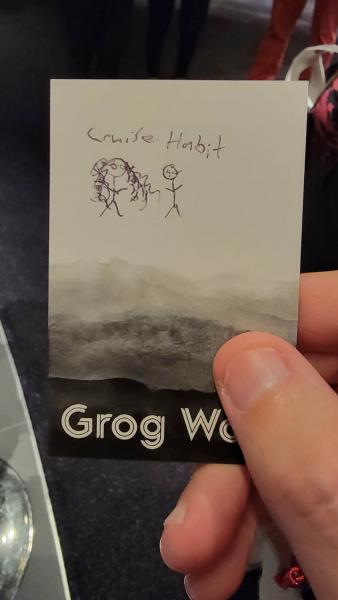 Once complete, you'd demonstrate that you completed your task and then get a token of some sort (the first was a sea shell) which you exchange for your cocktail.
We started at the red bar in Razzle Dazzle with a drink called the Gin Bunny.  It had cucumber floating in the drink, which meant there were two things I don't love: cucumber and gin.  To my delight though, it was actually quite good - though a bit sweet.  From there we visited Pink Agave, where they served up snacks as well as drinks, and then Loose Cannon at The Social Club, before finishing at the casino bar.  The drinks were generally alright, but sweeter than I'd prefer, and those with ice ended up being a bit watery if you didn't get your challenge completed quickly.  Still, I'd rate this bar crawl rather highly, as the social element, and fun brought by the fantastic bar and entertainment staff is what made it fun.  We made some new friends, had some drinks, and shared a lot of laughs, all for $35.
Tomorrow: Puerto Plata
Tomorrow we dock in Puerto Plata in the Dominican Republic, on the island of Hispanola.  If you've cruised to the DR before, it was likely to Amber Cove, which is about 30 minutes from the city.  We're docking at a brand new facility that opened just a week or two ago, and it's located right in the city, so it'll be easier to go out and explore if we want.  
Stray Observations
The Social Club, which has free arcade games, air hockey, and other attractions (plus boozy milkshakes!) has game times where there are multiple board and card games plus a host answering questions and helping out.

There are minimal holiday decorations, but I like the subtlety.  Some small lights and ornaments, and an un unusually large mistletoe by the pool.  There was some live Christmas music though.