Author: bill December 13, 2021, Updated: July 24, 2023
Virgin Voyages is a new cruise line and they're aiming to do things differently.  As a frequent cruiser, room service is often disappointing - but did Virgin do this differently?  We put it to the test.
On our first cruise with Virgin Voyages we didn't use room service, or "Ship Eats" as the line calls it.  On our second cruise we decided it was time to put it to the test.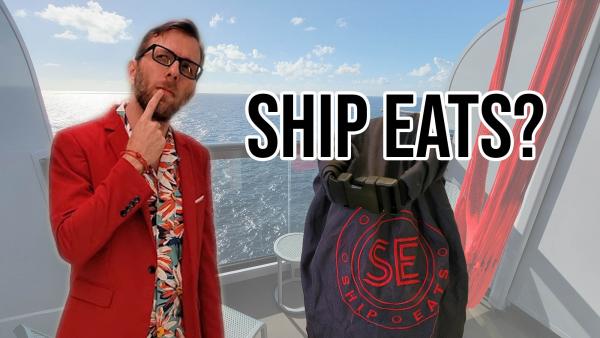 Ordering
Over the years most cruise lines have moved to ordering room service via an app or even the television.  The exception is breakfast ordered the evening before (which we use as a sort of alarm clock), which on most lines, you order by putting a hang-tag out on the door before you go to sleep.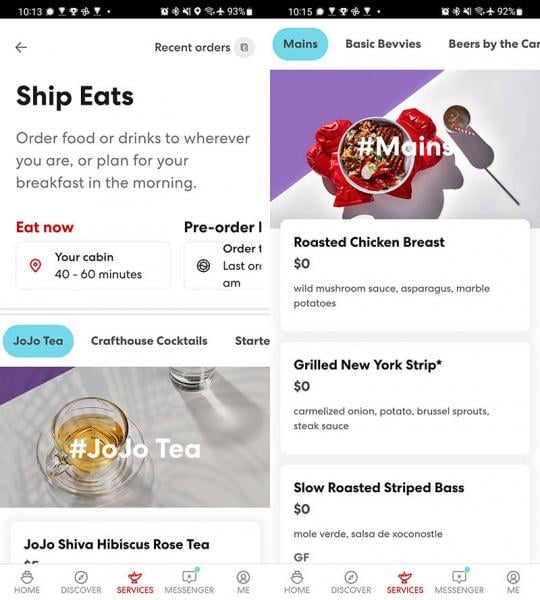 Virgin's app is not perfect - a few months into the new line's service some guests still experience crashes or other issues - though it's better on our December cruise than on the MerMaiden voyage in October.  What they do well here is delivery.  In addition to Shake for Champagne, which we used extensively, you can order food or drinks to your room, either for delivery ASAP (which has been quicker than quoted each time) or for the next day.  I really appreciate that they don't differentiate the experience.
Cost
Many cruise lines have started charging for room service, especially late at night.  Some cruisers dislike this, but it helps cut down on wasteful orders, where folks have a few drinks and then fall asleep before getting subpar snacks.  Can you really put a price on eating with this view though?  Well on Scarlet Lady the price is truly negligable.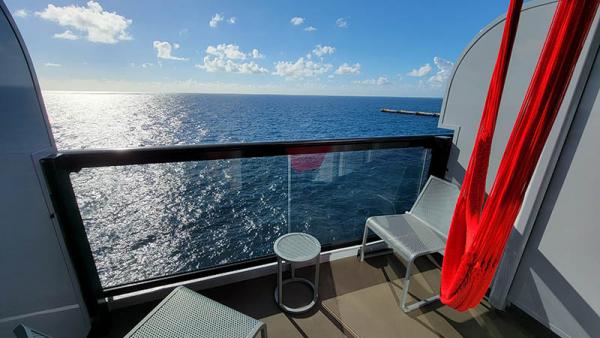 Virgin's model is interesting, in that room service does carry a charge…unless you're ordering a drink.  You pay a flat $5 for room service deliveries, but if you're ordering a drink that costs money (alcoholic beverages, specialty coffees, etc) then you just pay for that drink.  In other words, a sandwich is $5, but a sandwich (and perhaps dessert, sides, etc) with an $8 gin and tonic is $8.  This same scheme works for pre-ordering breakfast each morning.  My espresso, for example, covered the cost of delivering a full breakfast.
Delivery
On Virgin Voyages, a crew member knocks on your door not with a tray full of covered dishes, but with a branded bag.  The bag, when opened, contains covered containers.  This is very similar to Indian lunch delivery using dabbawalas, which you can think of as circular, stackable, reusable bento boxes.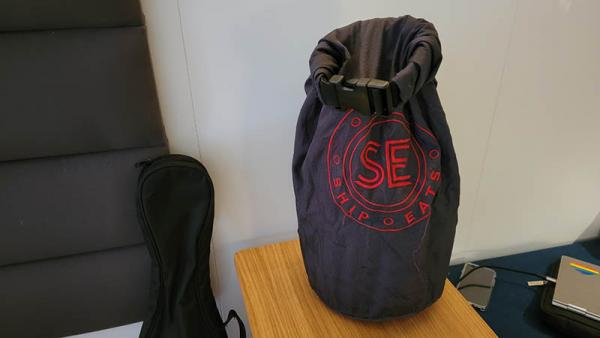 This turns out to be quite practical and easy to move around. A zipper on the back of the tall bag makes it easy to remove your food.  Hot coffee thermoses and accouterments are in the bag, but other items, like espresso, or cocktails, are handed to guests separately.  
In our experience, as well as the experience of some friends on board, while the app says it could take up to an hour for delivery, we had things delivered in less than 30 minutes - which, for made-to-order food, delivered to your door, seems amazing.
Food Quality & Variety
Related: Full Ship Eats Room Service Menu
Even on lines with exquisite food (and Virgin Voyages does food very well) often deliver room service dishes that are mediocre at best.  I found the breakfast options to be a bit slim, and not as good as dining in the onboard restaurants, but markedly better than any other room service breakfast we've had.  We ordered an egg-white omelet with veggies as well as a granola and fruit plate.  The omelet was fine.  Not rubbery, which was good, and the veggies had nice flavor.  The quality of the fruit (and granola, in fact) on the fruit plate was really impressive.  This all meshed well with espresso and the intelligentsia drip coffee.
The non-breakfast part of the room service menu is a combination of dishes available in the various onboard eateries.  For lunch today I had slow roasted striped sea bass in mole verde, which is a dish offered in Pink Agave, the onboard upscale Mexican restaurant.  I also had beet hummus, which came with chips that I couldn't quite figure out the composition of, but which were better than anything I've bought in a grocery store.  It turns out the chips and hummus is one of the dishes available at Dockside, all the way aft, both indoors and outside where you can watch the wake.  It was this meal that really impressed me, as if I'd have paid $20 for this at home I'd be tickled with the quality - but I'd never get it delivered as quickly, and as hot, as I did to my stateroom.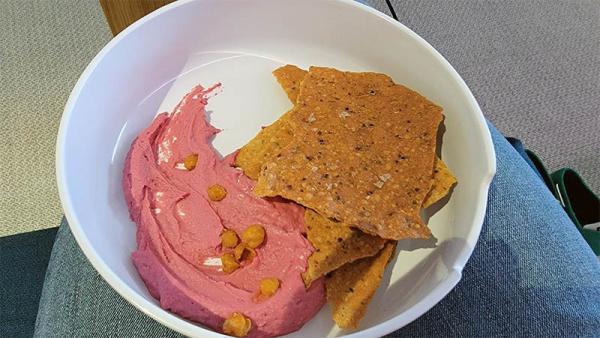 Conclusion
Virgin Voyages continues to make adjustments, but some of the "different" things they do really make sense and enhance the guest experience.  The way food is delivered, for example, is simply more practical for those with the space constraints of a standard cabin, and the layers of reusable packaging may also keep things warmer, as an added benefit.  One thing they could improve?  Add a notes section when ordering.  I understand they may want to avoid too many customizations, but there is no way to specify how many place settings you need, for example.  They do, however, have a section to notify the crew of food allergies.
One thing we're looking forward to is the possibility that Virgin might extend their Ship Eats options beyond cabins.  This was advertised early on as something that would be an option, and is still teased in the app.  On our recent Princess sailing this was very well executed.  As the Virgin Ship Eats menu even includes snack foods, including gummy bears, who knows what we'll see people munching on in a lounge on our next cruise.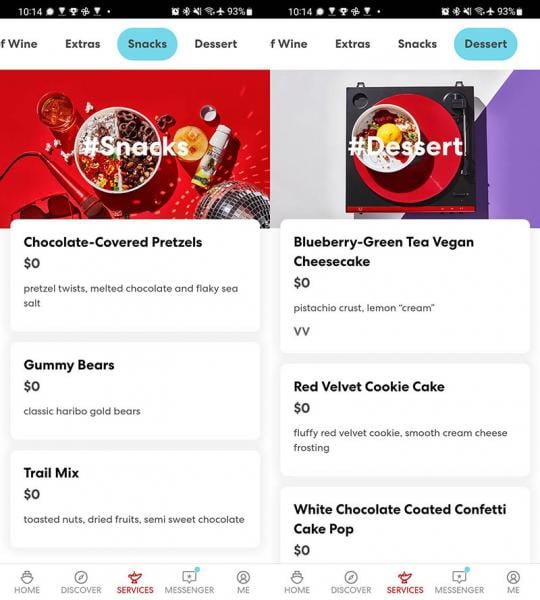 If Virgin Voyages is interesting to you, we have several articles, including live blog posts from the MerMaiden Voyage (but they've actually made things even better since then - more to come there).  We've also got a cabin tour video and a video with five things you should know about this new cruise line.