Author: bill October 9, 2021, Updated: December 5, 2021
Breakfast Burritos by Bimini
We got up quite late after last night's/this morning's secret event (check out the day 2 live blog) and needed food in a big way.  Since it was after 10:15, I thought the best bet might be Diner & Dash, the all-day-breakfast diner.  To my delight, when we got to The Galley, where the diner is located, other stalls were open.  With the exception of the popsicle cart, some salads, and the the dessert area, you can browse at the stalls, but you order with a server.  I really like this, because if your party wants things from multiple sections you don't need to walk all over.  You scan the menu on the table, a server takes your order, and brings the food when ready.
I opted for an avocado burrito from Let's Taco About It.  The flavor was excellent, and it seemed recently-made.  The avocado in it was, however, much too firm.  Ripe avocados are tricky, but this one shouldn't have made it into the burrito.  The fresh salsa and other ingredients in the dish were good enough that I opted to just pick out some parts of the avocado, rather than asking for another.  Still an enjoyable breakfast, along with the vat of espresso I ordered.
Using Tech in All the Right Ways
Virgin really lets you use their app in many helpful ways and it's wonderful.  In fact, this morning, I clicked a few buttons in the app to notify Sailor Services that the tablet in my room (used to control lights, the TV, etc) wasn't working.  I got a notification that it was resolved a short time later.  Great way to make customer service effective, low-touch, and easy.
Getting off the ship was easy, too.  How did the app help this?  We got push notifications upon arrival explaining the gangway location, and even giving instructions on where to go when stepping off to get a tram to the Beach Club.  These thoughtful uses of tech are so much more important than flashy things that may be neat, but may not add to the guest experience.  Further, they're not burdensome, so it only adds enjoyment and convenience.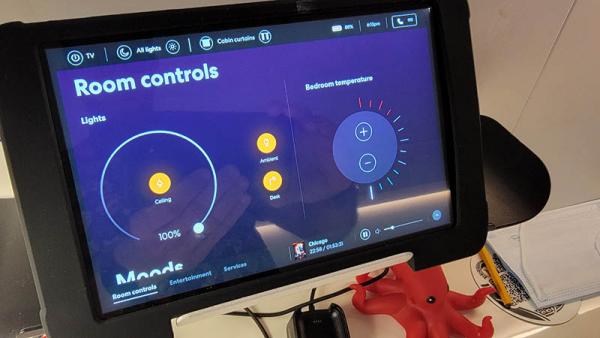 Bimini Beach Club
The ship docks at the Bimini's large port used by ferry services that go between South Florida and the resort town.  Virgin guests can take a very short walk to a shuttle, which stops at Bimini Beach Club, as well as the nearby hotel and casino.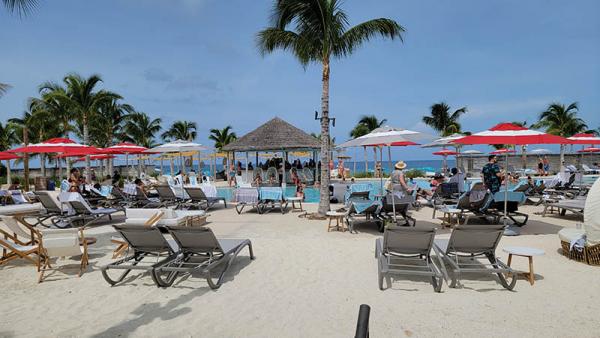 The Beach Club itself is only for Virgin guests while a ship is in port, and carry's the look and feel of Scarlet Lady.  As soon as you walk up there is a covered area with guest services, a bar, and then it expands out to two large pools, a wide area of beach, two restaurants, many more bars, a giant fire pit, cabanas available for rent, and more.  It definitely feels more like a resort than a private oasis like some cruise line destinations.  That's not inherently good or bad, just different.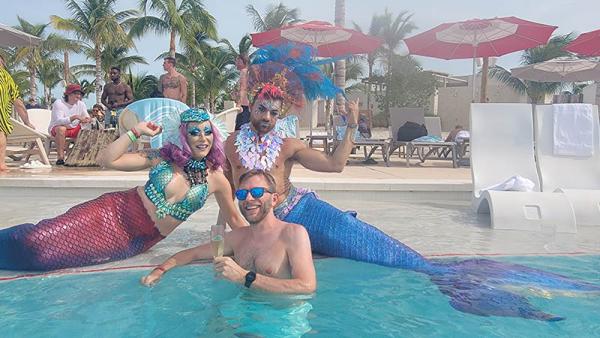 We spent the majority of our time at one of the pools, chatting with old friends, making new ones, and having just a few bottles of champagne.  Actually, our party ordered all of the bottles of Moet that they had, and the crew had to go back to the ship to bring more champagne.  It's a difficult life, but someone has to test the stock limits.  I suspect many guests will long remember us.  We also enjoyed that there were some mer-people hanging out at the pool with us, and we even got to fraternize with the famous Abi The Hostess, who is charming and talented.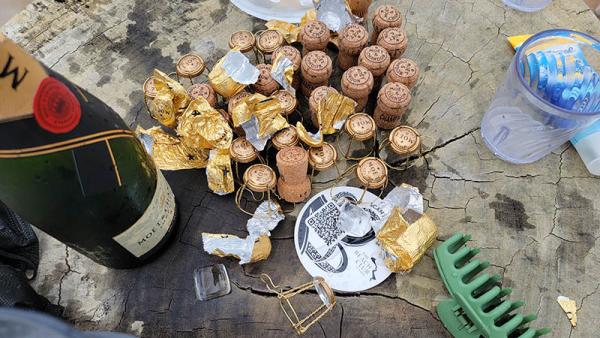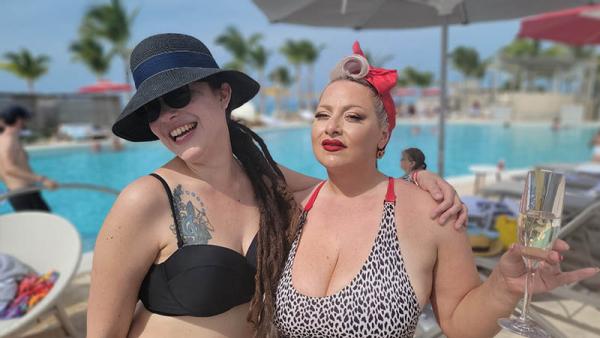 I also made sure to sample some of the food options.  I had conch and papaya ceviche, crispy cassava fries with spicy mango mustard, roasted squash and coconut hummus, and a tropical fruit bowl.  All were well flavored and fresh.  The ceviche was the least remarkable, the others all had me going back for more.  Even the fruit bowl was notably good, with actual tropical fruits that had been just cut up.  Next to the meal we had recently at MSC's Ocean House, the Yacht Club restaurant on Ocean Cay, this was the best meal I had at a cruise line private destination.  I did hear some others note that they had some fish that was just okay, but the reviews of the ribs were good, and earlier, they were roasting an entire pig on a spit, which many enjoyed.  I really liked that they changed the menu throughout the day.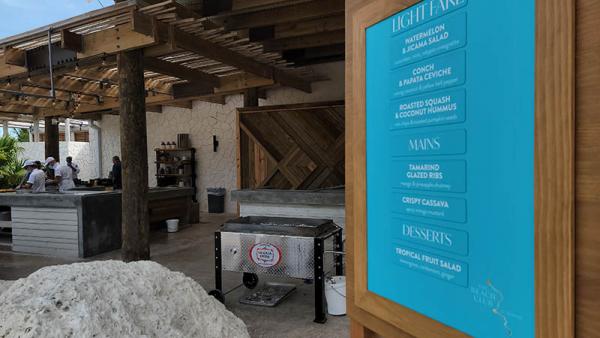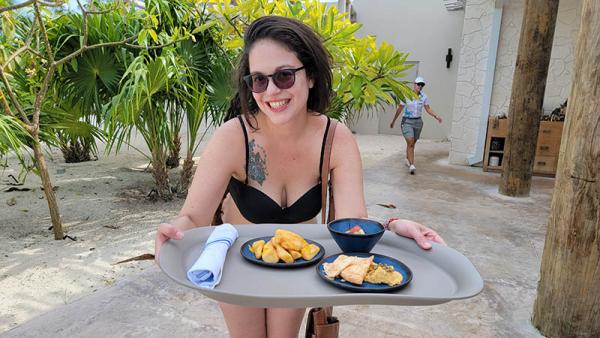 The one thing that was a bit of a letdown was that as nice of a time as we had, they touted the destination as being akin to an exclusive Ibiza party - and nothing at all gave me that feeling.  Not because no one arrived by helicopter to bring us cocaine (something I've already taken up with Sailor Services), it just felt similar to being at a middle of the road beach resort, albeit with better food.  I do have to reserve judgement a bit though, as we had tattoo appointments in the evening, so we had to head back to the ship, despite us being in port until around midnight.  I understand there was a bonfire and evening party on the beach, I can imagine how that experience may have been really neat.  We'll have to check it out when we come back December 10.  Join us!
Squid Ink, Getting Tattooed @ Sea
Scarlet Lady is the first, and presently only ship in the world, to have a tattoo parlor.  This meant we needed to be among the first to get tattoos on a cruise ship, right?  Of course.  Now, I'll address the two things I've heard many bring up before.  "The ship moves, something could get messed up!"  People move more than ships.  Ever written a note on a ship and felt your handwriting suffered because of the motion?  Probably not.  "You can't go into the water after getting a tattoo."  Right.  Well, not pool or ocean water.  For this reason you should plan accordingly.  Also think about spa treatments or anything else on your trip that would make this tricky.  Appointments for the last day fill up quickly, so line up before they open on embarkation day to get an appointment.
Larissa decided to get a small ship tattoo, and I got a tattoo of two channel markers in the water, with the red marker on the left and the green on the right, indicating I'm headed out to sea.  Fitting, I thought.  I live-streamed the process of getting my tattoo, while answering questions in the stream.  You can watch the video here, and see if/how much I cried.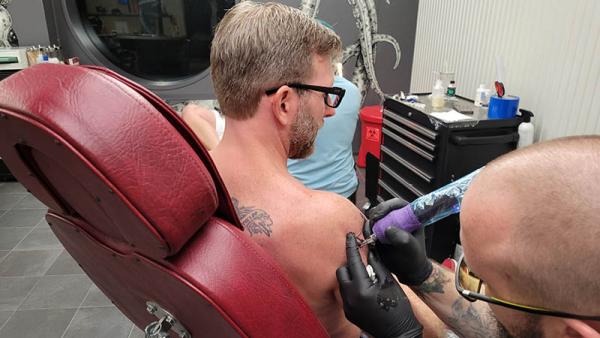 Many folks asked about pricing of the tattoos.  Depending on the level of complexity and time involved, tattoo prices can vary a lot.  The experience and popularity of the artist is another factor.  Larissa's, for example, was $300, and would have been a bit less some other places in South Florida, or potentially about the same at a big-name location.  If you live in some other parts of the US, you'll find the prices much higher.  The artists that rotate through on Scarlet Lady, however, are top-notch, and they're happy to show off their work.  In short, you'll likely pay a premium, but it's not wildly unreasonable.  
The artist, Justin (check out his Instagram), and other staff, also did a great job of explaining the process, showing how they kept things clean and safe, and ensuring everyone knew about proper after care, even providing ointment and other items to help with your tattoo after you leave.
Wide Open Spaces
After tattoos we went up on deck to walk around and went to deck 16 aft at The Athletic Club, where there is a catamaran net you can sit on and look down to deck seven, as well as all the way to the wake trail down below.  It's a popular spot for people to photograph and talk about, and I'll get some daytime photos there tomorrow, but it's not really comfortable to lounge on.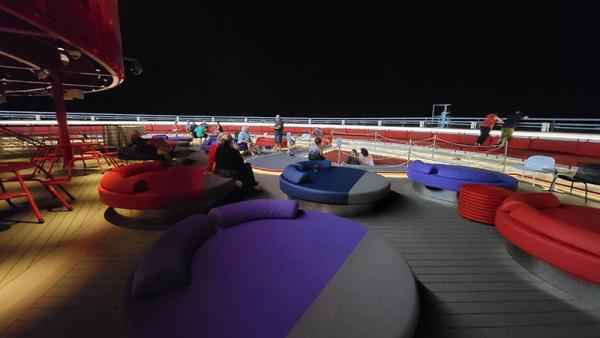 The deck around the catamaran net, however, is lovely.  Circular padded seating, great for groups or spreading out, as well as some tables in case you want to enjoy a snack, or a beverage from the large 270 degree bar nearby.  By far my favorite feature, though, is the wide padded surface all around the edge of this aft deck.  You can lay down, sit, or stand and go to the very edge to look down at the ocean.  I'm sure it's even nicer during the day, but it's a very serine spot and feels like you're at a high-rise roof lounge with a view of the ocean.  We even got to enjoy this spot as we sailed from Bimini late at night.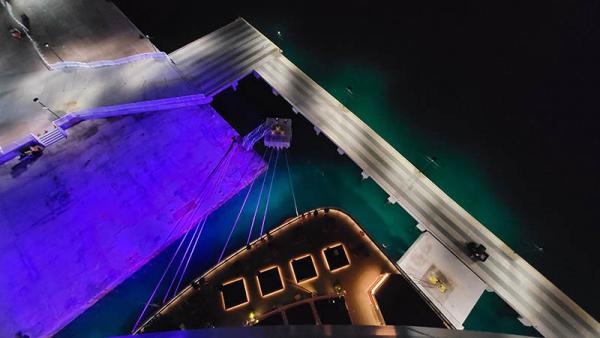 Late Night Snack
Before hitting the sack we wanted a little something to eat, so we headed to Pizza Place and got a white pizza to go.  They're open until 1:30am (I thought it was 24 hours, but still, not bad) and it's a popular place at all hours.  Once again, the pizza was flavorful, with well-textured crust that tasted just right.  We almost stayed to sit outside, as the outdoor seating available is peaceful and offers a nice escape.  I like that the wide promenade is well appointed on this ship, either for dining, lounging, or socializing.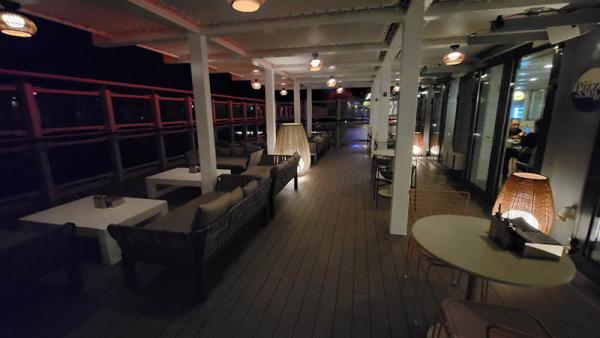 Seizing Sea Days
Tomorrow we're at sea, and it's the last day of this cruise.  I feel like there are still parts of the ship I've spent too little time in, and I want to try it all but also see what is reasonating with other guests.  For example, there is an arcade area, with video games and air hockey, all complimentary, it's it's co-located with a diner!  That's a neat idea, but I want to see how other guests enjoy it, and when.  There are also multiple shows we've yet to catch, so that's another goal.
Stray Observations
If you need pitch black to sleep, bring some tape and use a paper to cover the thermostat.  It has bright LEDs that really light up the room.

The app didn't work at Bimini.  The WiFi did, and that was seamless.  I suspect this is a temporary issue they need to work on.

There are self-service beer stations at The Galley.  This is on several other lines, but I'd not heard anyone mention it on this line.

Virgin Voyages' Scarlet Lady MerMaiden Live Blog - Day 1 - Embarkation
Virgin Voyages' Scarlet Lady MerMaiden Live Blog - Day 2 - Nassau - Champagne, Pool, Wild Parties & More Champagne
Virgin Voyages' Scarlet Lady MerMaiden Live Blog - Day 3 - Poppin' Bottles @ Bimini Beach Club
Virgin Voyages' Scarlet Lady MerMaiden Live Blog - Day 4 - Ending the MerMaiden Voyage with a Sea Day, 2 Dinners & a Piercing
Virgin Voyages' Scarlet Lady Sea Terrace Cabin Tour (Video)