Author: bill October 8, 2021, Updated: December 5, 2021
On our first full day on Scarlet Lady I spent time in ways I'd not have expected at all, but in a way that really made me appreciate both the more conventional parts of Scarlet Lady, as well as the not-so-conventional.
Brunch on Our Time
We aren't morning people, and as such, we very rarely make it to breakfast other than at buffets, as everything shuts down early.  Today though, we looked in the app around 10:00am and found that there were several places open for breakfast still, not just The Galley (food hall) or the onboard diner (which has breakfast all day).  We opted to go to The Wake, where we dined on the preview last week.  They had a brunch menu with both breakfast and lunch items, as well as a variety of cocktails that included a $25 "bottomless brunch" option for those looking to enjoy multiple mimosas, bloody marys, or other common brunch drinks.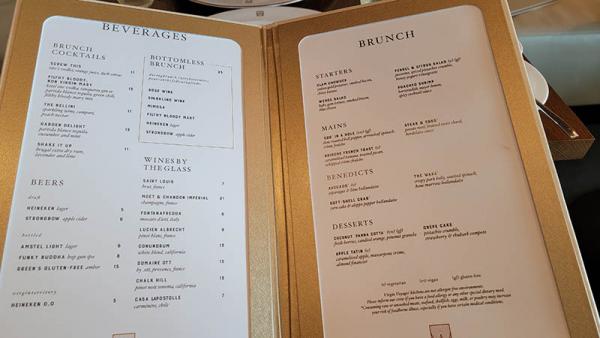 My expectations weren't high, as I just don't find good breakfast foods on many cruise ships.  It seems an easy meal to get right, but so often lines fall short.  In this case, the results were better.  Larissa had a vegan polenta dish called "egg in a hole", which was unusual but very good.  I had artichoke eggs benedict.  The ingredients and presentation were excellent, though the eggs were over-cooked. They weren't hard-boiled or anything, but not as runny as I'd have preferred.  Honestly I really enjoyed it, if I'd wanted it redone I'm sure that would have been fine.  We also enjoyed wedge salads (which were wildly crispy and fresh), and a few desserts, which were light, just as I want from an end of brunch meal.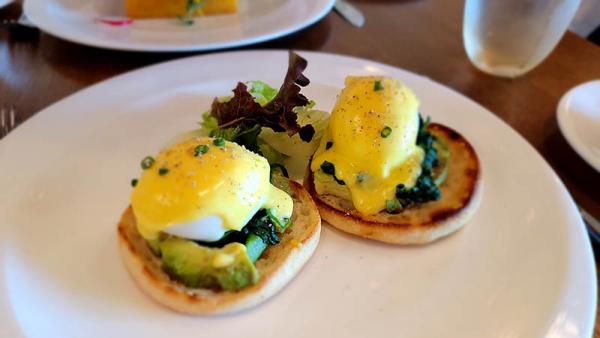 One downside was the time - it took us a good 30 minutes to get our first course, but it sped up after this.  I mention it as I don't like to omit things, but in the same breath I'll point out that no one else around us seemed to have a delay, so perhaps there was just an issue with our order.  No big deal, we had a relaxing day ahead.  It does seem though, in all restaurants and bars, like the staff is still getting used to the phone-based point-of-sale systems they use.  I like that this makes it easy to get things right and have the kitchen or service bar start preparing things right away, but there may be user-interface issues to work through.
Going Ashore...Or Maybe Pool Time
I was expecting to go ashore for a bit in Nassau today, but while doing a live video, my friend Len managed to flag me down and hand me a glass of tequila.  They were enjoying the pool, and I was already wearing a bathing suit, soooo, my plans changed.
I don't spend much time by the pool on most cruises, but ended up here much of the day.  While small, there was a nice group of people around, lots of linear space (largely because of the shallow area surrounding the deep section), and no shortage of places to sit.  My favorite part?  The music.  The selection was fine, but I loved the volume.  Usually I find it far too loud, but this was great.  In fact, there was even a time we wished it was a tad louder.  
Drink service at the pool was excellent.  Servers and those collecting empties were abundant.  There is also a bar just steps away, so we sometimes went up there and had great service.  There is another way to get a drink on Scarlet Lady though…
Shake for Champagne
Announced exactly two years ago, there is a feature in the Virgin Voyages onboard app that is certainly not something we've seen elsewhere.  You just open the app, shake your phone, and someone brings you a bottle of Moët & Chandon - wherever you are on the ship.  Well, for research we had to try this.  I'll do a video about it later, but the end result was a $95 charge, and a bunch of happy people at the pool.  Thanks to Len from TouringPlans.com, or friends and travel partners, for this.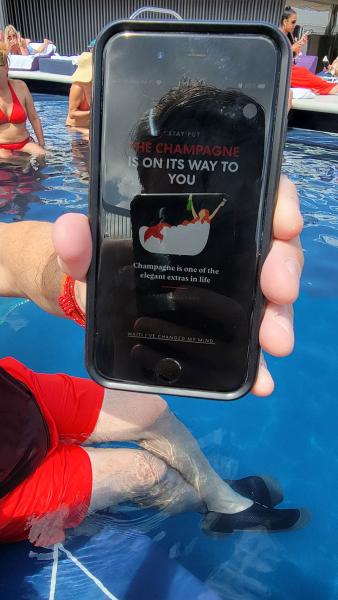 There was a small tech issue at first (where our order just disappeared), but when we tried the second time the delivery was reasonably quick, and they were happy to provide all the glasses we needed.  I'll admit, it did make us feel like rock stars.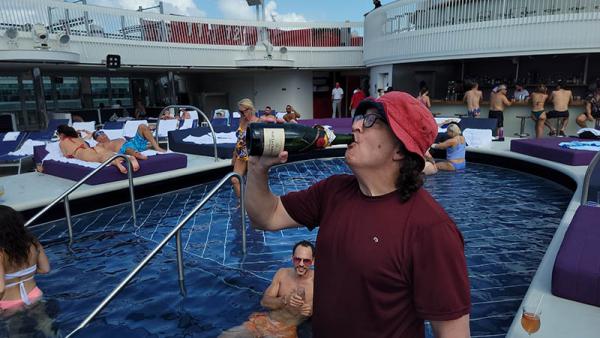 Grab and Go Food...On a Ship?
After a long day in the sun, I was in need of a snack.  The tequila and champagne of course, had nothing to do with this sudden need for sustenance.  I decided to try out the grab and go options I mentioned in yesterday's post.  While there is a wide variety, I got a caesar salad, and was pleased with how fresh it was for a boxed item I just grabbed from a fridge just inside from The Dock.  I've seen the crew rotate these frequently.  I also enjoyed an artisanal popsicle from a cart in The Galley, and hung out in my room for a bit.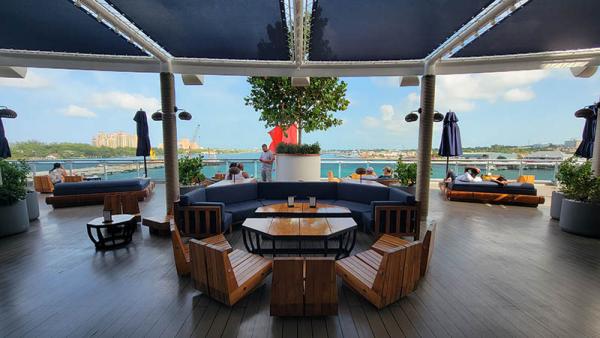 Red at Night, Sailor's Delight
I did some "light exploring" of the ship after a rest, and found they'd started decorating for Scarlet Night, a theme where guests are encouraged to wear "a splash of red", but it also means an overall more lively atmosphere, featured entertainment, and some interesting decorations.  It would prove to get much more interesting than that.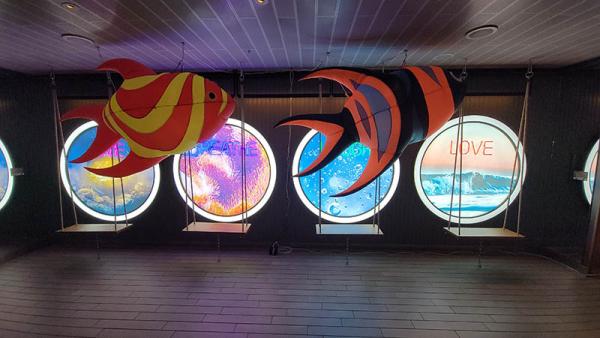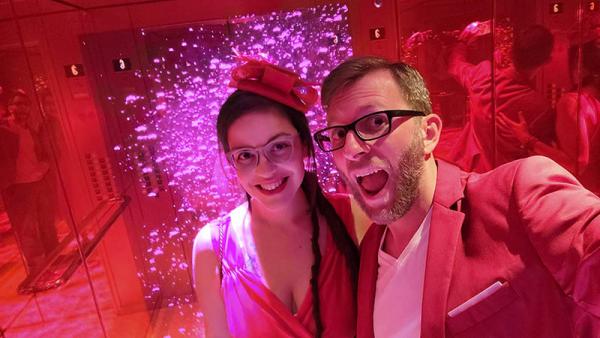 Extra Virgin
Tonight we dined in an Italian restaurant called Extra Virgin.  The menu is easily managed as family style or individual portions.  To start, we opted for the crispy artichoke and the ribollita, which was cannellini beans, escarole salsa verde, and country bread.  We also ordered gnocchi with hen of the woods mushrooms and a truffle butter sauce, as well as brussel sprouts arrabiata and grilled sea bass.  
Every dish was good on it's own, but for me, the brussel sprouts arrabiata was the winner.  This was a bit of a surprise, but it was actually a bit spicy (I have a wildly high tolerance for spice, so anything detectable is good for me) and tasted like the ingredients had just been pulled from the garden.  We wrapped up the meal with decaf affogato and complimentary limoncello.  
Scarlet Night Pool Party & More
Following dinner we noticed the theme around the ship had really been turned up to eleven.  For one, there was a comedically done fake wedding, where the entertainment staff conducted a wedding between two random guests in the mid-ship atrium area...where there was also a massive inflatable sea creature with tentacles.    Read that again, it won't make any more sense later.  It was amusing to watch, but I'm not sure I got the point.  Anything that guests enjoy is a good thing though.  As soon as this was over there were crew and entertainment staff enthusiastically and in very animated ways, encouraging guests to head to the pool deck.
We did as told, and went right up top, and knew it would be wild before rounding the corner.  The music was really loud, which at first made me think I'd be there only a minute.  As we saw the party happening though, I knew I'd need to stick around.  There was a two deck high inflatable octopus in front of the pool, wild lights and lasers, and hundreds of guests dancing with entertainers in lively costumes.  I went one deck up to get a better perspective and found that not only were people dancing in the wading part of the pool, but entertainers and guests were jumping in the pool.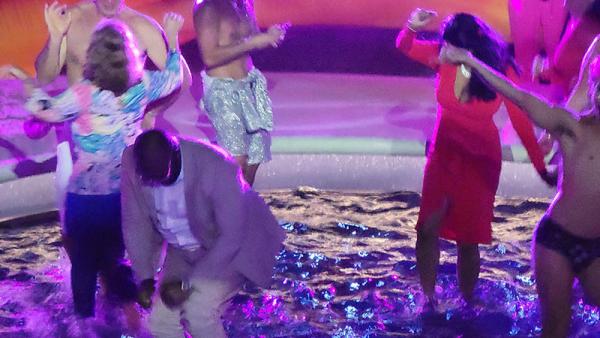 The theme seemed to be outlandish, over the top, care-free, and fun.  Oh, and there was a lot of red I suppose.  While this wasn't necessarily my speed, it was quite the site, and made it fun just to watch.  Larissa danced by the pool and seemed to really enjoy herself.
Interestingly, there seemed to only be one bar open, which would have been woefully inadequate given the crowd, if it weren't for the fact they had a solid complement of servers who were taking orders and promptly returning with your order, wherever you were on deck.  Still, it seemed strange the other bars right in this area weren't open.
I'm struggling to summarize this party, as it's not fair to say that it was loud, had a lot of lights, and people celebrating. If I told you there was a pool party on a ship with lasers, sea creatures, and sexy space mermaids, you'd think I was nuts, but you'd have the best impression I can offer without video.  I am very glad I went, and very glad I was able to get somewhere more quiet and air conditioned after a half hour.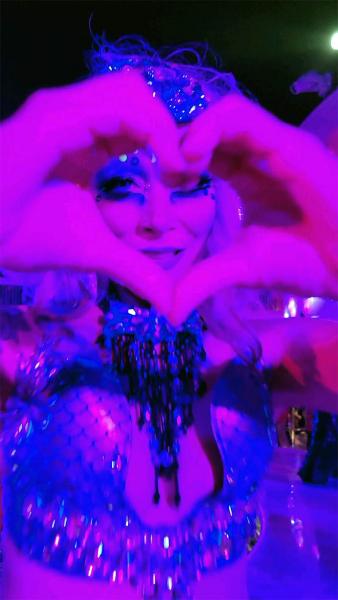 Traffic Jam at the Manor
The night club on Scarlet Lady is called The Manor.  It's located across two decks, with the main entrance located in the casino.  If you've seen any photos of this ship, you've probably seen a mirror and disorienting hallway.  That's the entrance to The Manor.  The entrance, while neat, is a bit too isntagrammable, so it's a constant traffic jam because of people taking photos here.  There are other entrances but they're not well marked, and in fact the permanent placards indicate the venue is closed (so the doors are meant to stay open).  Pro tip: If you're on this ship and want into the club without waiting for folks to finish taking selfies, then go up one deck, just above the casino, and open the doors where you hear loud music.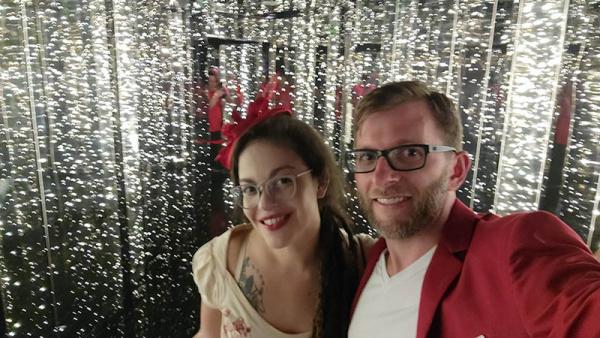 A Surprise Magical Ending
Leaving the manor, we were tipped off to a special event.  Given a small card, we were asked to meet in an odd location at a specific time (in the middle of the night), for something special.  Greeted by a man in a rabbit mask, and discretely taken into a small room, we got a private up-close magic show.  Only four guests, including us, were there.  
There was mention of this being the "Survivors Club", but I'm not sure if that's the official name.  More guests will be included later, and I don't want to give too much away, but if you're asked to meet someone in the middle of the night, it's not a trap, it's a trick.  To be clear, we were NOT selected because we have a cruise blog, it was truly random, but by a wild coincidence, we did get to enjoy the show with J from The Ship Life.  For the record, like much of today, the show included champagne.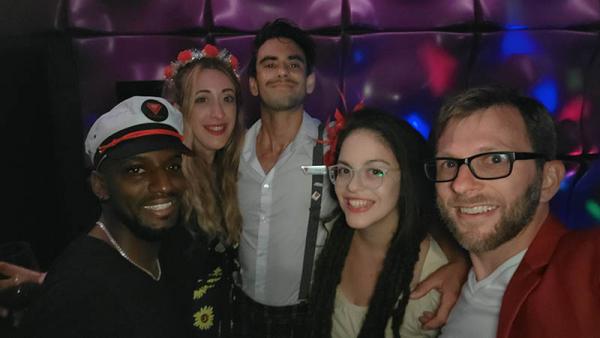 Tomorrow: Bimini Beach Club & Forever Changed
Tomorrow we spend a long day at Bimini Beach Club, a private destination for Scarlet Lady guests.  I'm looking forward to how this new line handles this type of experience, especially with a late night stay, like we enjoyed on MSC's Ocean Cay a month or two ago.  At the end of the day, we're also getting tattoos onboard in Squid Ink.  Be sure to subscribe on YouTube and like us on Facebook, as we'll stream the process on one or both channels around 8:30pm EDT.
Stray Observations
There is no smoking permitted in the casino on Scarlet Lady, but near the casino there is a completely enclosed smoking lounge.  It seems to have a vestibule and good ventilation, and even opening the door I smelled zero smoke.  At some point I'll go inside to see what the facilities are like.  Smoking room

Towels are easy to come by.  I really don't like when cruise lines make you check out towels. It really seems strange to me, and makes me feel like I'm being babysat.  Maybe it's just a me quirk.  Virgin makes it easy though, with towels in your room (in several places) for the pool or shoreside, plus several areas with fresh towels (and laundry drops) outside.  

Virgin Voyages' Scarlet Lady MerMaiden Live Blog - Day 1 - Embarkation
Virgin Voyages' Scarlet Lady MerMaiden Live Blog - Day 2 - Nassau - Champagne, Pool, Wild Parties & More Champagne
Virgin Voyages' Scarlet Lady MerMaiden Live Blog - Day 3 - Poppin' Bottles @ Bimini Beach Club
Virgin Voyages' Scarlet Lady MerMaiden Live Blog - Day 4 - Ending the MerMaiden Voyage with a Sea Day, 2 Dinners & a Piercing
Virgin Voyages' Scarlet Lady Sea Terrace Cabin Tour (Video)