Author: Bill October 6, 2021, Updated: December 5, 2021
After a long wait, the new cruise line Virgin Voyages' first ship, the adults-only Scarlet Lady, set sail from her home port of Miami today, and we're excited to be onboard to experience it.  The first cruise is always the opportunity to impress, but also reveal what may need to be adjusted.  So what has our experience been so far?
Embarkation
We arrived at PortMiami to find a long line of people waiting for the first stage of embarkation: COVID testing.  While in line we registered on a website for the test ahead of us.  Fortunately, the long line was in the shade and moved reasonably quickly.  This was briefly broken up by a nice photo-op.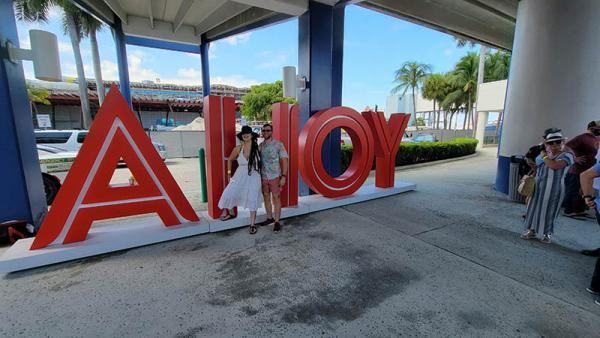 We then got our COVID tests and walked to the next building where we cleared security and waited for our results.  The waiting area was themed, and complimentary drinks flowed, and "just the right volume" music played.  While this terminal is only being used until Virgin's bespoke terminal is being built for another few months, they managed to make it their own.  Within ten minutes our test results were in via email and we moved to the next step.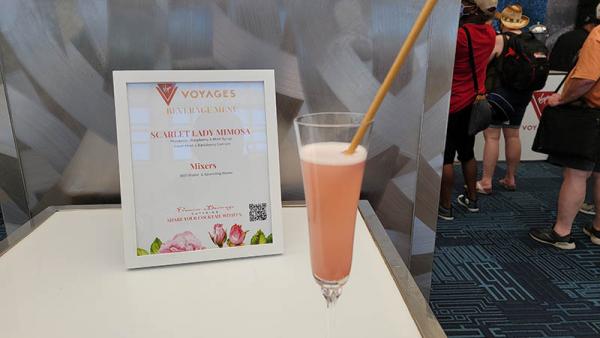 Our registration was confirmed, along with our vaccination status (all guests must prove they're fully vaccinated in order to sail with Virgin) and we walked to the next building where we saw the gangway, I waived to Tom McAlpin, Virgin Voyage's CEO, and we were onboard.  Overall, from arrival to being on the ship was probably about an hour and a half, though to be honest, I didn't time it.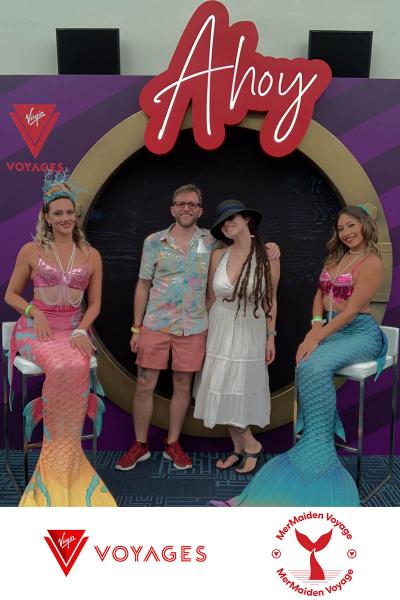 First Impressions & Stateroom
We were lucky enough to tour the ship briefly last week (which you can read about here), so there were no big surprises when stepping aboard.  The atmosphere was lively, and it felt like embarkation day - which is to say, a little hectic, but manageable.  There were loads of crew members ready to assist.
Wanting to clean up and unpack, we went right to our stateroom.  For this sailing we have a standard Sea Terrace (verandah), on deck 14.  On arrival I found my wristband, used as a key and charge card, didn't work, but Larissa's did.  As we opened the doors the curtains opened and we were presented with a very clean room that looked modern but comfortable.  We also saw that our checked bag actually beat us to the room.  Impressive!  They even brought it inside for us, rather than lining the halls with bags.  Additionally, this being an inaugural, we had some nice gifts set out for us.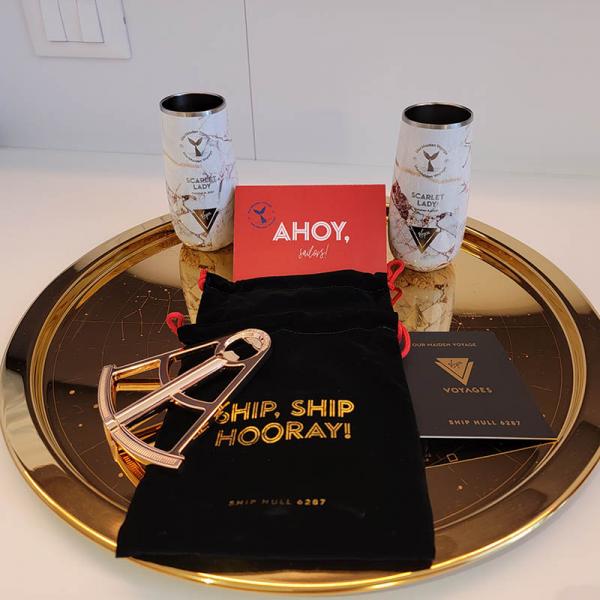 A lot has been said about the lack of storage in the rooms, and there is more than I thought.  We'll cover this in a future post or video, but while there is room for improvement in terms of storage, we managed to secure all of our belongings quite easily without any clutter.  The tablet on the vanity, used to control many things in the room, told us we needed to watch the safety video, so a button press later, and it was on the TV.  To complete the safety drill, we'd need to stop by our muster station for two minutes later.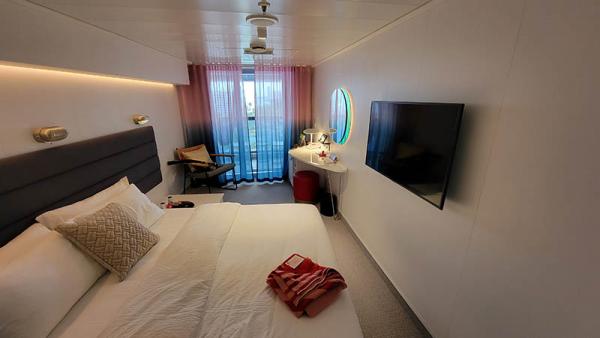 Oh, there is a hammock on all the verandahs, so I tried that out.  Perhaps I'll get better with time.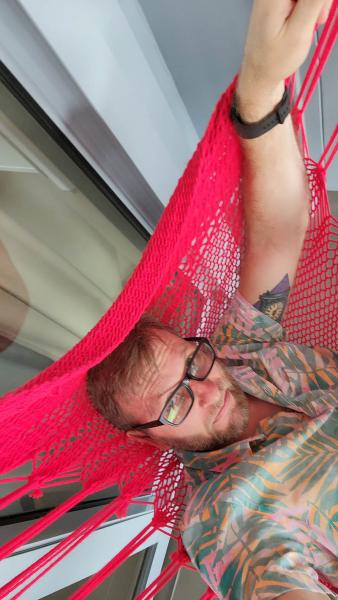 Lunch and Exploring
We boarded a bit later than planned, so after unpacking, and stopping at guest services to solve my wrist band issues (easy fix), we found that The Galley, which is a casual food hall concept on deck 15, was already shut down except for the diner.  I didn't want diner food (not that it looked bad), so I headed to the aptly named Pizza Place for made to order pizza.  I've long been critical of pizza on ships, and some lines have impressed me (Holland America Line and MSC) but most let me down.  This pizza was great, though I'll share deeper thoughts some time when I didn't consume it in such a frenzy.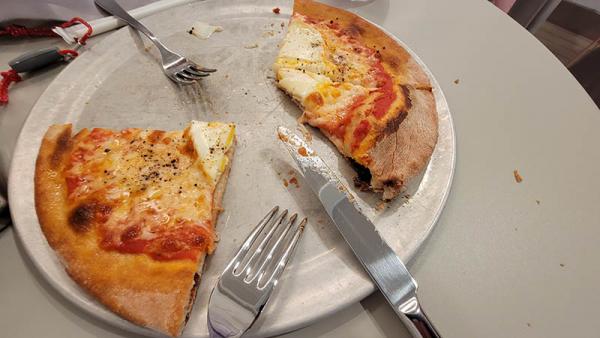 One nice touch in the pizza joint was grab and go items.  Many spaces around the ship have these salads, sandwiches, and other items you can pick up on your way to fun, or rest, and enjoy.  I think that's a great concept, and as long as waste isn't created, I'm all for it.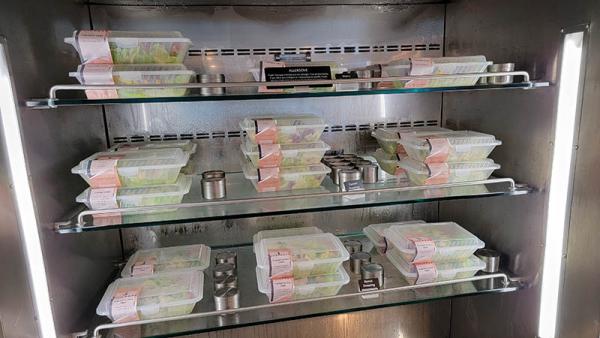 From there, we went to The Dock, which is a large outdoor patio located all the way aft, with made to order meze (all restaurants are Virgin Voyages are complimentary), bars, and a variety of seating.  I spent some time here last week and knew I'd like it - it's really just a relaxing place, even on embarkation day when it became very popular.  Making it more fun was Virgin pouring free sparking wine (as well as sparkly, "yass queen", a sparkling cocktail with sparkles) for an hour or two for all guests, as a celebration of the first voyage from their home port.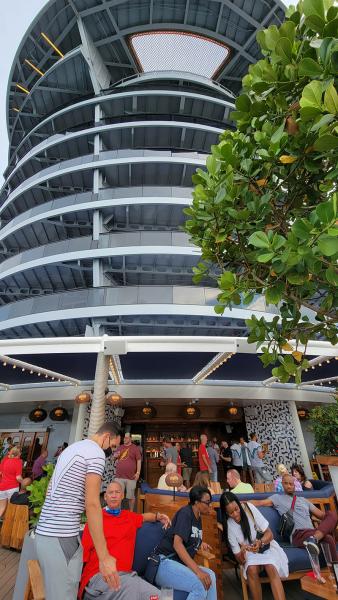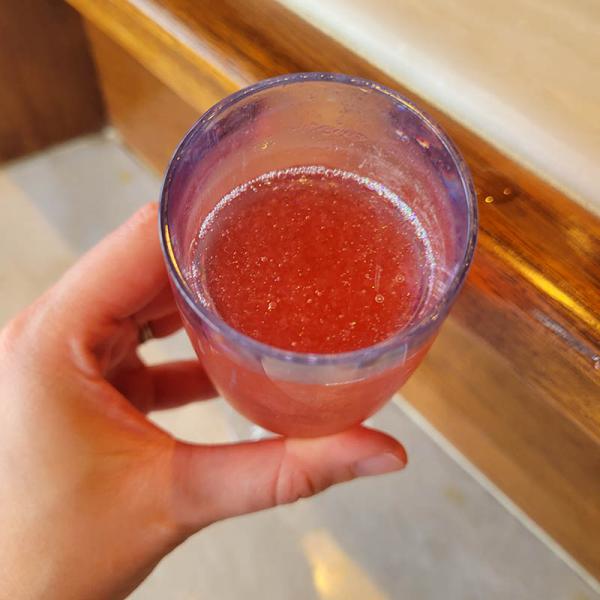 Tattoo Queue 
One very unique thing about Scarlet Lady is that she has an onboard tattoo parlor, Squid Ink.  We knew this would be popular, and wanted appointments on the last day, if possible, so we rushed to schedule this at 7pm when they opened.  Most things can be scheduled in the app, but not this, based on the unique nature of tattoos and how much time may be required.  Arriving at 6:45 there were already several folks in front of us, so we didn't get an appointment for the last day, but the second to last evening.  That'll work.  This is not a cheap tattoo parlor, but we'll save the details for when the work is done.  We hope to stream this on Facebook and YouTube, so stay tuned.
Dinner at Pink Agave
The Mexican restaurant onboard is Pink Agave.  Again, all of the restaurants are included with your cruise fare.  We made reservations a few days ago, but arrived late because of our tattoo planning.  No worries, they were happy to accommodate us with just a five minute wait, which we enjoyed at the bar inside the restaurant.  They have a WIDE variety of tequila here, but I'm not an aficionado, so I can't speak to the quality or options.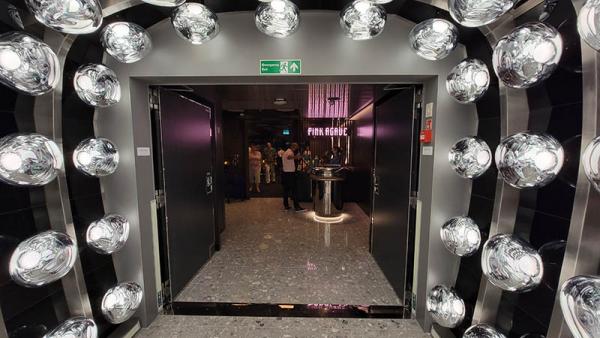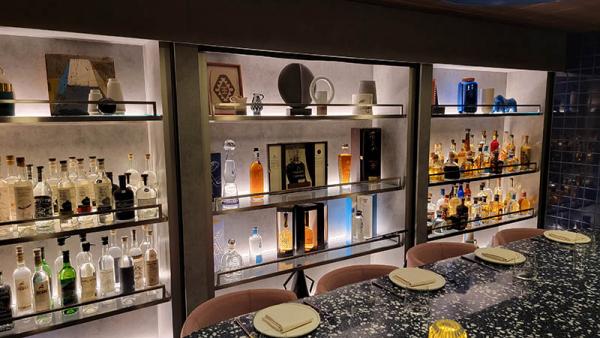 This is no Tex-Mex joint, but really creative and upscale Mexican.  I had a corn dish (esquites), striped bass, and a fruit dessert called milhojas.  I can honestly say that everything I had was fantastic, as was the service.  No part of this felt like a cruise ship dinner.  The food was clearly made to order, but came out very quickly and hot.  I asked for some habaneros, and they came out in a nice dish, diced perfectly, in less than two minutes.  Meanwhile the quality of the ingredients was very high.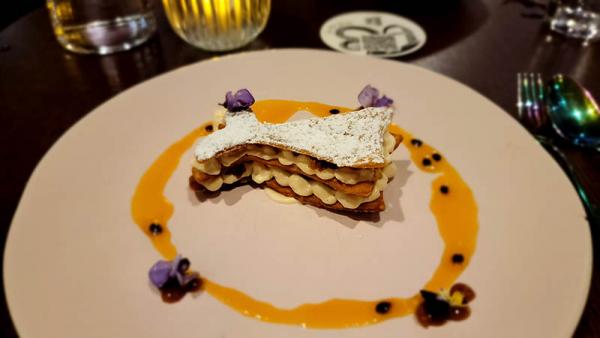 Early Night on a Late Night Ship?
Today was a long day, and after all that free champagne, we may turn in early, even though this ship seems to have things going well past 1:00am. I guess you'll have to tune in to my live videos tomorrow to find out what we did.  One odd possibility: swimming!  I noticed the mid-ship giant hot tub was still open after dinner, when most ships would have usually closed them down.
Tomorrow we're in Nassau.  I may run out for some hot sauce and a snack to support a local business, but I want to spent most of my time on this new and beautiful ship.  Right now I'm writing this from The Dock, and the beautifully lit wake plus a nice glass of whisky have made it so it's hard to imagine a better closing to a first day on a brand new cruise line.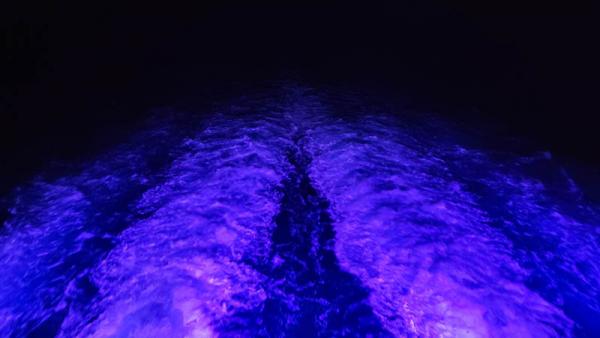 Virgin Voyages' Scarlet Lady MerMaiden Live Blog - Day 1 - Embarkation
Virgin Voyages' Scarlet Lady MerMaiden Live Blog - Day 2 - Nassau - Champagne, Pool, Wild Parties & More Champagne
Virgin Voyages' Scarlet Lady MerMaiden Live Blog - Day 3 - Poppin' Bottles @ Bimini Beach Club
Virgin Voyages' Scarlet Lady MerMaiden Live Blog - Day 4 - Ending the MerMaiden Voyage with a Sea Day, 2 Dinners & a Piercing
Virgin Voyages' Scarlet Lady Sea Terrace Cabin Tour (Video)