Author: Bill October 2, 2021, Updated: October 3, 2021
After waiting years for our first glimpse, in late September we got to spend an evening on Virgin Voyages Scarlet Lady.  Seeing any new ship is exciting, but in this case, it's the first ship for a brand new cruise line, which isn't an opportunity that comes around very often.  Making it especially unique is that Richard Branson's Virgin Voyages promises to be different: a cruise line for, among others, people who don't think they'd like to cruise.  They emphasize that there aren't buffets, that more is included, and that the experience will be a unique one.  Further, their brand has leaned heavily on being adults-only, and to a degree, adult themed.  There are MANY things we're looking forward to seeing more of on this ship, but our short preview of her brought to light many questions that we're looking to answer when we set sail on her first Miami revenue cruise on October 6.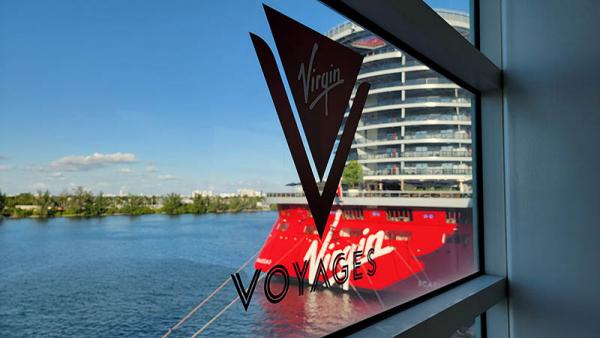 Will I Know What to Do on Scarlet Lady?
Usually, no matter the cruise line, if you want to figure out what to do on a cruise you open up an app or look at a printed schedule and see what looks interesting to you.  Virgin does have an app, as you'd expect from a new tech-forward line, but while it looks polished, I found that looking ahead to my upcoming cruise, the descriptions sometimes fall short of really telling me what certain events or activities might be.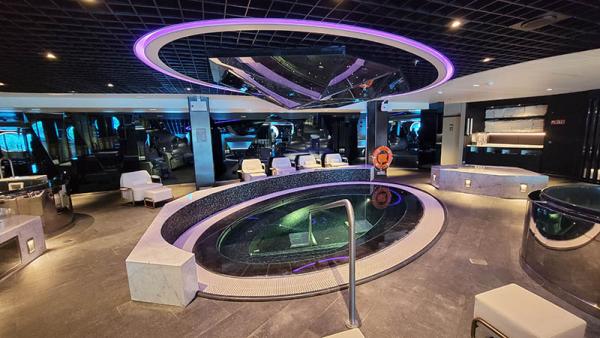 Another way we manage to get drawn to different events or spaces is with music.  During our visit onboard, we noticed DJ setups in many lounges, but there was no live music.  In the app, mention of live music is sparse.  On the surface this seems disappointing, but we'll see how it plays out, and what other methods Virgin uses to move people around on the ship.  It might also be that some polish on the app is needed as if you filter activities by music, nothing comes up.  So, maybe we'll get live performances and we're just not seeing when yet in the app.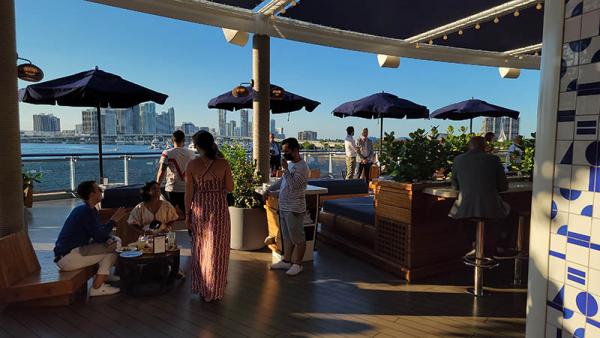 How Will Spaces Evolve on Virgin Voyages' First Ship?
When you're on a ship for just a few hours it's easy to see what the furniture looks like, taste some food, and see a show.  What you don't get to see is how all of the options and spaces change for different times of day.  I don't just mean lighting (though I do love ships at night), but how different spaces are used for the middle of a sea day, compared to an evening after enjoying a day in port.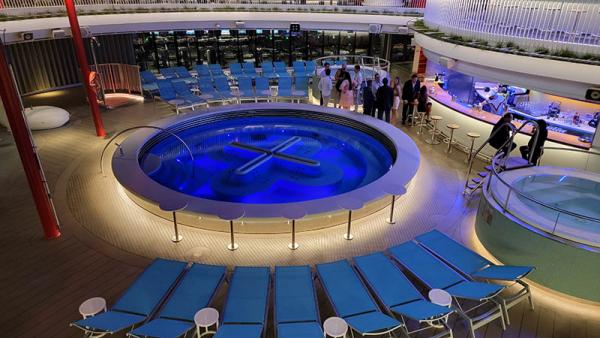 For example, while onboard, I was drawn to The Dock, a mezze lounge and bar located outdoors, all the way aft, on deck seven.  I keep thinking about spending time there next week, and it was so beautiful and relaxing when I visited (even while in port), but I also wonder what it will be like in the evening.  Similarly, what will the pools be like at night?  On some cruise ships things shut down up top rather early, and the real action is down below.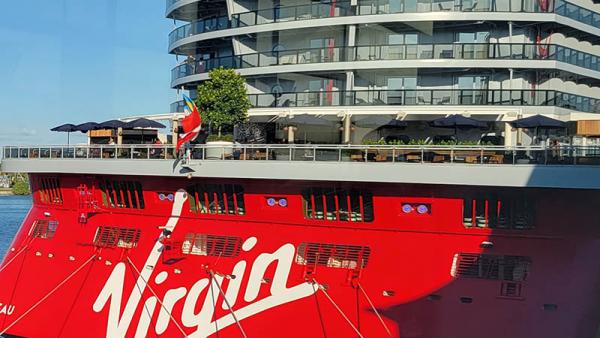 Whatever the transitions may be like throughout the day, that flow will be interesting to observe.  Will there be continuous activity, or will we see waves of folks moving about as shows or other events start and end.  There is no main dining room or fixed schedule on Scarlet Lady, so that natural pace-setter doesn't exist on this ship.  In fact, while there is a wide variety of restaurants (you can see the menus here), they're all included with your cruise fare.
What Will the Evening Shows Be Like on Virgin Voyages?
After dinner on the ship, we saw one of the featured shows, "Duel Reality".  Virgin describes the show like this:
"Our fast-paced retelling of Romeo and Juliet — with an elaborate circus twist. Watch as two groups grapple with the desire to rise above one another through graceful and death-defying acts."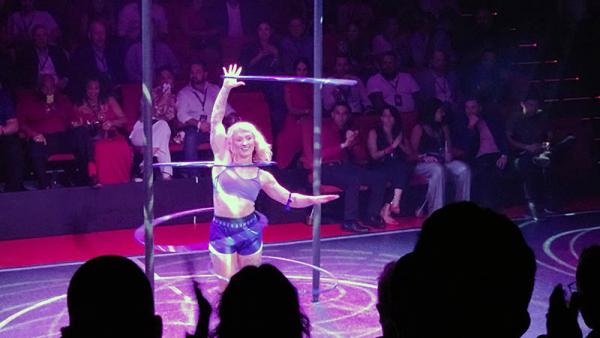 The performers were talented, performing aerial stunts, dancing, juggling, and more.  To be honest however, it felt a bit long - though the format may have been different than what we'll see on our cruise.  I'm excited to see how shows are introduced to guests.  Will Scarlet Lady's hostess (the line doesn't use the term cruise director) sing before the show, or perhaps just discuss the day?  These things could break up the timing and make it seem less long.
Also, the show we enjoyed was in the Red Room, which has stadium seating on two sides facing each other, with a stage/sport-court surface in the center.  At the end there is a more very small, but more traditional looking raised stage with a curtain, however, the seating arrangement would seem to mean anything happening here would require looking to the side.  There have been some photos we've seen with seats on the floor facing this side stage, so perhaps that's how this is handled for smaller events.  Flexible venues are good venues.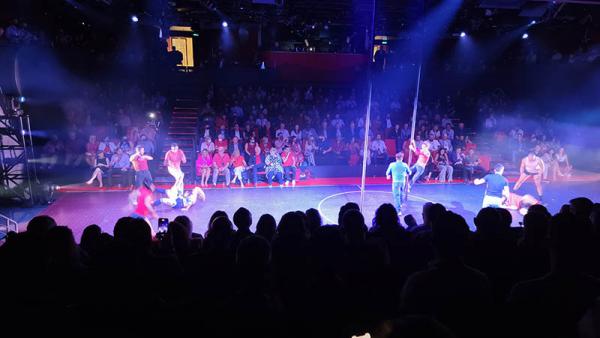 When it comes to the content of other shows, it's hard to know what to expect...unless you check the Virgin website.  The app doesn't really explain these performances well.  On the site some are described, like other onboard features, as "salacious" or otherwise heavily adult-themed.  Will this be reality, or is this just a way of emphasizing that this isn't another traditional musical at sea?
Where Will People Gather on Scarlet Lady?
As soon as you walk onto Scarlet Lady, you find yourself in The Roundabout, an atrium with a large spiral set of stairs connecting the decks.  There are a variety of chairs, a wall of records, and you're steps away from places to eat, drink, shop, get a haircut, or even get a tattoo.  Will this become a natural gathering place?  On some ships it's easy to spot the popular joints right away, even when guests aren't onboard, but this is a bit tricker for me to imagine on Scarlet Lady.  There are fewer focal points, aside perhaps, from the atrium, and instead, more options spread about.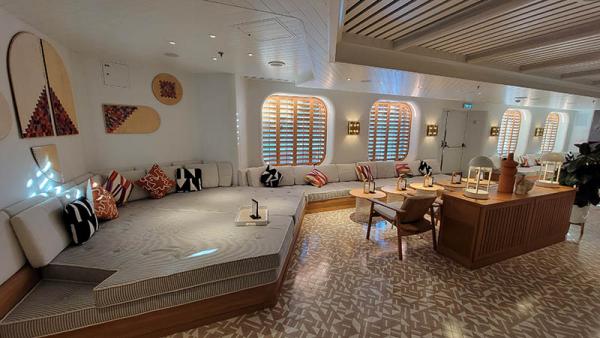 Something I noticed on our recent visit to Carnival's new Mardi Gras, which is a much larger ship for a very different audience, is that the ship seems to have a lot of smaller venues instead of a smaller number of larger ones.  Scarlet Lady appears to be doing something similar, albeit on a different scale.  This might be a wonderful way of giving guests, err, "sailors" as Virgin calls them, more options.  The risk, however, is that some lounges and restaurants are much more popular than others, and the distribution of guests becomes a factor.  I'll be interested to see where the hotspots are, and how that might scale when the ship, one day, operates at full capacity.  I do hope Lick Me Till Ice Cream, the onboard ice cream shop, isn't too busy, because the ice cream I had there was outstanding, so I want to be sure to get back often.  Do try the salted blue-corn cones.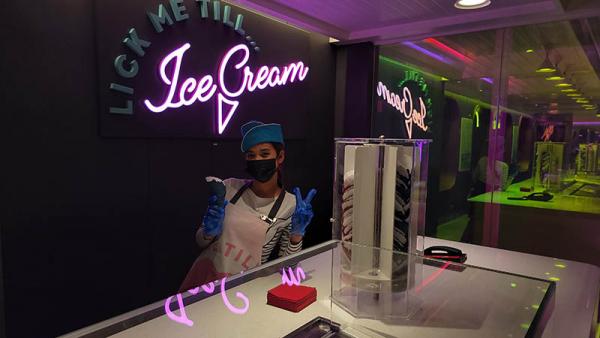 What Will Cruising Without a Drink Package Be Like on Virgin Voyages?
One of the ways in which Virgin Voyages is different from other lines is that they don't have drink packages.  While they include "basic bevvies" such as water, coffee, soda, and juices, you pay for each alcoholic beverage you order, though some events feature bottle service.  I spied a good number of premium spirits at the various bars - a much better selection than the default brands seen on some other ships.  Virgin has released some sample pricing, but as someone who almost always has a drink package on cruises, it's going to be weird to be conscious of how much I spend in this way.  Will the pours be generous?  What if I don't end up liking something that I order?
They do have an offer that allows guests to buy onboard credit (or as they call it "bar tab") and get a bonus, plus they do have lower drink prices than some lines.  We'll see how much our daily spend comes out to compared to buying a drink package on a conventional line.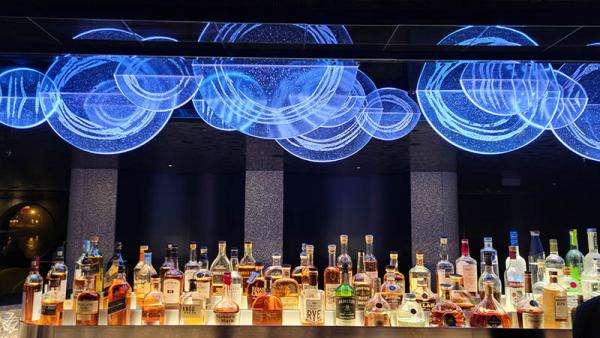 How Different Will it Be on Virgin Voyages?
Even after our time onboard, and browsing the app for the available events and such for our upcoming sailing, it's still not clear how much will actually be different in more than name only.  So far, however, it does seem the line has made an effort to provide a ton of dining options, and at very least, a new and interesting flare to those venues and events already familiar to cruise lovers.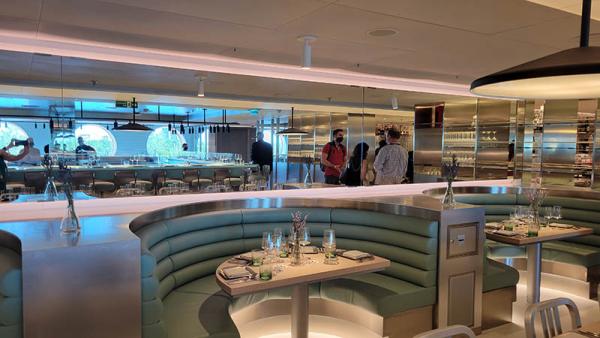 I'm trying to go in with few expectations and an open mind.  Already I found the ship beautiful, for the most part, and the food I had (which was, to be clear, specifically for a media event), really impressive.  That doesn't mean that everything that is different is good, but it does mean that I am truly excited to try it all out.
There is one big question between now and my cruise though.  What tattoo will I get on Scarlet Lady?  If you have a suggestion, share it below.  Maybe you'll be able to leave your mark on this cruise blogger.