Author: Bill February 23, 2020, Updated: February 7, 2022
Some like paying as you go, others swear by drink packages and other pre-paid amenities.  While Virgin Voyages works a bit differently, you may be able to have a few drinks (or more) without breaking the bank.
Are there drink packages on Virgin Voyages?
Over the past several years, many cruisers have become quite used to the idea of paying for drink packages that allow unlimited (or nearly unlimited) alcoholic beverages, specialty coffees, fresh-squeezed juices, and bottled water.  To the surprise of some, Virgin Voyages has not yet announced that they'll offer a drink package.  While many things could change as the line "tests the waters", no one knows if this will become an option in the future.  
Does that mean you have to pay for every single drink on Virgin Voyages?
Not at all.  Filtered water, brewed coffee, juices, sodas, and teas are included in your cruise fare.  Oh, and you won't find prices for specialty dining - all the food onboard is included as well.
How much do alcoholic beverages cost on Virgin Voyages?
Bar and restaurant menus, including drink prices, can be found here.  Keep in mind this may not list everything, and some well-spirits are cheaper that what you see on these menus.  All cruise lines are businesses, and they all strike some balance of onboard revenue (drinks, retail, spa, etc) and revenue generated from cruise fares.  Virgin Voyages drink prices are quite reasonable compared to other cruise lines.  In fact, they're also lower than we tend to see around South Florida - where Virgin Voyages, and their first ship, is based.  
Virgin likes to point this out about pricing...
Virgin likes to point out that many beers cost just $5-6.  Cocktails featuring name-brand liquors such as Tanqueray and Jack Daniels will set you back about $9.  Wines of course can vary a lot - but nearly half of the wines served by the glass on Virgin Voyages are under $10.  All off these prices include gratuity/service charge.  Compare that with, say Carnival, who on average is charging $1-2 more than these prices - while also assessing an 18% service charge.  For example, a Heineken  on Carnival Panorama this month, will cost you $6.75 + 18%, for a total of $7.97. On Scarlet Lady, that will set you back $6 even.  Feeling like Champagne?  Just shake your phone and have a bottle brought right to you.
One Option to Save on Drinks on Virgin Voyages - "Bar Tab"
There is a great way to get "free money" toward drinks.  If you pre-pay for some "Bar Tab" (like onboard credit just for drinks), you'll get some for free.  The standard offer is an extra $50 for every $300 of Bar Tab you pay for at least a day before you cruise.  This means pay $300, and get $350.  Not bad.  Often, however, there are other specials, moving this up to $100 bonus, or even more for Sea Blazers (those sailors who enjoyed Scarlet Lady in her initial months).
Video: Five Things You Should Know About Virgin Voyages
Technically, Bar Tab money is just for drinks (and related things - like pub crawls).  Onboard credit that can be used for anything is called Sailor Loot.  As of Feb 2022, however, Virgin doesn't yet differentiate these funds though, so that Bar Tab can be used for anything onboard.  Expect for this to change in the future though.
How does it work?
Below are the details straight from Virgin Voyages.  Note that they refer to travel agents as First Mates.  You did book with a travel agent, didn't you?
Purchase a $300 prepaid bar tab and we'll double our usual $50 bonus, giving you $100 extra to spend at any bar on board or at The Beach Club. Available for a limited time. Cheers!

How does Bar Tab work?
Load up with Sailor Loot (onboard currency) and any premium beverages you buy will be deducted from your Bar Tab.
What's in it for me?
For every $300 pre-purchased, Sailors receive a limited-time bonus $100 (regularly $50).
How do I start my Bar Tab?
Start your Bar Tab on shore before you set sail by contacting Sailor Services at 954 488 2955 or your First Mate.
Want to Save Even More?
If you cruise with us on our July 3 2022 group cruise on Scarlet Lady, not only will you have access to onboard destinations experts, but also exclusive events, value adds, and some fun surprises.  In fact, if you book before February 16th, you can get up to $300 to spend onboard!  If you're reading this after that date, check with us, and we'll keep working hard to get you the best deal possible.  Interested in saving and cruising with us?  Check out VirginVoyagesGroupCruise.com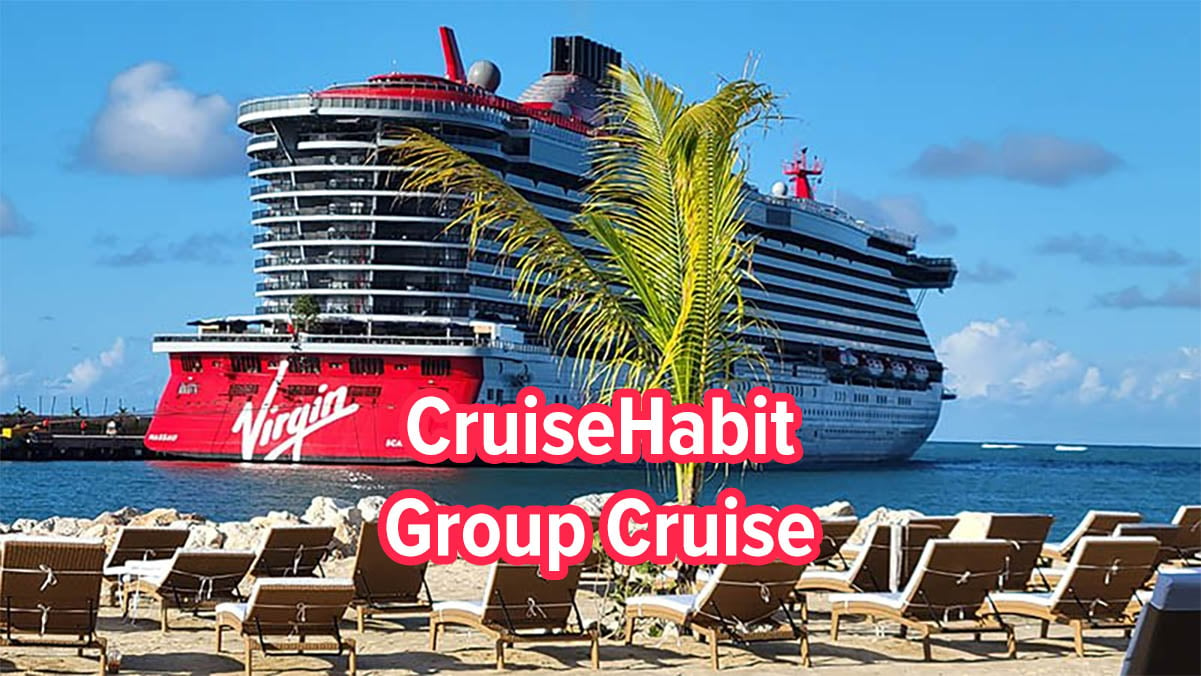 There is One Group of Sailors Whose Drinks Are Included
Guests in Mega RockStar Suites - the most lavish accommodations on Scarlet Lady, have their drinks included.  Don't be mistaken, they're not free, these RockStars will be paying a premium for these accommodations, but that premium means that paying drink by drink won't be something they'll need to do.  This includes a customized bar in the room (stocked based on your requests), drinks throughout the ship, excluding Scarlet Lady Locker selections (ultra-premium wines and such).  
The suite life on Virgin Voyages looks pretty impressive - and you can check out more of the amenities, including a video tour here (scroll down to the bottom).