Author: bill October 9, 2019, Updated: October 9, 2019
Virgin Voyages doesn't start sailing until 2020, but that's given the brand plenty of time to tease us with details of this innovative new line.  It's no surprise that guests will have access to a smartphone app to compliment their onboard experience, but Virgin of course announced it in an interesting way.  Check out the details they shared with us below, including details on a new Champagne and caviar bar, tea service, and more.  Be sure to read Billy's Take at the bottom to learn what we found by reading between the lines.
Virgin Voyages Smartphone App
When guests step aboard a cruise ship in 2019 (never mind next year when Virgin starts sailing), it's a given that they'll be able to use their smartphones to enhance their cruise experience.  Virgin however is announcing their app with a pretty unique feature - "Shake for Champagne". 
Shake for Champagne
With the app open, a shake of the phone reveals a secret button, which prompts guests Sailors to have a bottle of champagne delivered to wherever they are on the ship.  Delivered in a gleaming Virgin red champagne bucket (of course), the service includes a 750ml bottle of Möet Chandon Imperial with two glasses. Möet Chandon Imperial is a blend of over 200 crus, "mingling the full body of pinot noir with the suppleness of Meunier and the finesse of chardonnay – the perfect pairing for a day or evening sailing in the warm" - according to Virgin.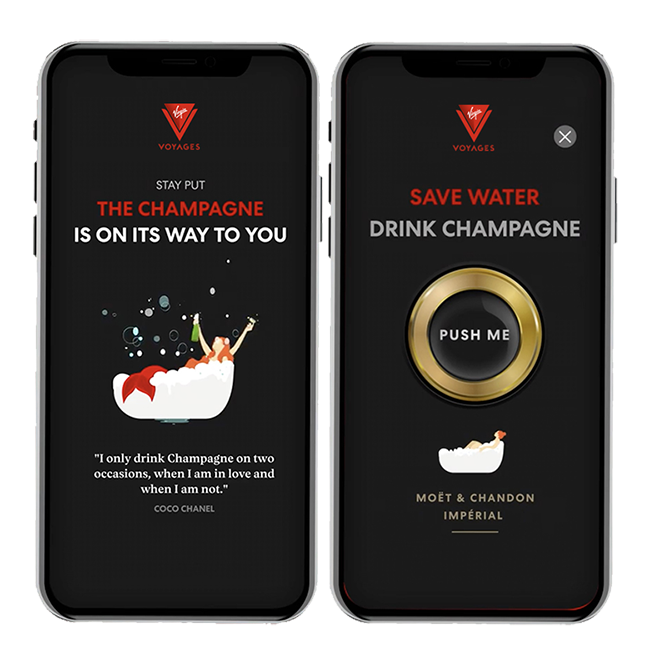 "It is never too early for champagne and there is always something to toast to while aboard Scarlet Lady. We want our Sailors to enjoy a glamorous holiday and what better way to feel like a RockStar than a sip of bubbly whenever and wherever you want it," said Tom Mcalpin, president and CEO of Virgin Voyages. 
"There's nothing more luxurious than having champagne at your beck and call or even a shake. We are committed to creating the world's most irresistible travel brand, so we thought long and hard about how to help our Sailors effortlessly get a sip of bubbly during their voyage, and presto Shake for Champagne was conjured up!" said Nathan Rosenberg, CMO for Virgin Voyages.
Sip Champagne and Caviar Bar
Sip is a lounge designed to be enjoyed with a chilled glass of bubbles. With a diverse curated collection of champagne labels, including Moët Chandon – Virgin Voyages' featured champagne house, Sailors can opt for a $9 glass of bubbles or go all out on a $1,000 vintage bottle. Of course Virgin brands are British, and in a nod to their roots, Sip will offer a signature afternoon high tea, which will "delight the eyes as well as the taste buds, while celebrating oceanic elements."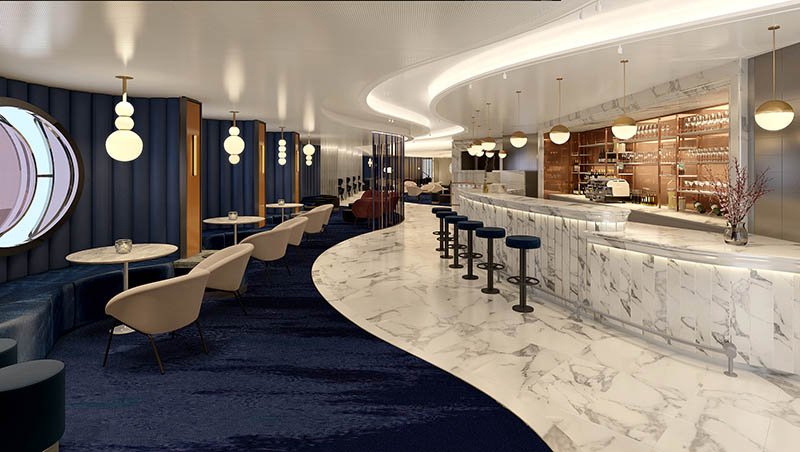 More on Sip from Virgin Voyages
Designed by the Virgin Voyages design team, with spatial design by HKS Hospitality Interiors, the lounge was inspired by the glamour and effervescence of champagne. Featuring a long marble bar with rose-gold inlay, Sip encourages Sailors to indulge in one of the most luxurious pairings of them all, champagne and caviar. Gold and rose-pink hues echo the color of the champagnes that will be served, and are beautifully offset by deep watery blues and carrara white marble bars and tables. The deep ocean blue banquette wall and carpet that wraps through the space, will create a chance to revel or relax at all times of day as the ship sails through the ocean's blue waves.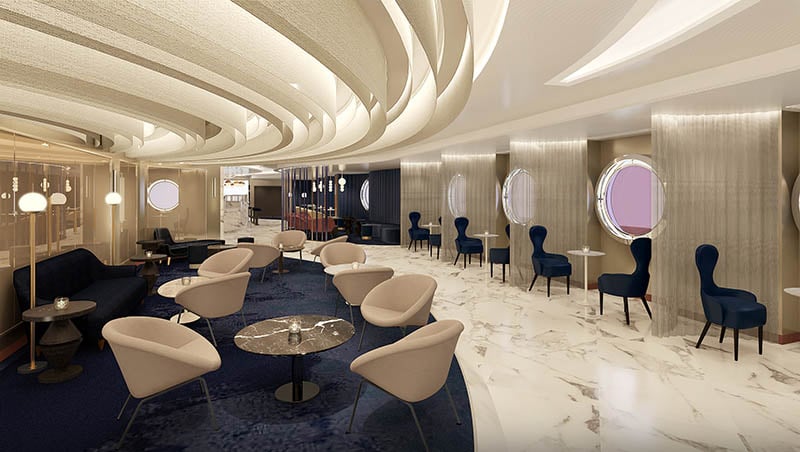 Billy's Take
It'd be neat to see something a bit more substantive out of Virgin's app announcement, but at it's heart, it's a rather utilitarian element to the cruise experience, so we appreciate the creativity of "Shake for Champagne".  What is kind of a big deal?  Almost a year ago Carnival started testing pizza delivery via app, and Carnival's Princess brand offers a variety of services via the Ocean Medallion program and app.  It's hard to imagine that Virgin is rolling out accurate location services and online ordering via app solely for a single bottle of champagne - so we're betting other "on demand and on location" options will be available on Scarlet Lady.
Another detail that may have been easily skimmed over was the $9 price point for a glass of champagne - presumably Möet Chandon.  That's a big deal as this is the very first we've heard of drink prices (aside from the inclusion of drinks in Rockstar Suites).  In large metro areas, that could be a $12-19 glass.  Even if the $9 price they put out is for another champagne, that's still a reasonable price, and compares favorably to what we see premium lines selling champagne for by the glass.
As for Sip, we're big fans of afternoon tea, so it's great to see that this will be an option.  It remains to be seen if the champagne bar aspect is popular.  We've seen Royal Caribbean transform it's champagne bars into craft cocktail bars (R Bar), and MSC Seaside's champagne bar was well trafficked because of the location, but not well utilized.
An Offer Slipped into the Announcement
Virgin Voyages is part of a big brand, well known for travel, and they've only got one ship to fill out the gate, so deals haven't seen much light - until today.  Perhaps to keep the hype up, or perhaps because of  early announcements leaned heavily on the appeal of Cuba travel, only to be changed because of US government restrictions - whatever the reason, if you've been thinking about booking a sailing on Virgin Voyages' Scarlet Lady, now may be a good time. 
"Sailors can toast to Virgin Voyages' inaugural season now through November 30, as those who book April or May sailings will receive a complimentary special Virgin Voyages limited-edition bottle of Möet Chandon Imperial in their cabin upon their arrival. In addition, Sailors who book now can snag their voyage with half off their deposit."
If an April or May Virgin sailing seem interesting, or if you'd like to book another cruise (perhaps you want to join us on Scarlet Lady on September 18 2020), click here and get a quote from the same awesome agency we book our cruises with. Using a good travel agent is our number one tip.
Wrapping it Up
Today's announcement may not have been the most ground-breaking, but we're excited each time more is revealed, and it's definitely starting to feel more real.  Given the brands' efforts so far, technology will be one of the many things that will be interesting to learn more about, of course we'll spend plenty of time unplugged as well...until we need more champagne.