Author: Bill October 27, 2018, Updated: October 27, 2018
It's not just the newest ships at sea that glimmer and host a great time but keeping the entire fleet fresh is the goal of every cruise line.  Often lines will spruce up entire classes of ships, adding the latest features and venues.  Carnival however has announced a drydock that represents the final phase of a $2 billion eight-year project, and this phase involves a real transformation.  Let's look at some of the new features and venues still to come, how this all relates to pizza, and then get Billy's take on how this positions Carnival compared to their competitors.
Carnival Victory Radiance
This month, Carnival Cruise Line, one of the dominant players in the North American cruise market, announced a dry dock that will see the 2,764 passenger Carnival Victory begin work in Cadiz, Spain in 2019, and emerge 38 days later as the Carnival Radiance.
This dry dock is one of the final pieces of the ambitious initiative that Carnival has been executing for the better part of a decade in an effort to bring a consistent level of experiences from WaterWorks aqua parks, specialty dining, entertainment, enhanced accommodations and amenities, to the more than five million passengers who annually sail with the line.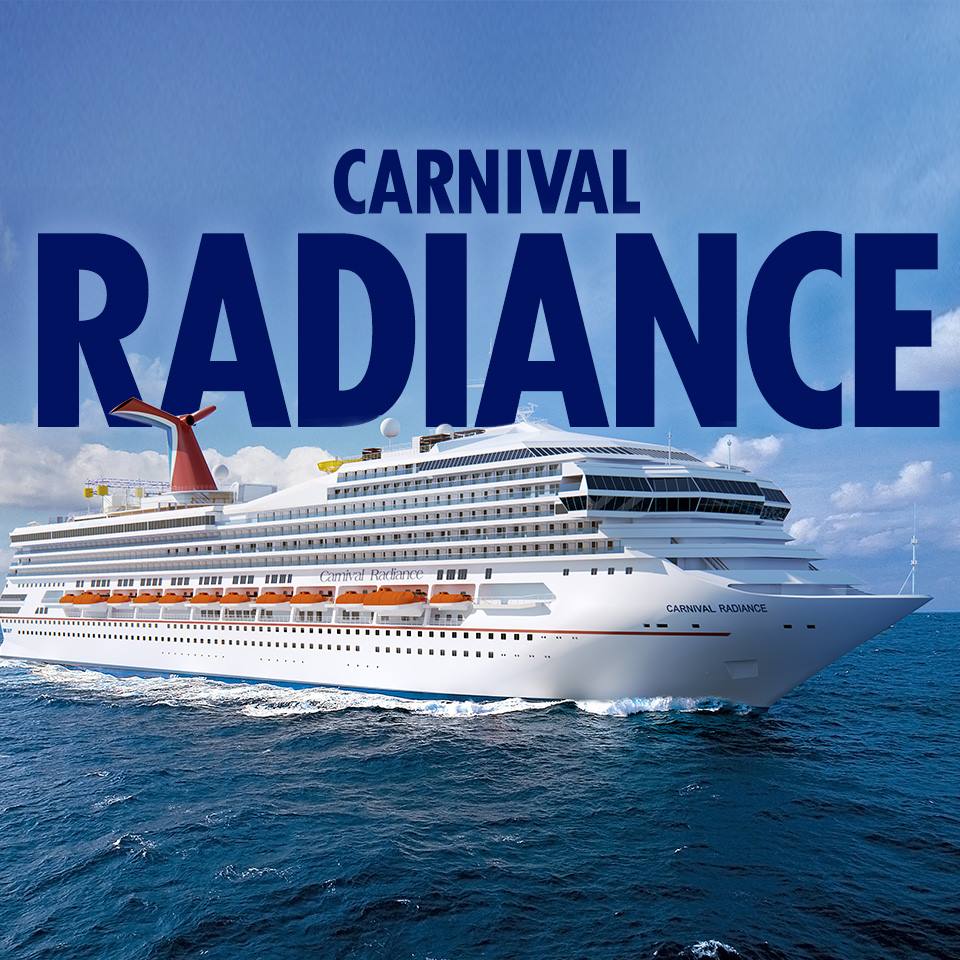 Carnival Radiance will sport the line's latest culinary, bar and entertainment innovations and, "complete an 'any ship, any port, any itinerary' level of service and offerings across its fleet of 26 ships that is unparalleled in the cruise industry."  Her new homeport and itinerary details will be announced in mid-November.
The Highlights Fleetwide
"We have been investing in our products, amenities and experience offerings at unprecedented levels which are driving higher results in guest satisfaction, passenger yields and onboard revenue," said Christine Duffy, president of Carnival Radiance.  "Our guests and travel agent partners can count on a high degree of consistency and quality vacation offerings across all our fleet and homeports regardless of what ship they're sailing on. Ultimately, this effort is about driving demand by giving each and every guest a memorable vacation and offering a reason to come back to Carnival again and again.  And it's clearly working based on extremely positive feedback from the more than five million guests we carry each year."
The enhancements aim to offer a level of ubiquity across the fleet, highlighting some of Carnival guests' favorites, including:
Casual F&B options Guy's Burger Joint and Guy's Pig & Anchor Smokehouse Bar-B-Que, BlueIguana Cantina & Tequila Bar, RedFrog Rum Bar, as well as upgrades to Lido Deck buffets and The Deli
Specialty dining, The Chef's Table fine dining, the Alchemy Bar, as well as Italian, sushi and seafood options.
Shopping and Personal Care, Cherry on Top sweet shops, Pixels photo galleries, expanded retail offerings and renovated fitness and spa facilities.
Outdoor Decks and Attractions, new water parks with slides and kiddie splash zones, Serenity adults-only areas, new mini-golf courses and more.
Youth & Family Entertainment, game arcades, and dedicated Camp Ocean, Circle "C" and Club O2 facilities hosting children's programming for kids 2-17.
Theater & Live Entertainment, Punchliner Comedy Clubs, Playlist Productions shows, Rock Band 2.0, live entertainment, deck parties, and piano bars.
Technology upgrades, fleetwide roll-out of the Carnival HubApp allowing guests to check-in online, book dining, spa treatments and shore excursions, keep abreast of ship news and activities, and communicate with their fellow travelers.
Award-winning enhanced NextGen Connectivity solution that creates a best in class Wi-Fi experience onboard affording guests who want to be connected a content rich experience and ability to seamlessly access their favorite social media applications, news, email, and the internet with enhanced speed.
Carnival's Fleet Enhancement by the Numbers
Started in 2011
$2 Billion
As of October 2018:
Refurbished more than 20 ships
Took delivery of three new ships
Three additional ships scheduled for delivery through 2022
Since Starting the Enhancement:
Passenger count grew from 4.1 million to 5.2 million guests
The number of children under 18 sailing annually has grown from 650,000 to 800,000
Employee base has grown from 34,000 to 40,000
Voyage operations have grown from 1,400 to 1,700 sailings per year
Lower berth count has grown from 58,000 to 70,000.
Shipboard Technology in Your Pocket
The Carnival HubApp is now available across all 26 ships in the fleet and since January 2015, it's been downloaded more than 4.5 million times from Apple's App Store and Google Play, earning a 4.6+ rating.  It's believed that nearly two- thirds of all staterooms had at least one guest who downloaded the app, and more than half of all guests interacted with the HubApp at least once during the cruise.
More than 20 percent of onboard specialty dining and tour excursion purchases are placed using the HubApp, and this summer on its two new Vista-class vessels, 40 percent of guests purchased the HubApp's onboard chat feature and more than 50% of guests purchased one of the line's WiFi packages.
Technology + Pizza = Happy Cruisers?
One thing quite new to the industry is Carnival piloting of a "pizza anywhere" delivery capability on select vessels, with the eventual goal of allowing guests to order food and drink to wherever they are on the ship. 

"We are excited by the exciting new choices added across our fleet, but more importantly by the positive reaction from our guests.  When you combine all the great amenities and offerings onboard with the best employees in the cruise industry, we have a recipe for success that will continue to fuel our growth," said Duffy.
Billy's Take
When maintaining a fleet as large as Carnival's consistency can be tricky - especially when different ships attract cruisers for very different reasons such as price point, itinerary, and especially the increased popularity of "secondary" cruise ports.  Similar to their "Funship 2.0" initiative that also started in 2011, the line seems to be putting significant effort into making sure that while each ship is unique, cruisers can expect a similar variety of options and level of experience whether on their latest and greatest ship out of Miami, or an older vessel out of New Orleans or Tampa.  We think this is important because frankly, many cruisers seem to look down on anything but the newest of vessels, while the others still have so much to offer.  Yes, as ships age they do eventually go into a sort of retirement, but ultimately some of the more experienced ships in Carnival's fleet (as well as the fleets of other lines) remind us more of the kind of experiences we really enjoy.  
It's also notable that Carnival has put a big emphasis on technology - not just with Carnival Cruise Line, but with all brands under the Carnival Radiance umbrella.  The Ocean Medallion program is an ambitious one, and has had it's snags, but the last couple years represent a competitive shift where Royal Caribbean dominated the technology play.  As the years go on though, being able to interact with a cruise vacation via smartphones, staying connected at sea, etc is becoming an expectation rather than an ambition.  Even more senior cruisers or those otherwise less technologically inclined expect the same benefits of technology at sea as they do on land.
Even with companies all working hard to create broadly appealing offerings to multi-generation travelers, they all continue to have something unique to offer - they'll just find new ways to offer them.  While we may not be rushing to have pizza delivered to our comfy spot in quiet lounge aboard a Carnival or any other ship, you can bet we'll take advantage of that drink service...and after a few of them, maybe the pizza too.