Author: bill January 30, 2018, Updated: January 30, 2018
When you think of cruising most people think about leaving from South Florida, Seattle, or perhaps a large city in Europe.  There are many other ports out of which you can cruise, and recently Carnival announced they're greatly increasing their capacity at some of them.  We look at why this is important, and what we think it might say about the popularity of cruising as well as the economy.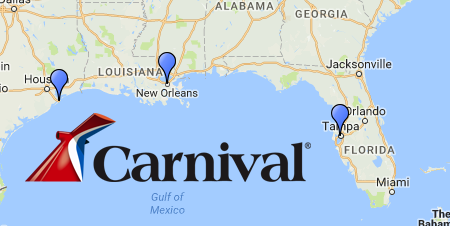 The Ports
The recent moves focus on three ports which aren't new to cruising, but each represent different advantages.
Galveston, TX is the 10th busiest cruise port by passenger volume, and of the three ports we're discussing, the one which tends to attract the most attention, newest ships, etc.  It's not far from Houston, a large population center, which can be helpful for local bookings.  The port often sees lower cruise fares than others, making it an attractive option.
New Orleans, LA is the 21st most popular cruise port by passenger volume, and like South Florida ports, benefits from many tourists who consider the embarkation city itself a destination.  Traditionally New Orleans has seen older and smaller ships – which may still offer great vacations, but sometimes fall short of what lines tout as the "latest and greatest" in their marketing.  For those in the middle of the country looking to drive to their cruise, New Orleans offers incredible convenience.
Tampa, FL is not usually the first Florida city people think of when looking for cruises (and she isn't even in the top 25 in terms of passenger volume), but that is quickly changing.  Some of the first US cruises to Cuba were on Royal Caribbean's Empress of the Seas, which put this port on the radar for many.  One thing restricting options out of Tampa is the Sunshine Skyway Bridge, which, with a height limit of 180 feet, limits the size of ships entering the port.  On the upside, the port of Tampa is less than an hour from Orlando's airports and popular family attractions.
In addition to a matter of supply and demand, cruise costs vary by port because different ports have different operational costs.  We discuss how much it costs to dock a cruise ship.
The Changes
Carnival speaks to the increase in popularity of the ports – which is true.  Let's focus on what they're actually selling though.  While some of the sailings added are longer sailings, specifically those out of Tampa, most of them are sailings of just three to five nights, a popular length of time for those on a budget – and the executive team echoes the value proposition.
"Galveston and New Orleans are two of our most popular and fastest-growing homeports and Carnival Dream and Carnival Valor provide wonderful short cruise options in these markets, offering an exciting array of features which, combined with our convenient and value-packed short cruise itineraries to Mexico, add up to an unbeatable vacation experience," said Christine Duffy, president of Coco Cay.
It's interesting to note that one of the ships coming for Galveston is the Carnival Vista, the fleet's newest and most celebrated ship.  Seeing a relatively new build head to Galveston is exciting in and of itself, especially for those coming from west of the Mississippi.

Starting in May of 2019, Carnival Dream and Carnival Valor will operate four and five-day Mexico Cruises form Galveston and New Orleans, respectively.
Carnival Valor recently underwent a multi-million dollar revitalization, adding venues popular on other Carnival ships, such as Guy's Burger Joint, the Caribbean-themed RedFrog Pub, SkyBox sports bar, Alchemy Bar, and the poolside RedFrog Rum Bar and BlueIguana Tequila Bar.
Valor will be replacing Triumph, representing a 10% capacity increase on short Mexico sailings alone.
The 3,646-passenger Carnival Dream will kick off its year-round four and five-day schedule from Galveston beginning May 23, 2019, representing a 22% increase in capacity on these sailings.  
Carnival Dream recently underwent a makeover adding Guy's Pig and Anchor Bar-B-Que, the pharmacy-themed Alchemy Bar, BlueIguana Cantina and the Bonsai Sushi restaurant. 
Together, Carnival Valor and Carnival Glory are expected to carry nearly 400,000 passengers from New Orleans.
Carnival Dream will join Carnival Freedom and Coco Cay, which repositions to Galveston in fall 2018, and together these three ships are expected to carry nearly 650,000 passengers annually from Galveston – more than any cruise line.
Tampa isn't seeing the newest builds, but the itineraries are a certainly interesting.  Carnival has been visiting Cuba on sailings leaving from Tampa for some time now, and that looks to continue.  In addition, however, some longer sailings will feature itineraries less common to Carnival, and not recently seen out of Tampa on the brand's ships. 
"We're delighted that Carnival Cruise Line will have two year-round cruise ships dedicated to the Tampa market," said Paul Anderson, President/CEO Port Tampa Bay. "It speaks to the record-breaking demand of passengers in the Tampa Bay area wanting to get on a Carnival cruise."

Carnival Miracle departs Port Tampa Bay Saturdays or Sundays, sailing to Cozumel, Grand Cayman, Mahogany Bay (Roatan) and Belize
Other Carnival Miracle sailings will include longer itineraries to the Panama Canal, Colombia, Aruba, Curacao, and other destinations.
Carnival Paradise operates year-round four to eight-day voyages from Tampa to the Caribbean and Cuba. 
Together, Carnival Miracle and Carnival Paradise will carry an estimated 280,000 passengers annually from Tampa – the most of any cruise operator.
What We Think This Means
Over the last decade, cruise ships have launched with features and venues that rapidly make ships just a few years old seem dated.  This, combined with the economic downturn of the past decade, has left some older ships in the fleets of Carnival and other contemporary lines seeming somewhat second class, and relegated to lower-demand ports.  Efforts by cruise lines however to update their fleets and aim for more consistent experiences have started to change this to some degree.  Further, cruise lines all over  the world have more tonnage than last year, and have to make sure that keeping the extra berths profitable in the short term doesn't come at the cost of turning off customers who expect consistent quality regardless of their port of embarkation. 
With many of these updates recently complete, we also see that more and more potential passengers are taking their first plunge into the world of cruising.  While cruise lines have been successful in demonstrating the relative value of cruise vacations over all-inclusive and other land-based options, for many, there is still significant cost associated with getting to the port of embarkation.  Because nine of ten first time cruisers opt to book another, putting shiny ships with the latest features in ports that are more accessible to those reaching their cruises by car helps break down that initial "first cruise friction" and lower the cost of the cruise without negatively impacting the bottom line for operators. 
In the case of Tampa, there is a lot of local competition with Port Canaveral, which the last several years has been neck and neck with Port Everglades in terms of passenger volume.  What Tampa can offer however is proximity to the Western Caribbean and Central America, making it so that lines can offer itineraries that would require additional nights at sea if they left from ports on Florida's east coast.
Forecasting the economy isn't our game, cruising is, but it does seem that if lines spread their fleet out across these other ports they hedge their bet in terms of who will be spending money with them.  If the economy continues to do well, cruising will come into the grasp of those with a little more money in their pockets, who may be shopping for their first cruise based on price and thus proximity to ports.  If the economy backs down, lines may be less impacted by those cancelling their more-costly planned vacations to South or Central Florida which may have included some nights on the water.
The bottom line is that it is always good to have options, and frankly, even though we live near Ft Lauderdale, we'd like to be encouraged to try different experiences and ports.  These announced changes mean that sailing out of Galveston, New Orleans, or Tampa won't necessarily mean "more of the same" and second-rate vessels – they're actually unique experiences that we might be willing to travel for.  For those not lucky-enough to live in the cruise-capital, this should make cruising much more accessible.  Royal Caribbean recently announced some moving-around of their fleet, and we look forward to seeing how other lines shift their fleets to create new options as well.
What do these options mean for you - whether on Carnival or any other line?  Are they more convenient?  Would you be willing to travel to them even if they were farther, just for some additional options?  Comment below or reach out on Facebook or Twitter.