Author: bill June 19, 2019, Updated: August 4, 2021
When Virgin Voyages sets sail next year, there will be many different types of rooms Sailors can enjoy, but a select few will be in Mega RockStar Suites, and now, they have a seal of approval from Geri Horner, of the famed group, The Spice Girls.  It's not just some cheeky photos of the pop-star is putting out though - we've got new information about some of the amenities afforded to suite guests on Virgin Voyages' Scarlet Lady and even a tour of the luxe accommodations!  Don't forget to check out the suite video tour after Billy's Take.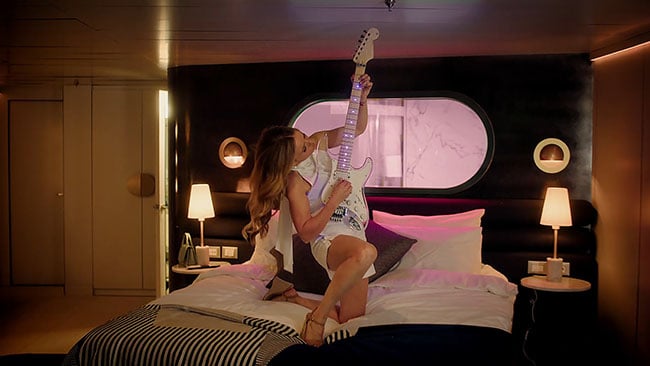 The 'Gorgeous Suite', as Test Driven by a Former Spice Girl
We've discussed the RockStar Suites (and Mega RockStar Suites) previously, and now we're getting a closer look at the 'Gorgeous Suite', one of Scarlet Lady's most glamorous cabins.  In a video (below), we get to see Geri Horner testing out the suite as a "favor" to her friend Sir Richard Branson.
Commenting on her involvement, Horner said: "Virgin Voyages' RockStar Suites are the perfect blend of luxury, glamour and a little bit of rock and roll opulence - exactly the way I like to enjoy my holidays. After thorough testing, I think it's safe to say these suites are rockstar-worthy and ready for Scarlet Lady's debut next year. Everyone deserves to feel like a rockstar at some point in their lives… You're in for a real treat!"
Sir Richard Branson added: "I just love the idea of RockStar Suites. They celebrate Virgin's musical heritage and how I got my start in the music industry. Geri and the Spice Girls were a wonderful part of that so I can't imagine anyone better suited to give our RockStar Suites a whirl. Geri certainly looked like she had a great time! I'm very excited for our sailors on Scarlet Lady to feel like rockstars too." 
Expanded amenities for Mega RockStar Sailors include a dedicated RockStar Agent to tend to each rockstar's rider list while on board, a dedicated hair and makeup crew available upon request, complimentary laundry service, the option to curate bespoke activities in any port-of-call, complimentary access to Redemption Spa's Thermal Suite and all-inclusive access to premium drinks in all bars and eateries onboard, plus a free personalized bottomless in-room bar.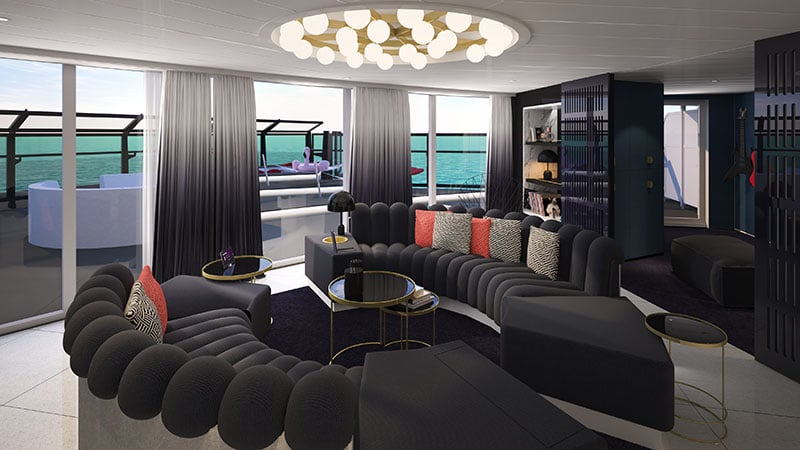 How RockStars will Sail Scarlet Lady
There are only 78 RockStar Suites aboard Scarlet Lady, and just 15 of them are Mega RackStar Suites: the Massive Suites, Fab Suites, Posh Suites and Gorgeous Suites. 
While all Sailors enjoy unlimited WiFi on board, as part of Virgin Voyages' new expanded offerings all RockStar Suite Sailors will now enjoy upgraded premium WiFi with streaming.  Need help getting ready so you can take a perfect shot to share with those shore-side?  Sailors in Mega RockStar Suites will now have access to a dedicated hair and makeup crew upon request. 
Helping them to relax during the voyage, these sailors will also have all-inclusive access to premium drinks throughout the ship, including their personalized bottomless in-room bar.  Want to really unwind?  Mega RockStar Suite Sailors can head to Redemption Spa's Thermal Suite, the ship's mermaid and merman hideaway complete with a hydrotherapy pool, mud room, salt room, cold plunge pools, quartz beds-- where they'll now receive complimentary access throughout their voyage.
Finally, Mega RockStar Suite Sailors will receive complimentary laundry service, plus the option to curate bespoke activities in any port-of-call,  Be it foodie experiences or private tours of local landmarks, no ask is too big for the RockStar Agents. RockStar Agents will tend to their RockStar rider list, digging up whatever their heart may desire to make their voyage perfect-- all red gummy bears, an electric guitar and beyond.
The new offerings will complement the robust existing benefits of all RockStar Suite Sailors, which include:
RockStar Agent support from time from time of booking, to sail away and throughout the voyage
Backstage access at every corner, with early access to onboard entertainment, restaurants, Shore Things and more
Luxe private transfers to and from the ship in Miami
An exclusive express pathway to the ship during embarkation
Access to Richard's Rooftop - RockStar Suite Sailor's very own VIP private club, a secluded place for them to bask under the sun or have a drink under the stars
Access to an exclusive VIP area at The Beach Club at Bimini
A fully stocked in-room bar with the first round on the house
Wardrobe team to help unpack and repack
Complimentary pressing service
Nightly express swimsuit drying service
Premium linens and a plush European king bed
Upgraded bath amenities for pampering
Billy's Take
The promotion of Mega RockStar Suites with Geri Horner is a cute idea - one which currently leads me to think that "Spice Women" is a more appropriate term.  These women are professional adults, despite Geri putting her shoes on the bed in that photo!  Sorry, we were discussing cruising.  The additional perks for Mega RockStar Sailors are compelling.  On one hand, like most suite experiences, it's hard for me personally to justify the cost when I think of the value it represents.  On the other hand, the list that Virgin Voyages offers up is more substantive than the amenities many other lines offer - so without doing a dollar-to-dollar comparison, I do see the appeal here. That said, feel free to remind me of this article when you see my pouring Cristal into a Champagne tower on a suite one day, because sometimes vacation is jut vacation, and it's okay for us to decide to give ourselves a treat.
We did learn two other things in this announcement that weren't explicitly laid out.  The first is that there will be two tiers (at least) of internet access.  If the complimentary access isn't as fast as what suite guests, err, Sailors, enjoy, then we'd bet there will be an option to upgrade your access...for a cost.  Second is around drinks.  Many Sailors and potential Sailors have lamented the lack of drink packages on Virgin Voyages, and with drinks being included for Mega RockStar Sailors, it makes us wonder if they might just have some type of beverage-inclusive option available for those of us fortunate enough to sail Scarlet Lady, but not so fortunate as to be staying in a suite that dons it's own music room.  Check out the below video for a tour of the Mega RockStar Suites, and think about where I can build that Champagne tower...