Author: bill October 12, 2021, Updated: December 5, 2021
With only one day left of our Scarlet Lady cruise we wanted to see and do it all while we spent the day at sea.  We failed at that goal, but had a great time trying.  We packed-in multiple restaurants, a random hole in the face, watching a great dancer with a familiar face, and much more…
Berries, Bagels, and Burritos
 It's hard not to love the wide variety of breakfast options on Scarlet Lady, and next time, I hope to try out more of the restaurants.  Still, don't discount the ship's casual dining venue, The Galley. because as much as I was ready to criticize this non-buffet buffet, they really do a nice job.  At breakfast, most of the stations open for lunch have interesting breakfast options as well, and Diner & Dash serves classic breakfast options all day.
Larissa opted for a bagel and an avocado burrito (with ripe avocado, unlike mine yesterday).  I'm always excited to try out bagels, as except for HAL Nieuw Statendam, I've never had a decent one on a ship.  The bagel she had was a bit bready, so not a good bagel in that sense, but far better than the those I've had on many other ships, which have been frozen and boring.  I went sweet, and had a bento box with berries, granola, and yogurt, plus a chocolate croissant.  The berries were ripe and fresh, and the croissant was perfectly baked.  
Exploring Like a Rock Star
I wanted to just walk around the ship and see what spaces were popular and what the overall feeling was on a a sea day.  Skipping ahead, I'll say I was pleased that most of the venues were equally popular, keeping guests spread out and preventing it from ever feeling crowded.  While exploring, Patrick from BearCruise.com was kind enough to offer a mini-stateroom tour and showed off his Brilliant Suite.  The various suites on this ship are amazingly pretty - really jaw-dropping.  They're colorful, and well appointed - something we'll show off more of in the future.  The two things that stood out for me?  The colorful window to the shower, and the amazing in-room bar setup.  I suspect one of our next Virgin Voyages cruises will be in a suite so we can try it out ourselves.  Suite party anyone?  I did feel like the Brilliant Suites could benefit from some more seating on the sea terrace (balcony).  It's hard to party like a rock star if your friends don't have places to sit.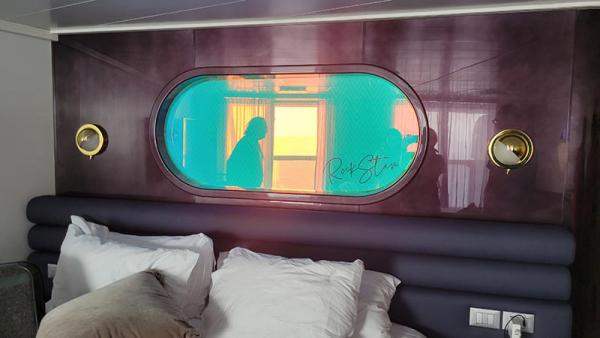 Continuing on around the ship, I found a canvas on deck with art by an interesting man named Tyler Wallach (read about him here).  The canvas starts as black and white, and guests can come by, grab brightly colored paint markers, and fill it in.  This is a neat idea, but I wonder if enough people will engage with it to keep it around.  Given how much was colored in on this cruise, I suppose it's working out all right.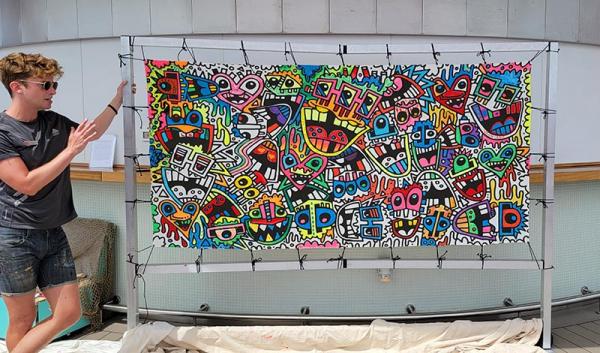 Scarlet Lady's Pool
My next stop was the main pool.  I know a lot of folks have heard about how small the pool is, and while I am still a bit confused by the choice to make such a small pool, it worked out fine.  Many bloggers and vloggers panicked about it, but I heard exactly zero complaints onboard, and while it was very popular on our day in Nassau, I still managed to enjoy it and even get a padded lounger around the edge.  On this sea day, there were even fewer people.  I suspect between so many great options, no kids, and the giant hot tub just feet away, this will continue being something that should have been different, but just isn't a big problem.  Time will tell.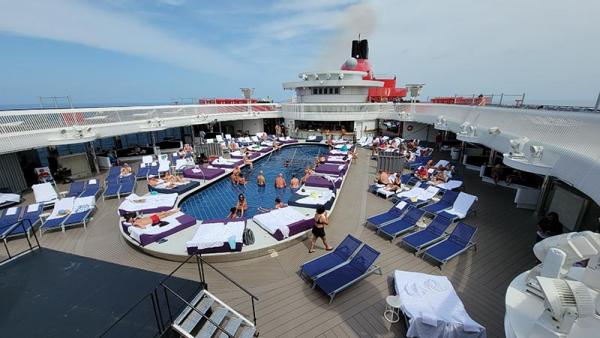 The Net
There is a catamaran net I mentioned yesterday, high on deck 16.  I wanted to check out the view during the day, and found once again, that while novel, it's not comfy, and ends up being a conversation piece in the otherwise very functional but less-attended Athletic Club. I want to love it, and hope they made it less like walking on Legos on their next ship, Valiant Lady.
Lick Me Till Ice Cream
I would have liked to hang out at the Athletic Club more, but I needed to get out of the heat, so I got some  ice cream.  This was my third time here, and each time was quality.  The ice cream has a high milk fat content, and almost a custard-like mouth-feel.  They have a variety of cone flavors, too, which isn't something I usually look for, but something I enjoyed.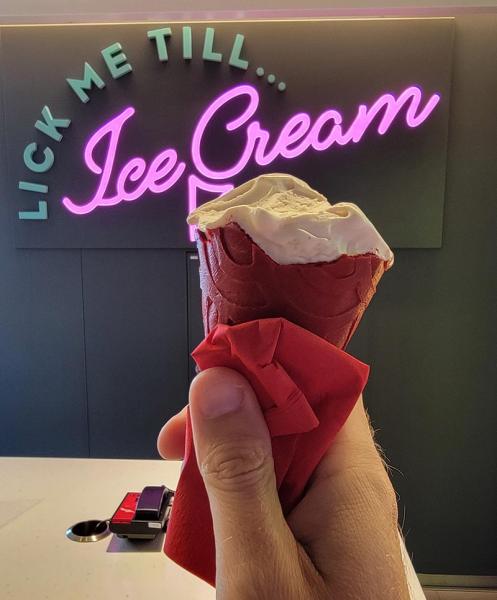 Loose Cannon
The day began to slip away, and I realized there was a bar I loved the look of, but hadn't hung out in.  The Loose Cannon has a light nautical theme.  It's nothing like the dark colors of Royal Caribbean's Schooner Bar, for example, and feels much more welcoming. It's located right next to the Social Club, which is a diner and adult-arcade with shuffleboard tables and other games, so you can sit and relax, and play around and you're just steps from the bar (and food).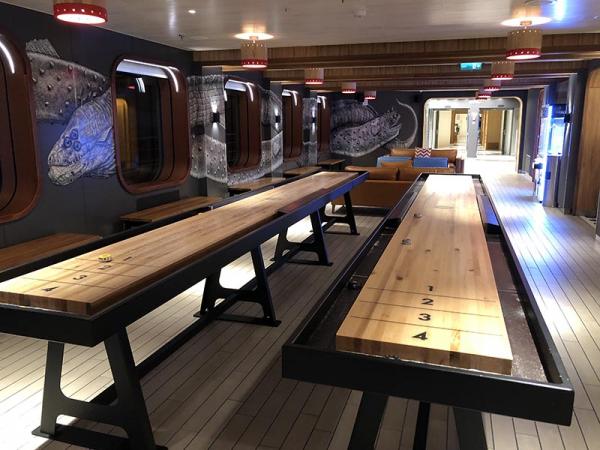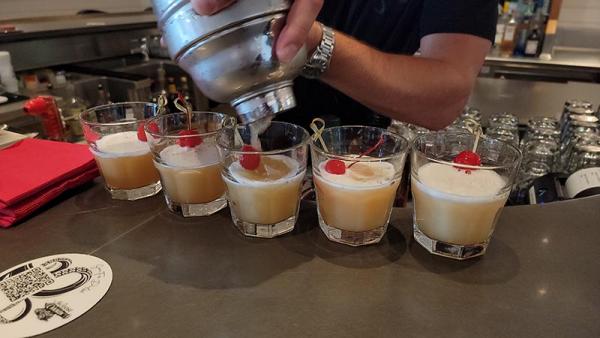 Larissa and I did a live video on YouTube giving a quick summary of the trip so far, and enjoying a comically large drink before we corralled some friends so we could order the Sh-oct-a-pus.  This "drink" is actually five massive shots served on a brass octopus that resembled an ambitious candelabra.  It was sweeter than I would have preferred, but not bad, and a lot of fun to order and drink.  We enjoyed this right next to a ship's bell mounted to the bar, and since they left the clapper in there, they must have wanted me to ring it.  Silly fact: I noticed early in the cruise that if you tap your knuckle on the desk lamp in your stateroom, it sounds like a ship's bell.  Intentional?  No.  Fitting?  Yes.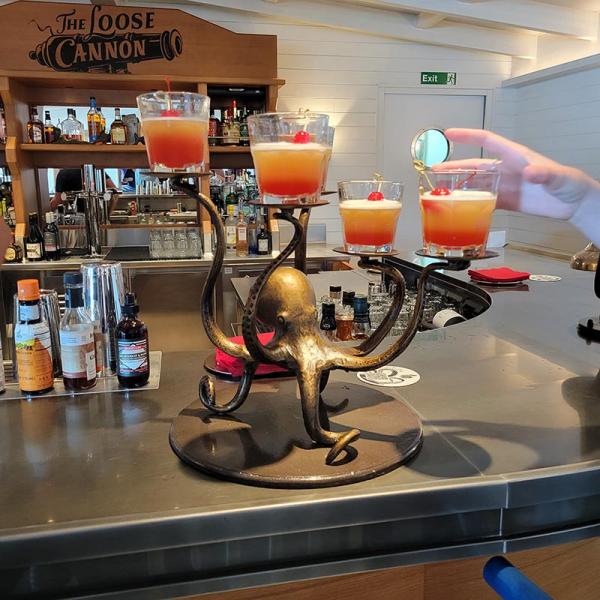 Piercings Happen
Freshly full of drinks from The Loose Cannon, we continued a string of good decisions and went back to the tattoo parlor, Squid Ink.  My friend Len (of TouringPlans fame) was getting a Van Halen tattoo, and Hannah, his daughter, was getting a Fleetwood Mac tattoo (and looking super-enthused, as you can see below).  Larissa decided on the spot to get a nose piercing while they were getting inked (a phrase that will always make me think of Finding Nemo), and I can say proudly that I didn't feel it at all.  Remember, if you want a tattoo, book that appointment early, but as piercings take less time, they seemed to have plenty of walk-up availability.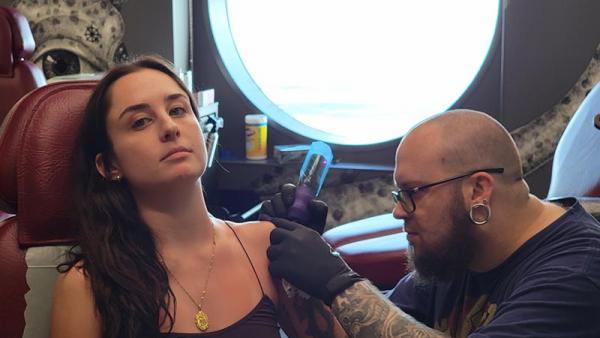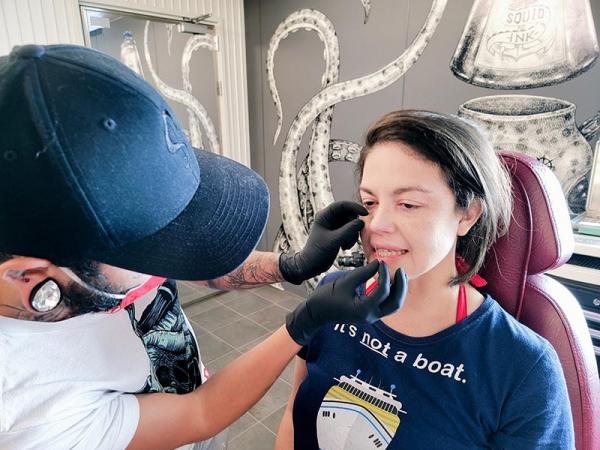 The Best Future Cruise Deal at Sea
Cruise lines usually have incentives for you to book another cruise while on your current cruise, but Virgin's is really wild, and I don't think it'll last, at least not without a policy tweak.  You pay $300, but you get $300 of onboard credit (err, "sailor loot"), and $300 off your next cruise.  Now that's a great deal, but what makes it wild?  The $300 onboard credit is on your current cruise.  As long as you spent at least $300 onboard, it's a wash, plus a $300 discount.  Other lines have offered similar deals, but that credit is on your next cruise .
I put my name on a list (as the future cruise desk wasn't open when I'd walked by) and on my folio I had a charge for $300, a credit for $300, and when I book another Virgin Voyages cruise (which trust me, I will), I'll get $300 off.  Let that all sink in.
Two Dinners, Beedle Dee, Deedle Dee, Dee!
Razzle Dazzle
While we sometimes eat fish on cruises, Larissa and I are both mostly vegetarian, and Razzle Dazzle is a restaurant that describes themselves as "vegetarian-forward."  They have dishes with meat and poultry, but most items are vegetarian or vegan.  While it didn't seem as popular as other spots, every guest I talked to loved the vegetarian fare there, even if they were omnivores.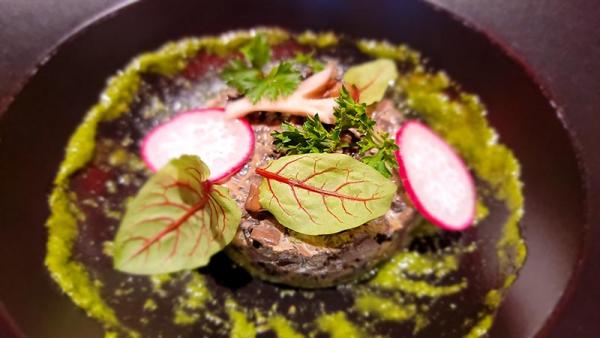 As soon as we entered we were smitten with the decor, which has black and white razzle-dazzle patterns (a WWI-era naval camouflage, and what Chicago attorneys ensure they give the jury) and a lot of scarlet red.  There are other splashes of color and it's the most fun-looking of the restaurants, in my opinion.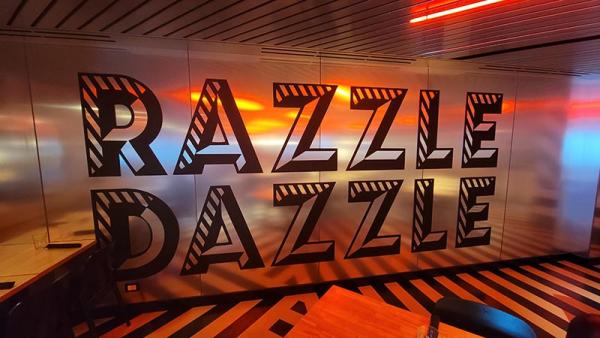 We ordered a variety of items on the menu, and a friend ordered the fried chicken.  We all enjoyed every course, though I was disappointed they ran out of the faux fish and chips, apparently made with (or from?) banana blossom.  If you've never tried food at a good vegetarian restaurant, do so sometime, as I often feel they have to work harder, and the result is better food.  That even seems to be the case for the non-veg options on the menu here.  Don't miss the vegan berry cheesecake.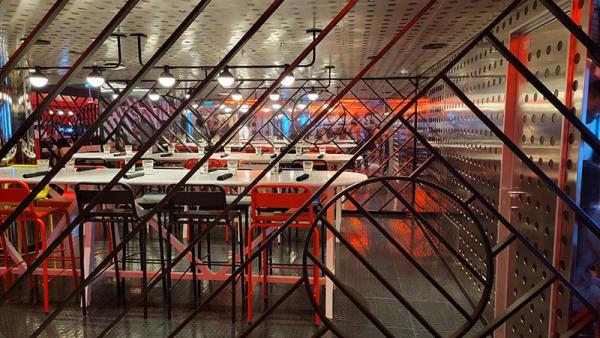 Gunbae
While we enjoyed our meal quite a bit, we next ran to Gunbae, the Korean barbeque restaurant on deck 15.  We'd not tried it yet, and our friends invited us to join them.  We didn't eat much, but sampled a few dishes and realized they actually had more vegetarian options than one would expect, so we'll have a proper dinner here next time.  They also have some drinking games with soju (a Korean alcoholic drink), and the atmosphere is lively.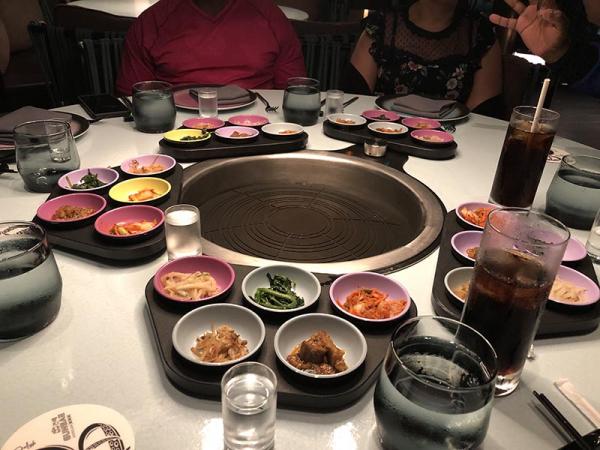 Tequila!
While we dined in Pink Agave the first night, we didn't take the time to appreciate it as a tequila bar.  This seemed a good way to end the evening (though there would end up being another stop afterward), and I got to be educated in the varieties of tequila by the staff as well as Len.  My eyes were also opened to Herradura Seleccion Supreme Anejo, which, as someone whoisn't a big tequila person, left me wanting to buy a bottle as soon as I get home.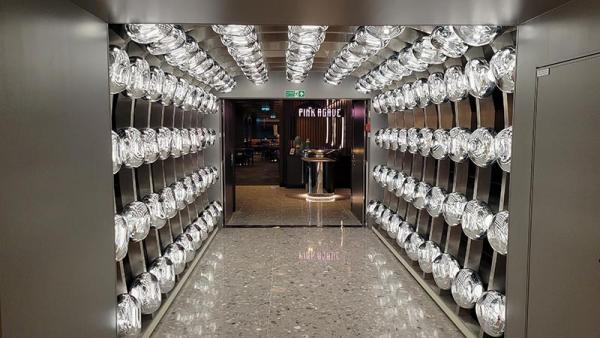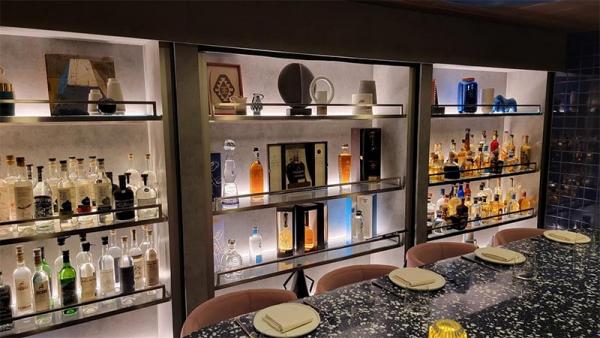 Light Night at The Manor
Larissa often compares the last night of a cruise to the last day at summer camp.  You want to see everyone you met, hang out one last time, and get in those last moments at sea.  This, of course, is balanced with your need to be packed and awake reasonably early in the morning...usually.
We wound up at The Manor night club, and it was a lively spot.  I'm not a dancer, but I do enjoy watching people dance, and there was plenty of it.  There were some talented folks on the dance floor, but peaks and valleys of dancing, to be honest, because the DJ didn't seem to be reading the room well.  In fact, this wasn't the first time I noticed that the DJ I'd seen in a few spots seemed to have trouble playing to the crowd.  This was surprising given that Virgin actually touted their DJs very early on in their brand announcements.
I did manage to find J from The Shiplife so we could hang out again, and, he's a very talented break dancer - something everyone in The Manor got to enjoy.  In a club, if you can't be the great dancer, be the guy handing out champagne.  If you can't be that guy, umm, blog about it?  We had a great time, had some final drinks, and chatted with friends, and finally headed back to the room in the wee hours of the morning.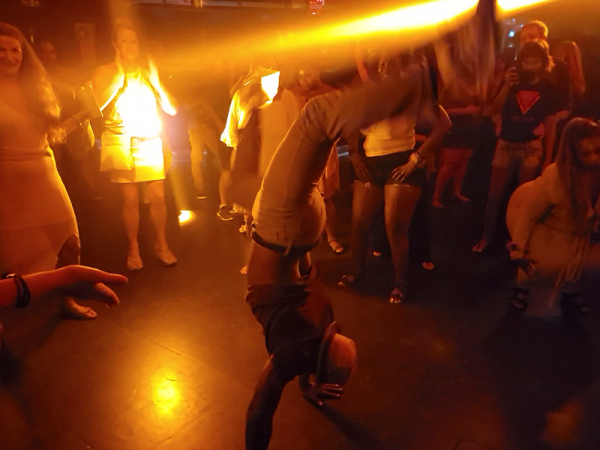 Disembarkation Process
Most cruise lines have very similar methods for disembarking.  A night or two before the last evening, you get luggage tags that correlate to a disembarkation time, you put out your bags, wake up early, and have a relatively simple breakfast before getting off the ship.  Virgin does this differently.
Putting your luggage out works the same way, but the wakeup time needn't be as early.  You select your disembarkation time in the app (at least the day before, but it may have been an option earlier).  The latest slot was 10:30, though it quickly filled, as did 10:00am.  What's really nice is that most of the restaurants are open, and reservations can be made.  So, if you want to grab something at The Galley, you can.  If you really liked your meal at Razzle Dazzle the night before (like we did) and you want to try out their breakfast, then you can do that. You're not relegated to the same omelet every day on the ship.  I did mention I liked their breakfast options, right?
Stray Observations
Coffee drinker?  Virgin Voyages serves Intelligentsia Coffee, a Chicago-based roaster than many really enjoy.  I'm no connoisseur, but I have my opinions, and I found the espresso to be very good.  It's also widely available at the two coffee shops, plus restaurants, and some bars.

Show me a sign.  The 110k GT Scarlet Lady isn't large by 2021 standards - but I had trouble getting my bearings.  I don't think it's a layout problem as much as a nearly complete lack of signage (though the restroom, or 'head' placards, are pretty great).  There are only two places to find a deck plan: your room, and right here.


Live music is sparse.  I was looking for live music, and it just wasn't easy to come by.  There was a band, plus a few musicians that were part of various entertainment ensembles, but there were plenty of times I'd have liked a live musician or two somewhere.  For the most part, it was just at On the Rocks in the atrium, every night at midnight.  There was ambient music in most venues most of the time, and at a good volume - but it was pre-recorded.
Stay Tuned
I know there is still a lot to talk about when it comes to Virgin Voyages.  We could do an entire video about the food, or the things that we didn't expect, and we probably will.  Additionally, we're coming back!  We're back on Scarlet Lady on December 10 and we'll be sharing more then, as well.  If you want to make sure your questions are answered, comment below, on social media, or on the CruiseHabit Message Boards so we can reply!  Want to really know what it's like?  Join on us Dec 10th, there is still space available!