Author: Bill July 30, 2017, Updated: May 18, 2019
Updated May 18, 2019
When you're on a cruise there is one universal truth - you can't wait to be on another one! Cruise lines are ready to abide and offer incentives for you to book future cruises while you're onboard. Some of the programs offer greater benefits than others, but the bottom line is that if you know what you want, and you're ready to book, you can only win by using these programs.  Below we compare the cost and incentives for booking on land vs onboard for several popular cruise lines, though keep in mind these are just guidelines, and promotions and other changes may affect these programs.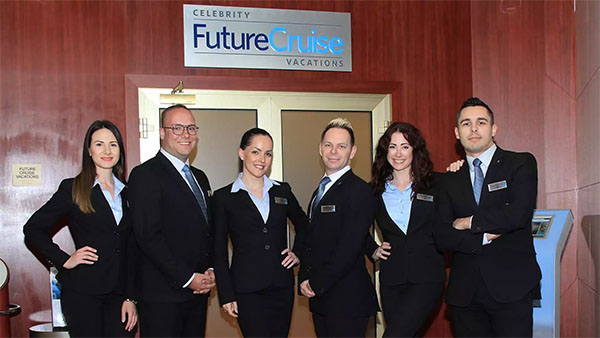 Many of the deposits and other factors vary by stateroom type, number of passengers, and itinerary.  To keep things simple, unless we include a chart or other specifics, we're going to compare various lines' incentives based on cruises matching the below criteria:
7 night Caribbean cruise
a standard verandah stateroom
2 passengers
Keep in mind that sales come and go and policies change, but to the best of our knowledge, the information below is accurate as of August 1st 2017.  Also, a common incentive is the inclusion of onboard credit, something we explain here.
NCL's Onboard Booking Incentives - "CRUISENEXT"
You'll enjoy Free Onboard Credit for your current cruise by simply purchasing CruiseNext deposits. You won't have to pick a destination and sail date to get the Free Onboard Credit, but if you do, you'll get an additional FREE offer.​
Only 1 CruiseNext stateroom deposit can be applied per stateroom. 2 CruiseNext stateroom deposits can be applied per stateroom when reservation qualifies for DoubleUp!
You Receive

When you Purchase
Studio, Inside, Oceanview
Balcony & Mini-Suite

When you Purchase
The Haven & Suites

FREE $500 Onboard Credit
Four $250 Stateroom Deposits
Four $500 Stateroom Deposits
FREE $375 Onboard Credit
Three $250 Stateroom Deposits
Three $500 Stateroom Deposits
FREE $250 Onboard Credit
Two $250 Stateroom Deposits
Two $500 Stateroom Deposits
FREE $100 Onboard Credit
One $250 Stateroom Deposit
One $500 Stateroom Deposit
CruiseNext Lite is available on Norwegian Sun & Norwegian Sky
You Receive

When you Purchase
3-, 4- & 5-DAY
CRUISES

FREE $150 Onboard Credit
Four $100 Stateroom Deposits
FREE $75 Onboard Credit
Three $100 Stateroom Deposits
FREE $50 Onboard Credit
Two $100 Stateroom Deposits
FREE $25 Onboard Credit
One $100 Stateroom Deposit
*CruiseNext and CruiseNext Haven are also available for purchase on Norwegian Sky and Norwegian Sun.
Holland America Line's Onboard Booking Incentives 
HAL's program doesn't have a fancy name, and the onboard credit isn't much - but money is money.  There is a big difference betweek the deposit you'd pay on land and what you pay at sea.
Royal Caribbean's Onboard Booking Incentives - "NextCruise"
Royal Caribbean has made a number of changes to their program in the last couple of years.  The onboard credit offer seems simple enough, but where things get tricky is with their reduced deposits and other fares which involve non-refundable deposits.  They fares can offer extra savings, but at reduced flexibility, so be sure to understand what type of fare you're booking (on land or at sea) and what the alternatives are.

Celebrity Cruise Lines Onboard Booking Incentives - "FutureCruise"

Celebrity continues to offer packages on most sailings which allow you to bundle things like internet, drink packages, etc.  This program used to be known as "Go Good, Go Better, Go Best", and when you book onboard, some sailings will include an additional perk or some other additional offer.  Outside of this change, the program is similar to Celebrity's sister company, Royal Caribbean International - including the fact that some offers may involve a non-refundable deposit, which you should always ask about. 
Carnival Cruise Lines Onboard Booking Incentives - "Welcome Home"
Carnival's offering is similar to some others out there, including other Carnival Corporation brands.  Unlike some others they do throw 2 in a two category upgrade, but it should be noted that this is only when available, and within the same stateroom type (meaning you won't get upgraded from an oceanview to a verandah or anything like that because of this program).
Princess Cruise Lines Onboard Booking Incentives
Princess' program is pretty cut and dry and matches what it's sister-line Carnival offer but without the upgrade perk.
MSC Cruise Lines Onboard Booking Incentives
You'll get a generous ammount of OBC, and possibly a reduced deposit depending on the sailing.
Billy's Take
While the value prop of booking onboard varies by line (and of course, some specials may come and go on top of these offerings), it's usually a pretty safe option, as the deposits are generally refundable (unless you book a non-refundable fare), and if a better offer comes up that isn't compatible with the onboard promotion, in the US and Canadian markets at least, it's pretty easy to pick whatever works out best.  There is one downside to booking onboard, and that is that some of your vacation will be spent in booking the cruise - we've deposited on sailings in as little as five minutes, though other times we've found ourselves at the onboard booking desk for thirty minutes.  
If you use a travel agent (and we recommend you do), know that you can usually transfer these bookings to your travel agent - just ask the onboard sales rep how this works, and often, they'll automatically start the transfer process for you right there.
Have you booked your next cruise while onboard?  Does this sound like a deal?  Comment below or reach out on Twitter or Facebook!