Author: bill September 10, 2021, Updated: December 6, 2021
Odyssey of the Seas was in Cozumel today, and I was in front of a laptop working during the day.  What's it like working when everyone is having fun?  Is it silly working from a cruise ship?  What does it take to get to the tootsie roll center? 
Odyssey Windjammer
Waking up this morning I needed espresso, STAT.  I headed to the Windjammer for espresso and a lite breakfast.  The omelet station was calling my name, and when I approached I asked if they had salmon.  Without missing a beat, the nice lady taking the order ran over, grabbed smoked salmon from another island/section, and came back asking what else I wanted.  Excellent service, and totally unnecessary.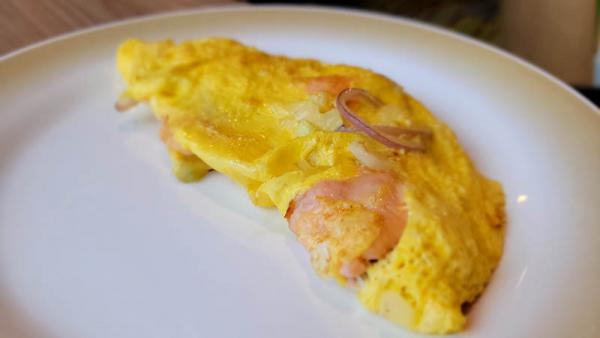 The Windjammer on Odyssey has separate island, a ton of seating, multiple beverage stations, and is the most similar to newer Oceanview Cafés on some Celebrity ships.  I look forward to what it's like when there are more than 1400 or so people on the ship, as I think it'll manage well. 
Office @ Sea
After breakfast I went to two70 to set up shop.  What's nice about working in this space is that you get a great view (in this case, of Cozumel), and there are snacks and drinks nearby.  Because two70 is a multipurpose venue, the downside is there could be an event taking place when you'd otherwise want quiet.  At one point, rehearsal for the featured show, The Book.  I was delighted to see they keep the venue open during rehearsals, and it turns out this was an intentional decision on the part of Royal Caribbean.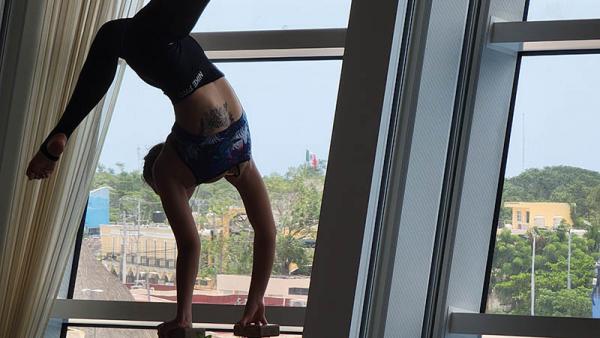 If you need to plug in while working on a ship, it's sometimes a bit challenging, but the crew can help, as they know where they plug in vacuums.  Most of these outlets are EU outlets however, so bring an adapter.  Interestingly, I found two US  (110v) outlets stage right at tables in two70, making me think they plan or planned to use this for something at some point.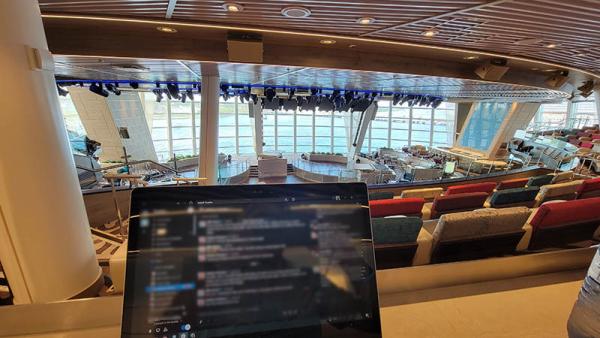 When I took a lunch break I enjoyed Café two270, which had some very good options.  The grilled cheese has several (five?) cheeses, and avocado wrap was fresh, not soggy, and the desserts didn't seem like bulk-made cafeteria sweets.  This may have been the most surprising meal of the trip in fact, and something I'll do again when back onboard in the future.
Overall, it's definitely challenging sitting on the ship, knowing about all the options onboard, and all the fun friends are having ashore, while answering emails.  I completely get that working from a cruise ship is not for everyone, but know what I did at the end of my work day?  I was on a cruise, and that made it 100% worth it, and it makes it so I can take even more cruises than I would otherwise.
Giovani's the Sequel
A few nights ago we had dinner at Giovani's Italian.  Tonight we went to the wine bar at Giovani's Italian Kitchen.  They have many of the same options as at the restaurant next door, plus a couple unique selections – like fried ravioli, arancini, and smaller meatballs. 
The great thing about the wine bar is that it makes it easy to go up for a quick bite, or even a pizza split among friends (the pizza is the best Napoli style pizza I've had on a ship).  The downside is that while the prices are quite reasonable, dining packages don't apply here.  That means we could have a full meal next door at the restaurant (since we have the unlimited dining plan), but had to pay for the wine bar.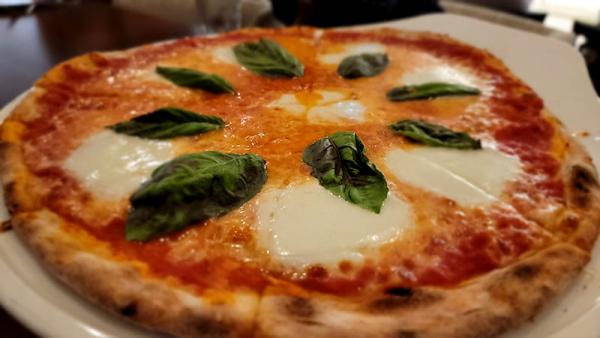 The Pub…Again
After dinner we went to try out the rock climbing wall.  I thought it was neat that this was offered at night...on the schedule.  Things weren't operating when we got there, but I suspect it's because it was just too windy.  This did give us the opportunity to see the Skypad at night.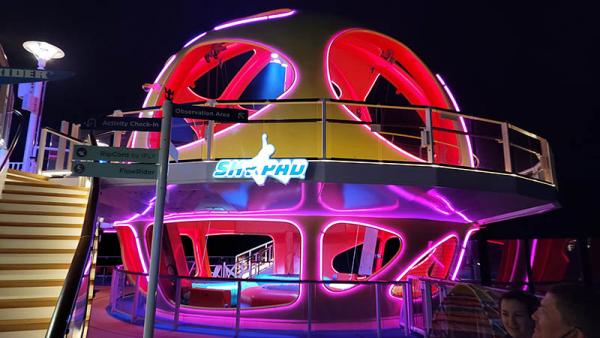 We ended the evening at the Crown & Compass Pub again.  The intention was to try out the food options here, but drinks and fun with friends made us forget about that goal until it was too late.  The singer here is an amazing guitarist.  As a pub singer he does a fine job, but doesn't play the crowd as well as some others.  His guitar skills however blow away any pub singer I've seen on ship.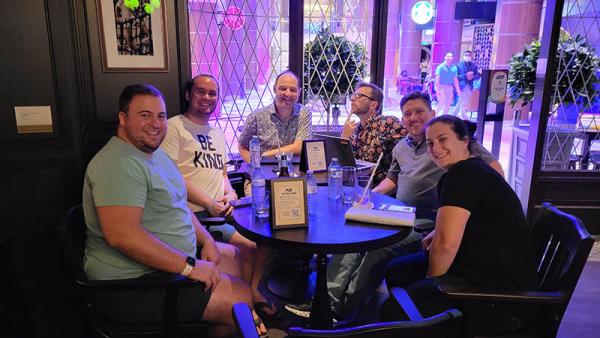 Work, Sea, and Sadness
Tomorrow is the last day of the cruise, and it's a sea day.  I'll be working, but hopeful there will be opportunities for breaks before the last night, and a dinner at Wonderland.
Day 1 - Boarding Odyssey of the Seas – This is Different
Odyssey of the Seas Day 2 – Perfect Day at Coco Cay Beach Club
Odyssey of the Seas Day 3 - All Work and No Play Makes Billy a Dull Boy
Odyssey of the Seas Day 4 – Maya Chan Resort in Costa Maya, MX
Odyssey of the Seas Day 5 – Office two70
Odyssey of the Seas Day 6 – A Packed Evening at Sea
Odyssey of the Seas Junior Suite Walk Through Cabin Tour