Author: bill September 7, 2021, Updated: December 6, 2021
Our first full day of our Odyssey of the Seas cruise took us to Coco Cay, Royal Caribbean's private island.  While we were here just a few weeks ago on Mariner, this visit was very different, and we experienced some new things.
Strawberry [Pancakes] Alarm Clock
On Royal Caribbean, unless you're in a suite, continental in-room breakfast is complementary, but hot items come at a charge.  In the past couple years we've taken to in-room breakfast as it forces us to get moving.  On Mariner I noticed they waived the fee for full breakfasts to encourage in-room dining and promote social distancing.  I didn't see that noted on this cruise, but so far, my folio is free of $8 room service charges, and we got moving at a decent hour.  Mission accomplished.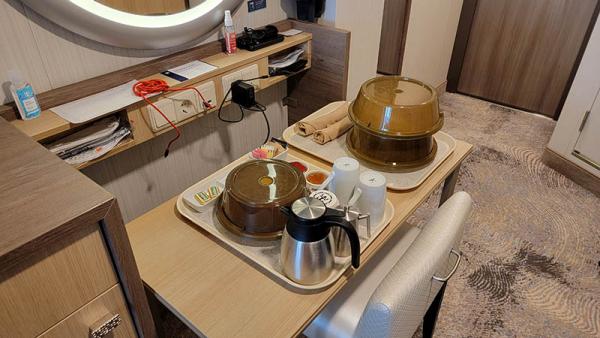 After eating I took a walk around the ship before going ashore, as I'm still exploring this sizable ship, and found that El Loco Fresh, the casual Mexican restaurant out on deck, was not open for breakfast, and it turns out this is only something they do on certain ships.
My First Glimpse of Two70
Quantum Class ships have a two story venue all the way aft that is called Two70, so named because of the 270 degree views.  This space has shows with aerialists and affects that have looked interesting when I've seen videos, so hopefully I'll see some shows here later in the cruise.  This morning I just got some more coffee at Café Two70 located near the entrance.  Some have compared the shape of the space, plus it's multi-purpose nature, with Eden on Celebrity Edge, and while today's peak made me understand why, the overall atmosphere is quite different.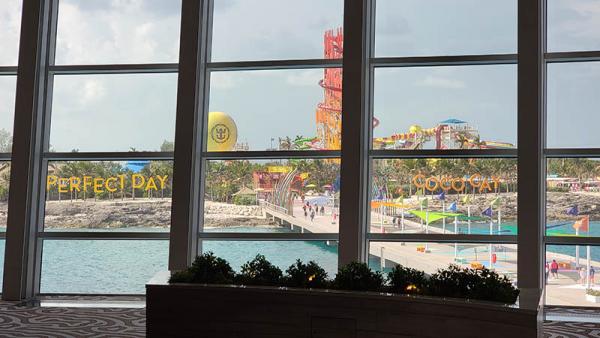 Coco Cay Beach Club
Perfect Day at Coco Cay (which now I'll just refer to as Coco Cay, because life is too short for long names) is, as I found recently, an island oasis that has something for everyone.  Water parks, pools, restaurants, live entertainment, beaches, and more.  What I'd not yet experienced was Coco Beach Club, which is a separate area that comes at an up-charge of anywhere from $80 to $150 per person.  That seems steep, so I was eager to check it out to see if it's worth it.
As luck would have it, my friend Matt from Royal Caribbean Blog got a floating cabana at Coco Beach Club and invited me to join him.  This is a very premium offering that comes with a personal attendant, snorkel gear, a floating covered space with a private shower, minibar, small water slide, loungers, etc.  It's within the beach club, so access to the rest of the area is included as well.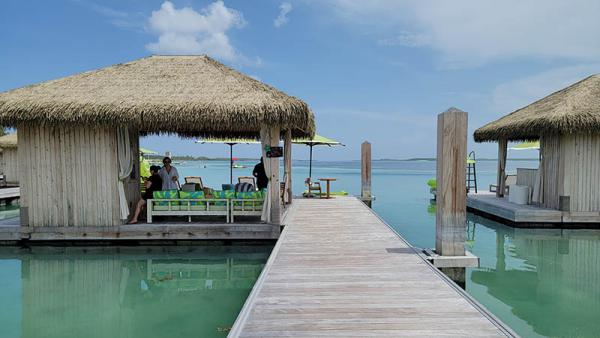 I enjoyed this a lot, as it offered some privacy and a level of service that was second to none on the island.  There was a large fan in the roof of the cabana, and since we were surrounded by water, it stayed relatively cool despite the high temperature.  Comfy seating and relaxing music (which you can play in the cabana via Bluetooth) make it an easy way to nap, but I was there to enjoy the experience so I declined to pass out for part of the day.  I seem to have taken more photos than videos of the cabana itself, so I'll pull some stills later.
When it was time to eat, we discussed the options with our attendant and he ended up bringing us a variety of starters and sides, in addition to our entrees.  I've heard great things about the food here, especially the hummus/pita/baba ganoush plate.  Indeed, that dish was impressively good – as were other things I had, including the grouper and the salad I enjoyed.  That said, those that ordered lobster and steak seemed to rave about it, and I didn't find my food "rave-worthy", but it was nothing to complain about either.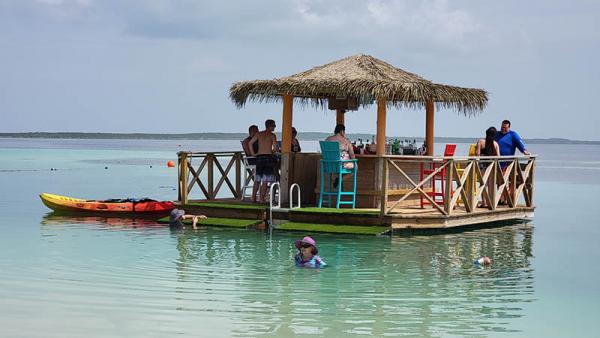 The cabanas in our area were on the same side of the island as the floating bar we enjoyed last time, so eventually when a few of us wanted to check it out, I opted to swim there.  One of the people in our party took one of the complimentary snorkels and masks and swam as well, but everyone else walked.  We stayed there for a bit but our 3:30pm all-aboard time was quickly approaching.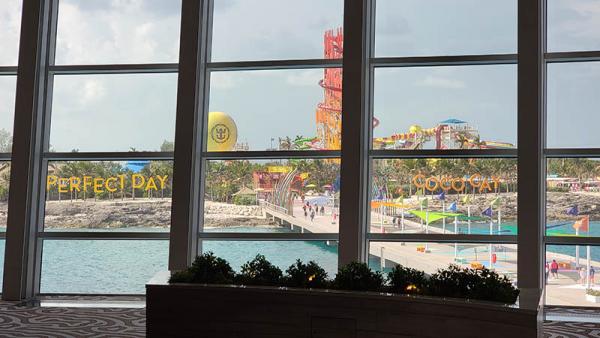 Air-Conditioned Solarium?  Yes Please.
Back onboard I was exhausted and needed to shower, and maybe, burn my clothes.  I stopped at the room and dropped of my bag, but then decided there was just too much daylight left to enjoy and head out on deck.  Strolling around I ended up at the Solarium, which is adults-only (and thus, vaccinated-only).  There is a ton of space on this ship's solarium, and while similar in shape to those on Oasis class ships from Royal Caribbean, it is completely enclosed and even air conditioned.  This made the three-level pool a bit cool for my taste, but it was still a comfortable and peaceful place to relax…which is why I fell into a "twilight" sleep in a deck chair, before finally showering.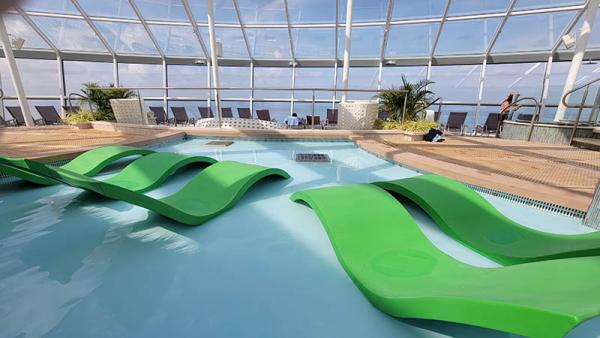 Heavy Dinner at Playmakers
Playmakers is a sports bar located all the way aft on the second level of the indoor Sportplex.  The Sportsplex is a full-size indoor basketball court, a surface for bumper cars, and can be used for other parties and sporting events.  Playmakers has a nice view of the sport court, but also the massive TV over the court.  Within the bar are dozens of TVs with sporting events, but the highlight, for me, are the floor to ceiling windows that provide beautiful views from deck 16 of the ship.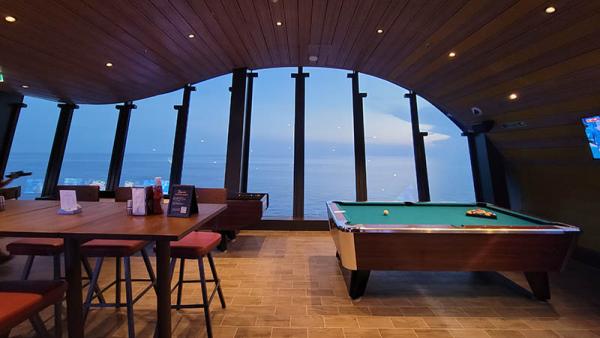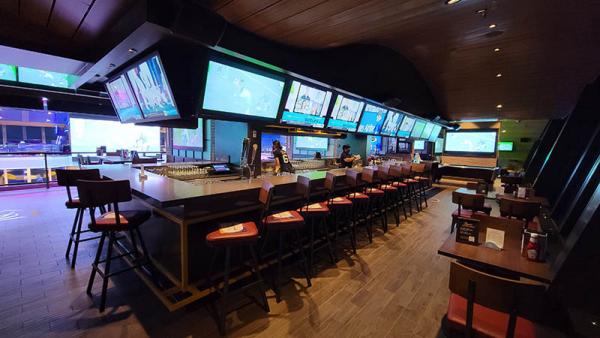 We relaxed here for a bit with some drinks before having dinner.  Dinner here does come at an extra charge, but items are inexpensive.  Almost everything on the menu is very heavy.  Most things are fried, have fatty sauces, and are generally very indulgent.  I had an Impossible burger, and it tasted good, but after that and some appetizers I felt very unhealthy.  Know when you leave a meal feeling you've made bad life decisions?  This was one.  I do recommend having a meal here, but order (and eat) half of what would otherwise seem like a good idea.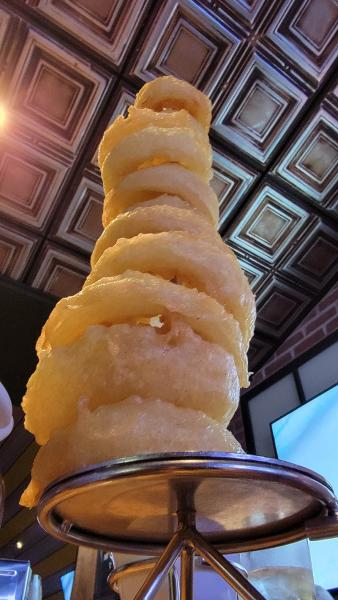 Turning in Early
As I write this I'm enjoying the music of Stephen Burke in the Crown and Compass pub…again.  The pubs so often end up being my home base on Royal Caribbean ships, and despite all the great options on Odyssey, I suspect this trend will continue – but who knows.
On this cruise I'm working a few of the days, including tomorrow.  So between tomorrow's day-time obligations, and a long day in the sun (but certainly not because of the drink package), I'll need to head to be soon.  I may take a walk around to see what other night life there is first.  We'll see. 
Despite working tomorrow, I'll be sure to take many breaks and share some more on Instagram, especially since it'll be our first sea day and I want to see what this ship is like when full of life.
Stray Observations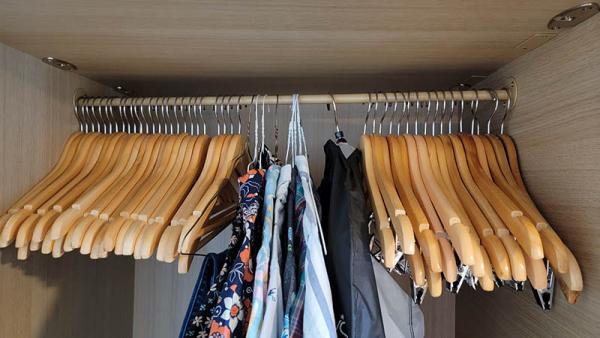 We usually request a mattress topper on Royal Caribbean, as the mattresses are, for our personal tastes, a bit firm.  On deck eight it seems, the mattresses are different (and a bit nicer) than on other decks of the ship.  This is a good thing to keep in mind when booking!
Day 1 - Boarding Odyssey of the Seas – This is Different
Odyssey of the Seas Day 2 – Perfect Day at Coco Cay Beach Club
Odyssey of the Seas Day 3 - All Work and No Play Makes Billy a Dull Boy
Odyssey of the Seas Day 4 – Maya Chan Resort in Costa Maya, MX
Odyssey of the Seas Day 5 – Office two70
Odyssey of the Seas Day 6 – A Packed Evening at Sea
Odyssey of the Seas Junior Suite Walk Through Cabin Tour