Author: Bill September 9, 2021, Updated: September 12, 2021
Until a few years ago I'd never been to Costa Maya, Mexico.  In a short time though, this port has become one of my favorites for one simple reason: Maya Chan Resort.
Up Early, Ashore Late
While I'm not an early riser, today I got going at a decent hour to enjoy breakfast and relax on the ship before going ashore.  I'd have been thrilled to get off the ship early, but we weren't scheduled to arrive until 11:00am because of the long distance traveled from Coco Cay.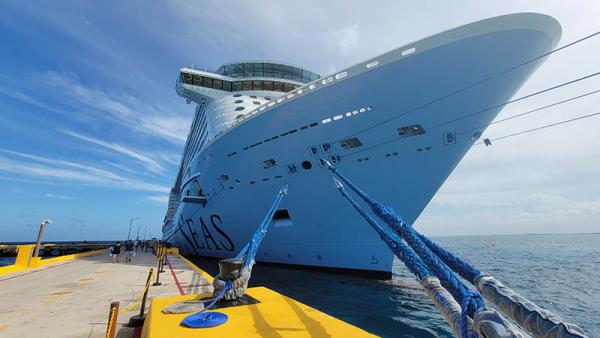 Once we disembarked we walked along the pier to the massive Costa Maya port complex.  They have shops, restaurants, bars, and even a very nice pool that is completely complimentary (I think technically you have to buy a drink…but I'm not sure anyone is checking anyway).  This is usually far to busy, but with limited capacities on all ships, it actually would have been where I chose to hang out if not for having plans at a place we really like.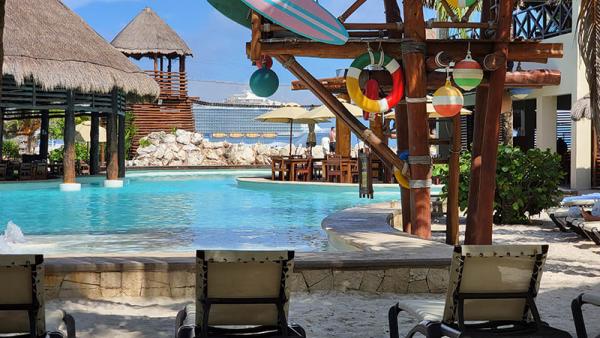 The downside of this complex, is like many, you MUST walk through it all in order to leave independently.
The Bumpy Road to Maya Chan
The Maya Chan Resort is a property owned by an American family who loves cruising, and made this resort specifically for cruisers.  They wanted to make it the excursion option they wish they had.  You can actually read about their story in the book: It Helps to be Crazy: The Story of Maya Chan Beach.
While the family did an amazing job with the property, they of course can't pave the roads in town.  The resort is located just a few miles from the port, but about half the drive is on unpaved and very bumpy road, so it takes about 25 minutes.  The drivers are well-prepared, as admission to the resort includes round-trip transportation. Once you're out of the port shopping gauntlet, you're just a one minute walk to a meeting area where you check in with Maya Chan staff and they get your ride ready.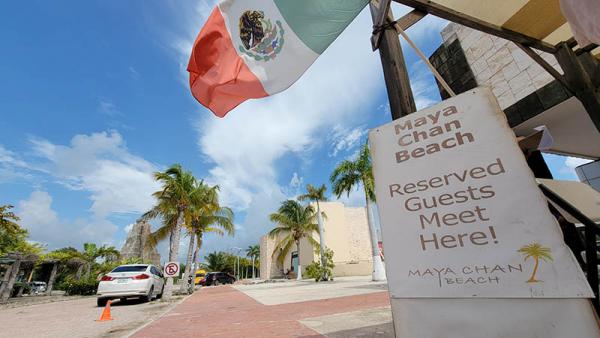 Maya Chan – What's Included
When you get to Maya Chan the owners and staff greet you, explain where you can find the complimentary snorkeling gear, beach games, kayaks, and so on.  There are clean restrooms and changing areas with showers.  There is a full bar with quality liquor, and the staff makes quality and very strong drinks.  You can sit at the bar or take advantage of the seemingly omnipresent staff.  They also have food.  The chips, salsa, and fresh-made guac you get on arrival is good – but the lunch they serve up is fresh, authentic, and some of the best Mexican I've had anywhere.  Special requests or dietary restrictions?  No problem at all.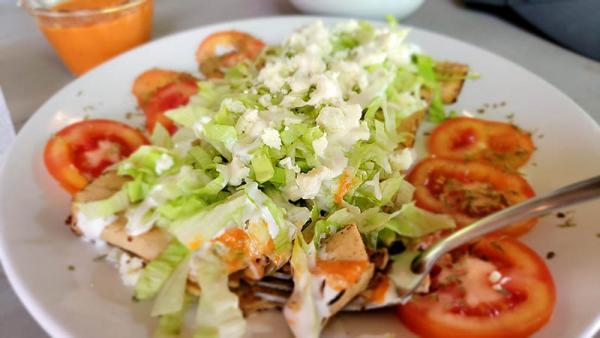 Each party is assigned a covered seating area.  Depending on your group size it could be a small palapa with two comfy loungers, or a large space with couches and hammocks.  In addition to beach, there is a fresh water pool near a second bar.  It's up a few feet and set back, so you can still see the water as you're surrounded by tropical trees.
You may have heard that this area can have a lot of sea grass, and that's true.  The staff is constantly raking the sea grass up, but it's in the water.  If this bothers you, then enjoy the sand, drinks, food, pool, and amazing service.  While it'd be nice if the sea grass wasn't an issue, they do such a great job at running this absolute bit of paradise that you shouldn't let it stop you from visiting.  Oh, and they have a beach cat!  What else could you ask for!?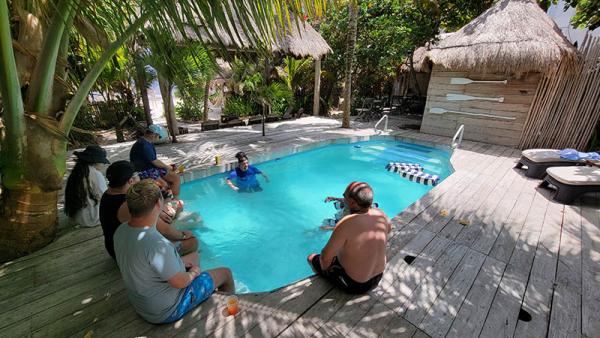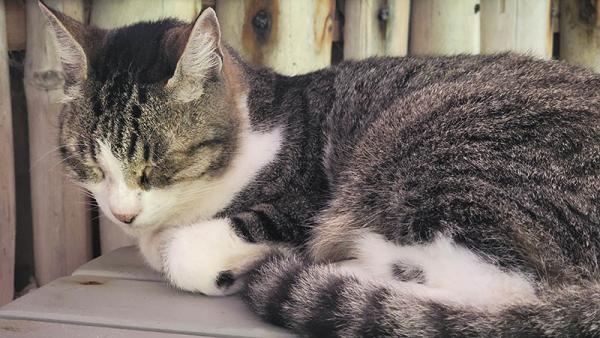 Quick Bite @ Solarium Bistro
The Solarium Bistro on Odyssey is buffet-only, with somewhat of a Mediterranean theme.  The dishes are largely light, but there is a nice variety so you can grab a lot of small items.  The hummus and falafel were both excellent.  I also found the baklava to be the ideal flavor and texture.  These are three staple items for this type of cuisine and I was really pleased with all of them.  I also had cake, because...cake.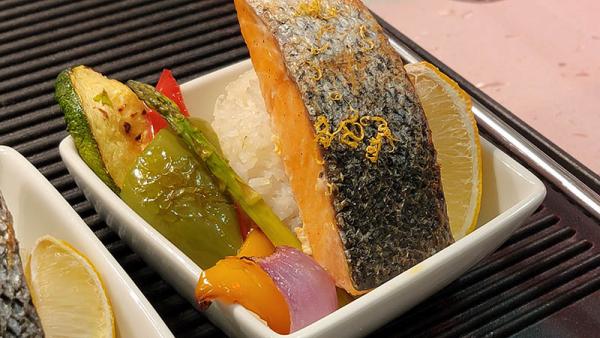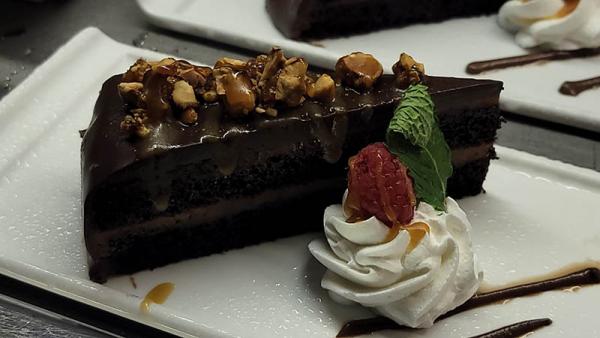 The Book: Seven Chapters One Adventure
I've been waiting to check out the nighttime shows in two70 the whole cruise, and tonight we saw the second showing of "The Book".  I can't honestly tell you what the plot or even the theme was.  There was an emcee or sorts who seemed to be seeing stories from a book unfold in front of him – but that was very much secondary.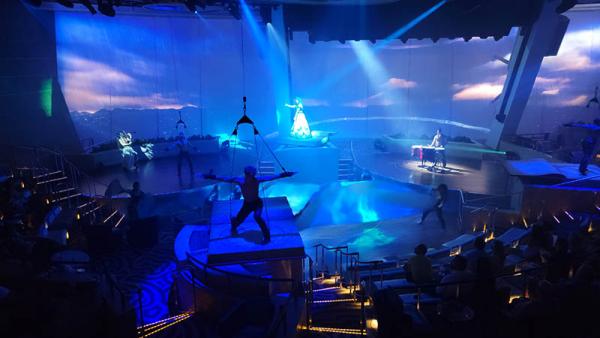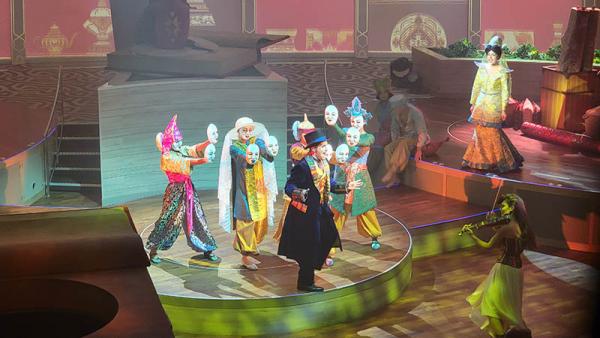 There were aerialists, singers, and dancers performing on multiple levels, going out into the audience, and making it a truly immersive experience.  There is a lot of tech in this venue, and that definitely plays into why the show is enjoyable – but it doesn't feel too gimmicky.  Performers appear and disappear through parts of the stage that sink and rise.  Even areas between seating in the house have these trap doors and risers.  There is a large bank of screens on robotic arms (the same type used at the Bionic Bar for the robotic bartenders), and they glide and move in a way that brings the screens to life.  It's something that has to be seen to be understood.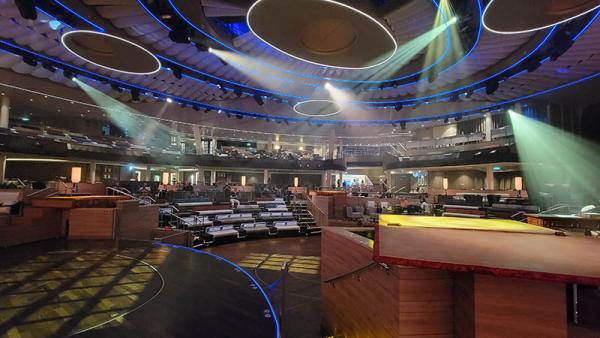 All in all, I was wildly impressive by the performers and the technology all coming together in a way that kept me entertained even though I have no idea what I saw.
Tomorrow: Cozumel for Some
Tomorrow we're in Cozumel, which is one of my favorite ports in the region.  Unfortunately, I'll be working during the day though and doubt I'll get off.  Don't cry for me though, I'll be working with a great view, I'm sure.
Stray Observations
Bionic Bar is where robotic arms make drinks you order on tablets.  It's neat, but it's very much a "one and done".  The only time I tend to see people here is the first night, and this has held true on Odyssey of the Seas.  For all the money these systems cost I wish they'd do something more popular with guests here - but perhaps its value is in the marketing.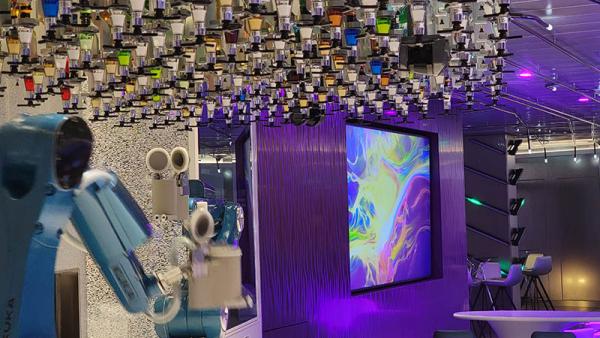 I love ships at night, and one day, I'll develop the Hirsch Ship Lighting Rating System.  Until then, I'll just post pics and say that the colors are very nice on this ship's pool deck and in the solarium.