Author: Bill September 6, 2021, Updated: September 15, 2021
Today we boarded Odyssey of the Seas in Port Everglades, and this is a cruise I've been waiting on for a long time…even though I only booked a few weeks ago.  Why?  The ship, and so far, it's just what I hoped…
To start, this will have to be an abbreviated live blog.  I know I said that about our Meraviglia sailing, but this time I mean it.  I've got a busy week ahead.  Maybe.  We're on Odyssey for six nights, visiting Coco Cay, Costa Maya, and Cozumel.

Late to My Favorite Class?
Since Quantum of the Seas first came out, I thought the ship had features and a look that was really modern and different from Royal Caribbean's other ships.  For a variety of reasons though, I've not been able to try out a Quantum Class ship until now.  For the sake of clarity, this is actually a Quantum Ultra class ship, but the basic concept is the same. 
The layout, décor, and overall feel of the ship, I've been told, feel somewhere between Royal Caribbean and Celebrity, a line we like a lot.  So, how will this compare to Royal Caribbean?  It's already much different than our Mariner of the Seas sailing a few weeks ago, but time will tell how different.
Check In and Boarding
We arrived at Terminal 18 right around our scheduled time.  Royal asks you arrive in the 30 min boarding window, though suites are given a bit of leeway. 
The process was smooth and took maybe twenty minutes in total – most of that time showing our test results and vaccination proof to multiple people.  I do find it interesting that Celebrity and Royal Caribbean have photographed my vaccination card five or six times, but it doesn't seem to be on record.  I don't mind them verifying, but if this step could be cut or shortened since they've verified it so many times, it could reduce queues as enough time goes by that more and more cruisers return.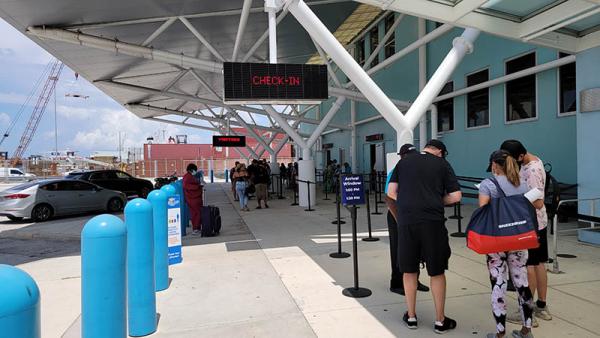 Once onboard at around 1:45pm our room was ready, and we dropped off our bags before getting lunch and filming this week's episode of Billy's Cruise Takes with the latest news.  We'll share photos of the room in the coming days, here or on Instagram.
First Impressions of Odyssey
In a word, refreshing.  The ship is far more modern, has greys, faux marble (to save weight), glass, and just overall feels like a more modern take on the spaces that make Royal Caribbean what they are.  Even the elevator lobbies are different.  In, fact, I noticed they added lights above each elevator that turn green or white to indicate the elevator's arrival and whether it's going up or down.  I love this feature on Celebrity Edge and was happy to see it here.
The pool deck makes a great first impression.  Based on photos I'd seen, I thought the bright colors would seem plasticy and child-like, but I actually really like the look.  It blends nicely between the pools, the Lime and Coconut bar (which is on two deck on Odyseey), and even as you continue toward the adults-only solarium, which is much more subdued.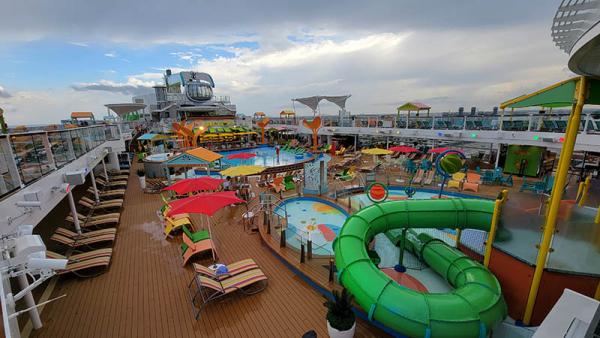 Teppanyaki – Not Izumi
We opted for the Ultimate Dining Package on this cruise.  With this package you pay a flat fee (which varies by sailing) and can eat at any specialty restaurant as much as you'd like (though some minor up-charges apply in limited cases).  With this as a nice option, we headed to Teppanyaki, which is, that's right, a steakhouse Teppanyaki restaurant.  What's interesting is on other Royal Caribbean International ships, this is part of Izumi (the sushi restaurant), but on this ship they're on different decks, nowhere near each other.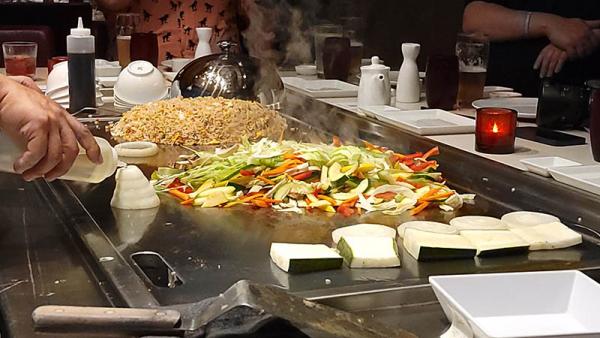 The chef, Orlando, was entertaining and energetic.  I'd rate his performance as top notch, but it's also a bit louder than I'm looking for at dinner.  That's just my preference.  He was amazing and the meal was good.  I'm mostly vegetarian and they brought a spring roll without my asking and offered to bring other dishes from Coastal Kitchen, which is next door.  In that way they went above and beyond – but I was happy with the teriyaki vegetables, rice, spring roll, and Japanese beer.
This Evening is a Joke
We saw the late show in the theater tonight, which was the comical musing of Cary Long.  His delivery was very good, and I found it interesting (as a language enthusiast) that he worked in some multi-lingual skills into his schtick.  The content of his jokes left me thinking of another comic I've seen, Ritch Shydner, and the crowd enjoyed him a lot. 
The theater itself seems nice, but after being spoiled by the theaters on Celebrity Edge and MSC Meraviglia, I was bummed that there are obstructed views from some of the seats.
Crown & Compass
After the comedy show, I headed to the onboard pub, Crown and Compass.  This is located in the center of The Esplanade, which is a two story indoor area with multiple shops and dining options, serving as the heart of the ship.  It feels less like a mall than other Royal ships, which is nice.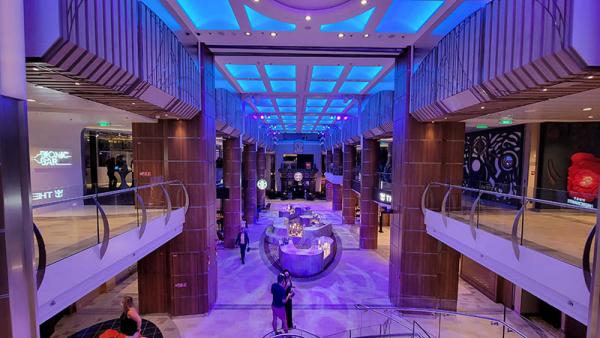 The pub is a vaccinated-only venue, which means you don't need a mask inside.  It also means that no young children are permitted inside, because while all adults are vaccinated, those under 12 almost certainly aren't.  There is a singer/guitar player serenading us with all the classic pub songs, reminding me of some of the onboard entertainment we missed during the world's hiatus from cruising.  I didn't try any food in the pub, which is an option unique to Quantum Class ships, as these venues used to be Michael's Genuine Pub, when Royal Caribbean worked with Chef Michael Schwartz.  The partnership is gone, but upcharge food items at the pub remain.  I'm sure I'll try them this week.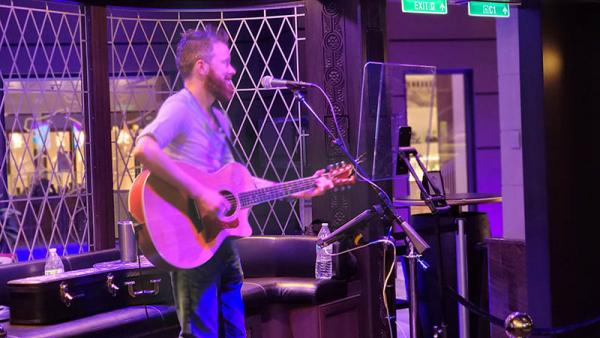 Tomorrow: Coco Cay
Tomorrow we're at Perfect Day at Coco Cay, Royal's private island.  We visited for the first time a few weeks ago and I was really impressed – they truly offer something for everyone.  On our first visit we hit every space really quickly in order to see as much of the island as possible.  Tomorrow, however, we have some really special experiences planned, so stay tuned!  Will I do a blog tomorrow?  Who knows, but we'll keep the updates coming, especially on Instagram.
Stray Observation
The ship is brand new - with this being only its sixth revenue sailing.  Combine that with how clean Royal usually keeps their ships, and additional COVID-related sanitation measures, and it is surreal how squeaky clean things are kept.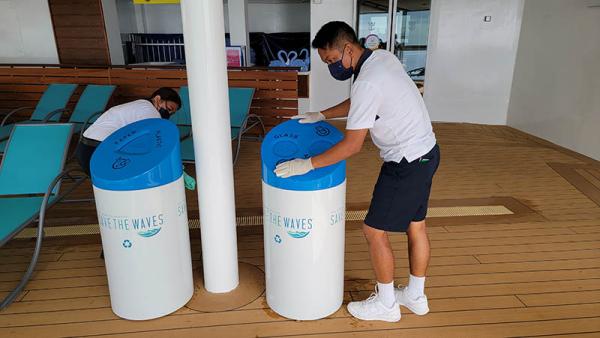 If you have questions about Odyssey of the Seas, reach out!