Author: bill September 12, 2021, Updated: December 6, 2021
Today was our last day on Odyssey of the Seas, and I had to work during the day, so I was determined to pack the evening with as much enjoyment as I could.  I think Larissa and I did a pretty good job of that, with unique meals, experiences, and more time with friends.
Accidental Captain's Corner
This morning I went straight to two70 to get to work.  After getting breakfast and a lot of espresso, I sat down aiming to be productive.  While I did get some things done, Captains's Corner started up in front of me, and I took off my noise-cancelling headphones to listen in.  This event is where guests can hear the Captain, as well as the Cruise Director, talk about how they got to where they are before opening it up to questions from those in attendance.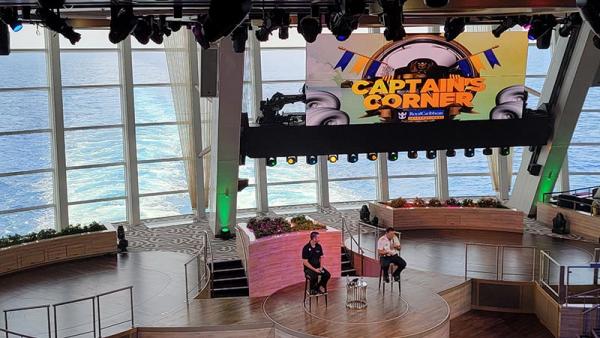 If you go to enough of these events you know that some of the same questions are asked every time, so Royal now prints a "quick facts" sheet up for everyone and hands them out at the entrance.  Another thing you find?  This leaves more time for more personal stories.  Captain Per is from Norway, and had a relatively typical, but still interesting story about going to sea.  He has a good sense of humor, which, while somewhat dry, comes through nicely in guest interaction.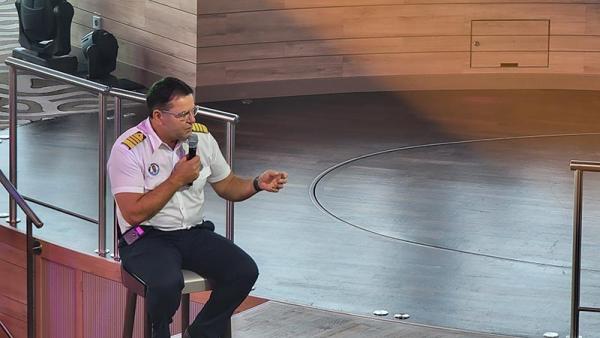 I actually found the Cruise Director Mike's story more interesting, as he started as a DJ on the SS Norway back in 2001, and ascended to Cruise Director from there.  The interesting part though, is that for size years Mike went back to land to care for his ailing grandmother.  During that time, he worked as a police officer in Canada.
Lunch in the Solarium Bistro
For lunch I met with Larissa, who took the day off, and we went to the Solarium Bistro.  I was really temped to go the main dining room, since we'd not visited at all this cruise, but the Solarium Bistro gave me a nice opportunity not only for a quick bite, but to get some more natural light and connect with the outdoors for a few.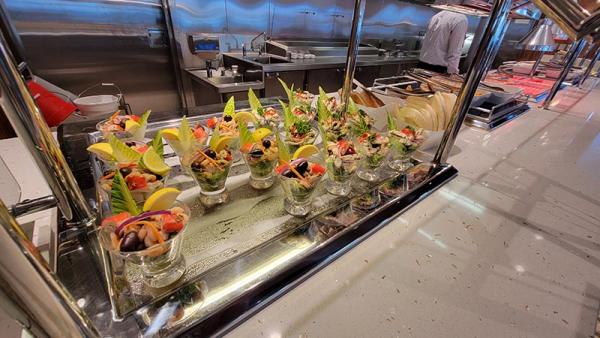 The selections here are quite fresh, and make for colorful displays.  On future cruises I might try and come here more often, as it's much easier to have an enjoyable salad and soup, which makes me feel like I'm not over-indulging for every meal.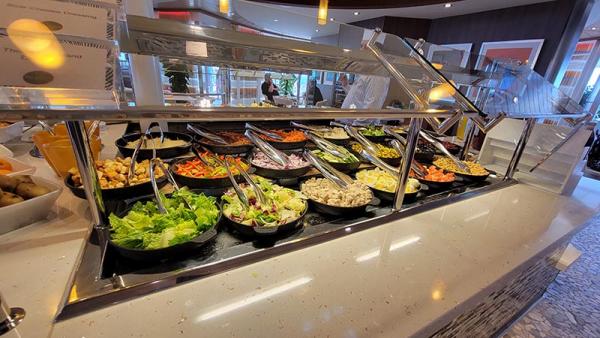 On the way to my next work meeting I took a stroll around the deck and saw that many folks were out enjoying another gorgeous day – including some who got to see it from above.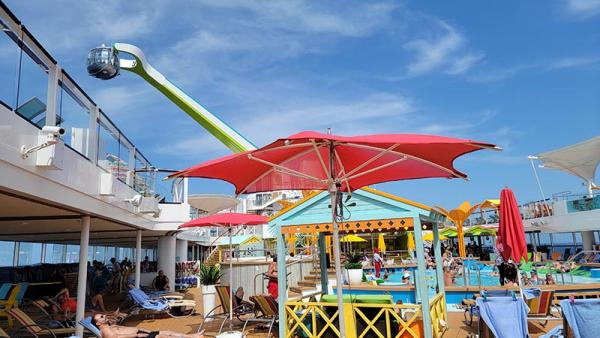 iFLY by Ripcord
iFLY is a skydiving simulator available on land, and on some Royal Caribbean ships.  Larissa signed up to do this on the last sea day, so I came to watch…and film her making funny faces.  After checking in, you get basic instruction on how to position your body and how to read hand signals the instructors give you.  You're also provided a jumpsuit and safety gear.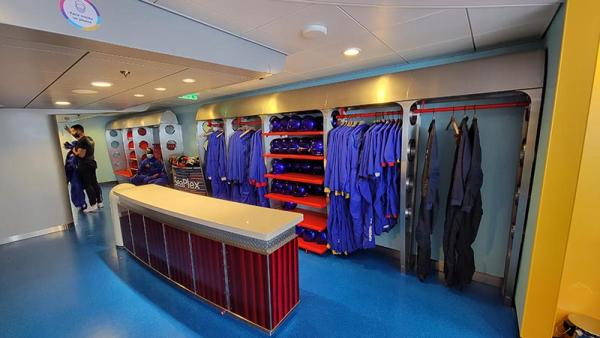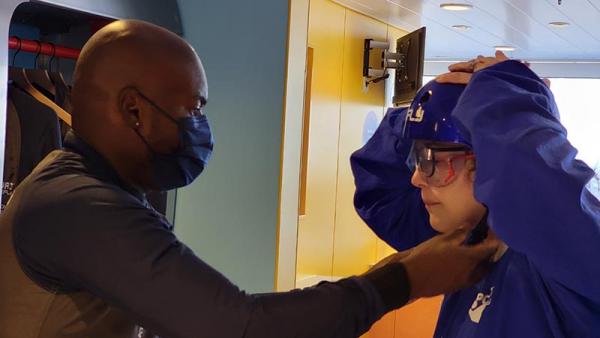 Once outside you enter the large plastic room that has a mesh floor.  Below there is a massive blower that creates a vertical wind tunnel, allowing you to fly around within this space.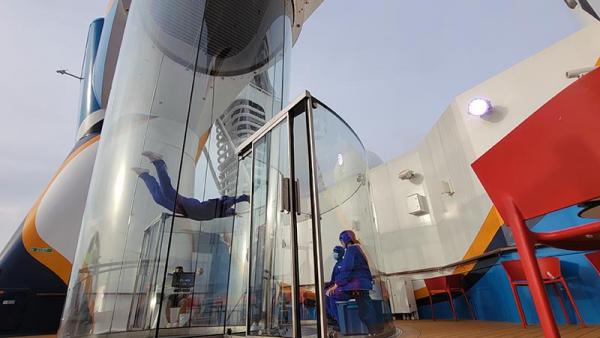 It obviously takes some practice, as Larissa did this once on land but was still largely guided by the instructor.  One of the other guests in her group has done it many times and was flying around on her own rather gracefully.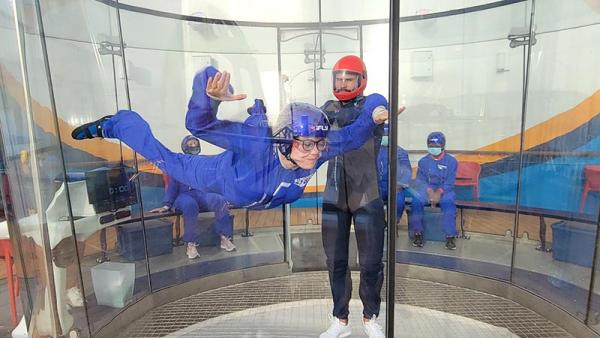 On our sailing, a two-minute "flight" (broken into two one-minute sessions) was $50 on sea days.  I believe it was complimentary on port days (as was North Star), but those filled up right away.  If you're wondering what it looks like in person, you can go to the observation area right above the FlowRider and watch other folks enjoying the experience.  While there you'll notice an amazing view of the aft of the ship.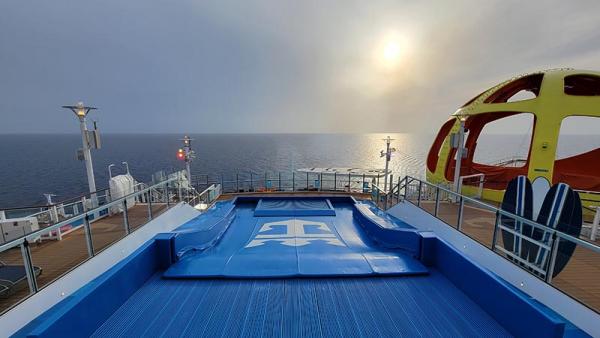 Sad End of Cruise?  Book Another
Before it got too late on the last day I went by NextCruise.  Here you can talk to onboard sales staff and book another Royal Caribbean (or Celebrity) cruise.  The advantage of doing this is that you can get additional onboard credit, and sometimes, other perks, too.  If you booked your current cruise with a travel agent, they'll have your info for your new cruise as quickly as you do, and if they have any additional incentives to offer, you'll get those too!
I was so impressed with Odyssey, that I knew I wanted to come back, so that's what I went there to arrange.  It just so happens I had a six week gap without any cruises, and right in the middle of that is an Odyssey of the Seas sailing on October 31st, at a price I couldn't say no to.  So, all of the things we didn't yet get to try, like the main dining room, North Star, and Music Hall, will be checked off our list in just over a month and a half.
One quick tip here, is that NextCruise can take a while - longer than I feel like it should.  There are two easy workarounds: 1) purchase an "open booking" in the Royal Caribbean app, where you pay a deposit and have 90 days to apply it to a reservation and 2) if you want to lock in a specific sailing, stateroom, etc, stop by and tell them what you want and they'll prepare it.  When ready you just return to confirm it all and give your approval.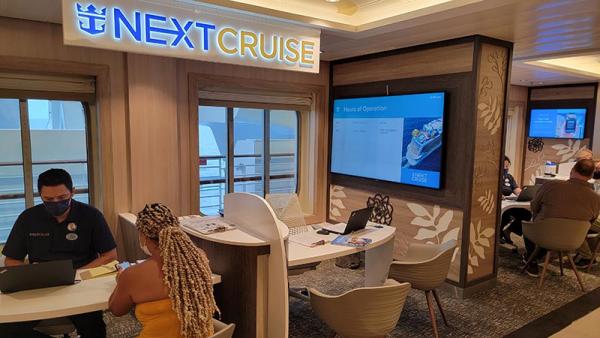 Dinner at Wonderland
For dinner we went to Wonderland, which is an Alice in Wonderland inspired specialty restaurant.  I've diner here once before on Harmony of the Seas and to be honest, I didn't love it.  Larissa wasn't with me on that trip, and I knew she wanted to experience it, so I was happy to go again.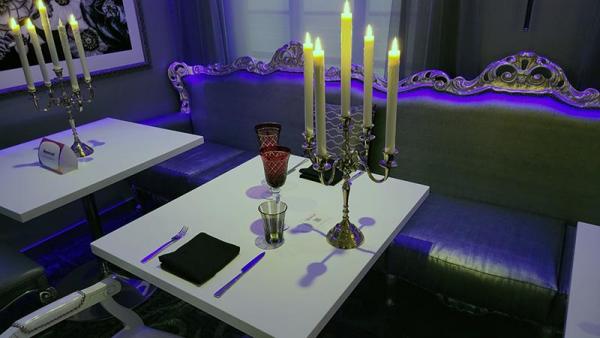 This restaurant is all about the experience.  Before order, you'll notice that in addition to the whimsical décor and costumes, even the menu is different.  You're presented a blank paper in a frame, with a brush and well of water.  You paint the brush on the menu to reveal the full menu.  There are different 'elements' which each have their own sets of courses – but you're free to mix and match as you'd like.  There were several vegetarians and pescatarians in our group, plus some other dietary restrictions, and the staff was happy to adjust dishes while still keeping things unique.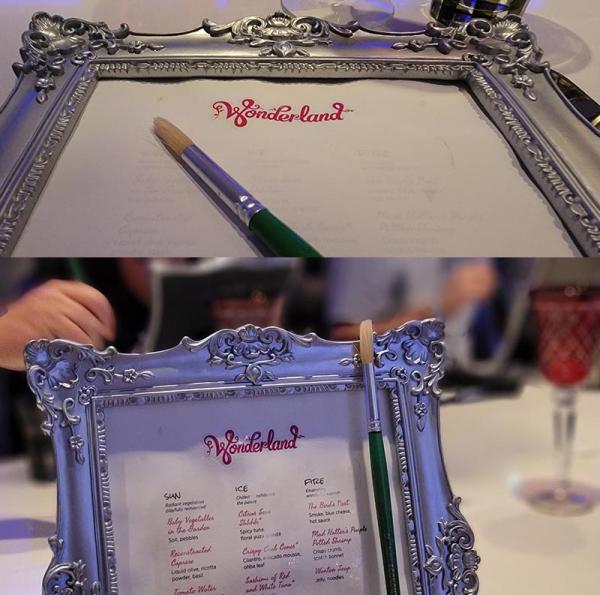 One of the big oppositions some have to this restaurant is that the food is too 'adventurous'.  I genuinely don't understand what people mean when they say that, but clearly some feel this way, and those who do should note that the shape of the food might not be what you're used to.  Some things are deconstructed or presented unusually, but the ingredients are generally pretty tame. 
Because we had a large group, I got to sample a wide variety of the offerings.  Like my last experience, I felt much of it was just okay.  Nothing I had was too exciting to me, and the temperatures of some items weren't what you'd expect – which may have been the most unusual thing about the dishes, to me at least.  The overall experience though, was a good one – and the wait staff was excellent at being amusing and helpful at the same time.  After my second Wonderland experience, I think I'll maintain my "one and done" opinion here.  Was it my favorite meal?  Not at all.  But, you should absolutely try it sometime – it's a unique and cute experience, and I'm glad I came!
Disembarking
Tomorrow morning we'll be back in Ft Lauderdale and for some reason, kicked off the ship.  Some weird, "you only paid to be here for six nights" policy.  Pfft.  To avoid crowding, Royal Caribbean now allows you to stay in your stateroom until your number is called to disembark.  Breakfast is still available in all the traditional spots, but this means that there aren't large groups with suitcases flooding the common areas.  I understand it may make things a bit more rushed for the stateroom attendants and others, but it makes for a far better guest experience – especially if you like to sleep a bit later.  After doing this on Mariner of the Seas a couple weeks ago, and Holland America Line ships in the past, it's going to be hard if they ever go back to the old way of doing things, were we have to be out of the room by 8:00am.
Stray Observations
Day 1 - Boarding Odyssey of the Seas – This is Different
Odyssey of the Seas Day 2 – Perfect Day at Coco Cay Beach Club
Odyssey of the Seas Day 3 - All Work and No Play Makes Billy a Dull Boy
Odyssey of the Seas Day 4 – Maya Chan Resort in Costa Maya, MX
Odyssey of the Seas Day 5 – Office two70
Odyssey of the Seas Day 6 – A Packed Evening at Sea
Odyssey of the Seas Junior Suite Walk Through Cabin Tour