Submitted by

Ric

on Fri, 12/15/2017 - 16:27
Just one week after my cruise on the Norwegian Escape, I'm cruising on the Norwegian Epic, and for the first time, I'm cruising solo.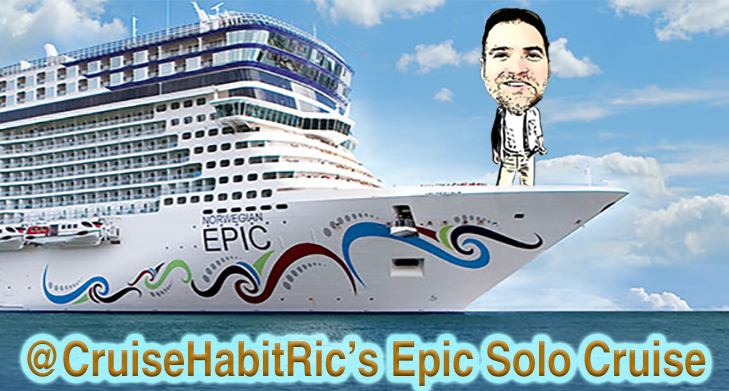 Why This Sailing – An Epic Deal
After Hurricane Irma, cruise prices started dropping a lot, and NCL was offering solo cruisers balcony cabins with no single supplement. Usually, booking solo in a cabin other than one designed for one person comes with an increased per-person cost. It's understandable that the cruise line expects to get two or more people booking in a room, so that revenue has to be made up somehow. However, in this case, NCL was waiving that fee and charging solo travelers the same per-person rate. The booking includes a drink package, 250 minutes of internet, and $200 in onboard credit.
Note from Billy: While some consumers became concerned with cruising during 2017's busy Atlantic hurricane season, it's important to keep in mind that disruptions are rare, and to understand how cruise lines work hard to keep passengers safe. Cruise ships sail around storms - not into them. How does cruising during hurricane season work? We explain here.

In Contrast to The Escape…
While the cruise on the Escape was all about specialty dining, this cruise will be about checking out the many complementary restaurants onboard. Somehow, on the Escape, I never made it back to the aft deck behind the Garden Cafe buffet. This time, I plan to sit out there at least once, probably during a less busy lunch while the ship is in port. Unlike the Escape, the Epic offers Shanghai's Chinese Restaurant and Shanghai's Noodle Bar both as complimentary venues. I'm curious about what's on the menu here. I'm hoping for some dim sum at lunchtime on a sea day. While both the Epic and the Escape feature a Spice H2O, the Epic's version has a grill. This might just be burgers (I'm not sure yet), but I'm interested in checking out another place with the ability to dine outside. Also on this trip, I'm looking forward to the main dining rooms. Because I had the dining package on the Escape, and I wanted to visit restaurants that were exclusive to that ship, I never had dinner in the main dining rooms. Both the Epic and Escape feature The Manhattan Room Restaurant, and I'm looking forward to having a meal or two in this dinner-only complimentary restaurant.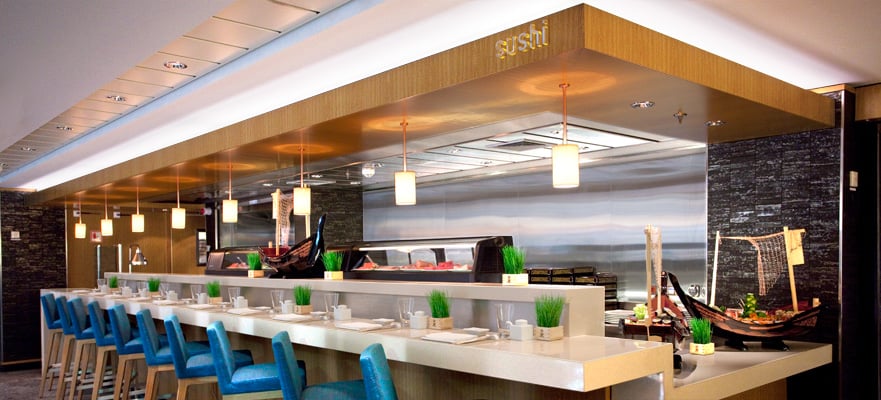 As far as specialty dining goes, I don't see myself doing a lot of it here. I have a reservation at Moderno Churrascaria, but I could imagine cancelling unless I meet up with a group who wants to dine there. While the dinner show at The Supper Club on Escape was complimentary, on the Epic, the dinner show in The Spiegel Tent is an up-charge. I have dinner for one booked here on Day 1. I figured if there was any venue it would be ok to dine in by myself, it would be this one as it's more about the show than the food.
Cruising Solo for The First Time
On all my past cruises, I've gone with friends or a romantic interest, but this time, I'm all by myself and I'm looking forward to the flexibility that solo travel affords. That said, I don't want to spend all my time alone, so I've connected with other cruisers on the CruiseCritic roll call discussion boards. I'll be going to a Meet & Greet on both embarkation day and on Day 2, a Slot Pull, a cabin crawl, and a game of Left-Right-Center (a dice game I don't completely understand at this point, but I'll clear up on a future post). The group is also doing a gift exchange with an instruction to bring something from your hometown valued at $25 or less. Well, Tampa is all about cigars or Cuban sandwiches, which I either can't bring onboard or are not everyone's cup of tea. I'll sit that one out, but I might go as a spectator.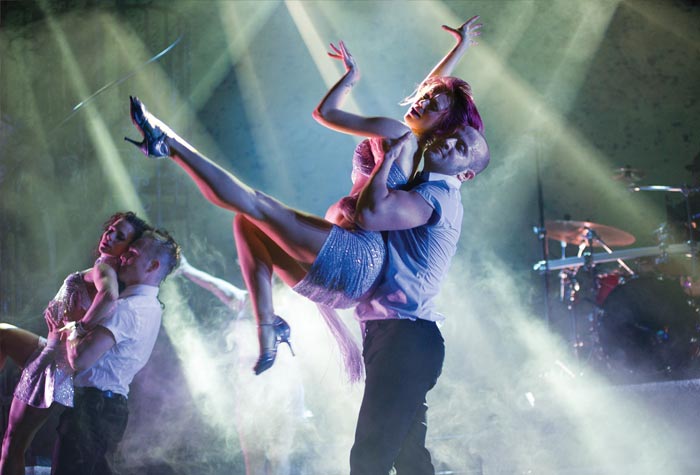 Like most cruise ships, the shows vary from ship to ship. On Epic, there's a high-energy dance show called "Burn the Floor" which I'm looking forward to. The ship also features a production of "Priscilla: Queen of the Desert," based on the movie of the same name. I've heard mixed things about this show. On the upside, the costumes are really good, and the show is good. On the downside, a few people have said the show is just too long. I've got that scheduled for Day 3. On the Escape, one of the things I enjoyed was the shows later in the week by lead performers in the ship's main shows.
Another note from Billy: If you're thinking about cruising solo, know it's one of the only times we've found cruise line airport transfers to be worthwhile in South Florida. Want to know how to get to an from the airport, cruise terminal, and hotel in South Florida? We break down the numbers here.
I'm excited to get onboard and check out what's the same, what's different, and what's unexpected.
Follow along with me as I live-blog my cruise on Norwegian Epic from December 16th to 23rd.
Norwegian Epic Live Blog Preamble - Ric's Solo Cruising Epic Adventures, The Fun (and Puns) Never End
Norwegian Epic Live Blog Day 1 - Embarkation Day
Norwegian Epic Live Blog Day 2 - Sea Day
Norwegian Epic Live Blog Day 3 - Sea Day
Norwegian Epic Live Blog Day 4 - Falmouth, Jamaica (as seen from the ship)
Norwegian Epic Live Blog Day 5 - Sea Day Off the Shore of Grand Cayman
Norwegian Epic Live Blog Day 6 - Sea Day With a Glow Party