Submitted by

Ric

on Fri, 12/22/2017 - 18:17
For lunch, which was pretty much the start of my day after being out until 3am the night before, I went up to the Garden Cafe committed to find some vegetables. I was happy to see several vegetable dishes including some dumplings made of diced vegetables, peas, and corn held together by a batter, fried, then covered in barbecue sauce. I tried the no sugar added pumpkin pie, but it needed sugar or some kind of spice to compensate. I looked for soft serve, but there was some kind of spill in front of the machine, so it was roped off. Lunch was great, but I left wanting dessert.
The Conjurer of Comedy Magic Show
At 2pm, Magic Brian was performing his Conjurer of Comedy magic show. He began by showing us a trick with a pair of scarves and an egg with a hole cut in it. He said he would show us this one trick if we promised not to ask him how he did the others. At the end, he switched up the trick and suddenly, the egg was real. He brought a couple of kids up on the stage and did some close-up magic with foam bunnies. Then a card trick which failed in a hilarious way, intermixed with producing a $100 bill signed by an audience member after he had burned it inside an envelope. For Magic Brian's finale, he escaped from a straight jacked wrapped in chains while an audience member, who happened to be B of B&D who I had met on the first day, counted to one minute fifty seconds, allegedly Harry Houdini's record time. Just after Magic Brian's show, some of the kids from Norwegian's Splash Academy program produced a show for their parents. I didn't stick around for that, but based on the traffic flowing into the theater, it was very well attended.
Traffic Jam on the High Seas
I returned to my cabin to nap for a bit. While we were cruising just north of Havana, I looked out from my balcony expecting to see the open Gulf of Mexico. To my surprise we were not at all alone. I could count eight other ships traveling in either direction. I suppose we were in some kind of established shipping channel. Not at all what I expected to see while cruising.

Blissful Drinks & Dinner at Shanghai
I got ready for dinner before meeting M&A at Bliss for some pre-dinner drinks. The previous night, we had tried to eat at Shanghai's, but were told the restaurant was full for the night. Instead, we made a reservation for today. M&A had reservations for Burn the Floor at 9:15pm, so we went to Shanghai's a little early to see if we could be seated. No problem. I had the same meal I enjoyed on my first visit, but added the orange peel beef that one of my tablemates had enjoyed. It was very good. The sauce was like a tangy orange barbecue sauce. For dessert, we all had the chestnut and red bean triangles with green tea ice cream. It was just as much of a hit for these guys as it was for me both the first and second times having it. One thing was noticed during the meal was that several tables sat empty. I'm not sure if that's because fewer people wanted to dine there tonight than last night, but it was odd to see. A speculated that their capacity might be governed more by the amount of food the kitchen can produce rather than by the number of seats in the restaurant.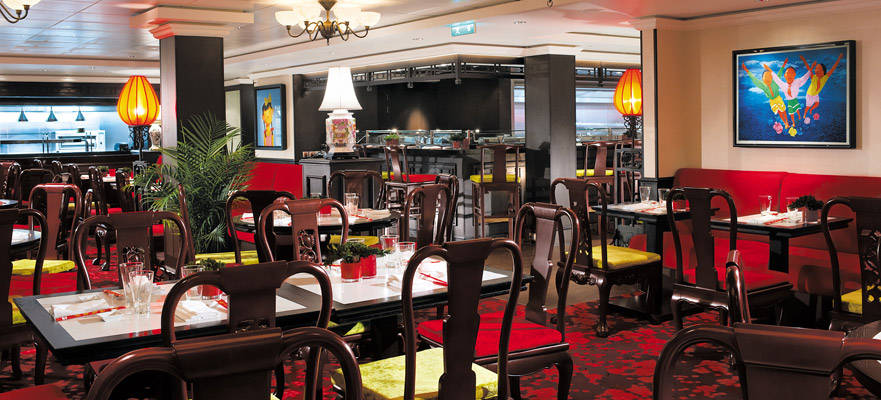 Glow Parties – All About Accessorizing
While M&A went to the Epic Theater to see Burn the Floor for their first time, I went back to my cabin to get dressed for the Glow Party. Knowing that I'd be going on two Norwegian cruises in December and therefore attending two Glow Parties, I decided to buy a pair of white scrub pants to wear with one of my standard white t-shirts. I also got a couple of pairs of LED bands made for joggers and other LED gadgets to spice up my outfit. When I got to the party, I was able to share a pair with a couple of the Canadians who I ran into. They all arrived in Santa hats with battery powered Christmas lights. I had heard that the ship was out of limes as of yesterday, but that may have meant that the ship was out of prepared limes for the bars. Today, limes were restocked and the drink of the day was the Moscow Mule. I ordered a couple and hit the dance floor to enjoy the rave atmosphere and all the fluorescent clothing and embellishments other passengers had brought with them.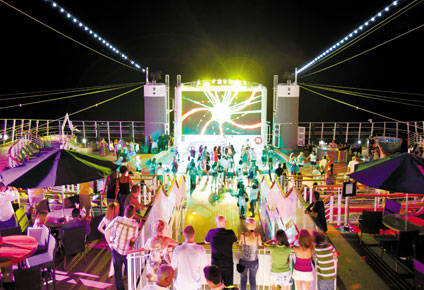 Tomorrow – Great Stirrup Cay
Tomorrow, we stop in Great Stirrup Cay, Norwegian's private island. On my last cruise, we were unable to port here due to diverting to care for a passenger's medical emergency. I'm really not sure what I might do on the island. I'll probably walk around just to see what it looks like and how it compares to other cruise lines' private resorts. Depending on how I feel at the time, I might do some snorkeling. I still have some onboard credit to spend, so doubtless I'll be making a trip through the stores onboard.
Norwegian Epic Live Blog Preamble - Ric's Solo Cruising Epic Adventures, The Fun (and Puns) Never End
Norwegian Epic Live Blog Day 1 - Embarkation Day
Norwegian Epic Live Blog Day 2 - Sea Day
Norwegian Epic Live Blog Day 3 - Sea Day
Norwegian Epic Live Blog Day 4 - Falmouth, Jamaica (as seen from the ship)
Norwegian Epic Live Blog Day 5 - Sea Day Off the Shore of Grand Cayman
Norwegian Epic Live Blog Day 6 - Sea Day With a Glow Party
Norwegian Epic Live Blog Day 7 - The big question: Did Ric make it to Great Stirrup Cay?