Submitted by

Ric

on Mon, 12/18/2017 - 14:09
By the time I felt like having breakfast, most of the Garden Cafe had closed, but there were still a few items available, so I had raisin French toast, fried potatoes, sausage, and the salmon mousse I had become so fond of on the Escape. While I was dining, L, one of a group of Canadians I had met the night before walked by, so we chatted for a bit.
Meeting Fellow Cruisers & Some Officers
At 11am, I made my way to the CruiseCritic Meet & Greet. When I arrived, I ran into B, a fellow solo cruiser from Baton Rouge, Louisiana. We were treated to introductions from several of the ranking officers of the ship including the head chef, the head of housekeeping, and Scott, our cruise director. The officers took questions from the audience, but the funniest question was not so much a question, but one lady in the audience saying her kids remembered Scott from when he ran the kid's program on a sailing back in 2009. Apparently, they called him "Scotty McHotty." It was at this point Scott jokingly declared the question and answer session over.
Through the remainder of the Meet & Greet, I met a couple from Portland, Oregon who were taking their second cruise. They expressed an amount of envy for me living in Florida, being so close to several cruise ports, and being able to take advantage of last-minute deals. A couple of people from the CruiseCritic discussion board had volunteered to organize events and sign-up sheet were available. After hearing the Slot Pull had around 40 participants, I decided not to sign up. I had done a Slot Pull on my previous sailing, and while it was fun, it was also a lot of waiting — waiting for my turn, waiting for the game to finish, and waiting to split and distribute the pay out. I also declined to go on the Cabin Crawl because it would conflict with another activity I wanted to do later.
Lunch at Garden Cafe
B and I walked around the ship and landed at Garden Cafe for a little lunch. I had a couple of slices of cheese pizza, shepherd's pie, and a focaccia sandwich that was somewhat like a muffuletta, but with red pepper on it. After lunch, B went to an art auction, which he says he attends not for the art, but for the sociological and anthropological fun of seeing who else goes to art auctions — and for the champagne. I went back to my cabin for a nap.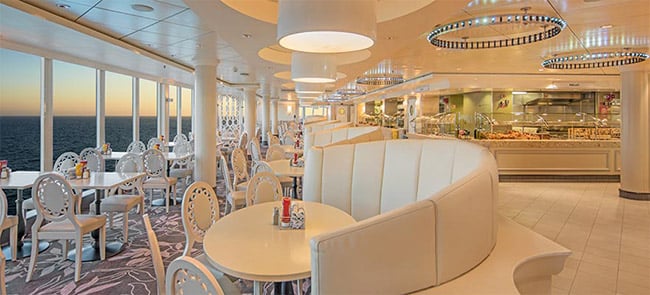 Solo Cruisers Dinner at Shanghai's
I woke up around 5pm and figured I had just enough time to brush my teeth, fix my bedhead hair, and make it down to Shanghai's for the solo cruiser dinner Clarissa had organized. While I did not have my name on the list, I hoped there would be some no-shows and I could be worked in. If there weren't, I was happy to go to the Garden Cafe on my own. Turns out there were enough no-shows for me to have a seat with LB, the organizer of the CruiseCritic Meet & Greet; A, who co-hosts a comedy night in her hometown; and J, a 4th grade teacher from Savannah, Georgia.
My appetizer selections were the fried potstickers and spring roll, followed by hot and sour soup. The potstickers were good, but the spring roll was fantastic. I could really tell that it was made with fresh vegetables. I don't think I've ever had a spring roll that had that kind of cabbage flavor in a very good way. The hot and sour soup was also a good choice. It had a variety of ingredients like shredded chicken, eggs, bamboo shoots, and mushrooms in a slightly thickened broth. The spiciness was there, but not too much for me, and I'm a wimp when it comes to heat.
For my entree, I chose the char siu noodle bowl. All parts of this were well done. The broth was flavorful with scallions. My only wish is that there had been about twice as much char siu. If I go back on this trip, I'd get it again, but see if they can double up on the meat. For dessert, I had the five spice chocolate cake, which was ok. Chocolate with spices like cinnamon or cardamom, or with chili powder has some popularity, and I can see why. If you want an interesting variation on a dense chocolate cake, this is worth trying. The winning dessert of the day was the chestnut and red bean triangles. This dish was outstanding. I had no idea what to expect when I ordered it, but what came out was like a nutty, earthy, sweet, and flaky baklava served with green tea ice cream. This was the same green tea ice cream served at Teppanyaki on the Escape, but this time, I could really get the green tea flavor. The triangles were a hit for everyone at the table who ordered them.
Burn the Floor
After dinner, I went to see Burn the Floor which I was really looking forward to. I was not disappointed. While we waited for the show to begin, two guys in matching red Edwardian suits with powdered wigs came out and amused the crowd by doing things like trying to put their legs behind their head and generally being goofballs. They interacted with the audience by following people to their seats and sitting on their laps or placing their wigs on a bald guy's head. The best interaction was when they brought a girl, about 9 years old, up on stage, one gave her his jacket while the other gave her his wig. At this point, she proved to them she could do the trick they failed at, and she put her leg behind her head. The audience roared.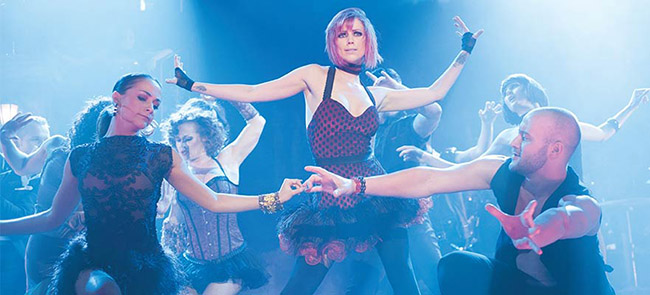 The show began with some elegant formal waltzing with the dancers in full gowns or men's suits with stockings. Everyone wore an ornate wig. Then a post-modern apocalyptic dancer in all black with a feathery headpiece crashed their party with a guitarist and bassist in similar all-black costumes. The troupe moved through different eras and styles of dance like a more modern set featuring the girls in catholic schoolgirl outfits while the boys wore cardigan sweaters. There was a disco dance-off segment and a Spanish (possibly Mexican) segment with a military officer and a lothario fighting over the town's fairest lady. The dancing was spectacular. Much of the time, the dancing was so quick, I couldn't really process what I had seen and they were already on to some other technical move. The show was so good, I would gladly see it again. Tomorrow night, the dancers will be performing a short set during dinner in The Manhattan Room, and I'm signed up to join other solo cruisers for that show.
Mingling & Bar-Hopping
Finally, the Basil Cucumber Twist Cocktail
After Burn the Floor, I went up one deck to the Bliss Ultralounge and ran into the group of Canadians I had met on Day 1. They were off to dinner, so I joined them on the walk over to Shanghai's. When they were told it would be a 45-minute wait, they opted to dine at O'Sheehan's. While most of them went directly to O'Sheehan's, the lone woman in the group and I detoured to Shaker's for the Basil Cucumber Twist cocktail I had wanted to try the first day. It was fantastic — cool and not too sweet. There are a couple of other drinks on the menu I'd like to try, so I imagine I'll be back to visit bartenders Vladimir and Norman.
O'Sheehan's & Spice H20
At O'Sheehan's, the group ordered all kind of wings, nachos, and fajitas. I had the shepherd's pie (my second of the day) with the cheesecake brownie for dessert. The brownie comes with a caramel sauce and marshmallows on top, but I would recommend it without. It's pretty good on its own. To drink, I ordered a Moscow mule, which became my drink of the night. After dinner, we made a trip through the casino, where I spent nothing, and then on to the dance party at Spice H2O. Several activities crew members, including Clarissa and Ari, were mingling in the crowd and getting people to dance. When the YMCA came on, all the activities crew stepped up onto the ledge surrounding the dance floor and did some coordinated choreography. On the big screen along the back wall, there was a repeating countdown and when the clock hit zero, the activities crew awarded prizes for best female, best male, and best couple dancers. The prize… a shot!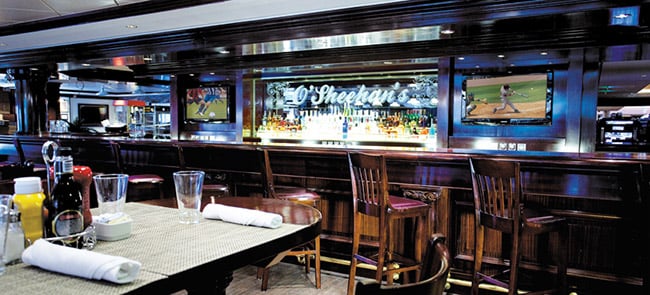 Bliss
After dancing at Spice H2O, we decided to return to Bliss and see what the crowd was like there. I have to say Bliss is just the kind of venue I like on a cruise ship. There's ample bar space plus several small conversation groupings, plus a dance floor. It's a really comfortable space that's luxurious without being stuffy. After a little dancing at Bliss, we decided to call it a night and save some energy for tomorrow.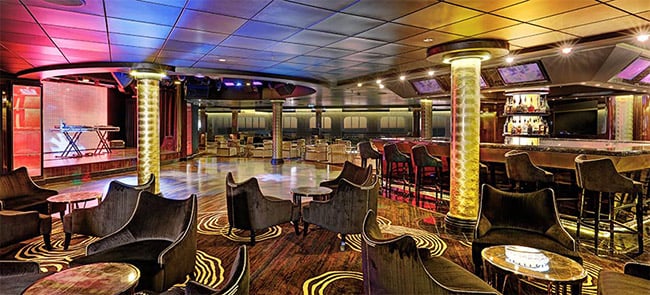 Tomorrow
Day 3 will be a second sea day. I'm planning to play some Left-Center-Right with other CruiseCritic cruisers. Then I'll be having dinner at The Manhattan Room with a show from the Burn the Floor dancers. I'll round out the night with a showing of Priscilla: Queen of the Desert in the Epic Theater. Doubtless, I will also have a nap at some point.