Author: Ric
The Beginning of the End
On the final day of the cruise, I got up pretty early thinking I might go over to Great Stirrup Cay. I made my way down to Taste for my last chance at some table service breakfast. Although breakfast is served at Taste on disembarkation day, I thought I would most likely just make a quick buffet trip. The huevos rancheros SP had enjoyed so much on our previous cruise on the Norwegian Escape were back on the menu. I ordered what became my standard breakfast — assorted melon plate, salmon eggs Benedict, pork sausage links, hash browns, and hot chocolate. For whatever reason, the eggs came with homefries rather than sausage and hash browns, but it was not enough of an issue for me to bring it up to the waiter. After breakfast, I went back up to the room to start to pack.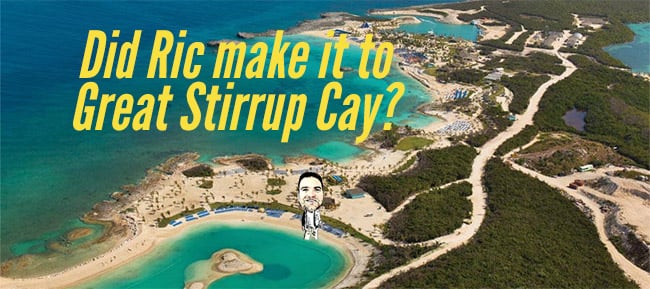 That Onboard Credit Isn't Going to Spend Itself
Just after 2pm, I decided the best way to use my remaining onboard credit would be to book a 50-minute Swedish massage from the Mandara Spa. When I called to make an appointment, they offered me a spot at 2:15pm, but that was too soon for me to get down there. The next closest time was 3:45pm, so I booked that one. Having an hour and a half gave me enough time to go on the water slides.
What's onboard credit? How do you get it? What is it good for? We're so glad you asked - we've got the answers here!
Champagne [Bowl Slide] on Deck
I donned my swimsuit and made my way up to the top deck. With so many guests off the ship at Great Stirrup Cay, there were plenty of deck chairs free. I picked one near the stairs to the slides and rinsed off before going to grab a tube for the champagne bowl slide. With no wait, I grabbed a blue tube and started to climb the stairs to the top of the slide. This is when I realized there was a wait, it was just all at the top of the slide. I also realized I was wet from rinsing off in a deck shower and it was pretty windy at the top of the ship. A couple of minutes later, I was rushing down a twisting flow of water and suddenly launched into the slide's champagne bowl. I did about three laps around the bowl and then at the bottom got just past the opening to the second part of the slide. Another lap? Nope. I started floating backwards and dropped down into the slide's second segment unsure of where I was going. Awesome ride. I had to do it again.
No one was waiting, so I was able to take my tube back up to the top and make a second trip down. This time, I only made two laps around the champagne bowl, but I did manage to go down the second segment facing forward. Glad I had both experiences.

I decided to give the other two slides a try while I was out on the pool deck. Have to say that after the champagne bowl, they were just ok. The purple one passes through the rock wall, but the slide is totally enclosed in opaque plastic, so if you're in the slide, you can't tell. The green one is only exposed at the end. If you only have time for one slide. Make it the champagne bowl.
A Massage at Epic's Mandara Spa to Ease The "End of Cruise" Pain
After a shower, I walked over to the Mandara Spa and met Evangeline, my massage therapist. She was fantastic. I've only had one other massage in my life and it was over ten years ago. She checked in with me to make sure I was comfortable and I could tell that she modified her technique once she found how tense my calves and shoulders were. After the massage, she recommended that I try a hot stone massage next time and gave me a brief sample of the technique. Of course, there was a product recommendation, but when I declined, there was no pressure. I was happy to see when it came time to sign the bill that when the ship is at Great Stirrup Cay, in-port pricing is in effect.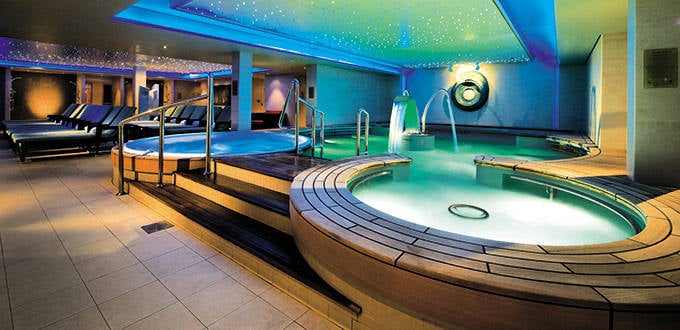 Grill Extravaganza (or as others call it, a "barbeque")
After returning to my cabin, I made a few more preparations to depart the next day, then went to the Garden Cafe for the Grill Extravaganza. There were several kinds of grilled meats including a sausage, a pork loin on one carving station, and a roulade on the other. I also had grilled zucchini, along with a mixed vegetable salad. For dessert, I had the no sugar added banana creme cake along with the raspberry jelly roll. Both were really good choices.
"The Manhattan Dining Room" or "Dining with the Professor, No Sign of Marianne"
After dinner, I met back up with M&A and we ran into a few of the people I had met through the solo cruisers' meet along with new friends of theirs. We all decided to go to The Manhattan Room for dinner (my second). On the way, I picked up a Matador cocktail from Maltings. I had tried this at Bayamo on the Norwegian Escape and really enjoyed it. Not the type of cocktail I would usually order, but I found it very good. I discovered that one of my tablemates teaches organic chemistry and one is a dentist, so we had a good conversation about how students of varying pre-health disciplines approach their prerequisite courses.
Note from Billy: The Matador cocktail is made with Bulleit bourbon, elderflower liqueur, and fresh ginger. Despite the name, no bulls or Spaniards were harmed in the making of this drink.
The professor and I both ordered identical meals up to the dessert course. For our first appetizer, we had the crab and cheese soufflé. I may have had this dish when I sailed on the Norwegian Sky a couple of years ago. It stuck out to me when I saw it on the menu. Several people at the table ordered it, and we agreed it was one of the best things we'd had on the cruise. Our other appetizer was the vegetable tempura. It was tasty, but not outstanding. Tempura needs to be fresh and hot. This was not hot. However, it was still pretty good, and possibly a way to get kids to eat some vegetables. A few of us ordered the braised lamb shank. Everyone who did raved about it — so tender and flavorful. One of the desserts on the menu was a minted tiramisu. A few people ordered it, but no one liked it. Those of us, including me, who ordered the apple soufflé with date bar felt like we had the standout dessert of the night. I also took the opportunity to have some stracciatella gelato one last time.
A Farewell to New Friends
After dinner, we walked up to Bliss to see what the last party of the cruise was like, but most of us were getting tired and had an early morning. While outside Bliss, I saw Clarissa who had organized the Solo Cruisers' events. I thanked her for all she had done for us over the cruise and gave her a hug with a big "obrigado." I went back to my cabin quite full and a little sad that the last day of my two December cruises had come to an end.
Norwegian Epic Live Blog Preamble - Ric's Solo Cruising Epic Adventures, The Fun (and Puns) Never End
Norwegian Epic Live Blog Day 1 - Embarkation Day
Norwegian Epic Live Blog Day 2 - Sea Day
Norwegian Epic Live Blog Day 3 - Sea Day
Norwegian Epic Live Blog Day 4 - Falmouth, Jamaica (as seen from the ship)
Norwegian Epic Live Blog Day 5 - Sea Day Off the Shore of Grand Cayman
Norwegian Epic Live Blog Day 6 - Sea Day With a Glow Party
Norwegian Epic Live Blog Day 7 - The big question: Did Ric make it to Great Stirrup Cay?