Submitted by

Ric

on Tue, 12/19/2017 - 15:12
Breakfast at Taste
I started my day around 9am at Taste for a sit-down breakfast rather than brave the crowds at the buffet. The menu was slightly different than on the Escape. One of the featured items was a dill and spinach pancake served with smoked salmon and sour cream. Overall, I enjoyed this dish though the smoked salmon was oddly dry and tough. I also ordered some sausage and hash browns just in case I wasn't crazy about the pancakes and salmon. The decor in Taste is a little mixed. It mostly resembles the chain steakhouse of my childhood, Steak & Ale, with the exposed "brickwork" and the multicolored window shutters. However, there are also art nouveau elements like twisted wooden railings that I couldn't get a picture of because they were all in high-traffic areas. I hope in a future dry dock, the theme is unified. My preference would be all art nouveau.
Note from Billy: Taste looks completely different than on Escape! Head over to Ric's Escape live blog to see for yourself.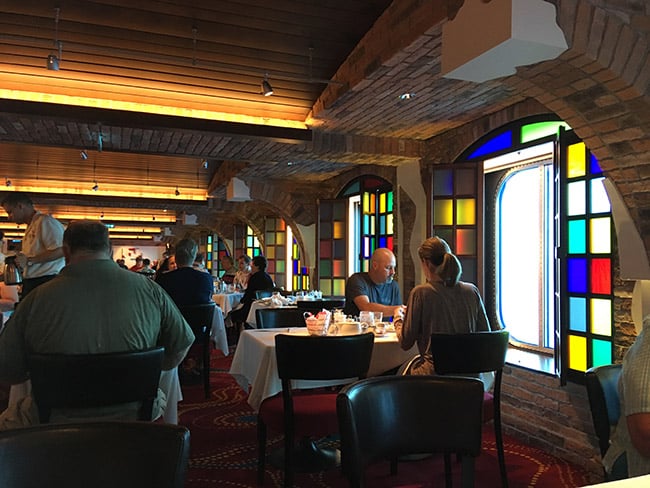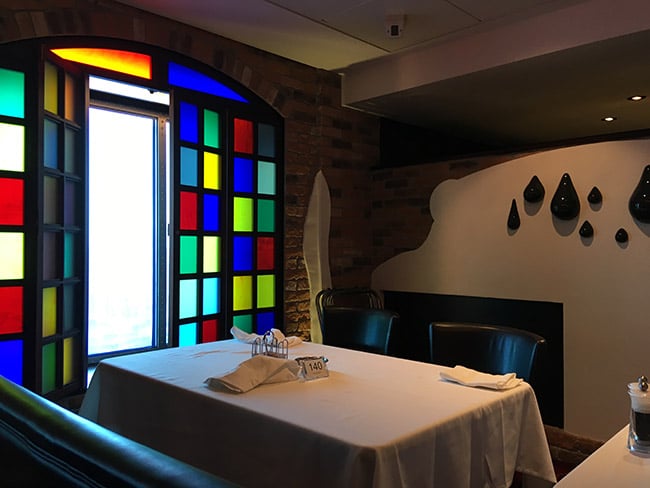 Left-Center-Right with New Friends
After breakfast, I went back to my cabin to write a little and nap. My plan was to get some extra sleep in the morning so I could have a late night. Around 1:45pm, I set out for the Biscayne meeting rooms to meet with a CruiseCritic group to play a round of LCR. With a little planning, I set a path that took me by a bar to order an Absolut Moscow mule, which has turned into my preferred drink on this cruise. It's a little sweet, a little tart, and there's a little spiciness from the ginger beer. I'm glad I left myself a few extra minutes, because the Biscayne meeting rooms were pretty tough to find.
A group of around 20 of us gathered to play and our host explained the rules. Everyone starts with three $1 bills. For every dollar you have in front of you, up to three, you roll one die. Each die has three sides marked with a dot. If that side comes up, you hold your bill. If you roll an L, you pass one dollar to the left. Similarly, if you roll an R, you pass one dollar to the right. However, if you roll a C, you put one dollar into the pot, which for us was a Merry Christmas gift bag we passed around with the dice. The game continues until there is a single dollar bill left. Whoever has that bill and rolls a C to put it into the pot, wins the whole pot.
The winner of the first round was the player seated to my left. If only she had rolled an R instead of C, I'd be $51 richer. We all had a really good time, so much that a group of us wanted to play a second round. One player spoke up and recommended we take a short break to get drinks. Genius!
Deck Sports…Almost
After the second round we played, which could also be called the second round I didn't win, I walked around on the upper decks to enjoy the sun and see which activities were being set up. The Freestyle Daily listed a "Bounce and Bungee" activity on Deck 17 Aft. When I went to the spot around 3:45pm, it looked like there was an enclosed trampoline with a frame connecting to a waist harness. My guess is you could strap in and try your hand at some acrobatic moves. I decided that after a couple of drinks, this was not the activity for me. The rock-climbing wall was also being prepared and while I'm not built for rock-climbing, I thought I could work with gravity rather than against it and try rappelling. The line got to be pretty long right away, so I might try this again tomorrow when I imagine more people will be off the ship in Jamaica.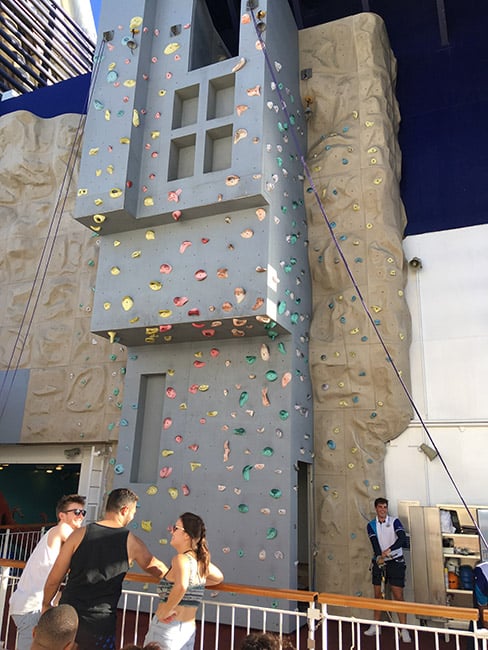 I ran into the same group of Canadians I had met a couple of times earlier. They were headed to the slides, but I was neither dressed for it, nor did I want to wait in the long lines. I opted to hang out on a lounge chair and people watch. Again, the slides are something I may try tomorrow while there are fewer people on the ship.
Billy's Tip: While we recommend getting out and exploring while in port (especially if it's a new destination for you), staying on the ship can be magical. No lines or waiting for anything, it's like having a sea day all to yourself!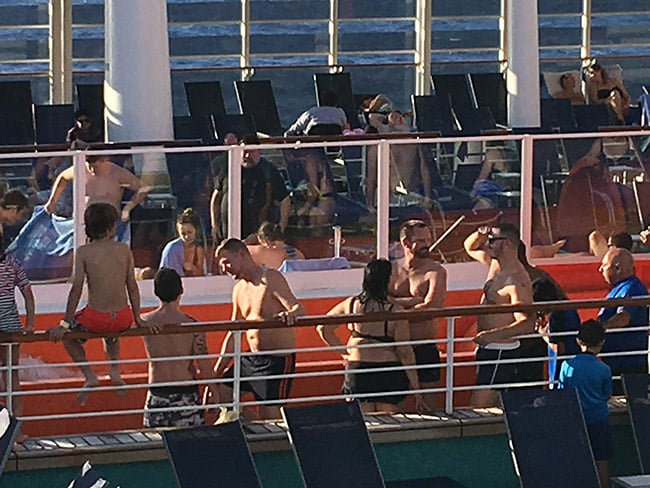 Dinner & Dancing in the Manhattan Dining Room
I went back to my cabin to change for dinner. Clarissa had arranged for solo cruisers to dine in The Manhattan Room while dancers from Burn the Floor performed. For an appetizer, I had a salmon tartare that was very good. I followed it with a crab and fish cake and some strips of sirloin. For dessert, I asked for the carrot cake with an addition of stracciatella gelato. Both parts were really good. The dancing was impressive, but my view was blocked by a couple of columns. As far as I could tell, the routines performed here were entirely separate from anything done in the show, so I'm glad I got to see this too. The Epic truly has an outstanding troupe of ballroom dancers onboard.
Note from Billy: We loved the Manhattan Dining Room on Norwegian Escape, we even wrote an article about how every ship deserves a space so beautiful. It looks like the venue on Epic is quite similar. Interestingly, the main dining room on Holland America's Nieuw Amsterdam goes by the same name (though it looks quite different).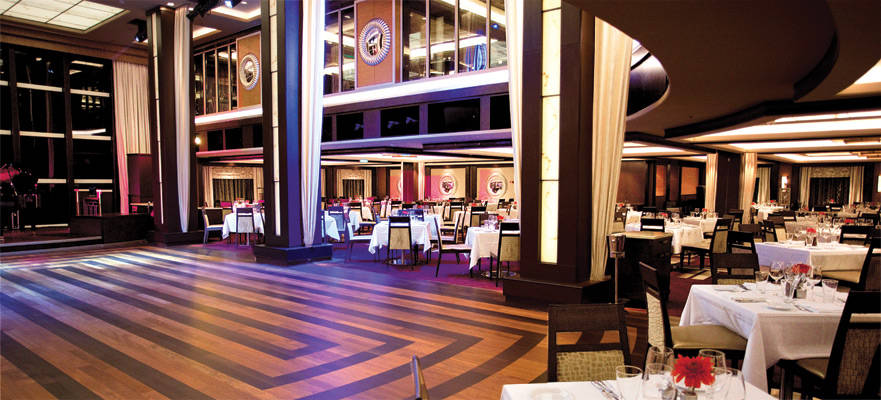 Priscilla: Queen of the Naps
On my way back to my cabin to rest, I saw B and D, the newlyweds, at Shaker's. I stopped by to chat with them a little, then headed back to my cabin to relax before heading to a 10pm showing of Priscilla: Queen of the Desert. Well, a little rest turned into falling asleep until 1am, so I missed out on Priscilla. However, I made another reservation for tonight, so there's still a chance I'll get to see it.
Tomorrow in Falmouth, Jamaica, the Ship is Mine
Tomorrow, we are in Falmouth, Jamaica, and my plan is to stay on the ship and enjoy the smaller crowds. The slides will be open all day, and the rock climbing wall opens at 4pm, so I have a couple of activities ahead of me.
Norwegian Epic Live Blog Preamble - Ric's Solo Cruising Epic Adventures, The Fun (and Puns) Never End
Norwegian Epic Live Blog Day 1 - Embarkation Day
Norwegian Epic Live Blog Day 2 - Sea Day
Norwegian Epic Live Blog Day 3 - Sea Day
Norwegian Epic Live Blog Day 4 - Falmouth, Jamaica (as seen from the ship)
Norwegian Epic Live Blog Day 5 - Sea Day Off the Shore of Grand Cayman
Norwegian Epic Live Blog Day 6 - Sea Day With a Glow Party