Submitted by

Ric

on Thu, 12/21/2017 - 16:13
I had intended to get off the ship and walk around Georgetown, Grand Cayman a little, but instead, I stayed on the ship. I have some onboard credit to spend, so I figured no matter how cheap the liquor is in Grand Cayman, I could get some on the ship for "free." Tomorrow is a sea day, so I'll get to walk around the shops and see what else I might like to buy.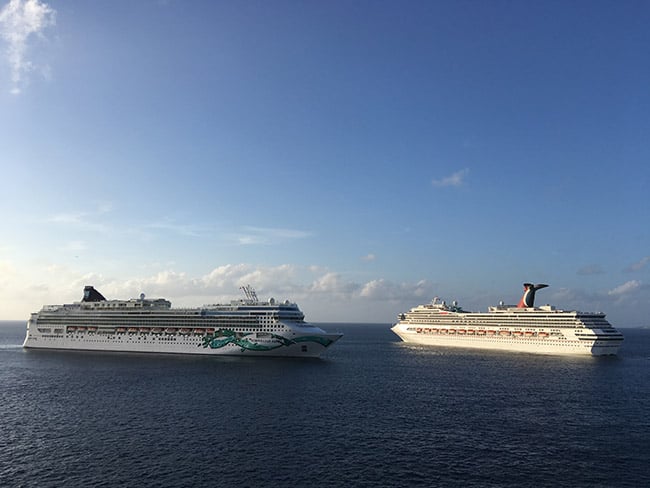 Early Dinner at the Garden Cafe
Having skipped lunch, after sail away, I went up to the buffet just after it opened to see what was being served. The Garden Cafe featured mostly Chinese dishes on "Asian Night." I had a couple of egg rolls and a shredded carrot salad with duck in it. I also enjoyed an eggplant masala from the Indian station. The desserts included a coconut pudding, a cassava cake, and a passion fruit cheesecake.
Shanghai is a Popular Spot in the Caribbean
While walking around the ship, I ran into M&A, a couple of guys also from Florida who I had met earlier in the cruise. We had a drink at Bliss and decided to check out Shanghai's for dinner. When we got there, the hostess let us know that Shanghai's was totally booked for the evening, but we could sit at the noodle bar with about a 45 minute wait. We opted to make a reservation for the next night and see what was on the menu at Taste. I had the roasted cauliflower soup with chicken dumplings followed by pork loin with celery root mash and broccoli. M had fried mozzarella sticks for an appetizer and it was the fanciest plating of bar food I could imagine. For dessert, I had snickerdoodle pound cake which was a regular pound cake with some streusel topping plus a scoop of stracciatella gelato. M had the poached mango, papaya, and pear salad, while A tried the strawberry napoleon.
Becoming Part of the Show at the 80's Party
After dinner, the three of us hopped from Shakers to Maltings and back again listening to the live performers there. At Maltings, I tried the Grass Clippings cocktail — tequila, cointreau, cilantro, cucumber, and lime. Wow this drink was acidic. It improved somewhat after I drank about a third of it and refilled the glass with club soda.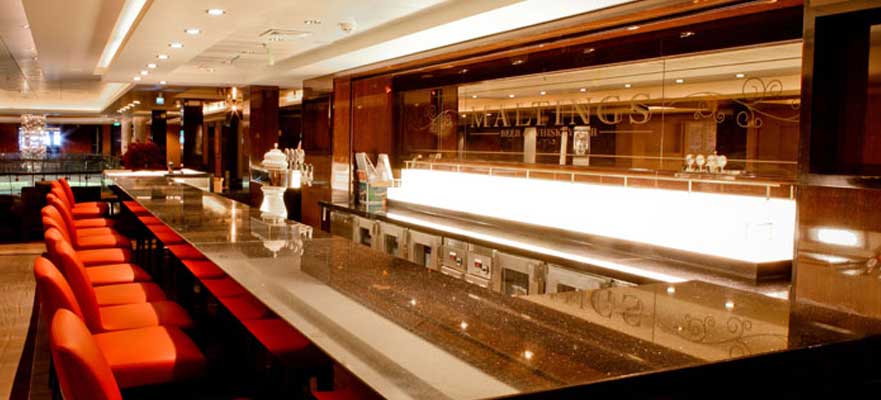 By now, we figured the 80's Party was in full swing, so we made our way up to Spice H2O. We danced a little and when we were just about to step off the dance floor for drinks, one of the activities crew members grabbed us to put us in a skit they were about to do where they dressed passengers up as icons of the 80's. One guy was outfitted in Madonna's signature cone corset, another was given a gold sequin smock to play Tina Turner, and another passenger was teamed up with me, M, and A to play Bon Jovi. We went out on stage with our inflatable toy instruments and jammed out to "Livin' on a Prayer" in hairband wigs. I think my wig was more Robert Smith from The Cure or Siouxsie and the Banshees, but 80's nonetheless.
Not long after, we were joined by the group of Canadians I've spent a good amount of time with, and we all danced for hours. Thank goodness for O'Sheehan's serving food until 3am. We were able to get wings, shepherd's pie, and fish and chips before going to bed. Dessert first, of course, the waiter brought out several plates of apple pie and cheesecake brownie for us all to share.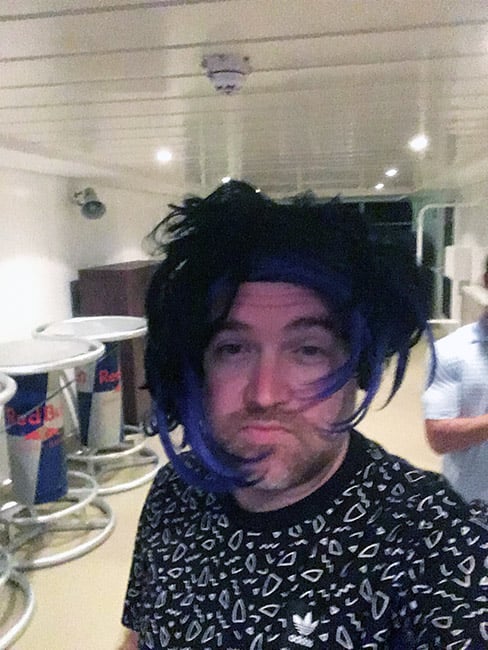 Tomorrow Waits for No One…Unless Napping
Tomorrow is a sea day and after sleeping in late again, I plan to do some shopping or go on the water slides which I still haven't done yet. M, A, and I have dinner at Shanghai's, so I'm looking forward to trying some other things on the menu there and revisiting the chestnut and red bean triangles. Hopefully I'll also catch a glimpse of myself on the stateroom tv again, but in a very ridiculous costume.
Norwegian Epic Live Blog Preamble - Ric's Solo Cruising Epic Adventures, The Fun (and Puns) Never End
Norwegian Epic Live Blog Day 1 - Embarkation Day
Norwegian Epic Live Blog Day 2 - Sea Day
Norwegian Epic Live Blog Day 3 - Sea Day
Norwegian Epic Live Blog Day 4 - Falmouth, Jamaica (as seen from the ship)
Norwegian Epic Live Blog Day 5 - Sea Day Off the Shore of Grand Cayman
Norwegian Epic Live Blog Day 6 - Sea Day With a Glow Party
Norwegian Epic Live Blog Day 7 - The big question: Did Ric make it to Great Stirrup Cay?