Author: bill August 17, 2020, Updated: March 7, 2023
Whether you've cruised before or seen and heard about cruising through ads and friends, there is a good chance you've only really been exposed to one type of cruising: contemporary lines.  These lines include Royal Caribbean International, Carnival, Norwegian, MSC, and others.  They can all be great options, provide excellent entertainment, and value.  There are however many other types of cruise lines out there, including premium lines – and they don't necessarily come at a higher cost.
Premium cruise lines include Princess Cruises, Celebrity Cruises, Holland America Line, and Virgin Voyages.  They tend to offer more favorable passenger:staff and passenger:space ratios, with less of a focus on over-the-top things like rock walls and surf simulators - instead, these lines put more resources into cuisine, décor, and service.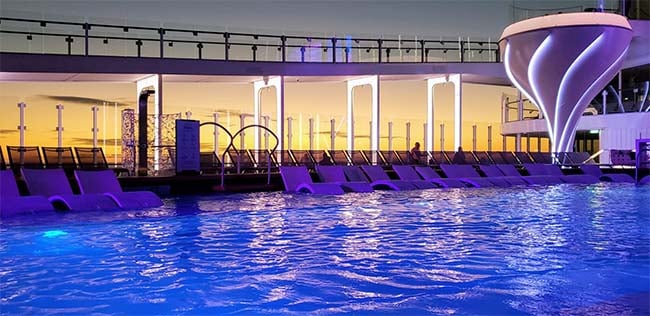 Below are eight reasons a premium cruise line might be right for your next cruise.
You want to avoid big crowds.  Most first time cruisers on any line are shocked that so many people are on the ship – because it doesn't feel like it.  Still, the more people you have in a given amount of space, the more crowded things will feel  - especially on embarkation and sea days.  If you divide the gross tonnage (a measure of interior volume, not weight) of a ship by it's passenger capacity, you'll find vessels belonging to premium fleets offer far more space per guest than ships on contemporary lines – whether a monster like Wonder of the Seas, or the relatively small Norwegian Sky.

Look at These Embarkation Day Crowds on HAL Nieuw Amsterdam!

 

You enjoy a slightly slower pace.  Any cruise ship will offer relaxation, but up-market lines might offer peaceful ambient music by the pool, and art classes in a lounge, rather than party music and belly-flop contests.  There is plenty of fun to be had either way, but some places just feel more calm – and that includes most spaces on premium lines.  It is worth mentioning that Virgin Voyages is famous for it's wild parties, but has plenty of spaces to relax and enjoy the serenity of the sea - The Dock on deck 7 is a great spot for this!

Solarium on Celebrity Edge

HAL Nieuw Statendam as Seen from the Beach at Half Moon Cay

A bunch of kids onboard either isn't appealing or important to you.  There are plenty of younger folks on premium lines, including some children – but you won't find nearly as many families with children as on contemporary lines.  Most still have children's programs (and peeking inside the facilities, we've definitely been jealous before), but if you're not traveling with kids, or your kids don't need scores of their peers onboard to enjoy the trip, looking at premium lines could open up options for you.

We'll Admit We're Jealous of This Teens Area on Celebrity

Uncrowded Pool on a Sea Day - We Don't See Kids in This Pic

 

You've looked at surf simulators or go-kart tracks on a ship and thought, "I wish there was something there for me."  Even the biggest ships have limited space, so if you've ever looked at some of the high-energy (and admittedly impressive) activities on a cruise ship and wished that space was used for something you'd enjoy, then a space like The Lawn Club on Celebrity Equinox might be more appealing than a laser-tag course.  Remember, you're paying for most of the amenities on a ship, so pick a ship that has a lot of them you enjoy. 

The Lawn Club is a Relaxing Multipurpose Space on Celebrity Solstice Class Ships - Yep, That's Real Grass

Cruise food hasn't impressed you.  This can be tricky, as food is highly subjective, and we've definitely had some great meals on every cruise line we've tried.  Ships that have fewer guests but more space and staff, and aren't paying for some of the other amenities we've mentioned, can prioritize food, making more things a la minute, and buying more premium ingredients.  This is often true in both complimentary and specialty dining venues.  Holland America has great main dining rooms, Celebrity Edge series ships have four complimentary restaurants, and some of the best food we've had at sea has been on Virgin Voyages, where all food is included.

Some Cuisine on Princess Cruises

 

Higher-end wines and spirits attract your attention at the bar.  All cruise ships tend to have a good variety of wines and spirits, but premium lines tend to also stock some higher-end options that aren't as easy to find on the larger lines.  This includes some really interesting options, such as Notes, a whiskey bar featuring over 120 different labels on Holland America Line's Nieuw Statendam and Konningsdam.

Cruise Line Beverage Packages: Should you get a drink package?

Notes on HAL Nieuw Statendam Is One of Our Favorite Places 

Service makes a big difference to you.  With fewer guests to look out for, staff on premium cruise lines can more easily remember you, your preferences, and get to you quickly.  This means room service deliveries might come more quickly, your favorite bar is more likely to have your drink already being made as you approach, or the art class might be a bit more hands-on.  Further, things that need to be frequently tended to frequently, such as towel service, are more efficiently kept up on.

Who To Tip On Your Cruise, and How Much

A Barista on Princess Cruises

Always Plenty of Towels Ready for You at the Pools on Holland America Line

 

You enjoy shows in less traditional formats.  We're big fans of Broadway-style shows and the musical mashups that have become tradition on ships over the years – and you can find these types of things on some premium lines.  What you'll also find though are more abstract entertainment on stage and elsewhere.  There is often less focus on storyline and more on the talent in front of you.  Celebrity Cruises has pushed the envelope with more experimental stage shows, highlighting acrobatics and vocal talents.  Princess has put tech on the forefront of their newest ships' theater experiences.  Holland America Line offers live music like you've never experienced at sea. 

HAL Offers What We Think is the Best Live Music at Sea

Eden - A Unique Performance Space, Lounge, and Dining Venue on Celebrity Edge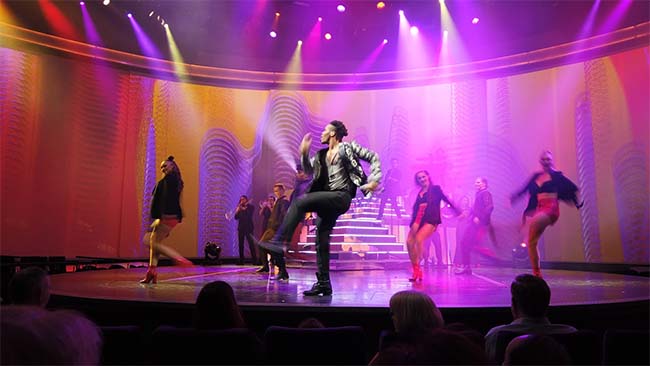 There are so many different types of cruise experiences available, and finding the right type of line for your next cruise is important to maximizing your enjoyment.  The best news though is that you don't have to stick with any choice, a quiet getaway with your spouse might be best suited for one line, and that big family reunion trip might be better on a different line. 
Which cruise line is best for me? The differences between cruise lines.
We've said it many times before, but we've never found a lack of things to enjoy while cruising, and our best day on land doesn't hold a candle to our worst day at sea.  Oh, unless you're my spouse, in that case number one was our wedding day, and then number two of course, that was on a cruise. Edit: She said her best day was definitely on a cruise.