Author: Bill August 6, 2022, Updated: September 1, 2022
Recently, Carnival Cruise Line made some cuts to a few services, and guests aren't loving it.  One of them in particular matters to me.  Will you miss what Carnival is taking away?
What Carnival is Cutting Back On
Sea Day Brunch
I've never had the chance to enjoy this, but it seems offering brunch in the main dining room on sea days is a crowd pleaser - and that sounds like something I'd enjoy.  I'll try it though, because it's not going away, they're just ending brunch at noon instead of one.  Carnival says that the last hour is the quietest, and thus, this change will have minimal impact.
Carnival Late Night Food Options
Late nights are when I thrive, and we can all use a snack after a long day of overindulgence.  In the past, Carnival guests could get late night selections from the buffet.  That's going away, and instead, onboard pizza restaurants (Pizzeria del Capitano or Pizza Pirate, depending on the ship), will feature "Pizza Plus", offering pizza, salads, and sandwiches.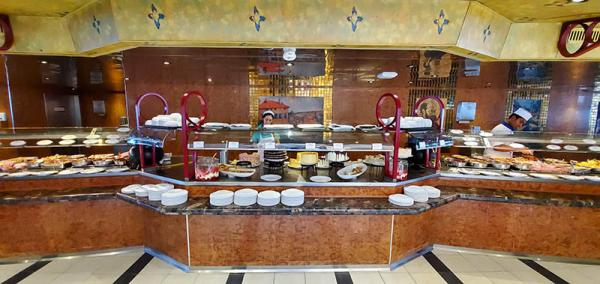 Those same pizza joints used to offer pizza 24 hours a day, but that too is no more.  Still, late night snacking can happen, as the line says they'll only be closing from 4am until 9am.  I've seen a lot of folks upset by this, but even at 2am I don't see many around, so I'm not sure there are actually that many people looking for pizza at 5:30 in the morning.  If you are, you'll be out of luck.  Similar to the brunch change, Carnival says this is the least busy time for this option, on average. 
Related: We tried Carnival's pizza on our recent Carnival Conquest cruise - watch our Day 1 Conquest Vlog here.
Morning Room Service Hang Tags
If you like to have coffee and other breakfast items delivered to your stateroom in the morning, you used to be able to mark your selection and delivery time on a card, and hang it on your door knob before bed.  The next morning, right around your selected time, breakfast would arrive.  This is something most lines offer (either via hang tag or app - Virgin's Ship Eats is a great example), but it's officially gone from Carnival.  Breakfast can still be ordered, but you'll need to call in your order in the morning, or potentially, use the Hub app.  The downside here is the lead time when placing orders.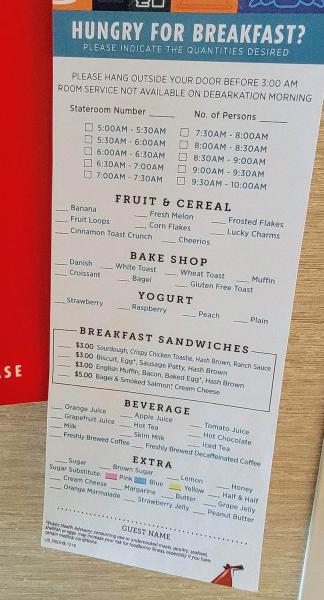 Related: Threes of people probably enjoyed our room service pun in this live blog from Celebrity Edge.  Do you?
The Least Surprising Thing Since Lifeboat Requirements
First, let me say that I completely understand why cuts are happening.  It's to be expected, because since the pandemic, the big three operators (Carnival Corp, Royal Caribbean Group, and Norwegian Cruise Line Holdings) have accumulated about $60 billion in debt.  BILLION.  Consumers flip out at price increases, despite cruising generally getting cheaper over the years, so something has to give.   There will probably be other adjustments, too (whether at CCL or elsewhere).  Which of them bothers me though?
Which of These Carnival Changes Bug Me
If you couldn't tell from my descriptions, it's the room service change.  Why?  Well part of it is how I cruise, and part of it is the alternative they passed over.  
I am the opposite of a morning person, so having someone show up to my door with a carafe of coffee and a light breakfast forces me out of bed and gets me caffeinated more quickly.  I love that, and not having it is going to be a pain for me.  I can't just place the order when I wake up - as in addition to the long wait for my order, calling it in requires that I'm, ya know, awake.
The savings could easily have been turned into profit.  The pizza place will close for a bit, same with the main dining room.  The galley will still be making room service breakfast - so the method of saving money is by reducing utilization, which means less food and less labor.  Since the galley is open anyway, simply charging a small fee for morning room service would have reduced utilization, and could have very easily covered the cost of operating this option for those who opt in.  Speaking only for myself, I'd have no issue with a $9 charge to bring me coffee and toast each morning.  I'd also be amenable to renting an in room espresso maker, something some lines feature in suites, and an add-on Royal Caribbean International experimented with a couple years ago - but may have given up on.  Many will disagree, and that's the point, it would have accomplished their goal while making some money.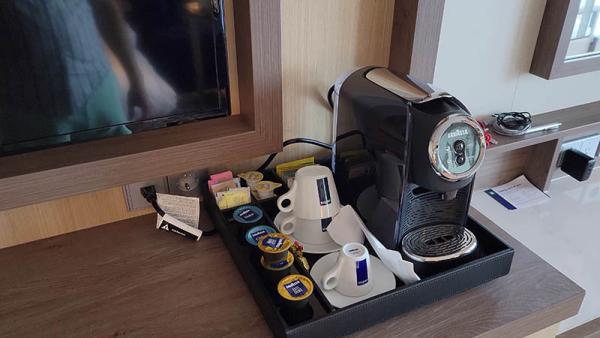 I have to imagine that these options were brought up, and perhaps the line wanted to avoid the appearance of nickel and diming folks.  The people in those meetings were probably smarter and more informed than I am, and definitely sharper than I'll be in the mornings when I sail Carnival next.
Related: No, you can't bring a coffee maker on a cruise.  If you could, I'd probably add it to my list of 8 Unnecessary Things Guests Bring on Cruises
Other Carnival Changes
In addition to those items above, Carnival will no longer offer complimentary cakes for birthdays or other celebrations - instead, sticking a candle in (and perhaps adding some other flare to) dessert options on the day's menu.  I don't personally see an issue with a birthday crème brûlée instead of a birthday cake, but that's preference.  There are a few other things Carnival has taken away since the return of service last year - but they're coming back… some day.  The Chocolate Extravaganza Buffet, which is a chocolate themed event sure to spike your insulin levels, is roughly an evolution of the classic midnight buffet, long gone from most lines.  There are lots of things to eat, but it's also a chance for the culinary team to show off some fun crafts by creating things such as edible sculptures.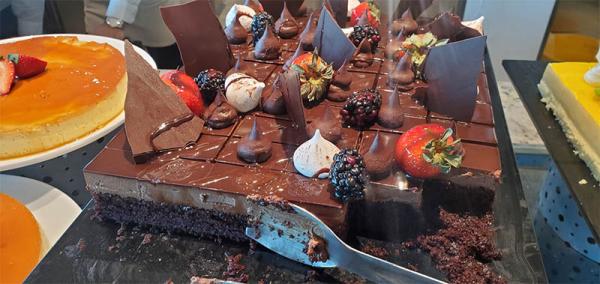 Afternoon tea is another event that has been gone for a while, but didn't seem to get put on the permanent chopping block.  Some other Carnival brands have continued this offering during the shutdown, so if you're really craving tea with a view, perhaps you can give Holland America Line or Princess Cruises a try - we like them.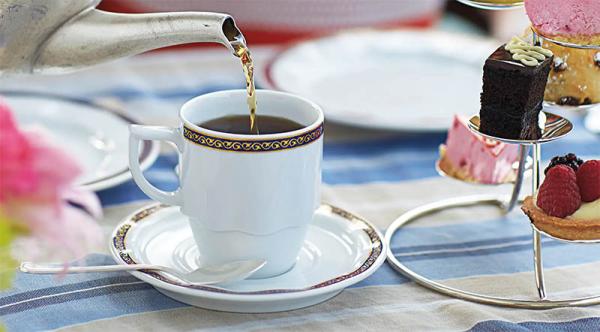 Conclusion
As noted, cruise lines have a lot of money they need to pay back, and business as usual (which they're not quite at yet) isn't going to make that happen nearly soon enough.  Sure, lines have reduced fleets and found other efficiencies, but at some point additional price adjustments and service changes will need to happen.
Do these recent changes impact how you like to cruise?  Would they upset you if your line of choice (if not Carnival) implemented them?  Let us know, just don't do it before we've had coffee in the morning… however we'll make that happen.