Submitted by

Ric

on Tue, 12/11/2018 - 18:39
Lunch on a Sea Day
After my late night at The Club and the outdoor area of Eden, I stayed in bed fairly late. Late for me, normal for Billy. When I got up, I wanted to check out Eden Cafe for lunch again. Hoping they opened at 11:30am, I got there at 11:45am to find the cafe opens at noon. The staff members were making their final preparations for the day's lunch service.
While I waited for the official lunch start time, I took a seat nearby and watched one of the Edenists play sitar on the main performance platform. I knew this is something Larissa would enjoy, so I let her know I had a seat available for her to join me. We listened to the Edenist perform until his set ended then we moved to the port deck outside Eden.
After taking some pictures, Billy wanted lunch too, but wanted to check out the Oceanview Cafe. Jose had been enjoying one of the shaded loungers on a deck a partial level above the pool deck, but he left it to join us in the buffet. I found the same chili con carne I've enjoyed on other Celebrity ships along with an Indian dish that was good, but a touch hot for me. I also had a couple of samples from a selection of grilled sausages on one side of the buffet.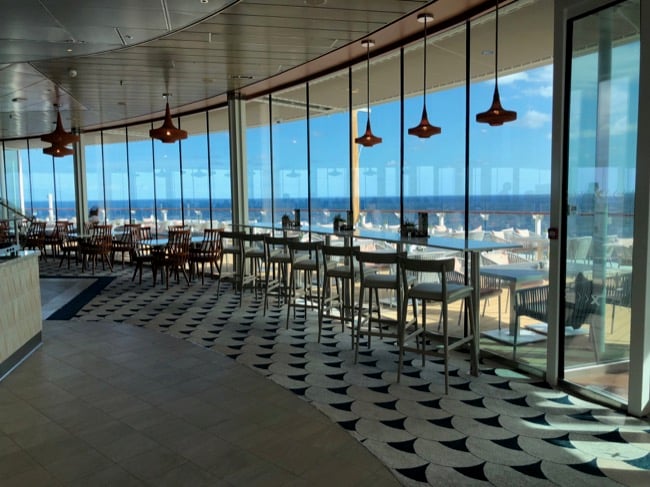 Midday Nap
Knowing the things I wanted to do on the ship would take place at night, I needed a nap. I went back to the stateroom and fell asleep watching one of the free-to-stream movies on the large television. When I woke up, I used the app to open the shade, then I walked over to the veranda space and opened the window. I sat in the room and enjoyed the sounds of the ocean while I watched the last of the sunset.
One of the saddest parts of a three-night cruise is how soon after unpacking my bags I have to repack my bags. I explained to Jose how we were given luggage tags by the ship for baggage claim at disembarkation. If we want the ship's crew to handle our luggage, we should fill out the luggage tag and place the bag or bags in the hallway before 10pm. Just like embarkation day, we should keep a carry-on bag for things like medications and passport, and we should keep out a change of clothes to wear on disembarkation morning. Jose and I opted to let the ship's crew handle three of our bags and got them ready to go in the hallway.
The Promise
As I was entering the theater, I saw Madison, the backup singer from Hype and Ruby tribe leader from The Jewelry Box, walking in with two other cast members. I complimented her on her performances both nights especially the one where she and the dancers are on hover boards. She said when she first found out she'd be dancing on a hover board, she was ready to take on the challenge. Her dance instructors encouraged her to spend time getting comfortable with the hover board before they tried to teach any choreography or hover-board-ography. This is Madison's first cruise contract and she said she's excited to see how things change when they move from three-night preview sailings to the regular seven-night sailings.
Much like Hype, The Promise is a show built around a singer. In this case one young woman performed the lead in an emerald-green satin gown with one male and one female backup singer. Everyone on a ship has a number of jobs, the male backup singer was the Diamond character in The Jewelry Box and my muster station leader. The female backup singer was the Tourmaline tribe leader from The Jewelry Box. The actors, singers, dancers, and gymnasts who had performed in earlier shows but were not performing in The Promise, the slimmest production in terms of number of performers, were seated two rows behind us supporting their fellow cast members.
I can't say enough good things about the singer. I wish I remembered her name or that a Google search helped. There was a moment in the third song that reminded me of Diana Ross's final ballad in the movie version of "The Wiz." She wove personal stories between songs about love, changed the tempo, and displayed a vocal range and competence that I was glad to have experienced.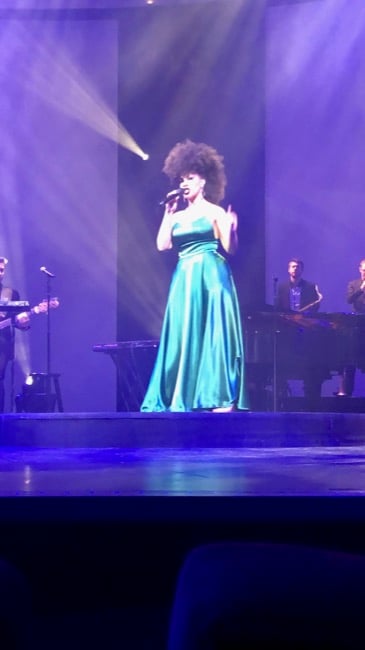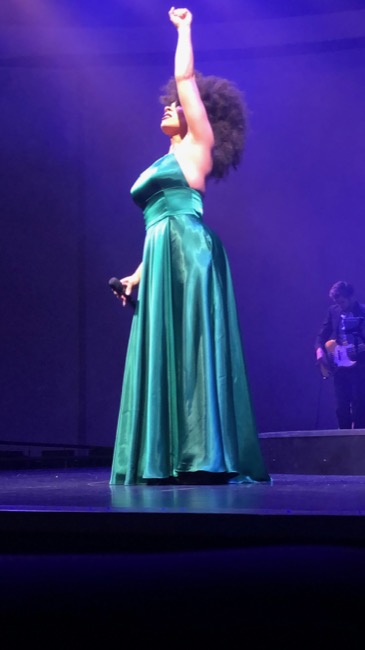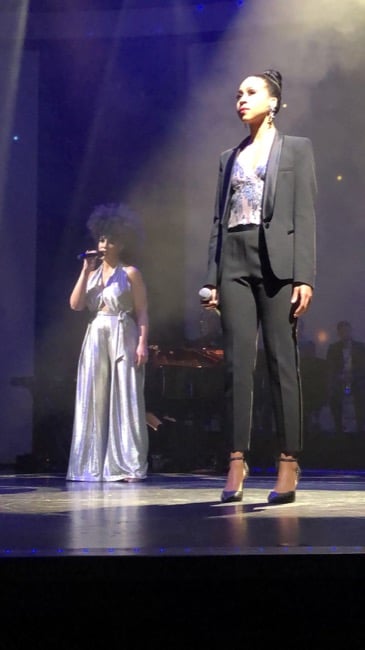 Le Petit Chef and Friends
After the theater show, Jose and I ran up to the room to set the bags out for the luggage handlers, then went back to the Grand Plaza for dinner at Le Petit Chef and Friends. The animated little chef returns, but this time, he's challenged for the audience's favor by three other chefs from Spain, Italy, and Japan. For a complete recap of Le Petit Chef and Friends including pictures of the chefs' dishes and videos of the chefs at work, check out our blog post here. For a review of the original adventures of Le Petit Chef at Qsine on Celebrity Infinity, check out my recap here and the other parts of my Celebrity Infinity Live Blog here.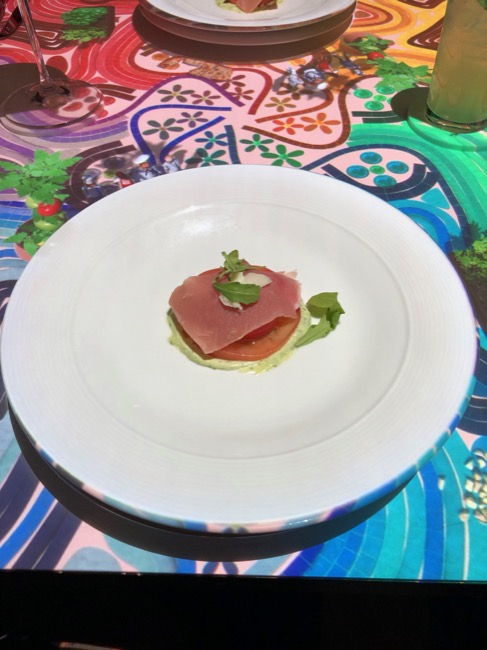 Cosmopolitan Restaurant
Billy: Larissa and I dined in Cosmopolitan for the last evening and again ordered a combination of items that weren't necessarily meant to go together in a particular order, but the wait staff did a great job making it happen. We also ordered an item off the vegetarian menu (which is available in all Celebrity main dining rooms). I noticed, after the first two dining experiences, that bread service not only changes each evening/in each venue, but the accompaniments do as well, though standard butter is always one of the three. This was a nice touch. Being the last night of the sailing I fully expected the increasingly standard, "we hope everything was great and please fill out the survey" spiel, but didn't get that (to my delight). I'm not sure if this was because it was just a short sailing or because we had Select (anytime) dining, but in contrast to our sailing on Symphony just a couple weeks ago, I really enjoyed not sitting through the typical dancing, parade of chefs, etc. I know some love that, but for me, I'm just looking for a nice meal.
Have questions about dining with dietary restrictions? Whether kosher, vegan, or otherwise we've got tips to make it easy (and delicious) on any cruise line.
Silent Disco
The Silent Disco has grown in popularity on cruise ships in recent years, and I have to say I'm a fan. I like to see the moment when one girl in the group of girls convinces her friends to switch from the blue channel to the green channel. A Silent Disco is a nightclub party where everyone in the club wears headphones that offer two or three channels of music. Tonight, we had a red channel of a pre-recorded Latin mix, then we had two live DJ's battling it out for the crowd's attention. A DJ at a blue podium squared off against a DJ at a green podium and spun hits like Mary J Blige's "Real Love" and Montell Jordan's "This Is How We Do It."
Jose had never been to a silent disco party and was really eager to try. At the door, we were greeted by some of the activities staff we had met on our way out of Eden the night before. They explained to Jose how on his headphones he could adjust the volume and select whether he wanted to listen to the red, blue, or green channel.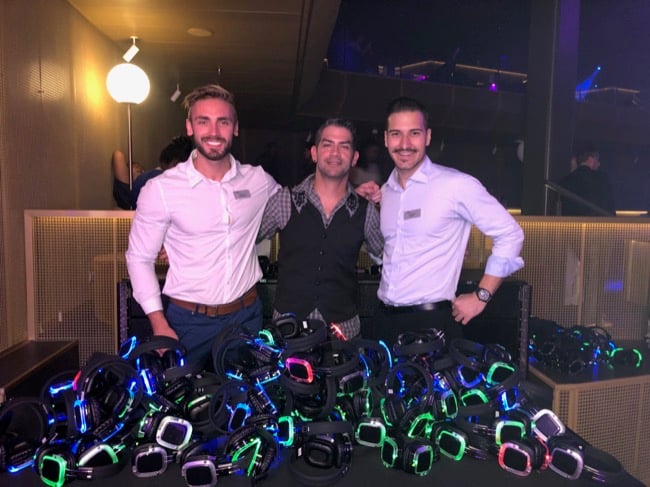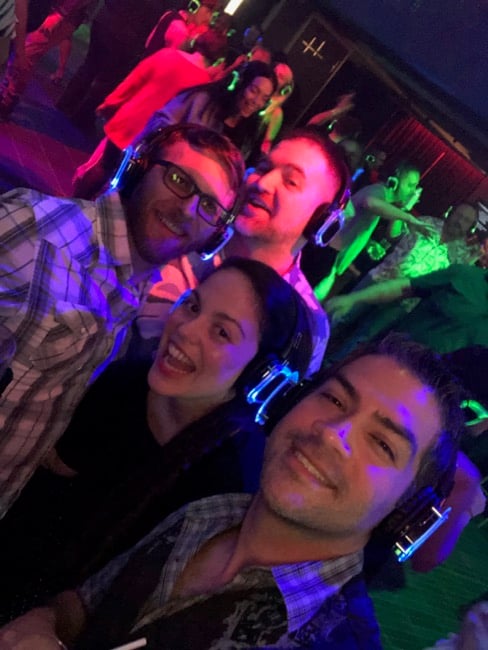 Eden
Upon entering Eden to meet up with Billy and Larissa, I crossed paths with an Edenist named Zoom, said his name, and made his name hand gesture. He immediately noticed that my shirt had flowers on it and I should show Bloom, another Edenist.
Billy: I'm not a night-club person...at all. This was my first time checking out a silent disco, and while I wouldn't file it under "Billy's Must-Do's" it was pretty neat. I enjoyed being able to control not only what I was listening to, but how loud it was, as leaving a venue with my ears ringing is something I really don't like. I should also mention that the headsets, while not set to win any awards for audio-quality (though they were perfectly acceptable) were quite light and comfy. I'd imagine I'll come back in January as Larissa will certainly make me ask me nicely. After several songs I decided I wanted to try and get one more dose of Eden in before everything closed down. Oh, and I too noticed Ric was wearing a shirt. Evidently it had flowers.
Return to Silent Disco and Return to Eden
One of the things I love about cruising is how many options there are so close together. When I wanted to enjoy both the Silent Disco and the show going on in Eden and have a drink at the Eden bar, I could easily move between venues.
Once Silent Disco was done, Jose called it a night. I returned to Eden where, as Zoom requested, I did show the flowers on my shirt to Bloom. Later that night, we met Bloom as human Carly, an actress and dancer who has been involved in immersive theater but is on a cruise ship contract for her first time.
Billy: It was great getting to interact with some of the Edenists out of character, as they stay in character so well it's hard to imagine them otherwise. They seemed genuinely excited to get our feedback, which makes me excited to see how the experience evolves over time.
Tour of the Ship
On my December 2016 Celebrity Reflection sailing (read the live blog here), I met a couple who told me they have a tradition for the last night of the sailing. Before they go to bed on the last night, they walk the whole ship one last time. Since they told me that, I made their tradition my tradition. On this sailing, I engaged (against some degree of resistance) Billy and Larissa in my tradition. We walked the ship from top to bottom with a stop along the way to admire the art, then went to bed on Celebrity Edge for the last time.
Billy: I love the idea of this tradition, and it was a nice chance to explore, but it was late and embarkation mornings are rough. That in mind, I'm pleased to report that we did get the below lovely photo-shoot out of the experience.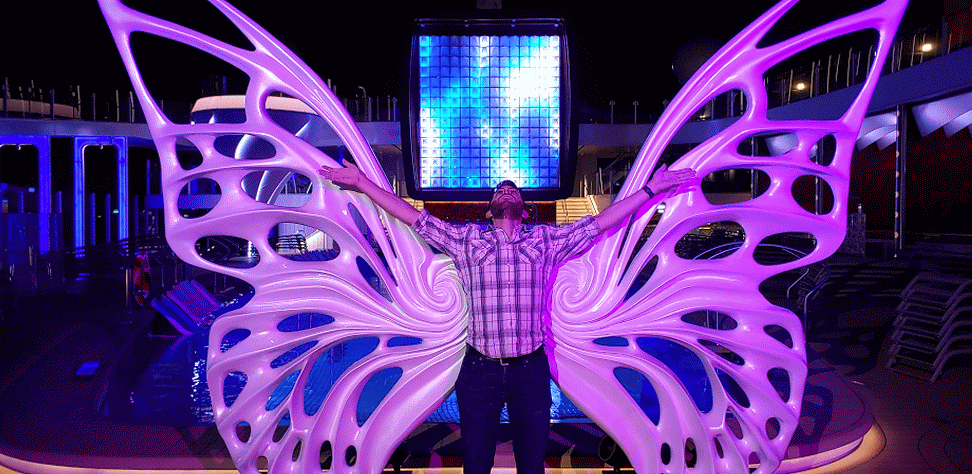 Celebrity Edge Live Blog - Preamble
Celebrity Edge Live Blog - Embarkation Day
Celebrity Edge Live Blog - Day 2 - Nassau