Author: bill December 7, 2018, Updated: September 1, 2021
Note to readers: This live blog was written mostly from Billy's perspective.  He and Ric are both traveling on this Celebrity Edge preview cruise, and where noted below, Ric chimes in.  For more information on how this sailing came to be, you can get context here.
Getting There
We woke up bright and early hoping to board Edge earlier than normal since she didn't sail the day before (she was in port for her naming ceremony).  Our goal was to get there around 9:30, which turned in to 10:00, and that ended up being fine. There were four of us plus bags, so the usual plan of taking an Uber or Lyft didn't work out as easily, as we'd have needed a larger car, which is an option with both services, but costs more than the ride for two normal rides -- so we got two cars and split up.
Embarkation
We all arrived at beautiful Terminal 25 and walked right in, showing our Xpress Passes and passports.  Larissa and I had our pictures retaken (not sure why as we'd done this ourselves when checking in with the app a couple weeks ago) and went through security to wait with Ric and his friend Jose.  From curb to waiting area I'd say took maybe three minutes. The new terminal waiting area is very pretty, and has ample seating with USB-A and USB-C chargers, and incredibly fast WiFi. There was also a selection of infused waters, which was a nice touch.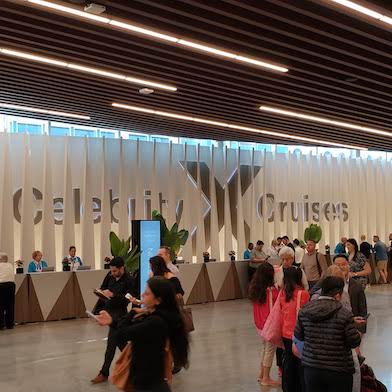 They noted that no boarding would start until 11:00am which we found surprising.  They also noted over the PA that while our rooms wouldn't be ready until 1:00pm, we could go right there once we boarded and drop our bags off.  I think the rooms were mostly ready, but time was still needed to put in requested items, personal documentation, etc.
When the time came to start boarding, Ric and Jose got a bit of a head start as they had "Expedited Arrival" printed on their boarding passes -- for reasons we're not sure of.  Only around five minutes later, Larissa and I were aboard as well. The transition from the new termal to the combined atrium and Martini Bar area was silky smooth in terms of design, and left us eager to see more.
Exploring Edge & Getting Lunch
We headed up to the pool area first, grabbed drinks, and then roamed about the deck, soon finding our way aft to the Sunset Bar.  This is where we enjoyed our first relaxing moment and discussed the plan. It was here that Larissa purchased the Premium Beverage Package for about $250 for the three night sailing.  After a drink we all decided it was time for food, and meandered toward Oceanview Cafe.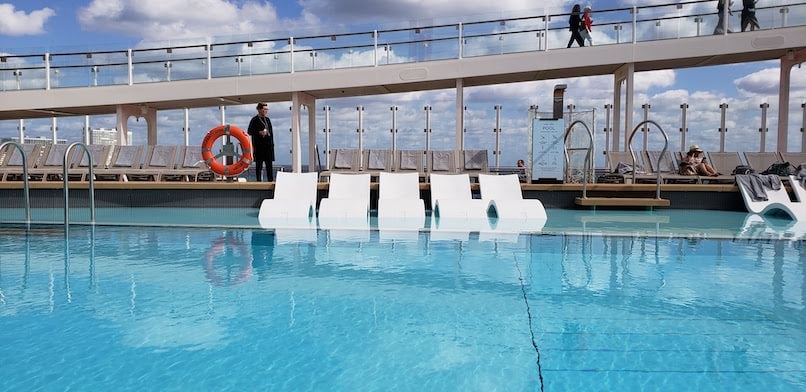 Is a beverage package right for you?  We help you do the math.
Oceanview Cafe is the buffet venue on Celebrity ships, and on Edge we found it especially unique because of the extraordinarily high ceilings and tall windows that start at the floor.  There are many stations with unique dishes and I found there to be more choices than I'm used to at a buffet -- though it's been too long since I last sailed Celebrity, so I'll defer to Ric who just got off Infinity a couple weeks ago.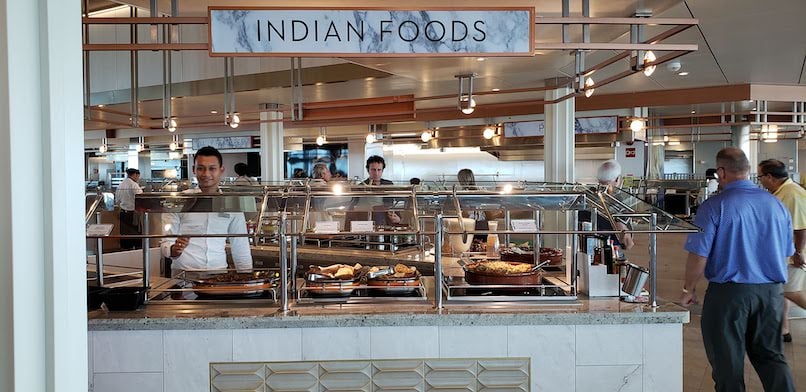 While having dessert I noticed on social media that Captain Kate, a Celebrity captain with a popular Instagram account, posted a photo of herself boarding Edge in civilian attire.  We were excited that we might see her on board while cruising.
Ric: There were several small desserts available including a yogurt cake that was a delicious departure from the other sweeter options. Jose didn't care for the chocolate pot de creme. I liked it, but didn't care for the strawberry Queen Victoria cake. There was a small raspberry custard-filled puff and a strawberry financier that I enjoyed a lot. As much as I liked the variety of cakes offered on the Celebrity Infinity when I last sailed her, this variety of both forms and flavors is what I expect on a cruise ship, and Celebrity Edge's Oceanview Cafe delivered.
Still Ric: Before muster, Jose and I were checking out Eden. One of the most surprising uses of space  here is how many small conversation groupings there are on the many different levels of the space. As staircases and ramps connect the three levels, there are frequent large landings with two or four seats where passengers can take in both the space and views of the sea through the huge glass panels that make up the aft wall of the ship. We also tried a couple of the cocktails here and found them flavorful and inventive. Jose and I will be dining here on Day 2, so look for a review of Eden as a restaurant to come.
Guest Services - The Key is How Mistakes Are Handled
After eating, we'd headed to guest services as I wanted to ask about Larissa's beverage package.  She'd ordered a drink before purchasing, and I recalled in the past that they'd zero out drinks purchased the first day if this is done, but the bartender wasn't able to do this.  I was scared of the line that might await us at Guest Services on embarkation day, and found several parties ahead of us, but then I saw it moved quickly. The desks are islands of sorts, rather than a long desk with multiple people, and I think this makes it a bit less intimidating.  I explained the situation and the officer quickly emailed the bar to have Larissa's first drink refunded. At that time I went ahead and purchased the premium package as well. We then headed to the room to check on our bags and change clothes before muster.
Arriving at the room we found that paperwork for the day was now there - but there was no WiFi access code.  Ric said that he just had to create a login and select the complimentary option (since he had Xcelerate internet included with his fare, as I did).  This sounded great, though different than what I was used to. Unfortunately, when I tried, I found I didn't have such an option. I called up guest services and the officer checked, confirmed I should have the option and said, "if you'd like, just purchase the two device package and I will contact the help desk now to have them refund the purchase."  This to me, was a great example of handing things in a way that reduce friction for the guest.
Need to stay connected while cruising?  We've got tips to keep you connected on ship and shore.
Our Room
We have Infinite Verandahs on this sailing, which are staterooms that have a floor to ceiling window, the top half of which rolls down at the push of a button.  This means you can enjoy a larger inside portion of your room with a nice view, or close off the part near the window, lower the top section, and have a balcony.

We'll do a full report on these rooms, but I'll summarize for now and say that while not perfect, I like the idea.  Overall the room is very spacious, with more storage than any stateroom I recall aside from those on Disney Cruise Lines.  The restroom is especially large too - you can actually move around in it without hitting your elbows. There are also ample power outlets and USB ports, to the point that for the first time ever, I didn't use a USB power hub or other devices we often pack.
Again, much more to come on these room types - but you'll find pictures of and from ours sprinkled about for now.
A Show, and Another Show Before Dinner
For the evening we headed to the Rooftop Garden, an open air space with real plants and nice views.  It has a bar nearby and the Garden Grille specialty restaurant just across from it. There was a band from Nashville playing (The Reckless Charms) who was great.  Good musicians playing music with a bluegrass sort of touch while maintaining a broad appeal. It was fun and easy to listen to and I look forward to seeing them some more.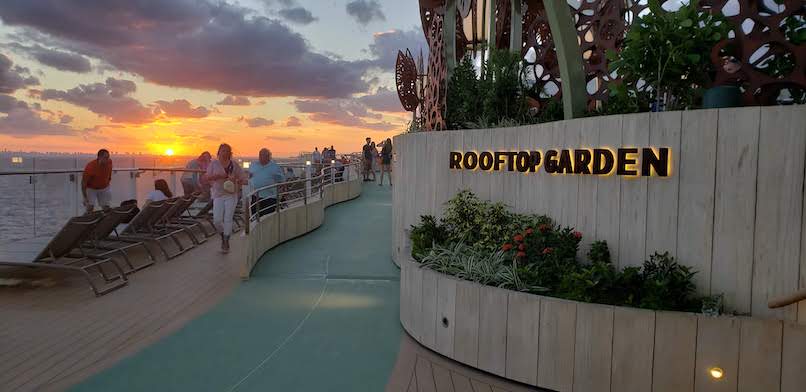 After this, we headed to the theater to see Hype.  As we entered, we saw Captain Kate, and then another captain, and then another.  It was soon apparent there were many senior officers onboard. Ric noticed that Celebrity Cruises CEO Lisa Lutoff-Perlo was sitting near where we were waiting, so we said a brief hello, expressed our appreciation, and let her relax.  She was very pleasant and easy to talk to.
Sitting for the show, Cruise Director Maarten announced that he'd be introducing every Captain and Hotel Director in the Celebrity fleet.  One by one, they all took the stage, and it was really incredible. I've never seen that many senior officers in one place before. While this was neat from a PR-type of perspective, I suspect that it is also an effort to show these company leaders what to expect from the new Celebrity.  With Celebrity Revolution bringing all the line's ships to the 'Edge', it seems appropriate for these officers to see what that is about.
The show started (with Captains sitting on one side of the house and Hotel Directors on the other - like some odd cruise-office wedding guest tradition) and immediately the energy was high.  A band of roughly ten people took the stage, with some of them on a tiered platform, others dancing out in front. For the next 40 minutes or so the music and dancing never stopped. Any number of genres, from rap and reggae to modern pop and 80s music were touched on.  The main singer was really everything you could want from a performer in terms of energy, vocal talent, dancing ability, and audience interaction. I bet he burned more calories in this set than I do all cruise.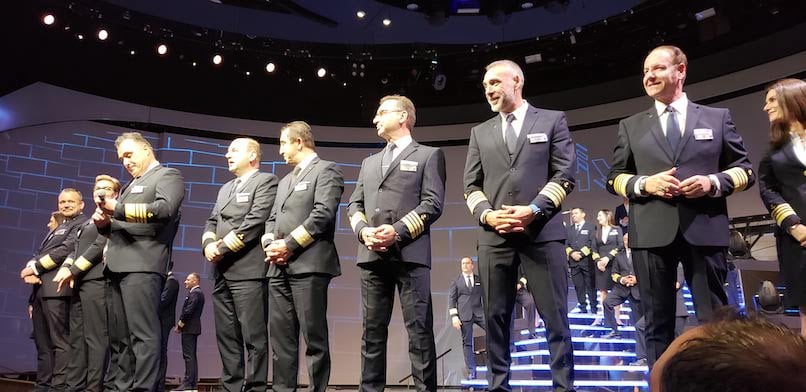 The show was different - with music and dancing being the focus instead of a theme or storyline.  No real set changes took place, but the lighting, sound, and high-definition, high dynamic range projections on the thrust stage and background were impressive.  Each and every performer worked hard, too. I usually find the one person who seems to have a problem keeping up - even the strongest chain has a weakest link. In tonight's show however, I couldn't find it.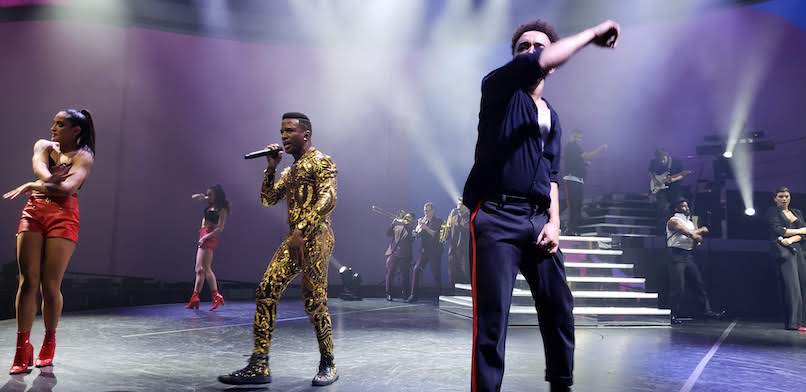 From Ric: As one audience member got out of her seat to exit the theater, the main singer ran off the stage and down the aisle getting ahead of the woman on her way out of the theater. He then got down on his knees in front of her begging her to stay in the show. The audience roared with laughter and the woman, who probably just wanted to use the bathroom, was laughing too.
The Dinner Where Billy Skipped Dessert
Larissa and I dined in the Tuscan Restaurant, one of the three main dining rooms on Edge.  Each dining room has 25% of the menu that is unique to just that venue, while the rest is the same across all main dining rooms.  We tried a variety of things and save for one pasta dish that was a bit over salted in our opinion, the dishes al exceeded expectations.  The stand out dish was probably the Asiago Cheese Flan - it was quite unique (not a sweet flan) and had great flavor. I'll also note that the dishes came out very hot.  The service was great as well, with Nina and David being friendly and helpful without being overbearing.
Having just stepped off of Symphony less than two weeks ago, I was reminded that the main dining room experience is, to us, very much stepped up on their sister line Celebrity.  I find the food something I really look forward to on Celebrity, rather than just perfectly acceptable on Royal Caribbean. This is of course incredibly subjective, and others are sure to disagree with me.
As much as I liked our meal, Larissa wanted to go to Andromeda at The Club, so I skipped dessert in the dining room and we headed out...with a brief stop at Café al Bacio, the coffee shop, for some quick dessert.  I just couldn't say no.
Ric: Jose and I dined in Cyprus which offered a menu with a Mediterranean approach. I had the melted cheese appetizer along with the spring roll. Jose and I both had the lamb tagine (one of the dishes available only at Cyprus). When our waiter brought the plates, he apologized that they had run out of lamb and had only dinosaur. No joke, these lamb shanks were huge. I'm used to smaller portions on a ship so that passengers can enjoy more than one dish at each course. This was not the case with the lamb shank. It was fall-off-the-bone tender and abundant.
Andromeda - Alright, That Was Weird.
The Club is a multipurpose venue that is the late-night hotspot on Edge.  The two-story venue has a somewhat unique layout and is quite spacious. Tonight, in addition to the music, there was an interactive show element.  Performers walked around as Androids, aliens and other non-humans. As you entered you were "scanned" to see what species you were. You were then given a card explaining how you fit in, your background, etc.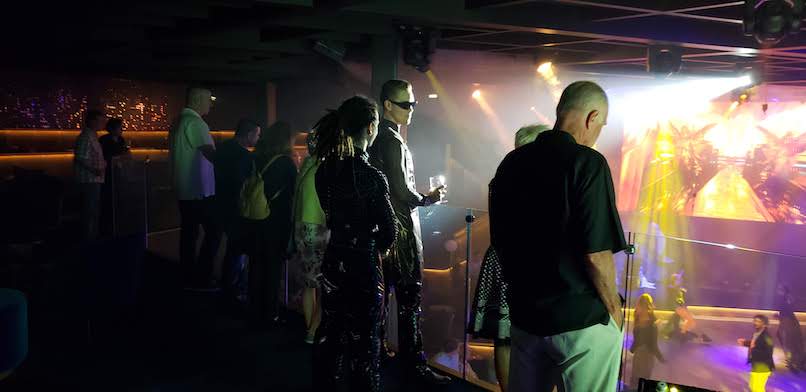 The information was a bit confusing, but it seemed you were to interact with the colorful characters roaming about and try to learn...something.  The thing is I am not sure of the end goal. Is there a way to "win" or is the goal just to get guests more engaged in the mythical world that they created?  I'm not sure, and while it wasn't my exact cup of tea, it was very cool to watch. To be clear, you could easily not be involved at all and it wouldn't be weird (most people were just watching, drinking, chatting) - so don't let this dissuade you from checking it out.  I loved how the performers stayed in character, right down to their odd demeanors and even gate. There was also an acrobat of sorts, spinning on a suspended ring from time to time.
All of this was, as I said, very neat to experience, but ultimately still a bit loud for my taste, so we headed out and spent some time just roaming the ship.  
Ships at Night - This Sailor's Delight
Walking about the decks it was clear that this would quickly become one of my favorite ships at night.  The lighting is really key on this ship. In multiple areas, sections of wall, beams, bars, etc that look plain come to life with moving lights.  The fiber optic lights on the funnel stand out for the sharp angles in contrast with the glow of the pool deck and the Magic Carpet, the venue that moves between various decks as it serves different purposes.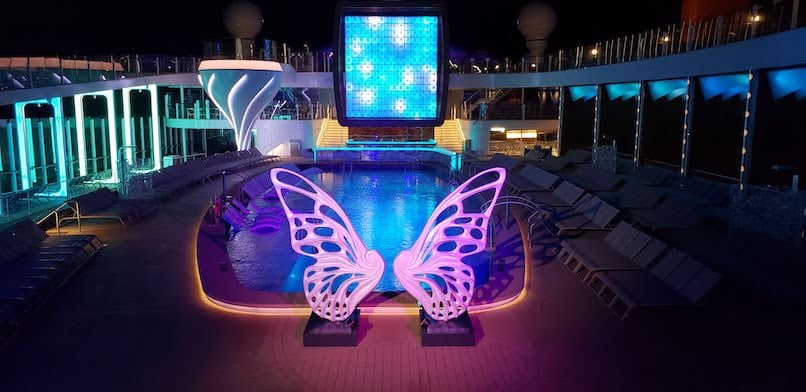 Ric: I agree completely here. How this ship looks at night was clearly a consideration when she was designed. I'm looking forward to exploring more venues after sunset tonight.
It was a long day, so I grabbed one more tiny dessert (okay fine - it was three) from Café al Bacio and we turned in for the evening.
Celebrity Edge Live Blog - Preamble
Celebrity Edge Live Blog - Embarkation Day
Celebrity Edge Live Blog - Day 2 - Nassau