Author: bill December 10, 2018, Updated: September 1, 2021
Today we arrived in Nassau, Bahamas.  This is what some may call a "technical stop", as the point of this particular sailing is to give guests a taste of Edge - and we'd bet that few guests went ashore for this reason.  Still, we have to stop in a foreign port because of various US laws that prohibit a "cruise to nowhere."
The Right Way to Wake Up
This morning I awoke to my alarm clock (on my phone) and a dark stateroom, as I closed the blackout curtains on our infinite verandah last night.  Because I am not a morning person, this is when I usually appreciate having light switches next to the bed to aid in my waking up. Today was different however, instead hitting the switches, I opened the Celebrity app on my phone and pressed a single button on the room control screen.  The sound of a humming motor started ahead of the blackout curtain being slowly raised, revealing a beautiful day and views of Nassau. This is a fantastic feature.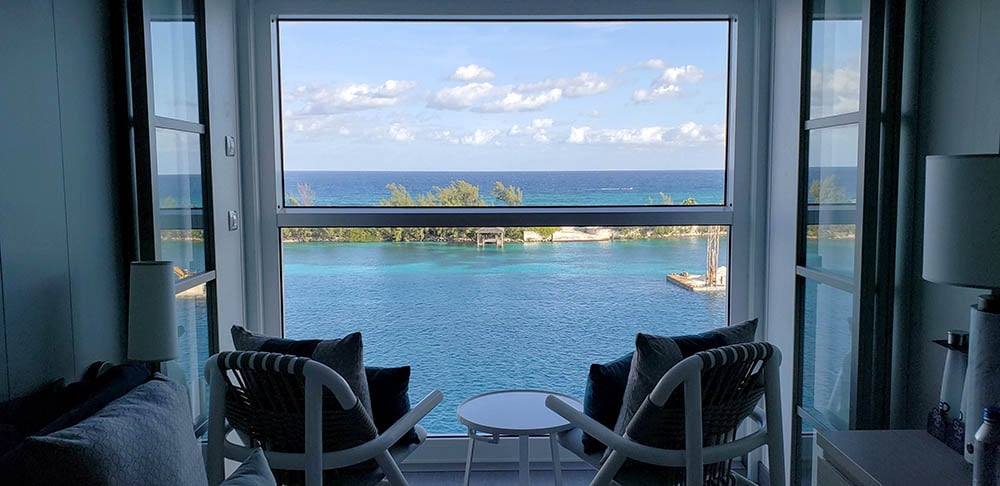 Breakfast Is the Most Important Meal...So We Had it Twice
For breakfast we opted for the Oceanview Cafe, as we got up late and didn't want to have to rush to the Cosmopolitan Dining Room (though I later realized we could have also checked out breakfast at Eden Cafe).  As expected, Oceanview was a popular place for breakfast on a day that most people aren't getting off the ship, but it handled the crowds well. I got a variety of items including some eggs from the poached egg station - a neat feature as you can get poached eggs served as eggs benedict, with Mexican/Southwest accoutrements, etc.  It's a nice alternative to the omelette station (which is also available in Oceanview Cafe, to be clear). After eating I really needed some espresso, so we headed to Café al Bacio where I could Caffeinate and do a bit of work. If I was just wanting espresso, I could have opted for Il Secondo Bacio at the entrance to Oceanview Cafe.
Once I arrived I walked up to order my espresso and saw some chocolate croissants begging to be eaten, so I asked for a few of them as well (all pastries at Café al Bacio are complimentary).  I may or may not have snacked on a few other items from the cafe as I did some writing. The area in from of the cafe is quite large and has ample seating in the busiest of times. There are various types of tables and chairs (which seem quite comfy) as well as a larger conference room type of table (though a bit higher) which I noticed had pockets with outlets.  This was convenient since I was meeting Ric there and we both had work to do on our laptops, but oddly, I noticed the pockets only had 220V EU plugs. I later found out there are some US outlets toward the back of the venue, but luckily I usually have an EU power adapter handy, and recommend packing one in case you need an extra outlet in your stateroom, since most rooms have US and EU outlets available, and most newer devices will work fine in either.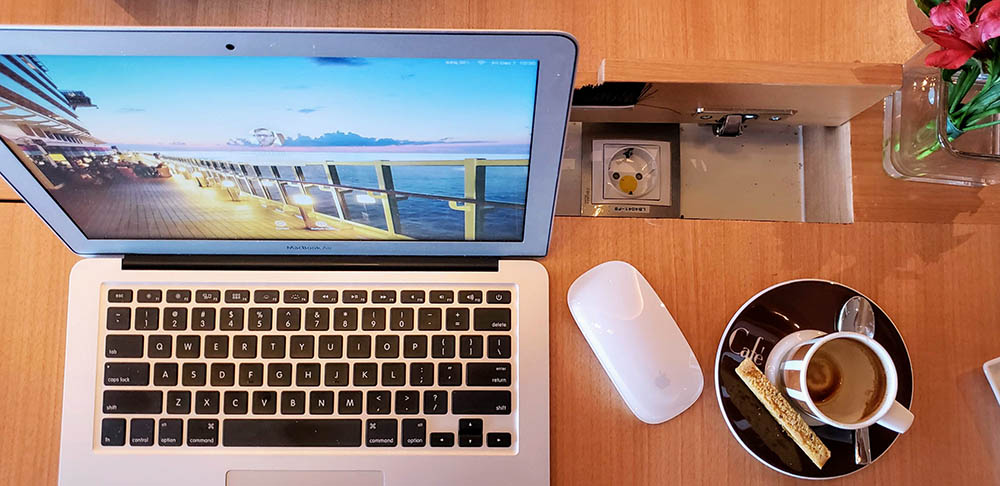 Exploring Edge Inside & Out
Being such a beautiful day we wanted to ensure we checked out more of the outdoor spaces that Edge has to offer.  We ended up sitting out near the pool and relaxing for a bit, taking advantage of some of the shaded spots with comfortable loungers.  It's also nice that the pool attendants are continuously putting fresh towels across the chairs, making everything quite convenient. There were performers playing guitar and singing near the pool, and they covered a variety of tunes plus either some more obscure songs or maybe their own material.  Either way we liked that the volume was well balanced and the tone just perfect for setting the right atmosphere. It was also nice that this wasn't simply a background track, and I got the impression that the performers, Dos Duo, would be glad to field requests.
After a bit I headed to the stateroom to change and saw that Norwegian Bliss was pulling in next to us.  This was funny because two weeks ago to the hour I was in the same slip in Nassau watching Bliss back in on the other side of us - I even did a Facebook Live video that day (which you can watch here) of them tying up.  I always enjoy and appreciate the skill and patience these crews and officers have in safely maneuvering such mammoth vessels.  
There was more to explore and the pressure to "see it all" is very real on such a short sailing, so after changing we went to explore Eden.  There is so much to show, share, and discuss about Eden that I really won't get into it now, and instead we'll have a photo tour and podcast episode all about this unique space and experience - so look out for that.  I will tell you that we enjoyed several of the creative handmade cocktails and took advantage of the views afforded by the venue's massive windows and outdoor sections. We also enjoyed some sandwiches at Eden Cafe, which is complimentary.

The next stop was the Martini Bar, which is very different on Edge than on other Celebrity ships.  For one, it is not an ice bar. It's also much larger, and in the centerpiece bar in the Grand Plaza (atrium) midship across several decks.  Several times each evening there is a light show where the music comes up, syncs with the chandelier, and brings the whole space to life for a couple minute before returning to a more laid-back atmosphere.  I had some scotch while there and we also tried a kale martini, which was not my thing. I like kale, but for me, it's place is not in a drink.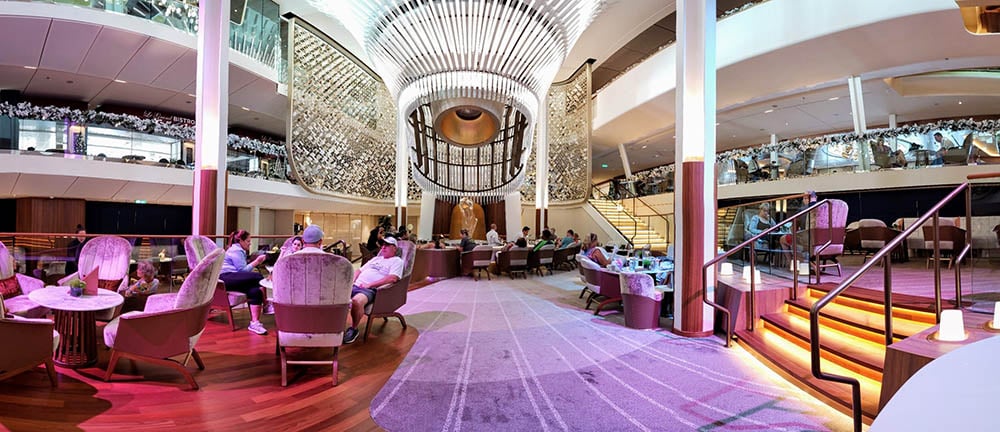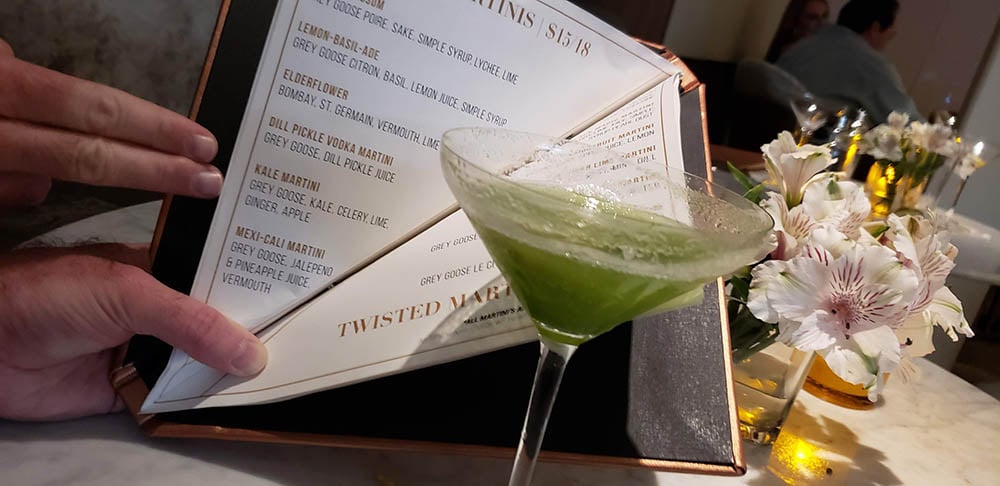 Dinner, Jewelry Box, Eden, & More
Billy: For dinner we went to Normandie Restaurant, another complimentary venue.  Other Celebrity ships have specialty restaurants with tributes to past great ocean-liners, and while that concept is being done away with, Normandie offers a more contemporary tribute and even features artwork from the SS Normandie, a ship that sank in NY after the fire department used far too much water to extinguish a blaze, against her Master's recommendations.  None of the entrées on the menu resonated with my spouse or I (not that they seemed bad - just not what we were in the mood for) so we ended up ordering a variety of starters, and the wait staff was very helpful in suggesting an order, which we should enjoy as a main course, etc. The result was fantastic and the stand-out item may have been the brie pillows.
Ric: On the second night, Jose and I had reservations at Eden. The restaurant occupies the lower floor of Eden which is one flight down from the floor you enter the three-story space. Upon arriving, we were greeted by one of the Edenists (the residents of the realm of Eden), named Bloom. The hostess then led us past the open kitchen to a bar where another Edenist named Loy offered us a cocktail. The final stop was our seats where Ignacius introduced us to a five-course menu with two options at every course. As we dined, the show at Eden continued. There will be a future blog post with more details, so keep checking back, or follow us on Twitter and Facebook to get notified when our Celebrity Edge coverage gets posted.
Billy: After dinner we wanted to get to the show in the theater, Jewelry Box.  Dinner had taken a bit longer than expected so we thought we were arriving about ten minutes late, but lucked out in that the show actually started about fifteen minutes late (we'd heard there was a technical issue).  This show had a bit more of a storyline than Hype did last night. There were four tribes of people (represented by different colors) who had to maintain the balance of the universe despite an outsider being introduced.  There was some level of narration given by the king of the universe (I may have that title wrong) who embodied a lion. The dancing and musical performances in the show were entertaining, but I think we enjoyed the previous night's show a bit better as it maintained higher energy for longer.  Still, this show was a neat use of the technology in this theater.
Ric: An Aslan-type character appears on the giant backdrop screen telling the story of the four gemstones of the land: Ruby, Sapphire, Emerald, and pretty sure he said Tourmaline. The gemstones must come together to fight off the impending darkness. They'll be able to win with the power of the Diamond. My favorite part was when Tourmaline played by Asia performed Shine Bright Like a Diamond when a Diamond gemstone character appears.

Still Ric: Madison playing the Ruby tribal leader wowed me again with her singing and dancing. Her tribe enters the stage on hover boards and performs the first example of hover board-ography I've ever seen. The entire dance troupe managed some pretty quick costume changes and danced in a variety of styles and moods. The pair of aerialists representing the Emerald Tribe was a different kind of aerial act than I've seen before. Some of their stunts took place on a large metal triangular frame with two elastic cords across the inside. This allowed the performers to both hang onto and bounce off of the same contraption. Very cool effect.
Yep, still Ric: I preferred The Jewelry Box to Hype for its variety of moods and costuming. That's not to say Hype wasn't good. Kind of comparing apples and oranges. Hype isn't really trying to have a narrative.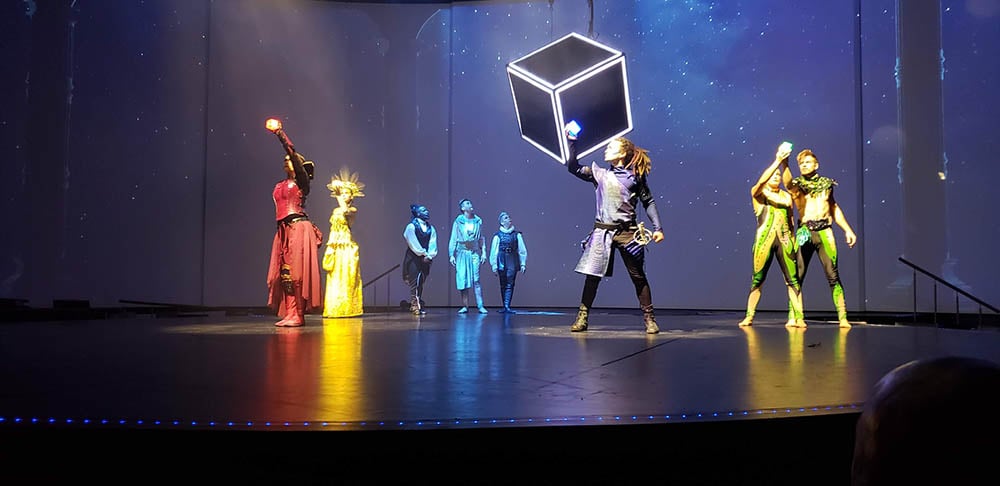 Billy: The show ended with enough time for us to go to Eden and catch the second half of Revelation, the main show in that space.  This surreal performance is best described as something that happens to you, rather than a show that is put on. Audience participation is far from requisite, but the experience can be very interactive.  Again, check out the articles, photo tours, and podcast episode we'll publish on Eden, as it's just too hard to summarize in a paragraph or two. I will say that we thoroughly enjoyed the performance and can't wait to experience it again.  It doesn't hurt that we enjoyed some more cocktails at the Eden bar.
Ric: I have to second what Billy is saying about Eden after dinner. Too unusual and multi-faceted to be summarized. Check out our Eden on Celebrity Edge podcast when it debuts. Subscribe to the CruiseHabit Podcast so when that episode is released, it will be downloaded right to your device.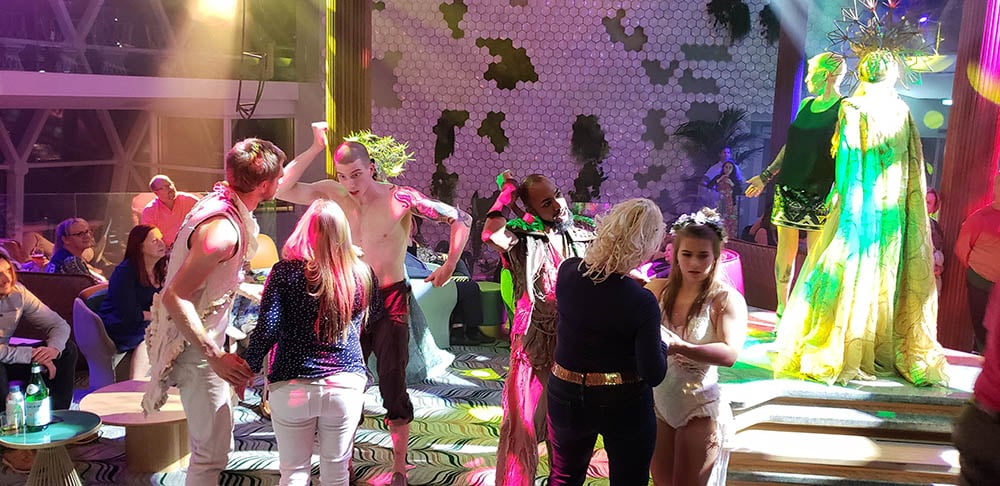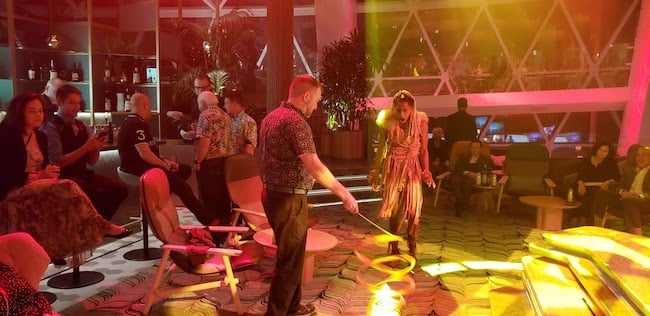 Billy: By this time it was getting pretty late, but before heading back to the room poked my head into The Club and found dancing and loud music (not my style), then I stopped by the Oceanview Cafe to see what the late-night options were like.  I was surprised with the variety, as there was a salad bar with other cold items, several types of desserts, and pizza. The one tricky part is because the pizza ovens are all the way aft in Oceanview Cafe, the pizza is not terribly close to the other late-night options, so some may miss it.  Most of what I tried was pretty good, though the pizza was just okay - similar to the "new and improved" Sorrento's pizza on Royal Caribbean. I'll continue to hope that more lines can put out the quality pizza that we've had on MSC and Holland America (and that Ric found on his recent tour of Carnival Paradise)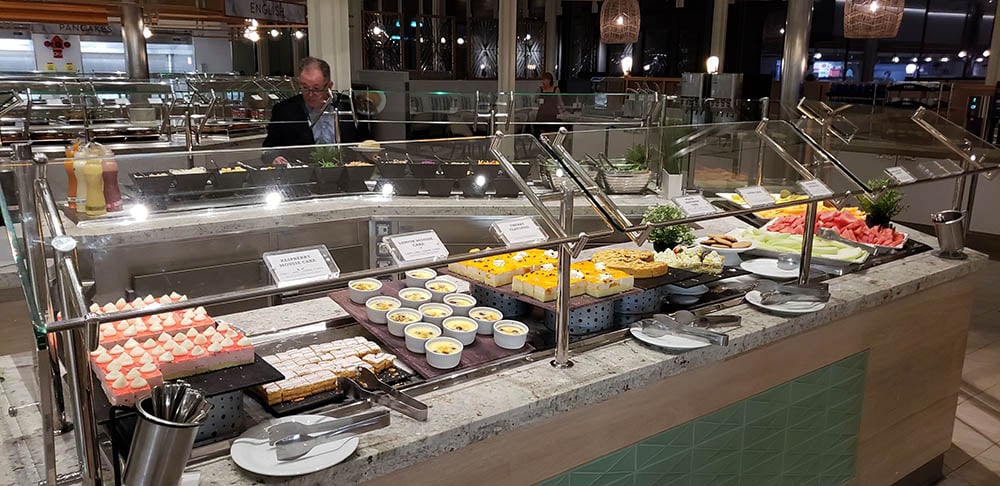 Ric: In the late hours, the DJ in The Club was playing the kind of music Jose and I like to dance to, so I dragged Billy and Larissa to a venue that is not their first choice. We had met a couple of guys at Eden earlier in the day and met back up with them at The Club that night. This is one of my favorite venues on a ship. Easy place to go for a drink, dance, socialize. If I want to step out for a moment, it's easy to go out for a walk and come back to dance again. As far as nightclub lounges go, The Club is a winner.
Still Ric: After The Club closed, a couple of the guys I had met at Eden grabbed a bottle of champagne from their room and we stayed out a little later on the deck outside Eden on the port side. There's a variety of outdoor furniture styles including loungers that look like they were made from giant jelly bracelets. I appreciate that as much thought went into making the indoors at Eden, plenty of attention was given to the adjacent outdoor spaces too.
Billy: We arrived back to the room to a terrible yet inevitable site - disembarkation information and tags.  Three night cruises are really tough, as you're having to think about leaving when you've barely started your cruise.  Still, we have a full sea day tomorrow, so we're looking forward to taking in more of Edge.
Celebrity Edge Live Blog - Preamble
Celebrity Edge Live Blog - Embarkation Day
Celebrity Edge Live Blog - Day 2 - Nassau