Author: Bill July 20, 2021, Updated: August 3, 2021
When Celebrity Edge set sail as the first cruise ship leaving the US with guests in over 15 months, it came after a lot of planning, preparation, and of course certain new rules in place to ensure the safety of guests, crew, and those in the communities the ship visits.  For those looking to sail Celebrity Edge, or any other ship in the near future, we thought it'd be helpful to go over some of the COVID related rules, as well as our experience from being on the first two Celebrity Edge cruises back.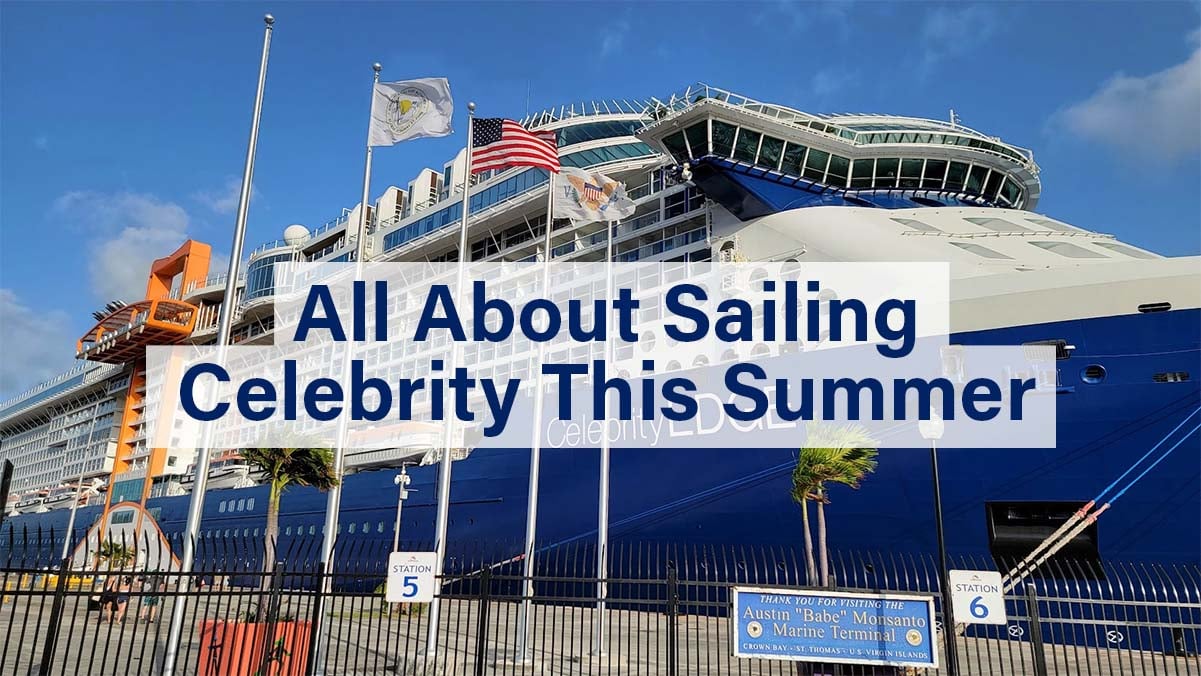 There are two important things to keep in mind: First, things change quickly.  A good travel professional will help make sure you have the latest information for the cruise(s) you're booked on.  Second, not all ships are operating in the same way, as we explain here.  Still, this post though should help paint a better picture of cruising in the summer of 2021, especially for those sailing Celebrity Cruises.
Do You Need to be Vaccinated to Cruise Celebrity?
Maybe.  Celebrity Edge, and all Celebrity sailings out of Florida, sail with 95%+ of all guests having proven at the port that they're fully vaccinated against COVID-19.  Those not willing to prove they're fully vaccinated will be considered unvaccinated, and required to get multiple COVID tests, which will be the guest responsibility to pay for, and carry special insurance policies.  Unvaccinated guests must wear masks while inside, may not disembark under certain circumstances, and may be restricted to certain parts of some venues.  The testing and insurance will not come at a cost to guests too young to be eligible for vaccination. Beyond Celebrity's requirements, some ports of call may have vaccine requirements for entry, or in the case of Nassau, for indoor dining.
You can read about how different lines are handling vaccinated vs unvaccinated sailings here.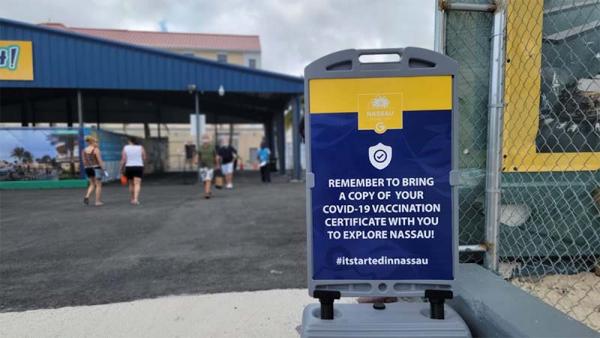 How Proof of Vaccination Works
Currently, Florida law restricts cruise lines from requiring proof of vaccine, so before your cruise Celebrity will contact you to ensure you understand the consequences of not voluntarily proving your vaccine status (by presenting your original vaccine card at check-in).  They may stop selling the cruise early or make other adjustments to ensure they stay above the 95% vaccination threshold.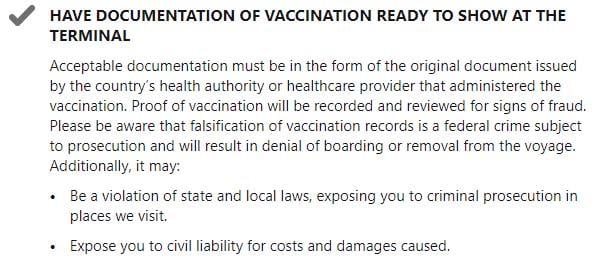 Norwegian Cruise Line Holdings is suing Florida to allow cruise lines to request proof of vaccination.
Checking in to Celebrity Edge
Several weeks (up to a few days) before your cruise, you'll need to start the check-in process.  This can be done on the Celebrity website but is best done in the Celebrity phone app, which will be useful onboard as well.  In the app you'll enter your passport and credit card information, take your photo, and pick a boarding time.  A day before your cruise you'll get an alert to go back into the app to answer a quick health questionnaire. 
On the day of your cruise, you should arrive within the check-in window you selected in the app.  Non-Retreat (suite) guests who arrive early will be asked to wait outside until their scheduled time, unless the embarkation team is running ahead of schedule.  Celebrity Edge sails from Terminal 25 at Port Everglades, a bespoke facility designed to match the ship's aesthetic – but you won't likely spend much time here.  After checking your bags and entering, you'll confirm the answers to your health questionnaire, show your vaccine card (assuming you'll be sailing as a vaccinated guest), and have your Express Pass (found in the Celebrity App) scanned.  From there you'll head up the escalator to go through security and have your pass scanned again before walking onboard.  We found this process very quick and smooth.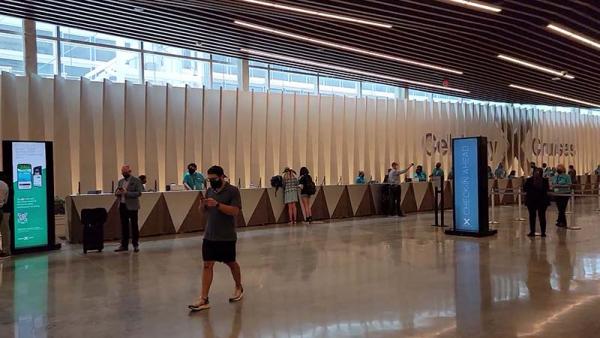 Early check-in is just one small perk with The Retreat on Celebrity Edge. Check out this video showing off more of the benefits, including a tour of a Sky Suite.
Mask Requirements on Celebrity Edge
Vaccinated guests are not required to wear masks on Celebrity Cruises, with the exception being Apex while she's sailing in Greece.  On Edge however, we didn't wear a mask once while onboard the ship.  Some guests chose to wear masks on the ship, especially on the first day while still getting used to things.  Unvaccinated guests are required to wear masks while indoors.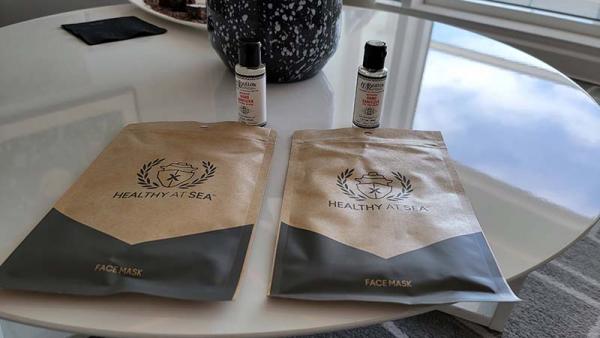 All guests are provided new re-usable masks in their stateroom, which may be handy for excursions.  We actually found them to be some of the most comfortable masks we've had, and have used them on flights since our cruise.  The one downside is that they are a bit warmer than some other masks, which makes them less ideal for wearing outdoors in a hot climate.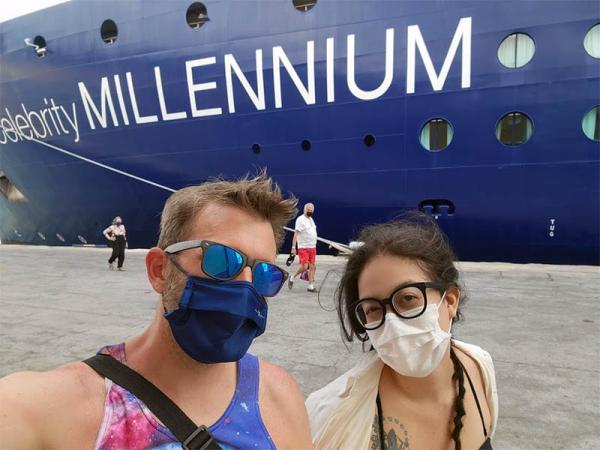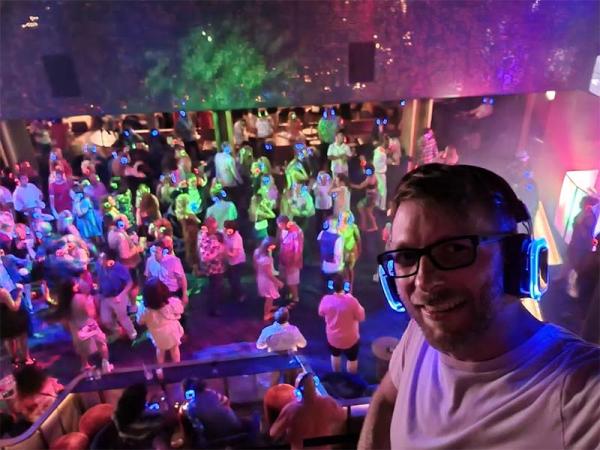 The crew, officers, and staff must wear masks while indoors, though we wouldn't be surprised if this changes soon. 
We're keeping track of some common cruise line COVID-related policies here.
COVID Testing on Celebrity Edge
Starting August 5, 2021, all guests on US sailings of five nights or longer, regardless of vaccination status, are required to present a negative COVID test result (PCR or NAAT) from a test taken within 72 hours of embarkation. Some destinations may change entry requirements and require more specific or additional testing.  Just before our stop in Barbados on Celebrity Millennium, the nation required testing prior to entry.  On Edge, consecutive cruisers (those sailing two back-to-back sailings on the same ship) were tested on turnaround day.  These tests are done on the ship at no cost to guests.  For my test on Edge, I quickly registered on my phone, picked a time, and showed up for the test at the Destination Gateway.  The whole process was just a couple minutes.
Unvaccinated guests will require testing before embarkation, during the cruise, and near the end of the sailing, regardless of sailing length or other factors.  Your travel professional and Celebrity will help coordinate these.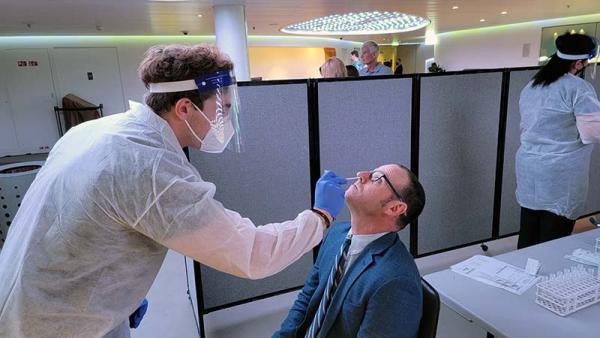 Oceanview Café is Open on Celebrity Edge
On Celebrity ships, the buffet restaurant is called Oceanview Café, and personally, the Oceanview Café on Edge is my favorite.  Great views, convenient layout, and many options for good food.  The restaurant is open, just as before, for breakfast, lunch, and dinner – with plenty of mid-day and late-night snacks available as well.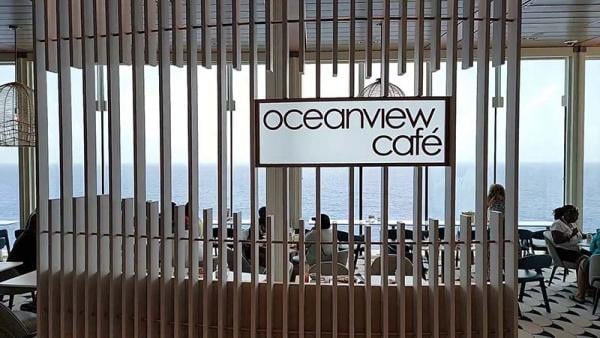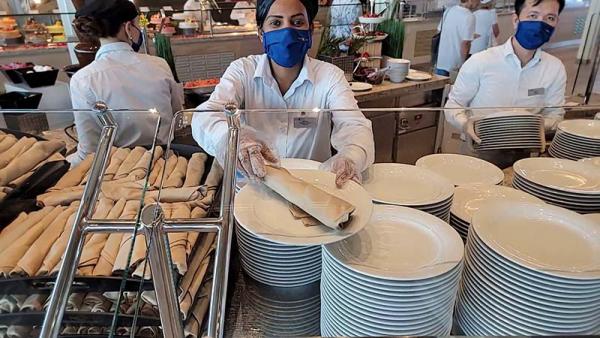 No reservations are needed, and everything is operating quite similar to pre-COVID, except the crew now serves you.  We love this change, as it means guests no longer touch the serving utensils, and in general, the area doesn't end up with as many plating accidents.  You can still ask for as much, or as little of any item you want.  Celebrity has told us they expect this change will stick around on the entire fleet.
Reservations for Shows, Dinner, or Other Events on Celebrity Edge
There are no reservations required or recommended for Celebrity Edge sailings that wouldn't have been advisable before COVID.  If you're a party of two and have Celebrity Select Anytime dining (not fixed seating), then show up at the restaurant you want, when you want.  If you're with a larger group, especially if you dine at peak times, you might want to call ahead or make a reservation in the app.  The same is true for specialty dining.  There were two occasions, once for lunch at Le Grand Bistro and once for dinner at Raw on 5 that we were turned away because they were full, but other than that it was pretty easy to get a walk-up.  Still, it's never a bad idea to make a reservation, just like on land.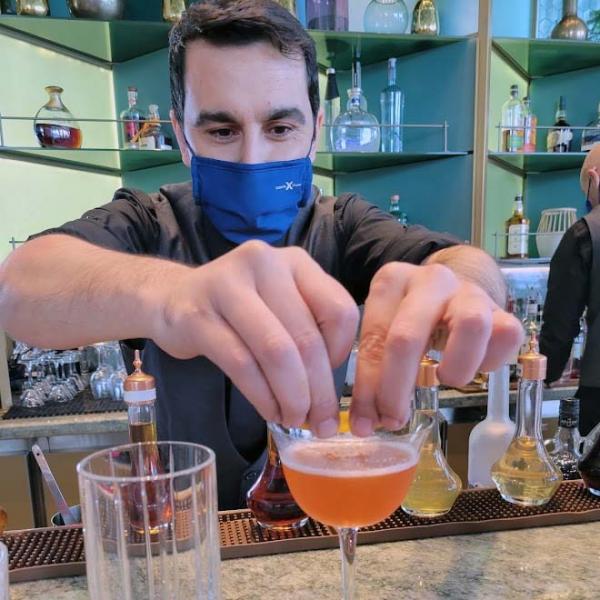 Reservations aren't needed (or even possible) in the theater or any other venue on Celebrity Edge, and the same is true on other Celebrity ships.  Some special events, such as mixology classes, and of course shore excursions, do require booking in advance though.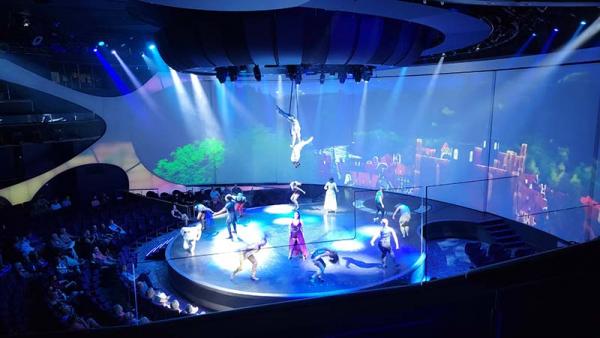 Shore Excursions on Celebrity Edge
Similar to testing requirements, whether or not you need to book a shore excursion in order to disembark Celebrity Edge depends on a few factors.  There are some ports where the government may require you take a ship-sponsored excursion, whereas other ports allow you to roam on your own – of course while still abiding by local regulations.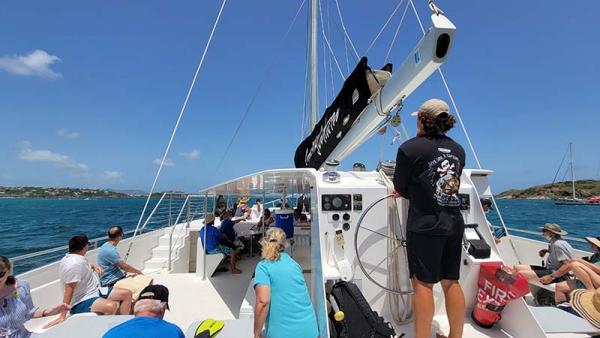 On our first cruise, we were advised that in Mexico we could only disembark with a tour, though in Costa Maya the cruise line did allow guests to explore the shopping and pool area at the port, and take special cabs that were permitted to take you to select destinations.  Unvaccinated guests may have further restrictions, such as only disembarking with an approved excursion. 
On Edge you can book excursions via the Celebrity App, or by going to the Shore Excursion desk next to Guest Services on deck 3.  There are also tour descriptions and a slip you can complete to book excursions, located in Celebrity Today, the daily program.
Read about the advantages to booking excursions through cruise lines as well as booking independently.  
Overall Experience & Restrictions
Since the restart of cruising we've spent three weeks on Celebrity Cruises and had an absolutely fantastic time on each cruise.  Our big takeaway is that if you're fully vaccinated, there aren't many restrictions to speak of.  As we shared here, it's really about the preparations the industry and scientists have taken to allow us to enjoy cruising as it was, if not better, than before.  Still, things can change quickly, so make sure you enlist the assistance of a good travel agent and be flexible.  As more ships on more lines successfully restart service, there's a good chance we'll see restrictions loosen some more - though vaccines will still likely be key.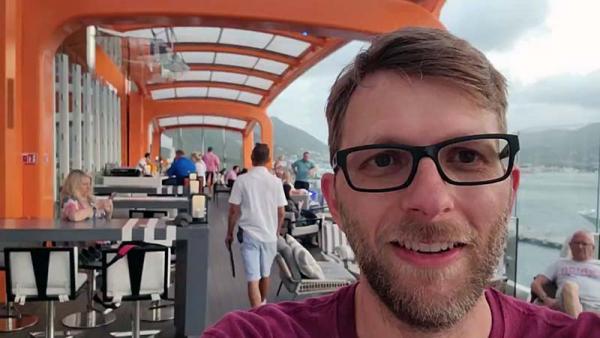 If you're looking to take a cruise in the coming months, we'd love for you to join us on the very first CruiseHabit Group Cruise on Celebrity Apex, sister ship to Celebrity Edge.  We've got special rates and exclusive events, so get more information and a free quote at ApexGroupCruise.com