Author: bill November 16, 2021, Updated: November 21, 2021
Drink packages can be a great way to lower your beverage costs or at least make them more predictable on your cruise.  For us, the decision to purchase them has been easy, because between coffee and whisky, it has just made sense for us.  On a recent Odyssey of the Seas cruise, however, we decided to pay for drinks a la carte and see how it worked out.  So how did we fair?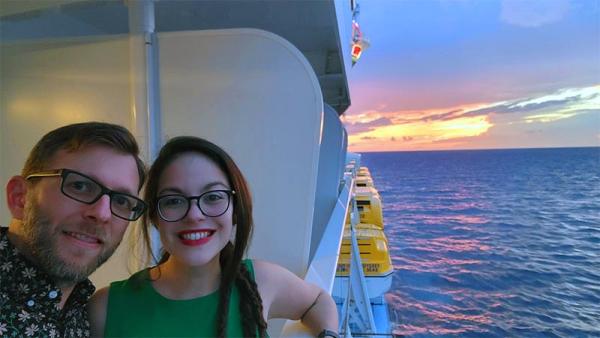 Drink Packages - A 30 Second Explainer
Most cruise lines that don't already include drinks allow guests to either pay for each drink as they go, or pay a sum in advance of their cruise that allows unlimited (or nearly unlimited) enjoyment at the ship's bars.  This plan is usually referred to as a drink package, and while the cost and what's included vary by cruise line and even individual sailing, the idea is usually the same.  Pay a set price now and don't pay for each drink.  Some guests would never come out ahead this way, whereas for others, it's a no-brainer.  We've got another post that explains further and helps you decide if you should get a drink package on your next cruise.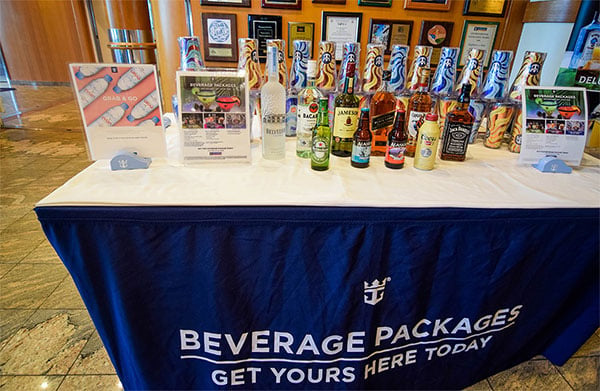 Why We Decided to Try This Experiment
I'd be lying if I said this was a random test, as there were a couple of things about this cruise that were different from others we've taken.  For one, Royal Caribbean now gives members of certain tiers of their loyalty program, the Crown & Anchor Society, drink vouchers each day.  We've talked about how many overvalue loyalty programs, but I've always said to take advantage of the perks you do get.  In this case, each of us got four vouchers (for each of us) on each day of the cruise.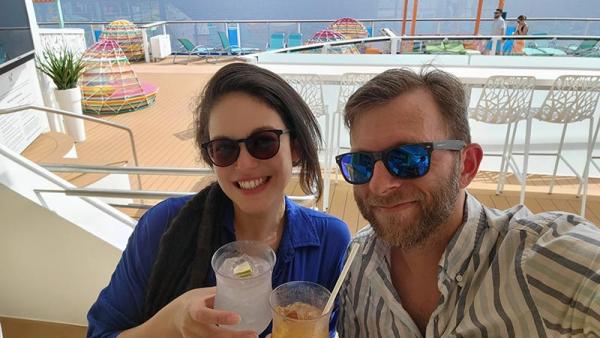 Another factor was our stateroom.  We bid for and won an upgrade to a Junior Suite (video tour of Odyssey of the Seas Junior Suite #7240 here).  That makes a difference because Junior Suites on Royal Caribbean include an in room espresso maker, and we drink a lot of espresso, which would otherwise cost a few dollars each without a beverage package.  The loyalty lounge also offers complimentary espresso, but I don't like to have to go out of my way, so that wasn't as big of a factor.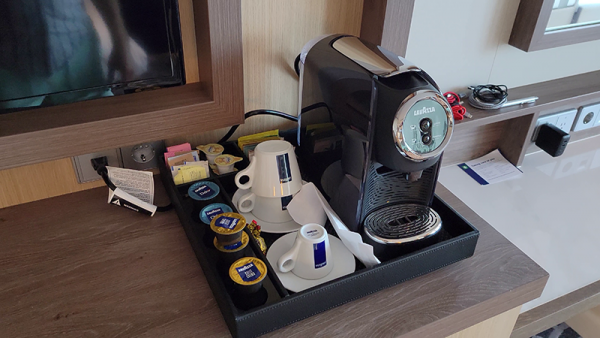 So, with four drinks per person each day, and unlimited in room espresso, we figured that'd lower our overall paid drink consumption.  One final factor is that this was a six night cruise.  It's easy to drink way too much for three days during a weekend cruise, but six days is a vacation, not a party.  Over these six days we'd have multiple port stops where we'd not be drinking on the ship.
Cost of the Drink Package
Royal Caribbean varies drink package costs by sailing, and has frequent changes in price.  Before our cruise though, we had the option to purchase the package for two, for $71 per person per day, plus an 18% gratuity.  That's about $1005 in total.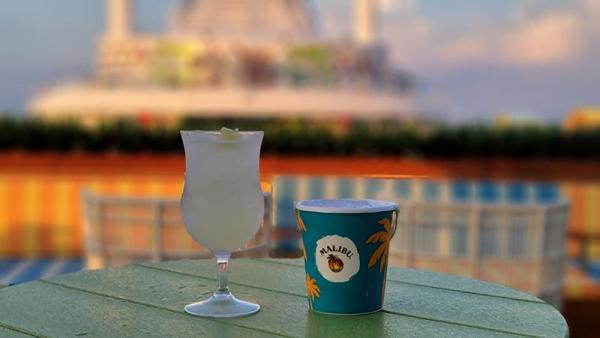 If we'd have purchased it on the ship it would have actually been about the same, which is very rare - but they were running a promotion on this particular cruise.  Don't plan on that though - if you do want a drink package on Royal Caribbean, purchase it online before you cruise, and keep checking, because if it goes on sale you can cancel the package and repurchase it at the lower price.
The Value of Perks
To figure out if we came out ahead or not we really just need to see if we spent more or less than the drink package.  To better understand how this comes together though, let's first look at the value of the perks that got us some of our drinks, and cover assumptions.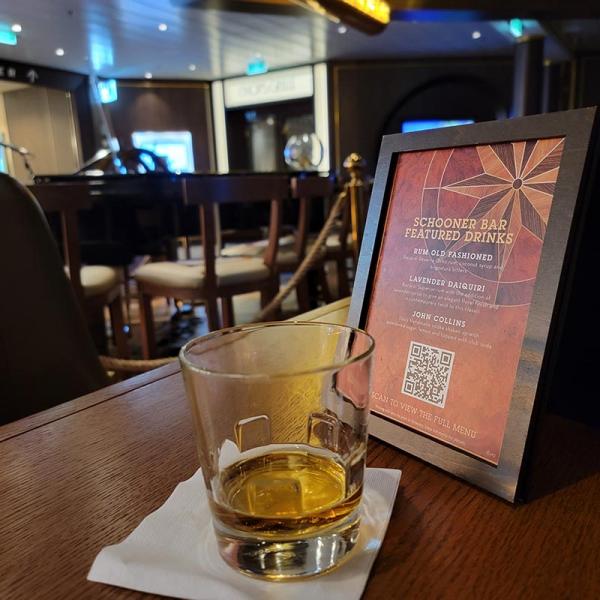 The Crown & Anchor vouchers are each good for drinks up to $13 (the same limit as the drink package).  In our case, we usually drink things that cost at least this much, so it's easy to figure that the value of four vouchers, times two of us, across six days, is $624.
The espresso machine in the room was worth around $85 by my rough math.  That's four espressos per day, times six days, times $3 each, plus $18% gratuity.
The Results, by the Numbers
Taking a look at our final bill, and removing daily service charges, specialty dining, and laundry, we can see that we spent $335 on drinks.  That's a savings of $670 compared to buying the drink package.  That's not really all we spent though.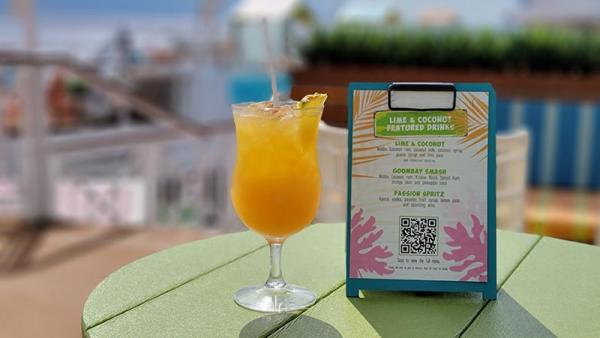 When I bid for the Junior Suite upgrade, a part of my justification was the espresso maker.  So, let's imagine, for the sake of argument, that the upgrade cost should be part of this equation.  Even if a third of the value of the suite upgrade was the espresso machine (and it would have been a very nice room, even without it), that would mean that we paid $435 in drinks, still coming in at a savings of $570.
Other Factors
The results above seem a clear dunk, but for the sake of being clear about this, there were two additional factors that probably didn't tip the scale, but may have made this a bigger victory for me.
The first is tipping.  Whether or not drinks are included in my fare or package, or I am paying a la carte, I usually hand over my key card with a $1 bill each time I place a drink order.  I don't do this to get anything extra (when I have a drink package, it really doesn't matter), but because I appreciate how hard the staff works.  It does seem reasonable to think that at least in some cases, that extra $1, along with a generally friendly demeanor, may have made for more generous pours.  It also could have impacted the second factor.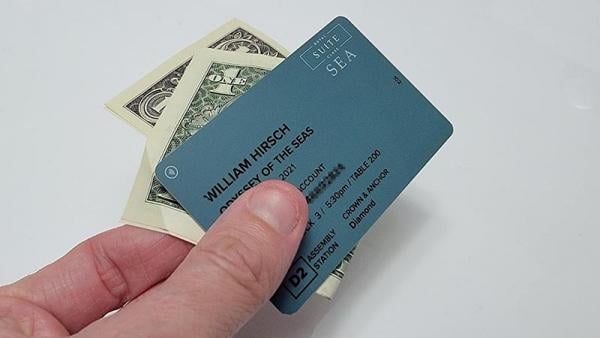 I'm not sure how well the vouchers were tracked.  There aren't physical tickets, but instead, the comped drinks are loaded onto your onboard account, so when your card is scanned, they see if you have any "Diamond drinks" available.  "Diamond drinks" being a nod to the Crown & Anchor perk for Diamond level members, and higher.  Despite this being electronic, staff sometimes told us that we had more drinks left on the card than I thought we did.  In fact, one time, they said we had two left, but then told us they didn't see two previous drink orders, and they called a manager to have the charges removed.  I mean it when I say that I didn't keep track well enough to know what was correct, but it is possible that we ended up with more than four "Diamond drinks" per day.
Will We Get Drink Packages Next Time?
Maybe.  This scenario was really specific to Royal Caribbean's loyalty program as well as an inexpensive Junior Suite upgrade.  Because there isn't really anything similar to this on other cruise lines, we don't need to worry about this until our next Royal Caribbean cruise.  If all things are equal next time, it'd of course be cheapest to skip the drink package again, despite it almost certainly having saved us money in the past.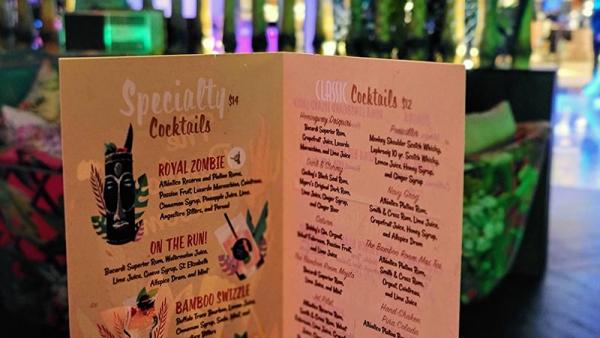 If our next Royal Caribbean cruise, however, is with a large friend group, and less port intensive, then we might be inclined to opt-in, as we may be drinking more each day.  For example, a couple months ago we cruised for just two nights on a Mariner of the Seas test cruise, and while packages weren't available, drinks were 50% off.  Our total over those two nights?  $260.52, what would have been over $500 on a "normal" cruise.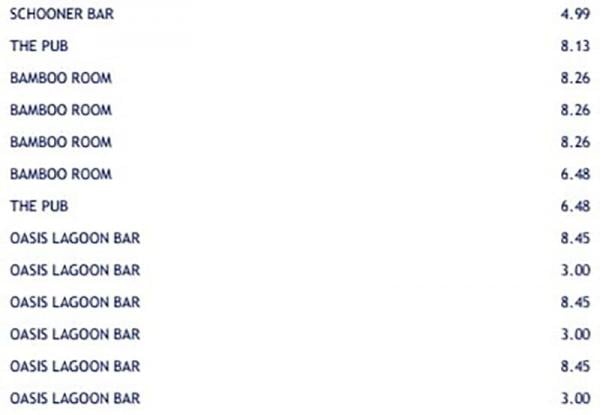 One thing that is certain is that any drink, dining, or internet packages we do purchase on Royal Caribbean we'll purchase in advance, as it's almost always cheapest that way.  In January we're hosting the very first CruiseHabit group cruise on Celebrity Apex (join us!!) and drinks are included with our fare on that cruise, so there will be no counting of vouchers, and much fun to be had.