Author: Bill July 11, 2021, Updated: July 11, 2021
Some places are synonymous with Caribbean cruises, and Nassau, Bahamas is one of them, with more than 3.3 million cruisers visiting in 2019 alone.  For 15 months however, that number fell to nearly zero.  While on two of the first cruises to resume from the US, we called on the iconic port city, and we were excited, and a bit nervous, to see how things were going with local businesses. 
Check out this video we streamed from Celebrity Edge with tips on visiting Nassau on your Summer 2021 Cruise.
Rules for Going Ashore in Nassau
Some cruise lines and ports require that those coming ashore to excursions with the cruise line.  The idea here is that the tours will be vetted to ensure they're complying with required health and safety protocols.  This is not the case for Nassau, where vaccinated guests are free to disembark and tour on their own.  Their are of course good reasons to book an excursion through the cruise line - but it's certainly not required.  You can find general rules and restrictions for Summer 2021 cruises here.  Anyone disembarking in Nassau should note however, that by law, indoor dining is only permitted for those who provide proof that they're fully vaccinated.  This can be a photo of your vaccination card, along with photo ID.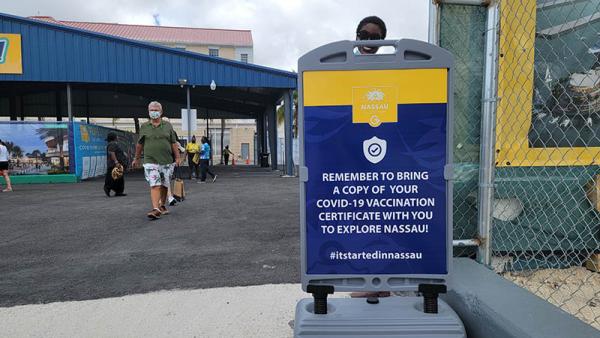 General Impressions
Major Construction at the Port
While not related to COVID, there is one big thing cruisers will notice in Nassau even before entering the city.  In years past, after stepping off the ship, you had a long walk through a large indoor mall of sorts called The Festival Center (on the site of the old straw market).  Winding through this structure offered locals an opportunity to hawk their wares before guests took off in cabs to visit popular destinations, like Atlantis Paradise Island.  In an effort to give the whole area better curb-appeal, a $250 million project started over a year ago, which includes what promises to be a fancy-looking port facility for information, shopping, restaurants, live entertainment, as well as two additional berths (allowing up to eight ships to dock at once).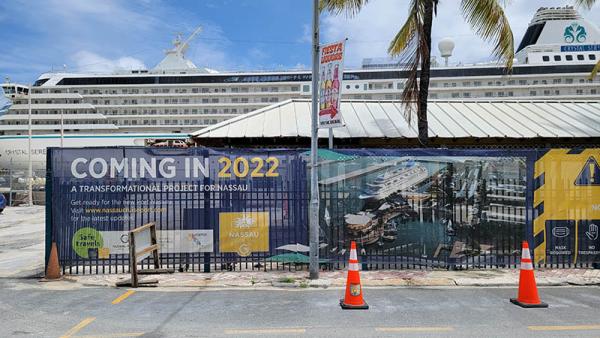 This project is still in the early phases, so right now, there is nothing but construction fences and a small welcome center.  Images on the fences show what is ahead, and it's clear this is an enhancement project rather than the abandonment of anything – but it does makes things look barren compared to years past.  The project is estimated to be completed in 2022.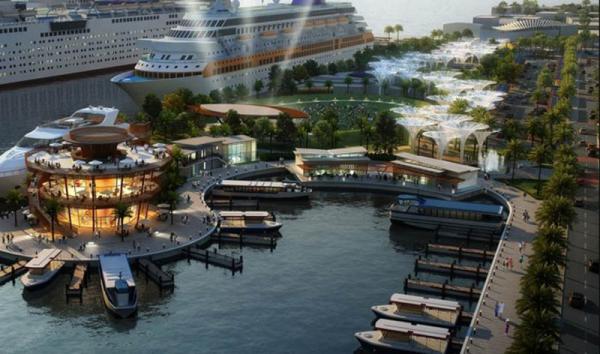 Things Are Opening – But Slowly
The street facing the port area is Woodes Rogers Walk.  This is the first chance locals usually get (outside the Festival Center) to draw in tourists.  There would usually be bars open, shops with permanent "SALE" signs, and women ready to braid hair or any type – but not today.  Little was open here, so our first impression was…worrying.  Luckily there is a great bar open here, which we'll get to in a moment.  One thing you won't find open?  Senor Frogs.  Personally, we avoid big chain places when in port, but it was shocking to see this spot closed, as it's usually packed with those looking to enjoy a party-atmosphere, and a beer right up to the last moment before they have to get back to the ship.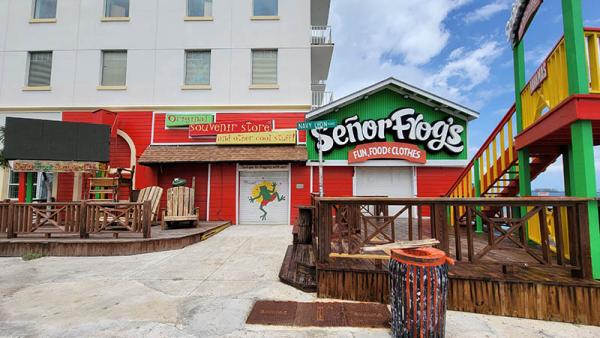 The main drag in Nassau is called Bay Street, and without the courteous help of local police officers, it's usually quite an exciting place to cross.  The street normally full of cars, cabs, and busses, as well as the sidewalks of tourists and shopkeepers was, on this trip, much calmer.  On several occasions I was able to stand in the middle of the street here without risk of traffic – something I'd not have ever imagined in the past.  Luckily though, there were some restaurants and retail establishments that were ready for business.  Part of what helps this particular street, is that unlike some other cruise ports, there are government offices and businesses essential to the locals, so they've remained open.  I think this kept things from seeming too quiet, and may have propped up some of the smaller dining establishments, especially.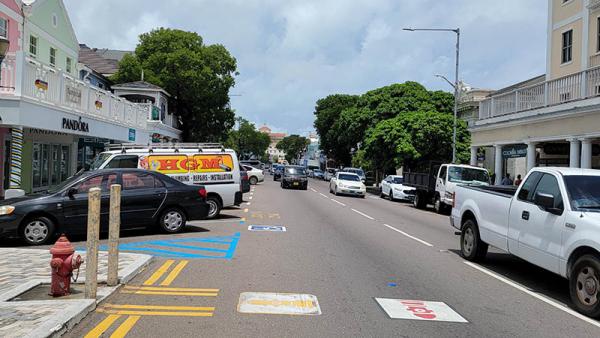 Pirate Republic Brewing
We're all about getting off the beaten path, checking out local history, and exploring.  Sometimes though, you just want a cold beer and a nice view.  One staple establishment in Nassau is Pirate Republic Brewing.  It's located right on Woodes Rogers Walk next to the port, just minutes from where cruisers touch dry land, and serves up their own craft beers, plus a lively atmosphere.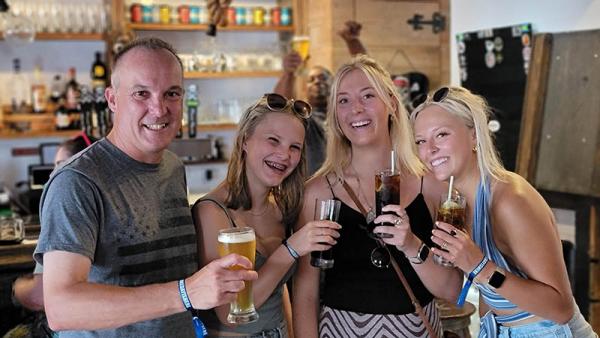 During our most recent visit on Celebrity Edge this July, we were delighted to find they were open for business.  The manager, Marco Polo (who are we to doubt what he says his name is?) was excited to see cruisers ready to enjoy the bar, and ready to show off what they had to offer.  He also points out his striking resemblance to Tracy Morgan.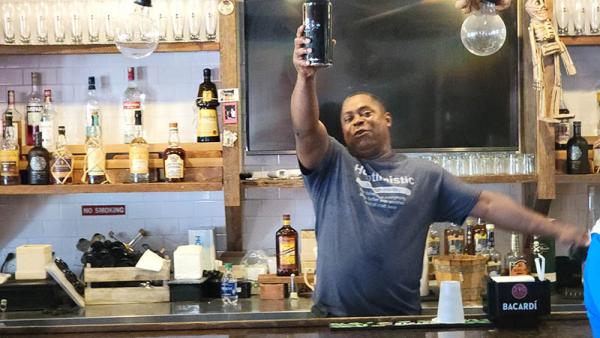 Initially we were among their only visitors, but in short order there were multiple cruisers, as well as some tourists staying on the island, all having a great time and enjoying what is honestly really good beer!  We especially liked their Belgian wit beer, "Gold & Haze of Piracy".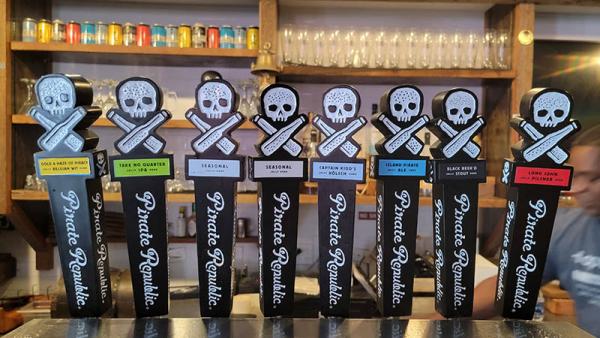 Marco Polo was also keen to tell us about a deal they had going which included two generously-poured beers and a t-shirt for $28.  Several in our group took advantage of this offer.
The bar has an upstairs area as well, offering a nice view of ships in port.  We might just take advantage of this for a private party someday.  Stay tuned if you want to grab a drink with us here in the future.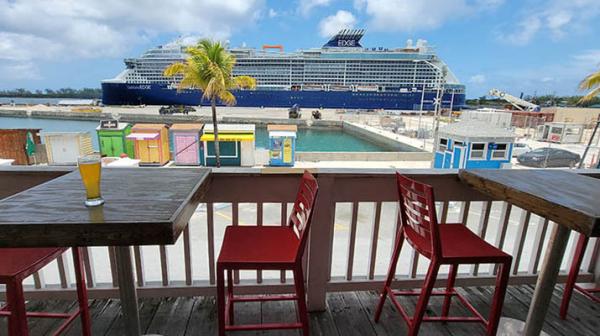 After several beers (and perhaps some shots that made their way into the mix), we got pretty hungry, so we asked about food.  Because this day was just the second a ship was calling on the port, they didn't know what to expect and didn't yet have food ready.  Because of this, they said if we wanted to bring in some food it would be just fine, which takes us to Linda's Place...
Linda's Place
Located two blocks from Pirate Republic in Rawson Square is a small market which is made up of a collection of tiny stalls.  Many were closed on our visit, as visitors just started their return, but lucky for us, Linda's Place was open.  The owner (Linda), serves up various conch dishes and other eats, including her homemade hot sauce.  We bought a bottle of to take home because it tasted great and was quite hot (even by our standards – and we eat spicy).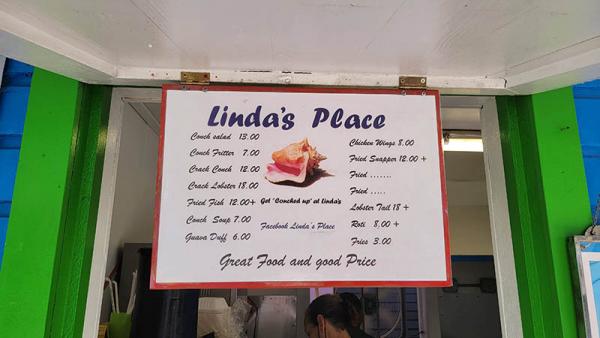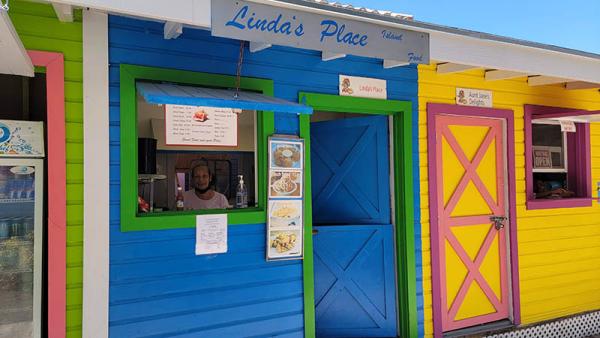 The food was fresh and perfectly cooked – at a fair price, too.  Because this is a stall (and not a full restaurant), you'll need to find a place to sit (or just eat as you walk), but that shouldn't be too hard since it's located in a small square of sorts, with benches in front of local businesses.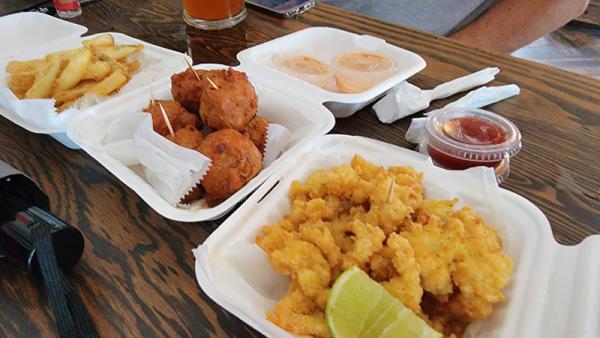 This was our first visit to Linda's Place, but it certainly won't be our last.  Getting to contribute directly to the local economy in exchange for great food and a nice chat with Linda made this more than just a snack-stop.
Eat & Drink Local in Nassau!
Frequent cruisers skip over Nassau in favor of staying on the ship.  We've certainly done this many times.  The stop does have more to offer though – The Queens Stairs, Graycliff Chocolatier, Cable Beach, The Pirate Museum, and so much more.  If you've not got out and explored Nassau, your next cruise may be a great time to do it, since it's likely to be less busy than ever.
Whatever you chose to do while in port, try and help out the local economy while having a great time.  Visiting Linda's Place and Pirate Republic Brewing are just two ways you can make your mind and stomach happy while supporting the hard working locals – just don't forget to have a photo of your vaccine card handy if you want to enjoy the indoor dining (and air conditioning).