Author: Bill September 23, 2021, Updated: September 23, 2021
If you want to board a cruise in the US right now, and you're over 12, you've got to be vaccinated.  What exactly does it mean, though, to "be vaccinated"?  It turns out, the definition varies, and it kept some would-be-cruisers from setting sail, especially Canadians.  That is, until now.  Because so many things have changed recently, it's easy to get confused, so let's review vaccine requirements for cruisers.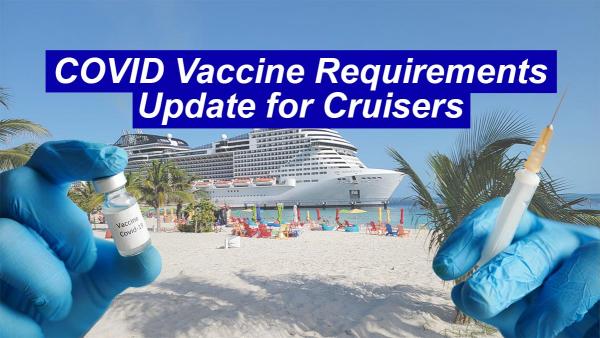 Cruise Vaccination Requirements - The Basics
Since The Bahamas began requiring that all cruisers 12 and older be vaccinated against COVID-19, that's been the basic requirement that cruise lines have adopted in North America, even, in most cases, when the cruise isn't stopping in The Bahamas.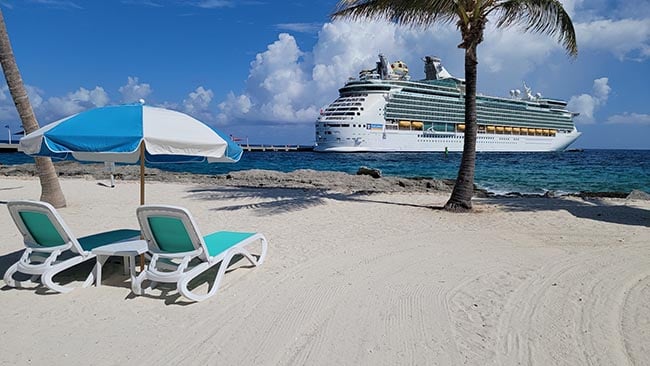 There are still some minor policy variations though, as some lines only allow vaccinated guests, regardless of age.  This means lines such as Norwegian Cruise Line and Princess Cruises simply aren't allowing kids, unless they were somehow vaccinated early.
To demonstrate to cruise lines that you, the guest, is vaccinated, you must show proof.  For most Americans, this is a CDC vaccine card, though some other documents are acceptable as well.  Ultimately, you have to prove that you've had your final vaccine at least 14 days before embarkation.  If you received the Johnson and Johnson vaccine, just one shot is required. If you were vaccinated with Pfizer or Moderna, then you must show that you got both shots in the series, and that the second shot was received at least 14 days prior to embarkation.  What if you were vaccinated outside of the US?
Acceptable Vaccine Brands
Most cruise lines accept a variety of vaccines for US sailings.  Royal Caribbean's policy says they'll accept vaccines that have been, "fully approved or authorized for emergency use by the U.S. FDA or the World Health Organization."  That's AstraZeneca/Oxford, Johnson and Johnson (Janssen), Moderna, Pfizer/BionTech (Comirnaty), Sinopharm, and Sinovac (as of Sept 22 2021).  Carnival Corporation and Norwegian Cruise Line Holdings have the same general requirements, though the Carnival Cruise Line brand doesn't call this out on their website.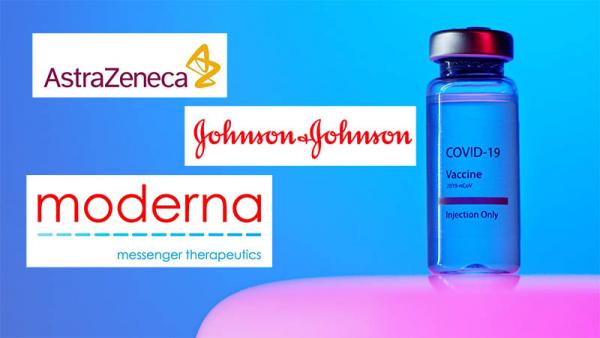 Mixed Vaccine Policies
While the list of vaccines that are acceptable is expansive, there is one detail in CDC rules, and thus, cruise lines policies, that is restrictive for many would-be guests.  While the majority of people in the United States received the same brand of vaccine for each of their two shots (except the Johnson and Johnson, where only one shot is required), in some countries, including Canada, there are many who received a dose of one brand of vaccine, and then a dose of another brand of vaccine.  Until recently, the CDC didn't consider these people fully vaccinated, so cruise lines couldn't either.  The result is that many Canadians, and others with mixed vaccines, were considered fully vaccinated in most places, but not for cruising.

In late September, the CDC updated their guidance, and major cruise lines are quickly catching up.  Already, the three major cruise companies, which , are now allowing mixed mRNA vaccines.  The three largest cruise companies in the world, representing over a dozen brands, have already updated their policies.  This applies, as of September 23, 2021, to Norwegian Cruise Line, Oceania Cruises, Regent Seven Seas, Royal Caribbean International, Celebrity Cruises, Silversea Cruises, Carnival Corporation, Princess Cruises, Holland Ameria Line, and others.  It would seem likely that Disney Cruise Line and MSC Cruises will soon follow, though they're websites don't yet reflect acceptance of guests with mixed vaccines.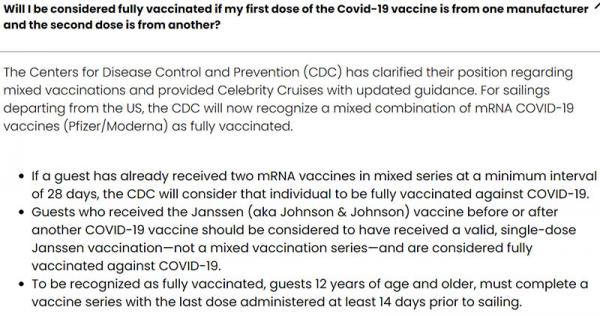 For lines that have updated these policies, guests who received one mRNA vaccine (Pfizer or Moderna), and then a different mRNA vaccine (at least 28 after the first), are now considered fully vaccinated 14 days after the second mRNA vaccine is given.  This does not apply, however, to those who received one dose of AstraZeneca and one dose of an mRNA vaccine, regardless of the order.  Cruise lines are continuing to push for the CDC to recognize this combination of vaccines as being acceptable.
What to Do if You Have Been Vacinated with AstraZeneca and an mRNA Vaccine
If you are looking to cruise soon and have one AstraZeneca vaccine and one mRNA vaccine, there are a few options, though none of them may be exactly what you want to hear.  
The first, is simply to wait.  Most cruise lines are allowing guests to cancel their cruise at least 48 hours outside of embarkation for any reason, and get a Future Cruise Credit (FCC) so they can cruise later, when more convenient.  As we've seen so many policies change so quickly, that means that you may want to book that cruise you're eyeing for next year, or even next month, and then watch policy changes as your sail date approaches to see if you'll be able to cruise.  Of course, you'll need to consider whether other travel arrangements, such as hotel reservations and flights, are also as easy to reschedule without significant penalty.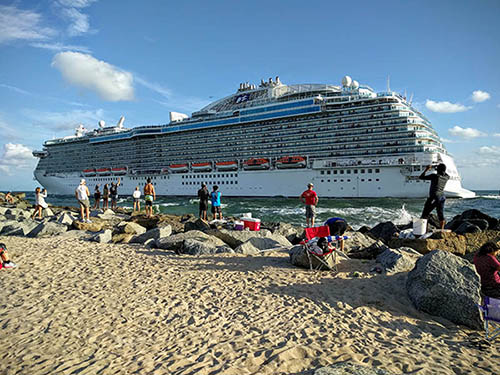 The second option is to see if you can get a Johnson and Johnson vaccine.  Regardless of any other vaccinations, once you've had one Johnson and Johnson shot, and 14 days have passed, you're considered fully vaccinated.  Anecdotally, we've heard that some provincial healthcare systems in Canada have provided an additional J&J jab, while others haven't.  If you're able to do this, then you're just 14 days away from US cruise lines considering you fully vaccinated.  As an added benefit, the details of increased efficacy from having a Johnson and Johnson vaccine on top of others isn't clear, but it would seem likely that it can only increase your protection against severe illness from COVID-19.  
But Wait, There's More
In addition to vaccine requirements, cruise lines have varying rules for testing, social distancing, and masking policies.  While your travel advisor or cruise line are the best sources of the rules and restrictions for your specific circumstances and sailing, we do have a post where we're aiming to keep this information up to date to give you a general idea of what to expect: Masks, Testing, Buffets, and More - The Skinny on Cruise COVID Restrictions.  Check there, and remember, that to make all of this much easier on yourself, while avoiding long hold times, and getting the best deal you possibly can, book your next cruise through a good travel professional.
As with all of the health and safety policies we've seen in the past year and a half, at cruise lines and elsewhere, change is constant.  If you're not able to sail yet because you don't have what the CDC considers an acceptable mix of vaccines, remember that the policies could change at any time.  It's also possible that guidance changes and you end up receiving different, or additional vaccines, which allow you to qualify under existing cruise line policies.  Whatever the case, we look forward to you being able to sail safe, real soon.