Author: Bill June 29, 2019, Updated: July 1, 2019
As announced on a recent Facebook Live video, we booked a last minute cruise on the newly refurbished Norwegian Sky.  This weekend sailing is sure to be different than our last several cruises, but sometimes a short getaway is just what the doctor ordered.  Keep reading to find a short summary of our first day onboard as we sailed from a rainy Miami, FL.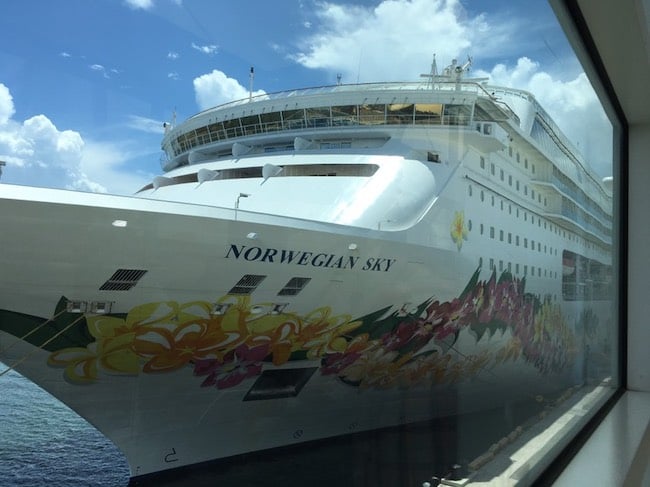 Embarking Norwegian Sky
We took a Lyft to PortMiami (our recommended method of transport), and arrived at the port just after 11:00am.  We walked right through security and spent only two or three minutes checking in before heading to the waiting area, as embarkation hadn't started.  After a twenty minute wait we were stepping onboard, and from the moment we walked on, we we ready to check out the changes from the recent three-week long drydock.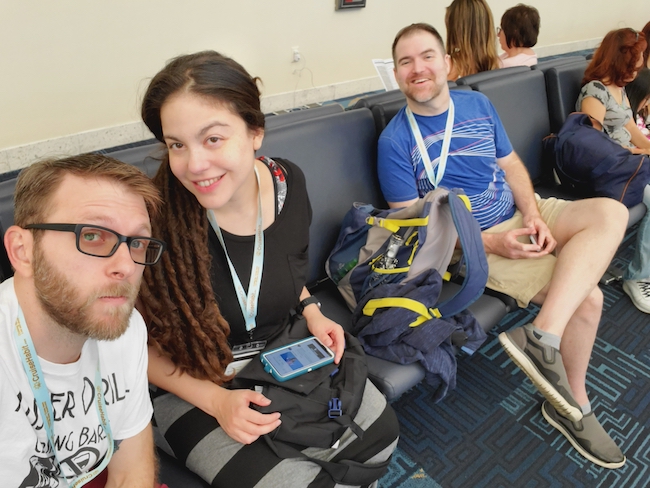 There wasn't too much too see at first, as we walked right from the gangway to the Palace Restaurant, but we did pass through the refreshed Sugarcane Mojito Bar and Bliss Ultra Lounge.  
One interesting thing we noted was that guests had the option to check their carry on bags at Sugarcane for a few hours, as the staterooms weren't scheduled to be available until 2:00pm.  This was a nice perk that we didn't take advantage of this time, but may in the future.
The Palace Restaurant was nicely designed with reds and pale pinks, and had a nice light feel to it.  The selection was a bit light, but no different than what we're used to seeing on most ships for embarkation lunch.  If we'd booked a suite, Cagney's Steakhouse would have been available to us.  What we did find at lunch was orange chocolate moose, which we'd had on Escape a few years ago and loved.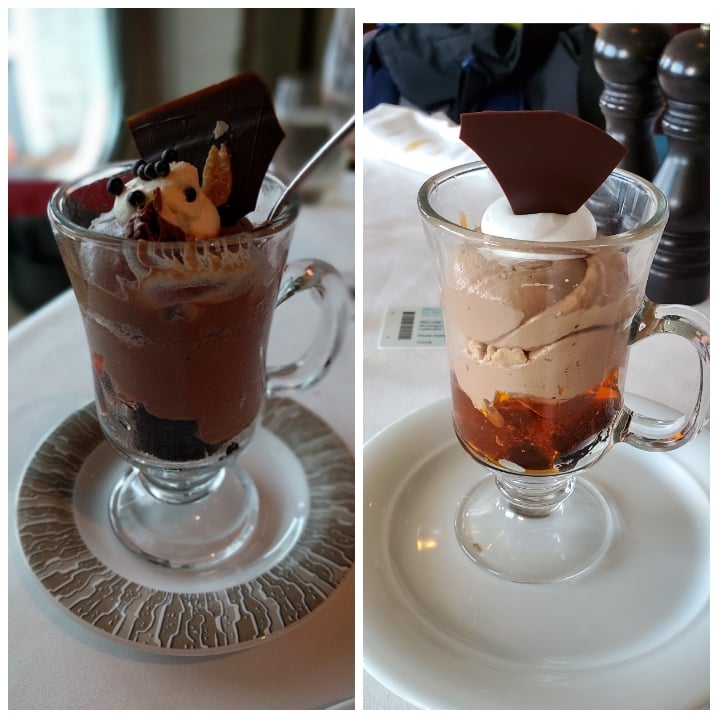 Soggy Sail Away
About an hour before sail-away we had a very brief downpour.  This however, is why I tell people not to pay attention to summer Florida forecasts that say it will rain every day.  It did rain...for five minutes.  We spent a few minutes listening to Manila Soul, a band by the pool.  They were covering pop hits that don't do much for me, but their vocalists were fantastic - and I can't wait to hear more.  Larissa did note that "Manila Sky" would have been a better name - and I can't disagree with that.  A bit after that, during sail-away, the rain came back.  It was short lived, but ill time.  I opted to watch from our stateroom verandah as we watched Miami get smaller in our wake.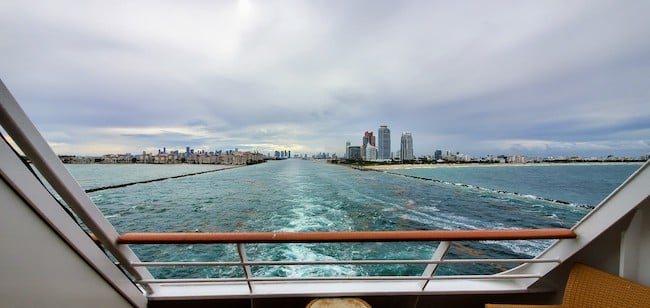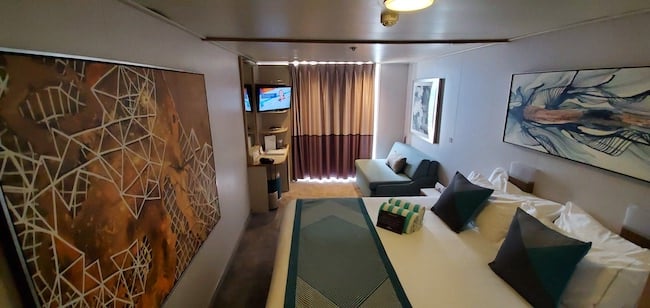 After sail away we spent most of the time just exploring the ship, something I always like to do on day one, but feel even more pressured to on such a short cruise, as I don't want to miss a thing.  We did try out one of the specialty cocktails, a pisco variant that I'll have to fetch the name of tomorrow.  It included bitters, which kept it from being overly sweet - I actually found it quite good, and it's included even without the upgraded beverage package.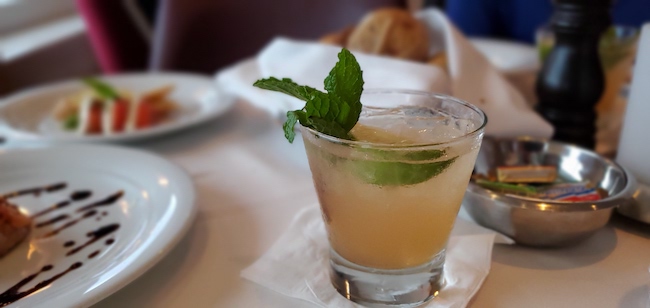 Dinner at The Palace
For dinner we headed back to The Palace, where Bosco, an Assistant Maître d', who Ric previously had as a server on Sky, was kind enough to bring us a number of Indian dishes, in addition to the items we ordered.  He took amazing care of us, and I have a hunch he's got surprises in store for us.  Overall I found the quality of the food to be very good, with fresh ingredients - perhaps better than I'd expected in fact.  When it came time for dessert I couldn't make up my mind, and ordered a flan, German black forest cake, and a flourless chocolate cake.  It's early to say, but as it's been a while since we sailed NCL, I'm thinking they may have offered the best main dining room food and experience out of the contemporary lines.  We'll see if this holds true.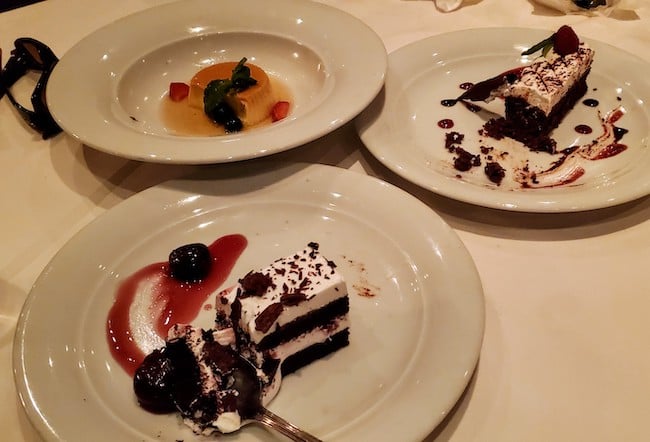 Out and About on Norwegian Sky
We continued our exploration after dinner, and to be honest, I can't figure out where the masses went.  There was karaoke in Spinnaker Lounge, a pianist in the atrium, and a show int eh theater, and all seemed popular but not packed.  Even the pool area, which had live music in the evening, was reasonably quiet despite some cooler temperatures after the day's rain.  I suspect we'll see more people out tomorrow, but I was surprised.  That said we enjoyed scoping out the space, and even found that Spinnaker and the Atrium Bar both have Talisker, an Islay scotch we enjoy.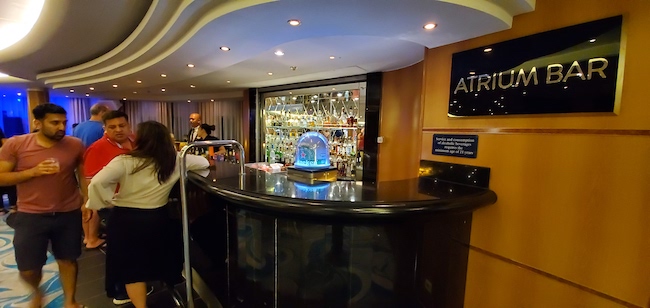 Tomorrow: Key West
While listening to the pianist at the atrium, we all realized we were bushed, and opted to turn in, allowing for a more full day tomorrow.  We'll be along side in Key West plenty before Larissa and I are up and moving.  The three of us (Ric, Larissa, and I) love Key West, and discussed it on one of the first episodes of the CruiseHabit Podcast.  That said, it's been so hot lately that we may just spend the day onboard - we'll see.  If today was any indication, we'll have a great time on the ship if that's what we choose.
Stray Observations
I'm really glad I brought an outlet adapter so I could have a total of three US outlets at the vanity.  While the recent refurb added a USB plug or two by the bed, I need power at the vanity, and there was just one US outlet.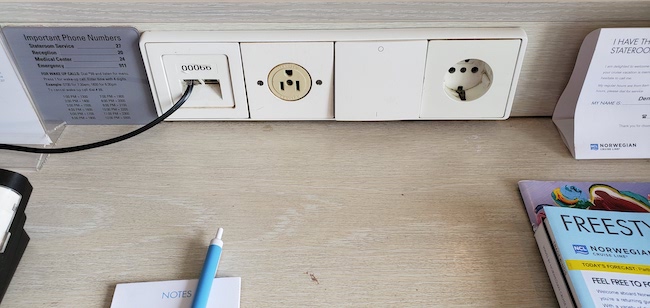 There seem to be more folks who aren't local to South Florida than I'd had guessed.  Perhaps this is because of Summer school breaks, but I am used to three nights being all Floridians.
I've not had an aft balcony until this sailing - and suddenly I "get it" - it's a really nice option.
Make sure to follow CruiseHabit on Instagram, Facebook, and YouTube for more photos and updates!
Norwegian Sky - Embarkation Day
Norwegian Sky - Key West
Norwegian Sky - Great Stirrup Cay (plus, Great Stirrup Cay: Then and Now)