Author: bill July 1, 2019, Updated: July 3, 2019
The last day of a cruise can be kind of a bummer, but I did my best to keep my head up and enjoy, especially since we were visiting Great Stirrup Cay, Norwegian Cruise Line's private island.  I've been coming here since I was a baby, but it's been about ten years, so I was excited to see how things had changed.  We enjoyed a beautiful day, tried out some new restaurants on the ship, and got entirely too much sun.
A Taste of the Suite Life - For Breakfast
We received a special invitation to dine in Cagney's Steakhouse for breakfast, and as someone who is rarely impressed with breakfast on ships, I was excited to try it.  Ordinarily, Cagney's is only open for breakfast to suite guests, so this was a real treat, and when we arrived around 8:30am, it was nearly empty.  As we approached the hostess, who we'd never met, she greeted us by name - a nice touch.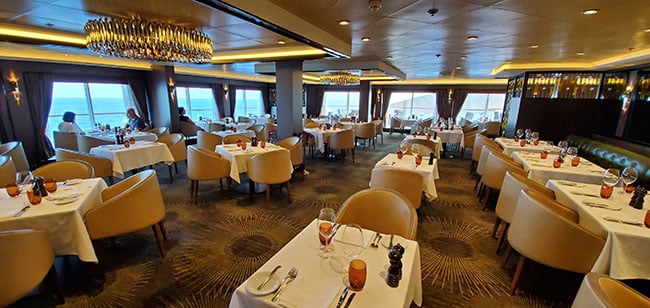 There is a breakfast menu that you can order off of, as well as a cold buffet with a selection of fruits, yogurts, cereals, fish, and pastries.  I opted for the smoked salmon open faced omelet, with herbed boursin cheese, asparagus, potatoes, and shallots.  I'm mostly vegetarian, but there was definitely some experimental pescetarianism happening today.  Along with the omelet and my espresso, I had some fruit and pastries from the cold buffet.  I've got to say, every part of this made it one of the best breakfasts I've had on a ship.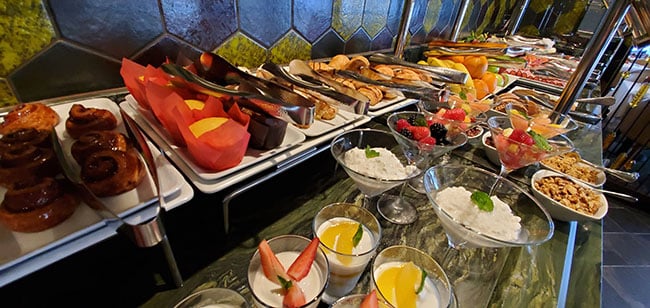 Great Stirrup Cay
After breakfast we gathered our belongings and headed to the tender to go ashore.  With more and more of cruise lines' private islands being accessible without tendering, I must say that while I appreciate the convenience of that - I don't mind tendering, and in fact, I think it makes the island itself seem more secluded.  In fact, while out and about on the island we were much closer and made much more eye contact with Mariner of the Seas docked at Coco Cay just a half kilometer away. Our tender pulled up to a dock in a protector harbor that reminded me a lot of the harbor at Holland America Lines' Half Moon Cay (which used to belong to NCL!).  In years past, the tenders pulled right up on the beach - which was neat, though the current was is probably a bit better.  From there we started exploring.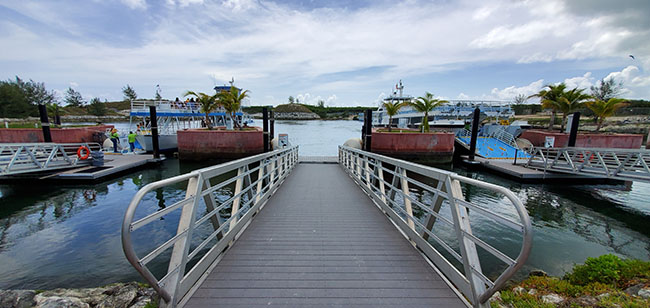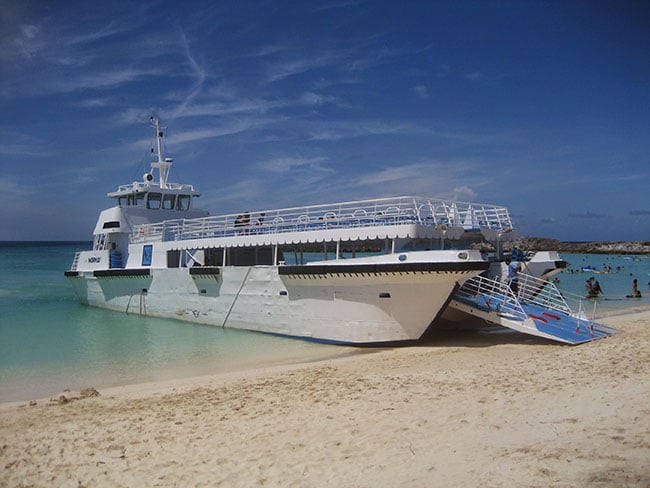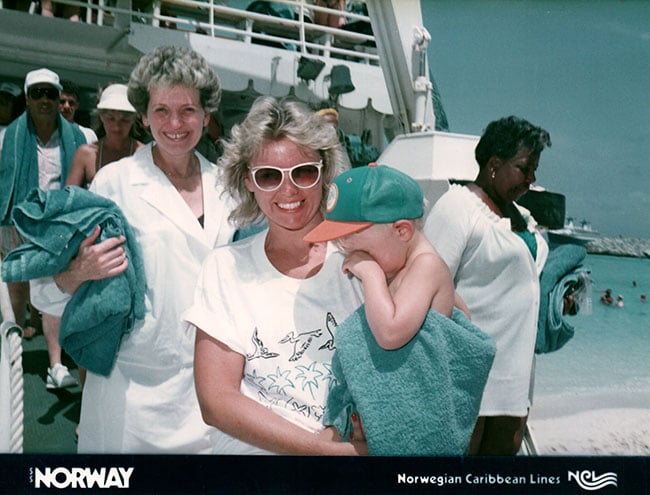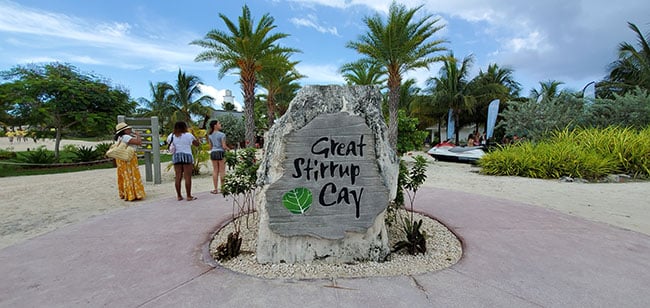 Great Stirrup Cay has always felt somewhat rustic, which is something I liked while other destinations were being built up more (which also has benefits), and I immediately noticed that while the shacks and huts had largely been replaced with buildings in the past decade, the overall feel of being on a remote island was not lost.  Wanting a cool drink right away we headed to the Bacardi Bar, and had a really great mojito - not too sweet, which is something I often have trouble with.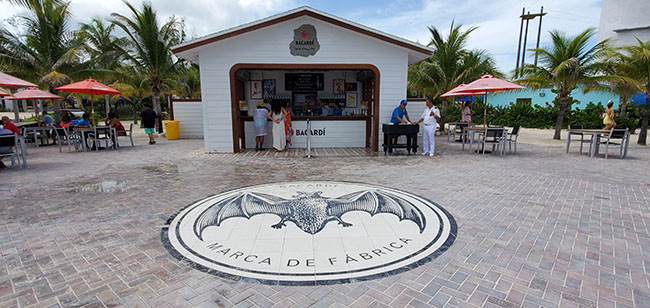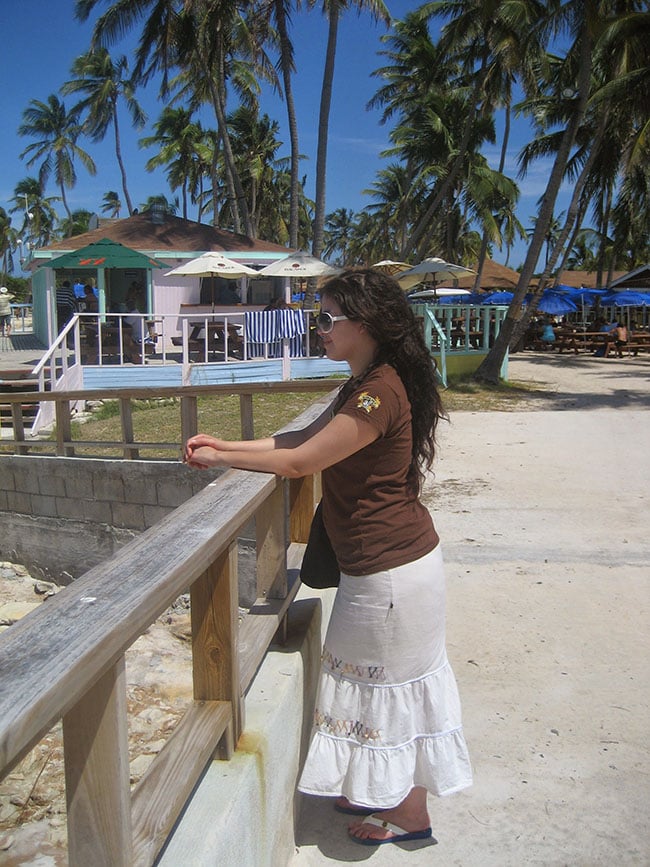 Of course there are several other bars (and no shortage of staff walking around to get you a drink), but there is also food.  The largest of the food spots is the Jumbey Beach Grill.  There is also a "food truck" - which if we're being honest, is a trailer of sorts where you can get a variety of snacks and lunch items.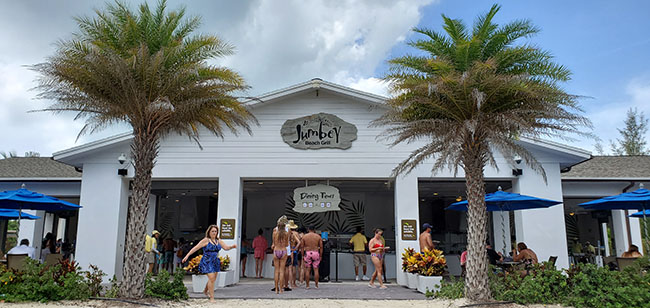 There are several beach areas too - not just the one that people seem to stick to right as you first come out fo the entrance area.  All of the beaches are quite pretty, and one area (not far from the Bacardi Bar in fact) is a great place for some simple snorkeling.  You'll not see anything like diving a reef, but it's pretty, and I remember roaming this same spot as a child.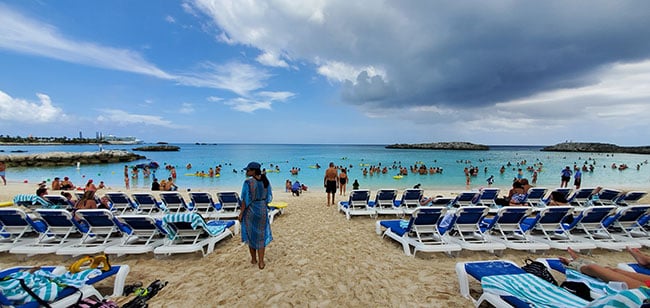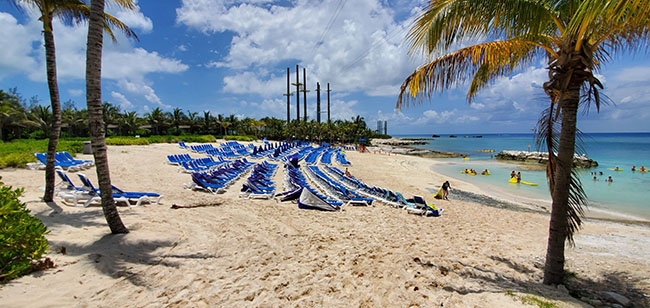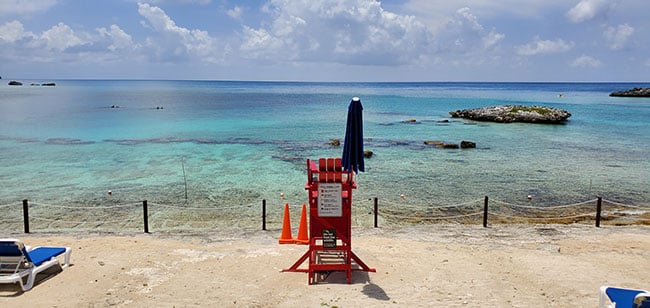 More of the Good Life
It turns out there is a whole other side to Great Stirrup Cay, and that is for those who book beach villas.  We were invited to check this out, and were driven just a couple minutes away in an electric cart.  These villas are up higher than most of the rest of the island, which allows for a nice breeze.  They're solid, air conditioned structures, with large glass sliders facing a secluded lagoon.  There are fewer than twenty of these available, but another sixteen are being built around another body of water in this same area, and some of them will be two-bedroom villas, similar to those on NCL's Harvest Cay.  The new villas are slated to open in August.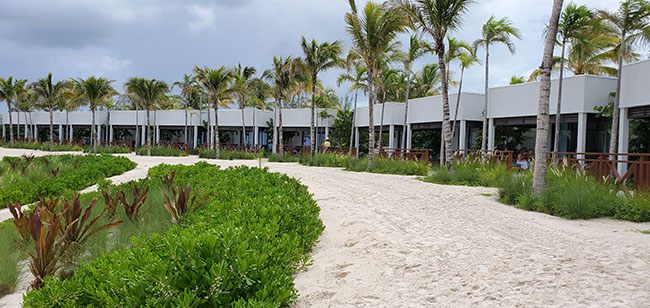 Villas guests also have access to a separate dining venue, with plenty of shaded space and a very nice selection of food items - a big step up from what we often see at island lunches.  The one negative of this area?  It's set down from the villas and was extraordinarily hot.  That said, much of the day there was *no* breeze to be found anywhere but at the villas, so it may be that this is not ordinarily a problem. 
A short walk from here is another building for guests wanting spa treatments on the island.  The view from the back porch area of the spa is fantastic, so waiting for someone to have their treatment done may be almost as nice as getting a massage - and a lot cheaper.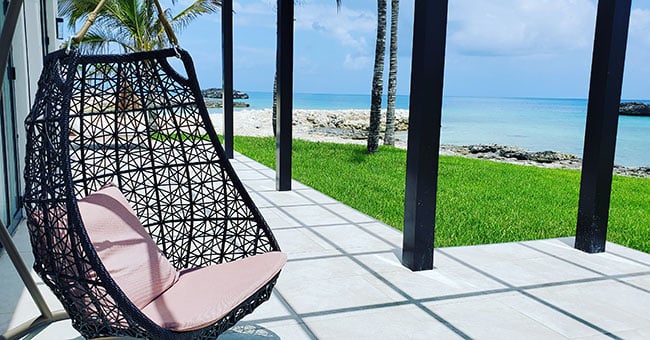 Eventually it was time to head back to the ship (and to a cool shower), and we opted to walk back to see the cabanas that are also available - and a nice option if you want to splurge, but not spent a cruise fare on a villa.
Overall I have to say that I really like how Great Stirrup Cay has developed over the years.  Yes it's more built up, but it still feels quint.  I thought the villas and spa area added another fantastic option for those looking to go all out.  I did notice that they're also building zip lines along much of the beach, and hope that doesn't detract from the scenery and serenity.  No word on when those will open.
Out Last Night on Norwegian Sky (for now)
After a much needed shower, we headed back to The Local, which became our "default spot" on Norwegian Sky.  It really is a nice space, and since our stateroom, as well as Ric's were both located on deck ten aft, it was an easy spot to get to as well.  I realized while socializing and enjoying some Talisker, that we'd not tried Pinnacle Lounge & Sushi Bar.  This a-la-carte specialty venue is opposite Cagney's on deck 12, and used to be a French restaurant (which is now located just below it).  They seem to emphasize their cocktails and spirits - which they indeed have, but make no mistake that at least in terms of layout, this is a sushi bar.  There is plenty of other seating for socializing with drinks, and as much as we liked Local, I could see us turning to this space on our next Sky sailing, as it's a bit more private, perhaps because many just don't notice it.
Larissa and I took a short walk and stumbled upon the arcade.  This isn't a place we usually spend time on ships, but I love air-hockey.  I'd not played it on a ship since playing with my friend Eddy several years ago on Disney Dream, when our heated game got a bit dangerous and the puck took flight in the direction of children - making us feel obligated to leave early.  I still have about $10 on a Disney Cruise Line arcade card.  Today's game was a bit more tame, and I think I played pretty well against Larissa.
A Big Snack
I wanted to try some sushi to see how it compared to other ship sushi joints, but for some reason instead of ordering some sashimi, I ended up picking a random item from the specialty part of their menu.  That item?  Tuna Wonton Volcano.  To be clear, I wanted a snack, and at $6.99, that's what I thought I was getting.  This was a meal - or a snack for two.  I'd describe it as an Asian nacho dish.  Wonton chips, seaweed, avocado, jalapeno, spicy may, and eel sauce.  It tasked great, but wasn't a good test of the sushi as it had so much going on.  I definitely over-commited, and then rolled myself out.  The value prop was good, and given the number of folks having sushi at the bar at a bit of an odd hour, I'd say guests like this.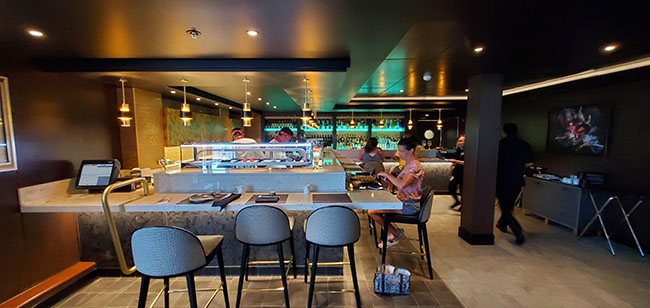 One Last Visit to Palace Restaurant
For our last dinner on the ship we headed back to The Palace Dining Room.  This is quite remarkable, since we had specialty dining as part of our fare - but the food and service was such that we had no reason to deviate.  We had another meal of surprises (including a great vegetable biryani) and some nice champagne.  After our meal, we chatted for a bit with Bosco Vaz (Assistant Maitre d'), and Chef Nelson Fernandes.  Both of these gentleman worked hard in front and back of house to make our meals fantastic, and it was nice to get to spent a few minutes chatting with them.  Trust me when I tell you we'll be looking for them next time.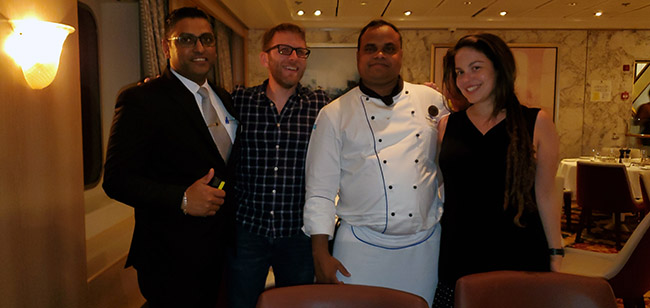 A Late Night Discovery
Before turning in, I walked up to The Local for a bottle of water...which lead to another glass of Talisker.  I wandered out the glass doors to the Great Outdoor Cafe and realized I'd not checked out the late-night eats available on Sky.  I knew they had pizza (which I heard some expressing their happiness with - though I didn't try it as I was still quite full), but was surprised to see a rather wide selection of hot and cold options.  This was more than I've seen on some ships much larger than Sky.
The Morning After
Our weekend coming to an end, we wrapped up the final morning by having another great breakfast at Cagney's.  Having it so close to the room was nice as well, especially since going anywhere before coffee is a mission for me.  Norwegian doesn't require you vacate your room until 9:00am, so this gave us enough time to eat, and go back to collect our bags before disembarking.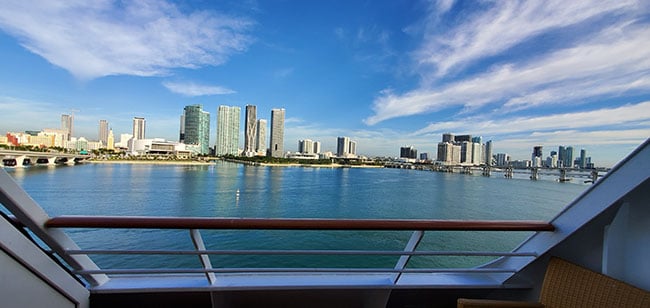 Right on the ship, before stepping onto the gangway, security scanned our cards, then we looked at the facial recognition terminals (like we'd used at Terminal 25 in Port Everglades for our Edge sailings, and Terminal A in Miami), eard a beep and :poof: our great weekend came to an end.
I've said many times that I feel like three night cruises are a tease - and I still feel that way for me personally.  Still though, we had such a great time, and Norwegian Sky exceeded so many of my expectations (big thanks to Concierge Armanda de Guzman and everyone else who made the trip great), that I suspect we just might have to make a habit of this type of trip.  They know we'll be back, and I suspect Larissa will make sure of it.
Norwegian Sky - Embarkation Day
Norwegian Sky - Key West
Norwegian Sky - Great Stirrup Cay (plus, Great Stirrup Cay: Then and Now)