Author: Bill June 30, 2019, Updated: July 1, 2019
The first full day of our three night Norwegian Sky sailing started off in Key West, Florida.  We enjoyed clear skies, and a surprisingly uncrowded city - though we ended up violating some of our own advice for this port visit.  
Early...For Us
I woke up this morning around 7:00am to a slight vibration as we were docking in Key West, but kept drifting in and out of sleep before crawling from bed just after 8:00am.  The first thing I did was check the bridge cam on our stateroom television to see if we'd docked at the Navy pier or Mallory Square.  As we discussed on an episode of the CruiseHabit Podcast, neither is a bad thing, but given the choice I'll always take the more direct access to Mallory Square.  
Despite the lovely balcony room we have, I checked the outside view via the TV in the morning.  Why?  The Caribbean sun is fierce on the eyes of a recently-sleeping person in a dark room. You only make this mistake once (okay, maybe a few times).
Waking up this early meant we had time to head ashore for a quick errand (I needed some batteries) and a photo shoot - for a picture we'll share on Instagram at a later date.  First though we needed breakfast, and opted to head to Garden Cafe, the buffet venue just above our stateroom on deck 11.  There were plenty of options, and the big tip here is that there are two omelet/egg stations - the first has a big line, the second is on the other side of the buffet, near the outdoor seating - and no one seems to go to that one.  Breakfast is always nice with a view, and that's what we had under the tension-membrane stricture over the outdoor dining area.  The coffee however wasn't doing it, and I needed to get my brain working, so we headed to deck seven to purchase some espresso at the Starbucks.  Espresso (at Starbucks or otherwise) isn't included on any drink package, but was reasonably in cost at around $2.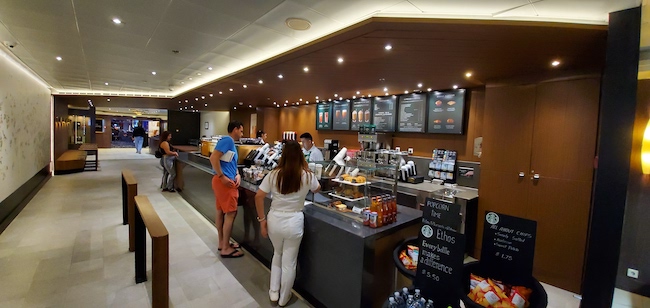 Key West
On the podcast episode we already mentioned as well as other times, we've talked about the options in Key West, and why we really like it as a port of call.  That said, today was forecast to be hot, and since we're lucky enough  to come here often, we decided we'd run our errands and head back.  We did have a nice walk around town in the process though, and each time I visit it's a nice reminder how many "hot spots" are just a five minute walk from the cruise port.  Getting to Key West from the mainland is a bit of a pain, so getting to hit many of the well-known parts of the Conch Republic when visiting by ship is a nice option.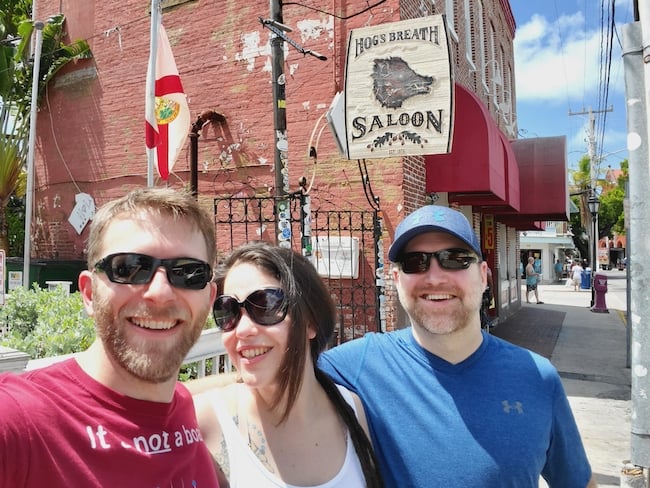 Back On Norwegian Sky
Errands run and shirt sufficiently sweat-through, we headed back on the ship and donned bathing suits to spend some time by the pool.  Was it still hot?  Yes.  Were the drinks complimentary and the shade option ample?  Absolutely.  There was a live band playing at the stage in front of the pool, which provided some nice and rather classic Caribbean atmosphere.  We also did a couple of broadcasts on Periscope and Facebook Live so that we could answer questions about our cruise.
After a caipirinha or two it was time for lunch.  Interestingly, while the Garden Cafe was open, the main dining rooms were not - but La Cucina, a specialty restaurant, was.  Cagney's, the steakhouse, was also open for suite guests and other invited persons.  Lunch was good, with lots of variety, and the desserts were almost as good as the ones we had last night.  With our bellies full we needed to shower and "hit reset" on they day before setting sail.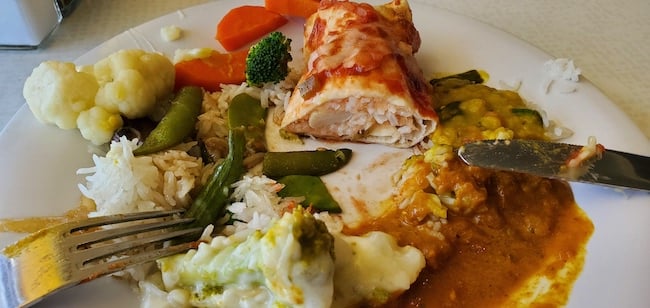 Sail-Away
We were scheduled to set sail at 2:30pm, and around that time there were several announcements paging guests - which means they weren't likely onboard.  I'm not sure if they managed to get back in time, but we cast off about twenty minutes later.  
Our room is on deck ten, right below the Great Outdoor Cafe - the outside buffet area.  On the starboard side of that space is The Local, which is a sports bar that has been completely re-imagined since drydock, and is much classier looking now (in my opinion).  I ran upstairs for a couple of sail-away drinks that we enjoyed on our verandah with Ric, who came over to join us.  This moment was another moment that we all said, "yeah, aft balconies are pretty great", as we'd never enjoyed sail-away quite this much.  Sure, it's mostly the orientation of the balcony that is different (plus it's slightly larger), but the overall experience was a big improvement. over a standard balcony.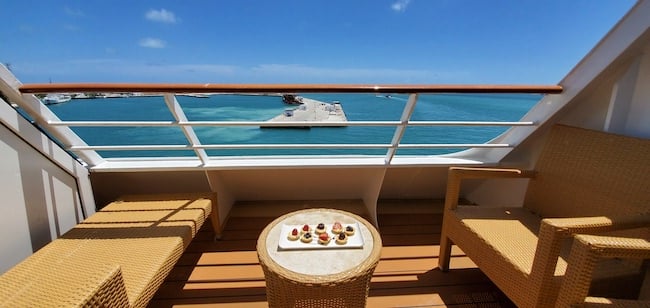 Back to The Local, Spinnaker, and Sugarcane Mojito Bar
Key West solidly in the distance, we decided to spend some time at The Local.  We thought we might have a snack there, though we discovered their bar fare is only available during certain hours.  This turned out to be a non-issue, as Great Outdoor Cafe was still serving, so we walked just a few feet and brought back to The Local a little something to help us manage our cocktails.  Time faded as we spent at least an hour in that "vacation zone" - just enjoying each others' company and not really thinking about the next move.  Eventually, our fortunate realities came to us, and we went down one flight of stairs to our rooms to get ready for a cocktail party.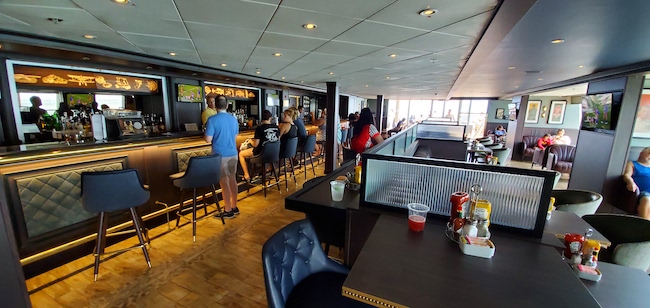 The cocktail party was at Spinnaker, and while we don't often attend these events, in the short time we've been on the ship there were a number of people that have stood out in helping to making it awesome.  A cocktail attended by senior officers seemed a great way to call out people like Bosco and others.  It was also nice to see this space in use during daylight hours, as it's such a nice place to hang out, but definitely used more at night than during the day.
The cocktail party over, we had just a bit of time before dinner.  Sugarcane Mojito Bar was open with live music (mostly Cuban tunes, which fit the space nicely), and we enjoyed a Pisco the Chilcano (the drink name we couldn't recall yesterday).  I also made a quick stop to Starbucks for some more espresso - which still didn't keep me from fading a bit while writing this. :-)
Dinner - Sometimes the Best Option is the Dining Room
We have a
dining
package, so we could go wherever we want.  Last night however we were so impressed with the food and service in the
dining
room that we headed back to The Palace.  This turned out to be another good decision, and while we were brought lots of god food (including Indian dishes), there were two stand-outs.  First, the brie salad, which was a mixed salad with brie baked into a puff pastry.  What made this nice was that the pastry was perfect.  Not so flaky to be paper-like, but not too thick to be bready.  The other item was Larissa's dessert, which was a vegan chocolate cake with strawberry compote.  Vegan desserts can be tricky on ships, and she was thrilled with not just the effort, but the outcome.
The White Party - We Still Don't Get It, But Others Love It
Several cruise lines feature "white parties", where guests and crew dress in all white, and listen to music while dancing to a wildly lit space.  NCL's been doing this for a long time, and to be honest it's just not something that's resonated with us - we'd rather see more live music.  That said, other guests seem to love it, and the dance floor in Bliss (the ship's midship lounge), as well as on deck, were hopping.
Bliss lounge is a classic mid-ship lounge, and the type of space we genuinely enjoy.  On Sky however it seems a bit under utilized, as even the popular White Party didn't fill it, leaving half the long bar out of service.  Again though, many enjoyed it, and I do like watching people have fun - and there was no shortage of that. 
Tomorrow: Great Stirrup Cay
The party, loud as it was, was no sufficient to keep me up.  The long sun-soaked day caught up with me and I headed back to the room, looking forward to being back to Great Stirrup Cay tomorrow.which means we'll try and get moving early (for us) again.  We're also looking forward to trying breakfast in Cagney's, which we were kindly invited to try out, as I think it's generally reserved for suite guests.
It will be our first time at Great Stirrup Cay in a decade - despite the fact I've been there scores of times over my life.  It should be exciting to see what things look like now, compare to the way things were, and try and spy some of the improvements that a little bird told us are in the works.
Stray Observations
This may only matter for another two months, as Sky currently includes alcoholic drinks with all fares, but that ends in September, but I've found myself tipping out much more cash this weekend than other sailings.  Why?  On other cruises we often find it easy to add some additional gratuity to drink receipts (even when we have a drink package - just ask).  What helps, is that there is a machine in the casino to quickly make change.  Put in a $20 note and get four $5 notes.  Put in a $5 note and get five singles.  Handy!
The beds on Sky are really comfortable.  Candidly, we find Royal Caribbean's beds to be entirely too firm (as the mattress is only a couple inches thick), and we've slept well on the beds on Sky.  It's a bit of a surprise we've made it out of bed so early.  
Norwegian Sky - Embarkation Day
Norwegian Sky - Key West
Norwegian Sky - Great Stirrup Cay (plus, Great Stirrup Cay: Then and Now)