Author: Bill October 30, 2020, Updated: November 2, 2020
One of the most anticipated ships of the last several years was Celebrity Edge.  Edge class ships offer a totally different style, set of features, and overall feel than anything we've seen before, and we're big fans.  Often though, we're just as excited about the second ship in a class as we are the first, as until the ship has guests onboard, it's hard to know what works and what needs adjusting.  While guests haven't sailed yet on Apex just yet, we can already see some things that are different from her sister ship - though we're likely to see bigger changes on Celebrity Beyond, the third ship in the class, since Apex was already being built when Edge welcomed her first guests.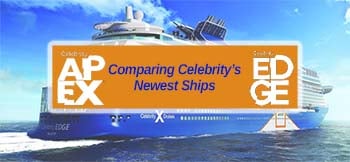 We've poured over deck plans and other documents, and have some inside tips on what's new when comparing Celerity Edge and Celebrity Apex.  Let's go deck by deck to identify changes we know as of late October 2020.  We're sure we'll find many other changes once onboard - from furniture to stateroom features - so at the end, we'll talk about some things that we know aren't changing.
Differences on Deck 3

iLounge Replaces the Shore Excursions Desk
Midship, across from Guest Services, on Edge you'll find the Shore Excursions desk, where in addition to helpful staff, there are iPads that allow you to explore and book excursions, and even print your tickets on the spot.  On Apex though, this ShoreEx desk has been replaced by the iLounge, an area where guests can purchase Apple products and other gadgets, and get help with the Celebrity app, Xcerlerate onboard internet, and more.  This change makes a lot of sense, as while most guests are able to use the onboard tech without a problem, when there are questions, it's sometimes hard to know whether to go to Guest Services, or the tech folks at the iLounge .  For example, when we had trouble unlocking our door with the Celebrity App, we went to the iLounge only to have them send us to Guest Services.  Now the two are right across from one another, and the iLounge will have more space than it did before. 
The Grand Plaza Cafe Was a Thing?
The Grand Plaza is the heart of Edge, a multi-story atrium surrounded by bars, Cafe al Bacio (Celebrity's coffee shop), and more.  One thing that never really took off here however, was the Grand Plaza Cafe - a small coffee bar forward and to the port side of the the Martini Bar.  On all of our Edge sailings, I don't think we ever saw this area in use - perhaps it's just too out of sight, and close enough to Cafe al Bacio that it wasn't compelling to guests.  Because The Martini Bar isn't very large, we thought they might enclose this and make it a service bar, but on our November sailing we saw them using the Casino Bar in this way, so continuing with that means they can offer a bit more seating in place of the never-used Grand Plaza Cafe.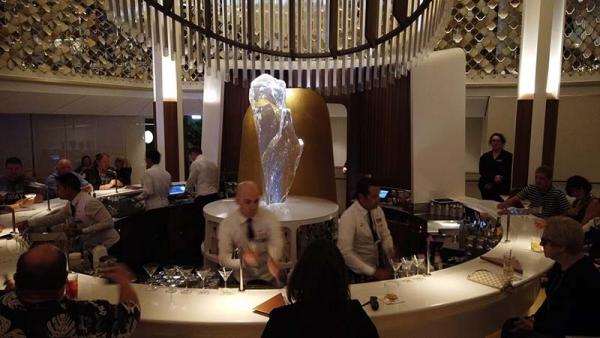 Differences on Deck 4

Photo Gallery and Shore Excursion Shuffle
As noted above, the iLounge is moving into where the Shore Excursion desk was on deck 3, so on deck four, where Edge has the iLounge desk, on Apex you'll instead find the Photo Gallery.  The Photo Gallery on Edge was right next to this spot - so on Apex they've just switched sides.
Future Cruise, Past Wall 
Across from the Shore Excursion area on Apex is the Future Cruise Desk.  On Edge there is a knee-wall across about half of this space (starting at the aft-end), but it doesn't appear to be on the deck plans for Apex.  We booked several trips here last year, and hope to do so again.  Remember, if you use a great travel agent, you can book onboard and enjoy special perks, while still take advantage of the service and incentives your travel agent offers.  
Read more about booking directly vs using a travel agent - or get a quote today!
A Casino Bar By Any Other Name
Celebrity's casinos are non-smoking, and the Casino Bar on Edge is actually off to the side of the casino on the Grand Plaza.  This means you can wander into this bar quite easily without noticing the casino is right there.  There are TVs and several seating arrangements in this bar that often has a better scotch selection than others.  On Apex you can expect a similar layout, but with a new menu and name: Craft Social.  This venue, which features craft beer and comfort food, isn't new for Celebrity - you can also find Craft Socia on Celebrity Equinox.  We enjoyed the space on Equinox, though we should note on Apex it will be much smaller.  Either way it should be nice to have a better themed space in such a prime location.
Check out our Equinox Live Blog from September 2019, when we delivered emergency supplies to the Bahamas after Hurricane Dorian.
Differences on Deck 5

Same Eden, Different Show
As a space, it looks like Eden will remain mostly unchanged on Apex.  The deck plans show some minor changes to the planned furniture arrangement, but the only structural change we spied is some sort of step or enclosure near the A/V booth, which is port side just forward of the door to the outside area.  This could also be nothing, or just a slight grade change, as enclosing this would cut off that access route to the outdoors, but the door is still there.
One thing we were hoping for (but not expecting), was a tweak to the bar area to allow for the Library of Plants that was originally planned, where bartenders would snip fresh herbs from plants above the bar.  Staff there told us it just ended up being impractical given the space needed for a ladder.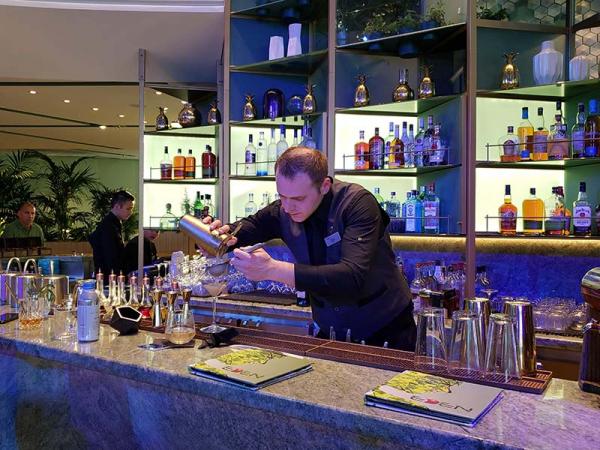 We do have the scoop on some entertainment changes in Eden but we can't give too much away because we were sworn to secrecy, also because given the past nine months we're not sure if any plans have changed.  On Edge, Eden features various live music acts as well as a production called Revelation - a wildly unique show we've raved about in the past, which features contortionists, acrobats, live music, and a surreal score and all around neat performance.  On Apex we can expect a cast that performs shows which vary in theme depending on the evening in a way that could be especially enticing for those on back-to-back sailings (again, we can't say too much here - but given Celebrity Entertainment's past excecution, we're exciting).  There will be shows about various cultures, and each sailing will celebrate New Year's Eve (sponsored by Pleasure Island...not really).  We'll leave it at that and look forward to seeing it for ourselves. 
Finally, near the entrance to Eden is a new sculpture, "Green Girl".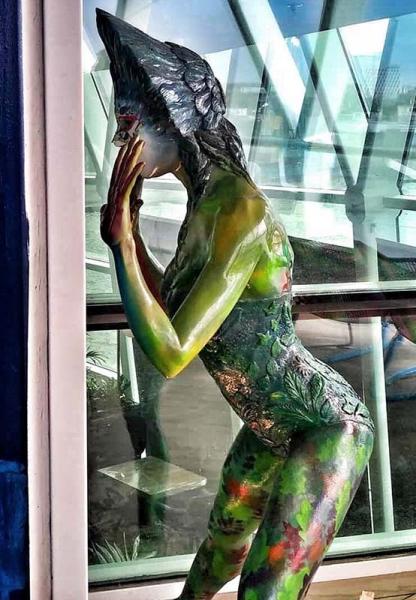 Outside of Eden: Fancy Shopping & Suite Eats
Forward of Eden on the port side is a high-end shop and then Blu just past that on the starboard side.  Blu is a dining venue just for those in Aqua Class suites, and it appears to be the same on Edge and Apex, though the wall separating Blu from the the common area may be a bit different.  While we've not yet seen photos, on Edge it's a semi-transparent curtain of sorts, but the deck plans make it seem potentially different on Apex.
The adjacent shop is, on Edge, a Tiffany's.  You'll still have the option of signing an awfully pricey receipt in this spot on Apex, but you might be using a fancier pen to do so.  Celebrity has said that there will be a Montblanc shop on Apex, and we suspect this is where it might be located - but that's speculative.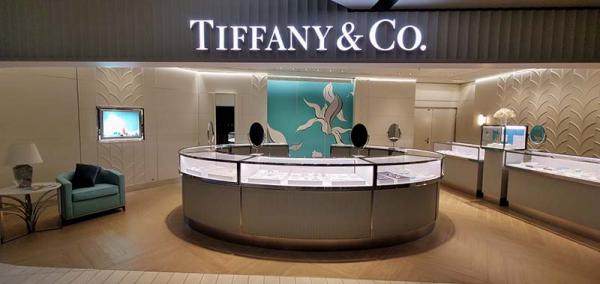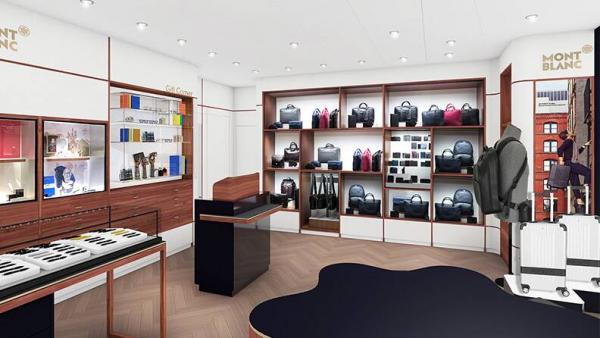 Raw on Five
Raw on Five is a raw bar and sushi restaurant, similar to Sushi on Five on other Celebrity ships, but with a larger menu.  This appears unchanged on Apex except for what may be a different entrance to the outside area - at least we think that's what it is (see deck plan above and tell us what you think is there). 
Shuffling Chairs in Fine Cut
Fine Cut is a specialty steakhouse opposite Raw on Five.  This appears to be the same on Apex but with some seating changes.  There is outside seating here, and it's gorgeous, but isn't used often as some guests find the area too windy.  We'll see if there are any modifications to the wind shields in this area.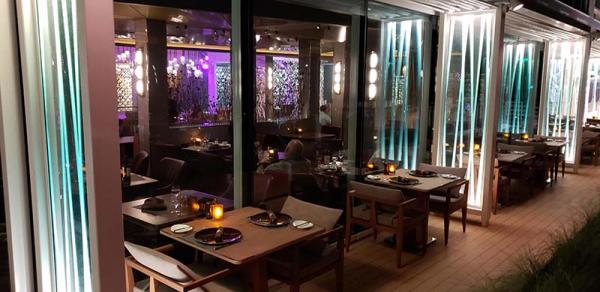 Deck 14

Slight Solarium Shifts
The Solariums on Edge and Apex are both fully enclosed pool areas with a small healthy cafe, comfy loungers, a transparent roof, and floor to ceiling windows.  On Edge there is just one hot tub off to the side in the forward section.  Apex instead features two slightly-smaller hot tubs that are all the way aft.  It looks like this allowed Celebrity to expand the section within the knee wall (which isn't even present on the Edge deck plans - but it's there), while improving the general flow for those just passing through.  There is another line around this space on the Apex deck plan, and makes me wonder if the floor is in some way raised around the center, but it's not clear.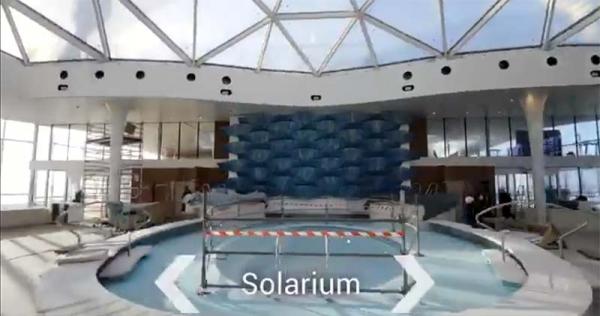 New Resort Deck Art
The Resort Deck (where the pool is) on Edge is spectacular, and the design is generally the same on Apex.  What is different though is that on Edge there is a massive set of butterfly wings called "Dream Machine", by Brazilian artist Rubem Robierb.  It pays tribute to Dandara, a transgender woman who was murdered in Forteleza, Brazil in 2017.  On Apex there is a statue of two hands forming a heart.  We've not yet been able to identify the name or artist (but we've got some feelers out there - so we're working on it).  Additionally on Edge, the walls in that area are adourned with, "love" in cursvie, whereas Apex features funky and colorful flowers.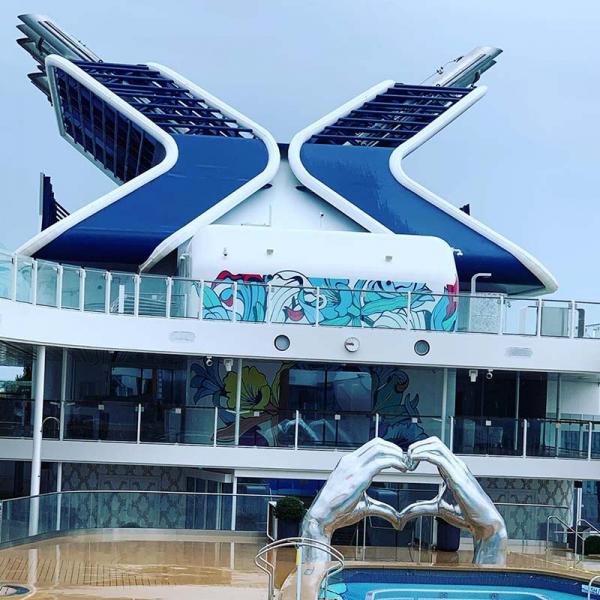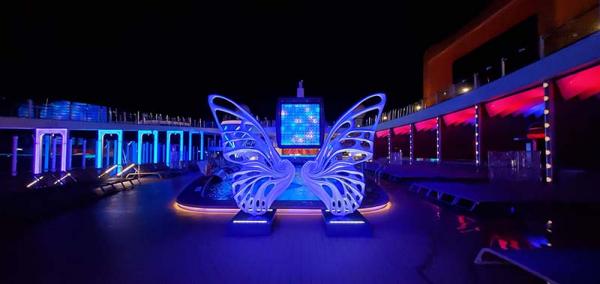 There is other art to be enjoyed around Apex that is different from Edge, such as The Face, just outside Ocean View Cafe, and The Body of Knowledge, at the Rooftop Garden, in place of the horse on Edge.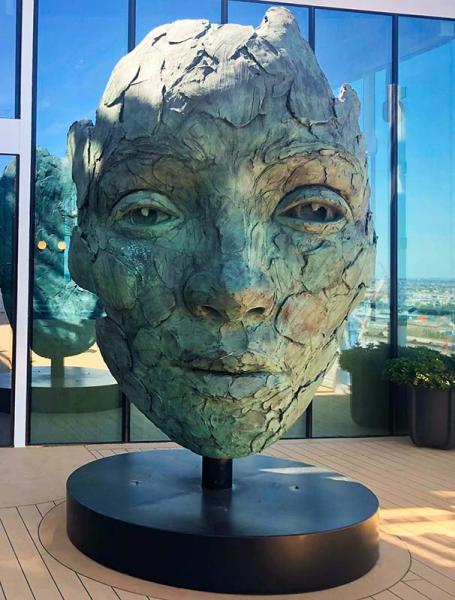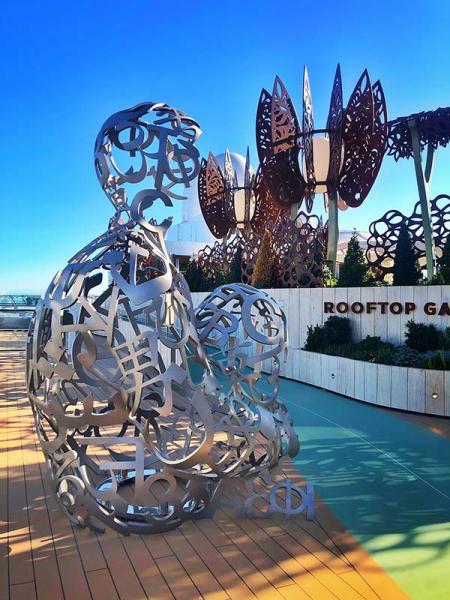 Deck 15

The Gym Lost a Little Weight
Like on many ships, Edge class vessels combine the gym and spa areas.  There are two rooms referred to as "Motion Studios" on the starboard side of the main workout area, and these are used for health lectures, small group classes, and other events where a separate space may be needed.  The arrangement of these has been flipped slightly (front to back rather than side to side), which takes a way just a bit from the gym space.  I don't suspect this will be an issue as I spent a fair amount of time there and while popular, it never felt crowded.  In the photo below there are several treadmills to the right of me as I look out the forward windows of the gym, but on Apex the area to the right of this will likely be occupied by the Motion Rooms.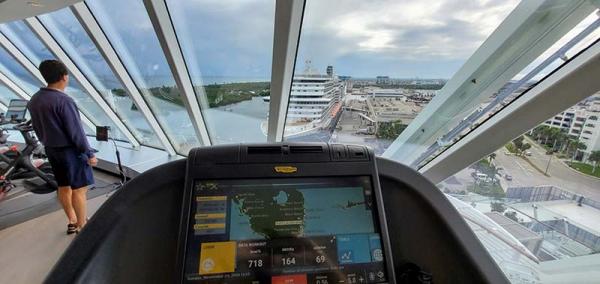 Sunset Bar & Magic Carpet Lose Water Effects
When Edge set sail, bartenders at the open-air Sunset Bar (all the way aft) and Magic Carpet (the patio of sorts that cantilevers above the sea off the starboard side of the ship) didn't know that they'd be treated to a cool down when it rained, but this is an example of how the best computer modeling, miniatures builds, and other tools used during planning and design can still miss deficiencies.  We watched a number of bartenders get doused in this way in both spots, and we've heard that there are some minor modifications that should help reduce this problem.  While it doesn't directly improve the guest experience onboard, improvements to crew comfort are always welcome.
What's Not Changing from Edge to Apex
Number of Staterooms
Both Apex and Edge have 1,467 staterooms.  The way they're being counted seems to have changed though.  Double occupancy capacity is the number of guests onboard if each stateroom has two people in them, and for Apex, this is listed as 2910, compared to 2918 for Edge.  Either the numbers from Celebrity are wrong (which we doubt, we've seen them printed in a few places), or they're counting occupancy slightly differently.  For example, we'd count a two bedroom suite as having two people if you told us it was double occupancy, but perhaps on Edge they counted by bedroom rather than stateroom.  In fact, we did notice on the deck plans that there are four suites (12101, 12100, 12106, 12110) that on Apex are noted as having a 5+ capacity, where this isn't noted on Edge - but this may just be a matter of how they've annoted things.  Either way, there are no major changes (if any at all).
Infinite Verandahs
Edge was the first ocean-going vessel to feature staterooms with floor to ceiling windows, where the top section rolls down.  This allows for great views and adds interior space while the window is up, but makes it easy to enjoy fresh air and lean on the edge to take in the outside at the press of a button.  If you like lounging on your balcony, these aren't for you (there are standard balconies available on Edge and Apex) - but we LOVE them.  There don't seem to be any material changes to the way this works on Apex, and we're fine with that.  On Edge however, sometime between her second and 11th month of service, they did frost the dividers that separate the Infinite Verandah area from the rest of the room, so we'd expect the same on Apex.  
You can see a video explaining the Infinite Verandahs here.
Is a balcony worth it?  Click for help identifying the right stateroom type for your next cruise.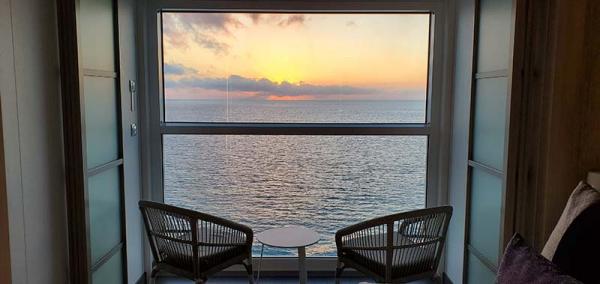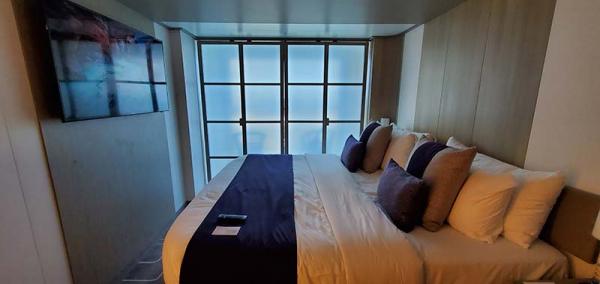 The Martini Bar
Despite many guests expressing disappointment in its size on Edge, the Martini Bar itself hasn't changed.  While it is smaller than the Martini Bar on other Celebrity there is ample seating because of its central location in the Grand Plaza.  This design remains on Apex, as I suspect it would have been too great a change to make, at least given that the ship was already under construction when Celebrity learned how popular the bar became on Edge.  Our tip here: remember there are many friendly wait staff walking around the Grand Plaza (especially at peak times) that will take your order and bring you a drink.  Because they're getting assistance from other bars (the Casino Bar on Edge, or Craft Social on Apex), you won't likely have to wait, no matter how busy the Martini Bar's bartenders are.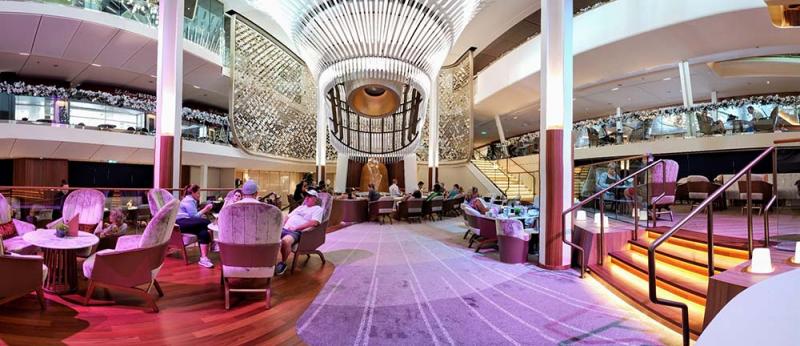 We Can't Wait to Update This
Above are some of the differences between Edge and Apex that we've found as of late October 2020.  Of course, once guests are able to sail on Apex, we're sure to learn even more.  Some differences may not be exciting, but still things we've been looking for, like what flooring they use for stairs in the Grand Plaza (on Edge this was easily scratched), or whether they'll upholster the Martini Bar chairs differently so guests don't slide off of them so easily (or maybe that's just a result of the martinis themselves). 
No matter what we find, we'll be excited to jump on Apex soon and check it out for ourselves.  In fact, we're feeling so dedicated we may just have to do it multiple times.  It's a tough job, but someone's gotta do it.
Looking for more information on Edge?  We've got lots of content here - including live blogs, photos, videos, and more.