Author: bill June 27, 2017, Updated: September 1, 2021
Today in New York Celebrity Cruises revealed impressive new details about their upcoming flag ship, the Celebrity Edge.  Presented was a new venue, Eden.  Located at the aft of the ship and larger than the Hayden Planetarium, is a lounge, dinner theater, and more, featuring 7,000 sq ft of glass windows - more than any other room at sea, live plants and herbs, and truly inspired design.
Eden is designed to exemplify the outward facing design of the Edge class ships - something made apparent in not only Edge's Magic Carpet venue, but even her tenders.  Eden's massive windows wrap around this 368,640 cubic ft space, which occupies more area than the Van Gogh Museum atrium in Amsterdam.    Scott Butler, of Wilson Butler architects, designer Patricia Urquiola, and Variety Worldwide all came together with Celebrity to design a space that puts guests at the center of the experience awaiting them in Eden.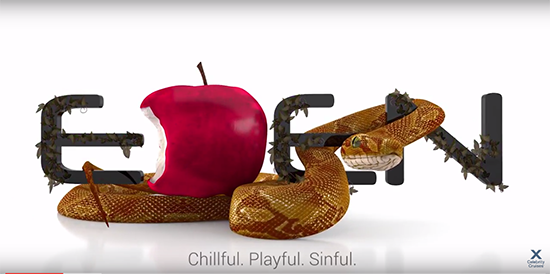 "Eden, like so many aspects of Celebrity Edge, represents a unique advance in cruise ship design," said Richard D. Fain, Chairman and CEO, Royal Caribbean Cruises Ltd. "It's an experience that's multi-faceted and innovative. Connectivity to the ocean is one of the most exciting hallmarks of Edge Class, and with more glass than any other room at sea, Eden embodies that outward-facing concept beautifully."
"Our search for partners who are as passionate about world-class design as Celebrity led us to the incredibly talented Scott Butler and designer extraordinaire Patricia Urquiola, who offered a fresh perspective and keen eye," said Lisa Lutoff-Perlo, President and CEO, Celebrity Cruises. "The entire space is magical throughout morning, afternoon, and evening when our guests will experience Eve at Eden, an experience produced by the visionary Variety Worldwide and our very own Cornelius Gallagher. They have all created something magical and magnificent."​
Eden: Chillful. Playful. Sinful.
While Eden was designed with the help of Variety Worldwide, known for blending unconventional theater and dining experiences, this venue comes to life long before dinner time.  In the morning guests will find a "chillful escape" for a light breakfast with a favorite book at Eden Cafe, or maybe yoga with an awe-inspiring backdrop of the ocean.  As the day warms up so does the mood, hosting enrichment seminars and tastings, as well as performances ranging from sitar players to aerialists.  In the evening, in addition to what we can only imagine will be amazing sunsets depending on the direction of travel, you'll find "Eve at Eden", a "sinfulfusion" of performance art, culinary exploration, and nightlife at Eden Restaurant.  "Edenists" as they'll be called, will entertain as you're served experimental culinary temptations, clearly designed for not only pleasing the pallet, but to be experiences themselves.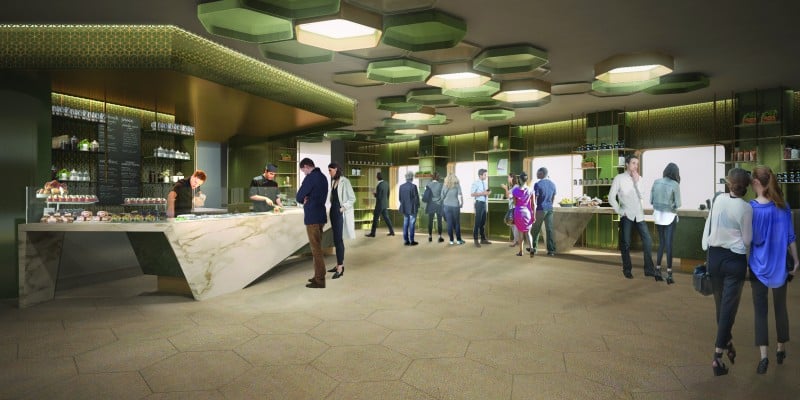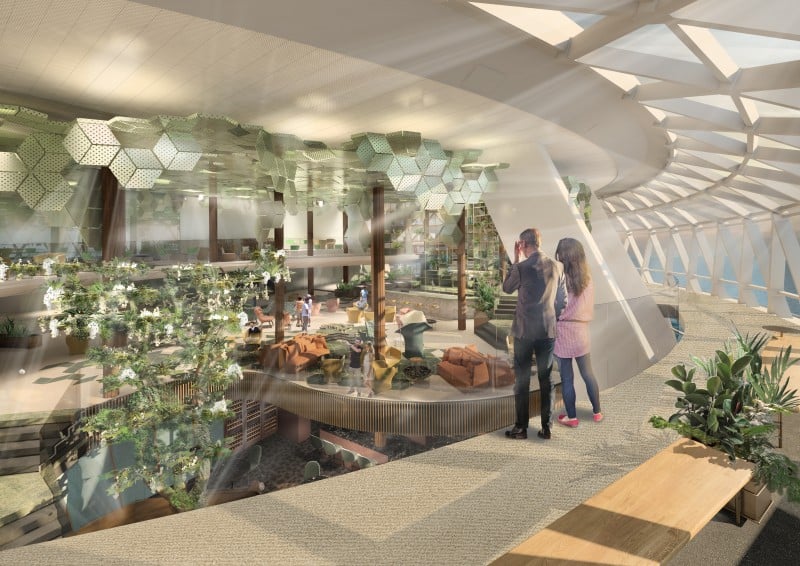 After dinner, guests will receive "sensory cues" to guide them back upstairs past the Tree of Life, a living tree installation which has been heralded on Solstice Class ships.  Once upstairs guests will find the Library of Plants, which towers 18 feet above the Eden Bar, allowing mixologists to pick the freshest ingredients and garnishes for artisanal cocktails...presumably after a short ladder-climb.  
"When people think of traditional cruise ship entertainment, there's a very specific image that people have in mind, but the exciting thing about Eden is we've actually been invited to break so many of those rules," said David Ley, Director, Variety Worldwide.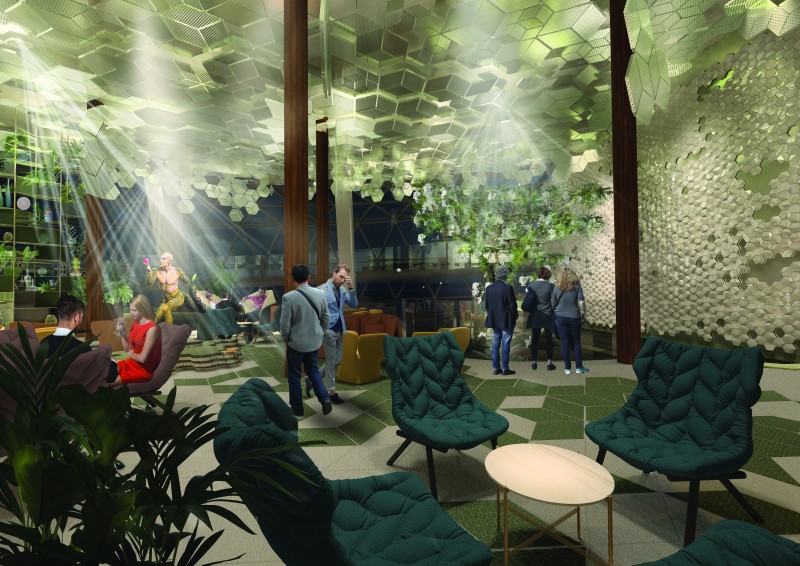 Eden's Inspired Design
Designer Scott Butler was inspired by the Fibonacci sequence, seen in the bloom of a rose or spiral of a shell.  This shape has been brought to life in the layout and architecture of the space, meant for guests to explore as they stroll down Eden's 90-meter ramp as they discover the secrets of the venue.
"When creating Eden, my goal was to create a connection to the sea in a space that will stir imaginations and leave lasting memories of the travel experience," said Scott Butler, AIA, Founding Partner, Wilson Butler Architects.
Several of Eden's features, including the Library of Plants and hanging plant pillars, were designed by Patricia Urquiola, who's first foray into ocean-bound design starts with Celebrity Edge.  Her signature furniture is also used throughout Eden.  
"In working on Eden with Celebrity, I wanted to design a dynamic environment that changes from morning to night, so guests experience something new every time they visit," Patricia Urquiola, Designer, Architect, Founder of Studio Urquiola.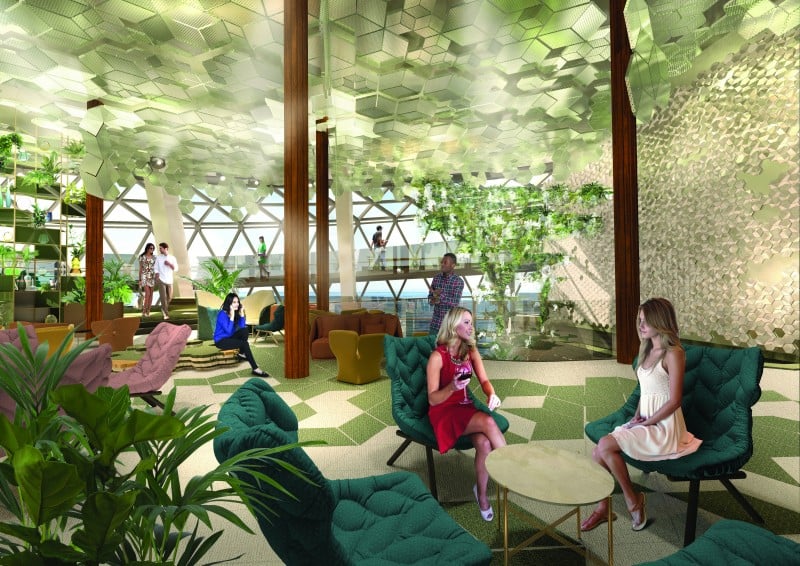 Billy's Take
There's been much hype around the Celebrity Edge, which is always risky, but so far they've yet to disappoint.  I've written about how outward facing design of Edge and other new ships is something important to me, and Eden delivers with it's massive windows.  That, along with a conventional multipurpose venue, or even a copy of Quantum Class' Two70 from Celebrity's sister line, could have been enough when paired with the modern yet understated design that Celebrity is famous for.  Eden seems to go so much further, continuing not only the tradition of brining nature to the ship as they've done in the past with the trees or the Lawn Club on Solstice Class ships while also giving us insight to the entertainment and mood that we can expect on Edge.  I'd understand those who think some of the "out there" performance styles could be different for the sake of being different, but Celebrity has done an impressive job with their adult productions such as Elyria, and having several years of that experience under their belts, I'm hopeful that this style of entertainment will only be plussed by this new space. 
What doesn't seem clear is how physically some of this will work, how this beautiful but unconventional layout will allow for performances.  Will certain elements (or furniture) move?  Will much of the performances be from above?  We're excited to find out.  I'm also interested to know if this open space will allow for multiple events or uses at once.  The dinner for example would seem to almost certainly be something carrying an additional charge, but will guests be able to enjoy the show from the Eden Bar so long as there is space?  Lastly (well, for now,  as we're still taking all of this in), I'm wondering if there will be a way cover the windows (perhaps an LCD film?) for sailings in Norther Europe or Alaska, when her sister ships are sure to experience long and sunny days, seemingly incompatible with the mysterious feel of the evening spectaculars.
While there are questions, it's safe to say we've drank the Kool-Aid and are looking very forward to checking this venue out when we sail in the very beginning of 2019 and appreciate that Celebrity continuous to push the envelope with the Edge.
What do you think about Eden?  Does it impress you or is it a bit "out there" for your taste?  Let us know in the comments or reach out on Facebook or Twitter.