Author: bill June 30, 2021, Updated: July 1, 2021
On June 26 Celebrity Edge became the first cruise ship to sail from the US in over 15 months.  We've been on board four days now, and as a cruise blogger, I keep getting asked about restrictions.  This makes sense, as myself and every other traveler with a keyboard has been trying to predict the future for a year – and we were all wrong.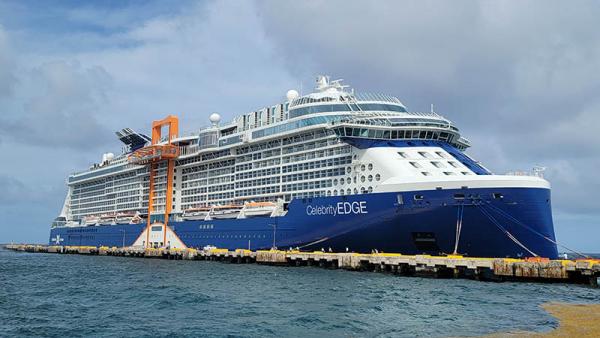 An Ounce of Prevention
Cruises have been sailing from Europe and Asia for almost a year. They operate with many layers of protection to offset the lack of vaccines (especially at the beginning).  This means masks, social distancing, frequent testing, and limited services.  That's been successful in allowing around a half-million cruisers to enjoy vacations with no significant onboard community spread. 
Because cruising in North America is getting started when many Americans are fully vaccinated, many of these restrictions are unnecessary based on the latest science.  In both scenarios prevention is the key, but walking around vaccinated is a preventative measure that is more comfortable than many of the things European cruisers have had to contend with.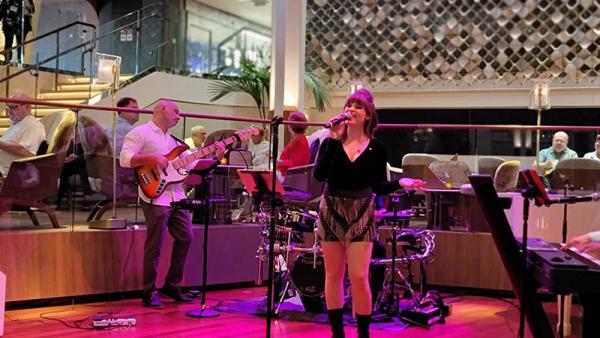 On Celebrity Edge, all crew members are fully vaccinated, and all but a handful of guests have been fully vaccinated as well.  For cruises out of Florida, guests on Celebrity Cruises and Royal Caribbean International (a sister-brand) aren't required to show proof of vaccination, but guests 16 years and older that opt to sail without showing this proof will have a different experience.  They'll need masks, insurance policies, and will be restricted to where they can go – both on and off the ship.  Cruise lines are happy to sail with highly vaccinated populations, as it reduces the odds the cruise will be disrupted, and of course helps keep guests safe and healthy.
Some Prevention You Can't See
In addition to vaccines, there are many things at play onboard that guests can't see – but the cruise lines work hard to keep going.  That includes completely re-worked ventilation systems to completely cycle all the air in public spaces every few minutes, and use hospital-grade technology to filter air between spaces.  There is also contact tracing using various location technologies and even the ship's security infrastructure.  Finally, the crew is working really hard to keep things cleaner than ever – and past cruisers know that it was hard to imagine a space cleaner than a cruise ship, even before the pandemic.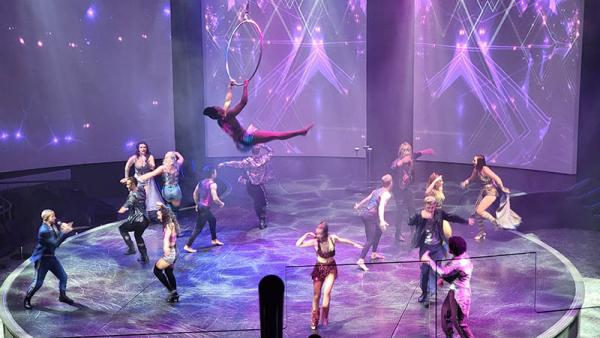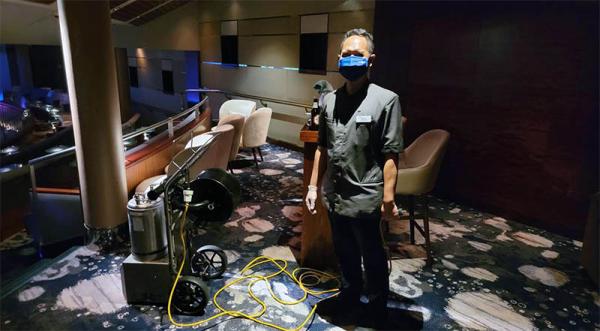 What It's Like Onboard
If I somehow slept through the last 15 months and woke up on Celebrity Edge this week, there is probably only one thing I'd have noticed right away that would have clued me in to something being different: crew members wearing masks.  There are other changes of course, but for the most part the impact of these changes to the guest experience has been minimal, and in some cases, positive.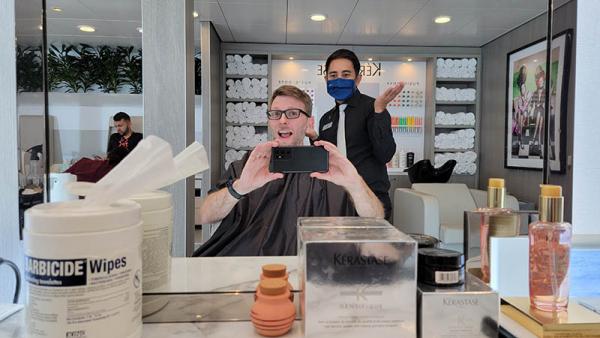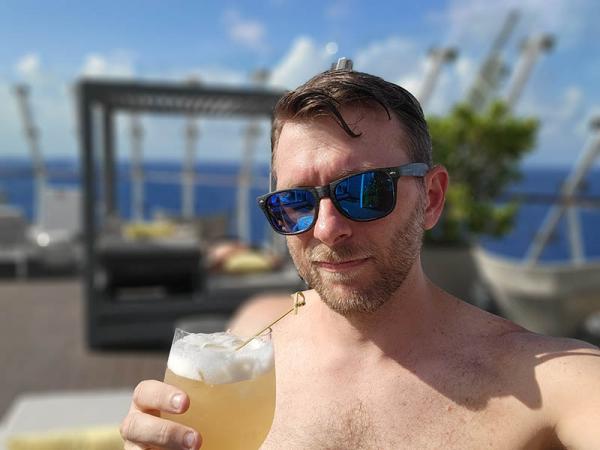 I can still stroll about the ship, enjoy a drink, take in some great live music, fall asleep on a lounger, or donate money to the onboard casino.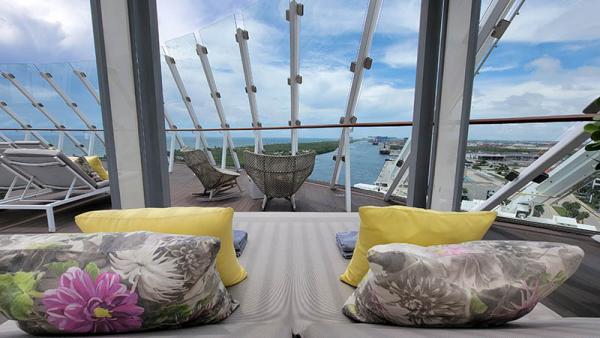 Social distancing signs are present, but distancing isn't required or enforced in any way.  Oceanview Café, the onboard buffet restaurant, is open as normal, but with crew plating food for guests – a welcome change that we understand will be permanent on Celebrity Cruises.  The gym, spa, theater, and pools are all operating just as they have been.  There's not been a need to make reservations for any of these activities like we thought might be the case.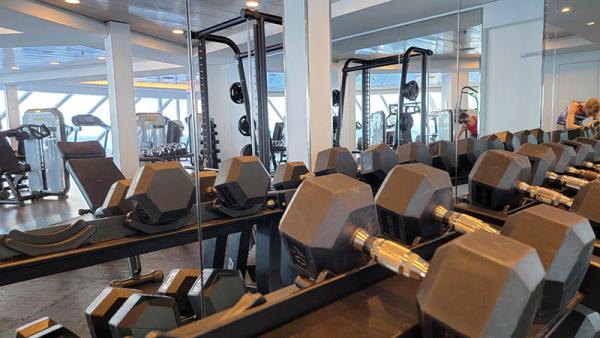 On day one, the emergency muster drill has changed dramatically in that you complete part of the process on your phone and then check in at your leisure before departure, rather than everyone rushing to the same place at once.  This is another positive change that is sticking around for good.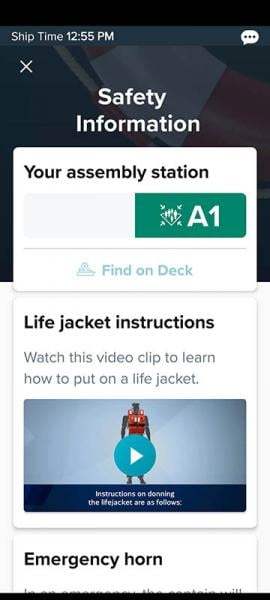 Ship and Shore May be Different Worlds
Getting off the ship, in some cases is a bit different.  Initially Celebrity Cruises said that you'd be able to freely disembark as long as the country you're visiting was okay with this.  At the last minute they did apply some restrictions to stops in Mexico which required guests take tours from the cruise line, and they allowed some other arrangements to be as flexible as possible.  Similarly, when we visited Barbados a few weeks ago on Celebrity Millennium (which sailed from St Maarten), Barbados required guests stay with cruise line excursions, while our other ports of call allowed us to visit as normal.
No matter where or how you disembark, you'll need to follow the local guidelines around masks, distancing, etc.  It's easy to forget, while onboard, that COVID is still a factor.  For many destinations though, especially since you'll be enjoying outdoor experiences, the experiences ashore are lovely and I don't suspect many will find the local guidelines too hard to follow.
Be Flexible - Experiences Varies by Ship, Sailing, and Day
As I write this, we're docked in Cozumel, Mexico, right across from Adventure of the Seas.  Adventure is operated by the same parent company as Celebrity, but the experience on that ship is a bit different.  Because they attract more families with younger kids (who are less likely to be vaccinated), they have mask requirements for guests, have to make reservations for certain venues, along with other restrictions.  Those restrictions don't seem to bother those happy to be back at sea though.  We chatted with some friends on Edge who sailed on Adventure just recently, and they said they really felt like their Adventure cruise was pretty normal until they boarded Edge.
Even if you're looking to cruise on the same ship though, things can and will change.  The rules and laws in different ports, changes to CDC guidance, and best practices will continue to evolve quickly.  Just a few days before we sailed on Celebrity Millennium recently, Barbados informed the cruise line guests would need a recent COVID test.  The itinerary on our cruise next week changed (visiting Nassau instead of San Juan).  If you're just a little bit flexible though, these changes shouldn't be too bothersome – but they are a really important reason to use a good travel agent.  Trust me.  With so many changes lately, even I have trouble keeping track, but my travel agent lives and breathes this.  We often harp on booking with a travel advisor, and if you want a free consultation from the same people that make our vacations fantastic and care-free, just fill out this form.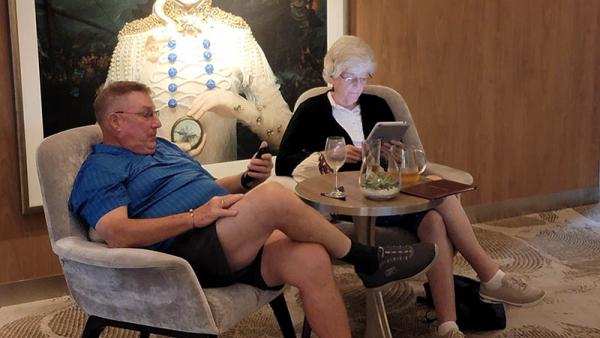 Cruising Is Better Than Ever
In the past months some cruisers have said to me that they'll wait a while after cruising returns before they sail again, so the restrictions are less onerous and the kinds worked out.  Each time I thought, "that makes perfect sense", but of course I needed to be on right away (for research, just for research of course).  I can say confidently that if you're fully vaccinated, cruising is better than ever.  Why?  Occupancy and the happiest crews ever.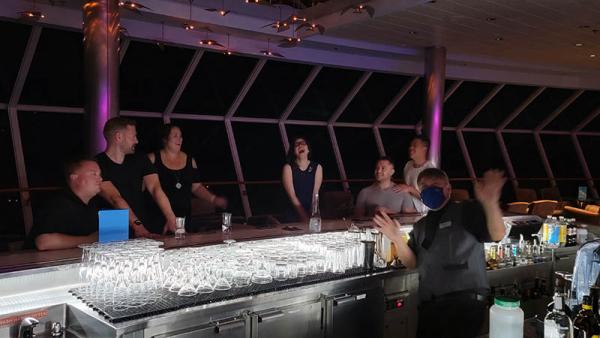 On this Celebrity Edge cruise, occupancy is limited to about 40% (and will be 95%+ vaccinated for the foreseeable future).  Next week we expect the occupancy to be a bit closer to half.  The crew though?  They're all here, just about 100% of them.  This means the already great service we expect from Celebrity is all the better, with great passenger to crew ratios.  If you like trivia, that lower guest count also means you'll have less of a chance of competing against a Rhodes Scholar and missing out on bragging rights at dinner.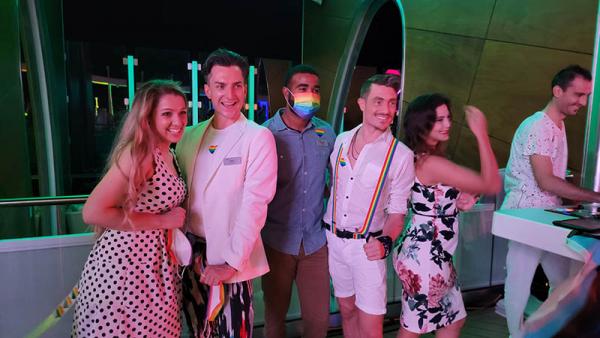 The other factor: happy crew, staff, and officers, is very real.  It seems a convenient marketing tool for cruise lines to talk about how happy their folks onboard are to be able to have guests back.  Not only did I experience amazing service a few weeks ago, but any doubts were dashed on this cruise on embarkation day.  I was enjoying a casual chat with a restaurant manager about being back, and he began to cry, speaking about how glad he was not just to be back to work (he'd been back onboard and being paid for some time), but to be back with guests.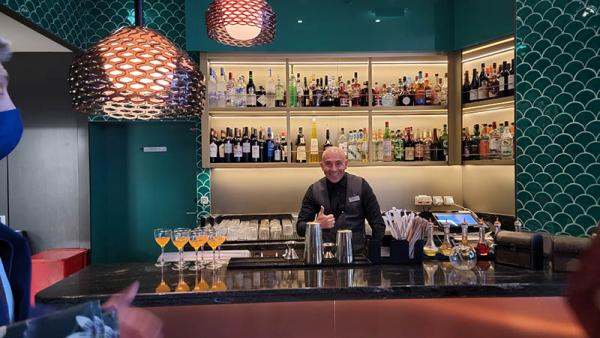 Cruising right now isn't a compromise, it's a welcome vacation – not just because it's a cruise, but the safety measures cruise lines have put in place offer a vacation from the struggles of the past year.  On this cruise, Richard Fain, CEO and Chair of Royal Caribbean Group, pointed out that the guest satisfaction scores for the first cruises back on Celebrity Millennium were the highest in the history of the brand.  Is that part because people are thrilled to be out of the house and safely socializing?  Probably.  Is part of that because of the absolutely outstanding experiences they're working hard to offer?  I'm sure of it – I've been testing their service for eleven nights so far, with more ahead.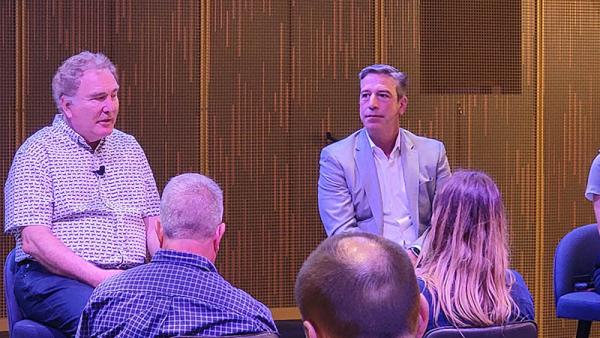 See More and Ask Questions
We've shared some of the onboard experience and answered your questions social media during these first Caribbean cruises, and we're happy to keep doing so.  Please make be sure to follow us on Facebook, Twitter, and Instagram, and subscribe to our YouTube channel!  We do live broadcasts from ships and ports of call, answering your questions, and having a great time sharing - so come say hi!  If you want to ask us in person, then come join us on a future cruise – we even have a group cruise on Celebrity Apex, sister ship to Edge, coming up in January of 2022, with exclusive rates, special events, and more.