Author: bill March 27, 2019, Updated: March 27, 2019
Virgin Voyages has been teasing out the many things that will set them apart from traditional cruise lines and their latest announcement is no different (though it's not quite tattoo parlor on a ship different).  Today they've announced that their first ship, Scarlet Lady, will feature an onboard record shop called Virgin Vinyl, a private gaming and karaoke lounge called The Groupie, and curated music and performances by up-and-comers as well as industry trendsetters.
Virgin Voyages' Residency Program
Sailors (Virgin's term for cruisers) will enjoy feature performances while onboard, in-port, and at the Te Beach Club at Bimini, the lines private oasis in the Bahamas.  Recently some of the first performers were announced, including Grammy and Oscar-winning DJ, songwriter and record producer, Mark Ronson, who will play four shows at The Beach Club in Bimini in 2020.  Now the company has announced additional performers to their "residency" including the multi-platinum artist,  DJ, producer/ remixer,  MK (Marc Kinchen), as well as the Grammy-nominated electronic music duo Sofi Tukker, known for their smash-hit Best Friend.  
Setting the Tone Onboard
The Virgin brands roots are in Virgin Records, and the tradition continues as Virgin Voyages' will bring unique energy to different spaces on Scarlet Lady, the lines adults-only ship, debuting in 2020.  We'll leave it to Virgin Voyages to describe the music styling.
"The Virgin Voyages sonic identity will have a home in electronic music, but will also incorporate other music genres, ensuring that all Sailors will find a sound they love. The brand defines electronic, as not solely a traditional "EDM" sound, but will incorporate all electronically programed sounds, even those of more classic eras, and the early innovators of the sound from rare disco tracks, through to 80's sounds and other important periods of electronic sound. That means timeless classics from varying genres will be artfully blended with the new and rising artists."
To incorporate music into the brand's core, they've also announced the expansion of their Creative Collective from design, food and entertainment to now include music.  WhiteLabel Creative, a group of music industry insiders specializing in, "sensory branding and cultural programming for hospitality and lifestyle experiences" will develop the background sonic palettes across the Scarlet Lady, and secure DJs for The Beach Club at Bimini's residency program.
Voyage Vinyl - Record Shop at Sea
With the resurgence of appreciation for vinyl as music media, Voyage Vinyl will be the go-to spot for Sailors to experience music from all eras and genres.  Available for sale will be limited-edition curated albums and special editions of classics, plus music magazines, headphones, and record players available for purchase.  More than just a store, the venue will include personal listening stations where Sailors to enjoy their personal favorites.  Voyage Vinyl will also double as a performance spot for live sets mixed by Scarlet Lady's resident DJs.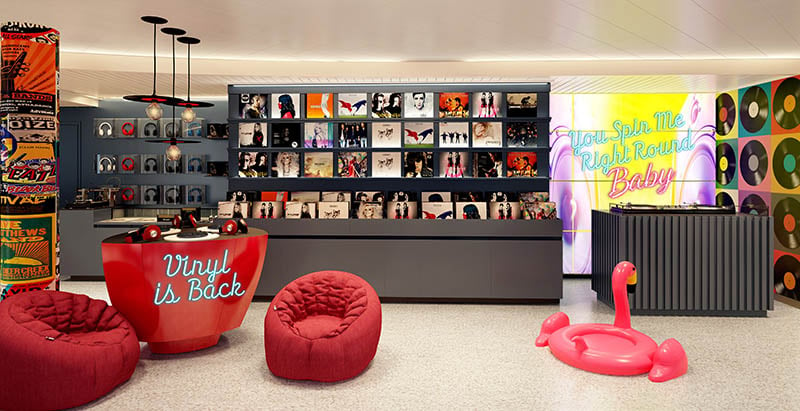 Taking Karaoke Out of the Lounge and into the Spotlight
Sailors can let loose at The Groupie, Virgin Voyages' bookable karaoke, gaming and movie lounge. Designed by Roman Coppola, The Groupie was designed as a modernist take on a Japanese-style karaoke room for Sailors to enjoy singing along to their favorite tunes with friends.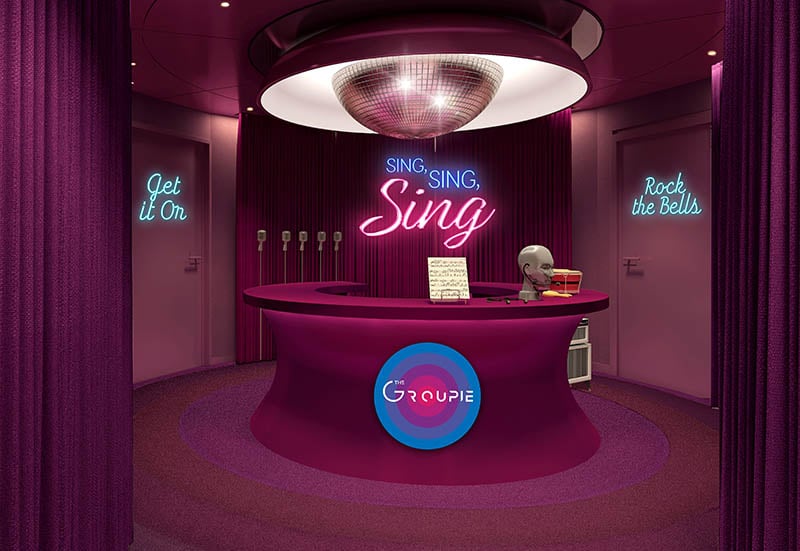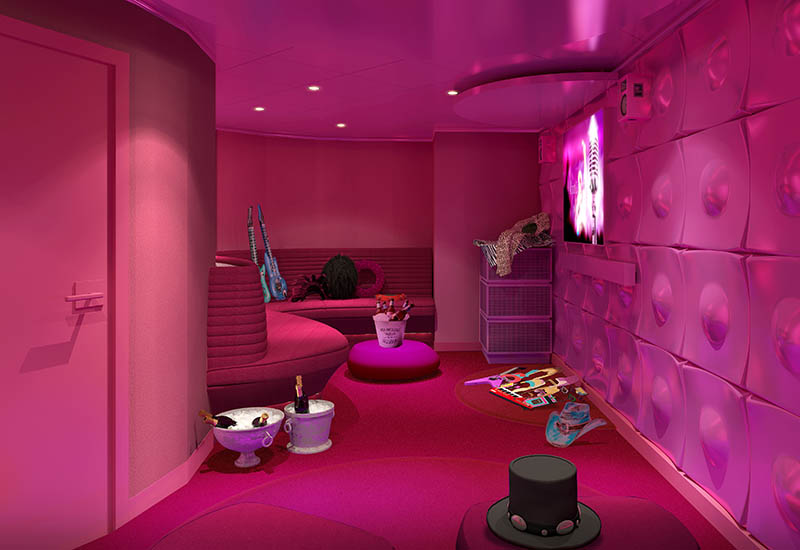 Celebrating Music Launch with Virgin Voyages
Virgin Voyages announced its music strategy in a panel discussion at Winter Music Conference and will partake in the local music scene by taking over a part of Gramps, 176 NW 24th St, Miami, in Wynwood for five days from 4-11 pm Tuesday, March 26 - Saturday, March 30.  Bargoers will have the opportunity to create their own art as a takeaway item at a vinyl spin art station. Virgin Voyages will also have an epic Instagram moment where visitors can hop on a giant turntable and insta their hearts away in a photo booth. Bargoers will receive a keychain to a special lockbox at Gramps, where they can try their luck to win special Virgin Voyages swag, vinyl record players, vintage records and more.
Want to know more about Virgin Voyages?  We talk about what we know so far on a recent episode of the CruiseHabit Podcast
Billy's Take
I do wonder if the prices that some big name DJ's command will be justified as the electronic music subculture is rather niche, without a disproportionate crossover to those the line is trying to lure onto it's ships.  In other words, while I'm sure the talented artists will be great at creating an atmosphere that will resonate well with Sailors, I don't suspect that Virgin will be a cruise line that suddenly gets electronic music fans to cruise in numbers that will justify the cost of these big name acts past an initial brand launch.
Virgin Voyages seems keen to not only separate itself from cruise lines, but also to embrace so much of what many associate with Virgin's other brands.  Embracing retro-stylings with high-technology isn't a new idea, but it's something that we've seen throughout multiple parts of the experiences that the line is crafting for it's Sailors.  This combination of branding and cultural resonance may help them offer up things that guests on cruise lines traditionally enjoy (like karaoke) while still managing to stand out as being unique.  Further, the entirety of the Virgin experience may lend to the formation of a new and relatively small but incredibly enthusiastic group of Virgin loyalist across the company's other brands.  Will we be among them?  We may just have to wait until our September 2020 sailing to find out.