Author: bill October 18, 2018, Updated: June 3, 2019
What do you enjoy while cruising?  Sipping a fruity drink, exploring new places, getting a tattoo?  The latter will soon be possible when Virgin Voyages' Scarlet Lady sets sail.
Make Your Cruise Memories Permanent
Virgin Voyages will, in an industry first, bring a tattoo parlor to sea with the introduction of Squid Ink, a partnership with artists from World Famous Tattoo Ink.
"Tattooing is a time-honored seafaring tradition, and we're continuing that legacy with rock and roll style by bringing some of the best ink artists to sea," said Tom McAlpin, president and chief executive officer for Virgin Voyages. "Our sailors are looking to make lifelong memories, and we think there's no better way to commemorate their first voyage with us than with a souvenir they'll never lose track of."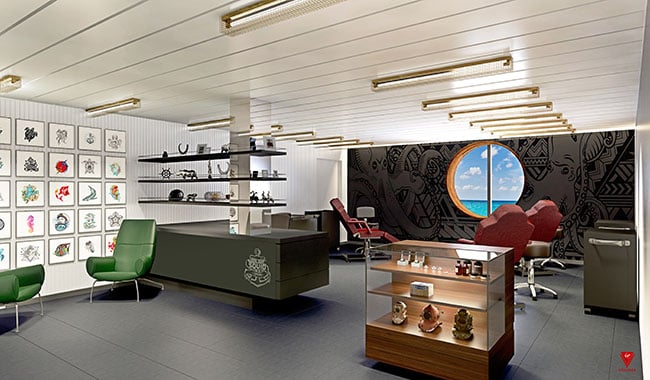 When Scarlet Lady sets sail in 2020, she'll have two full-time tattoo artists onboard, selected by industry expert Lou Rubino Jr, the man behind World Famous Tattoo Ink, Soho Ink, and Freshly Inked magazine.  Some sailings will also see guest-artists onboard, including celebrity artists.  Details are still being worked out, but so far Virgin Voyages has said that Sarah Miller, star of Spike TV's Ink Master, surrealist
specialist artist Arlo DiCristina and illustrative specialist Jime Litwalk have committed to guest artist appearances aboard the Scarlet Lady in her inaugural year.
"The World Famous Tattoo Ink family has been working with sailors, pirates and rock stars for more than 50 years," said Lou Rubino Jr., owner of World Famous Tattoo Ink. "As global acceptance of tattoos and body art continues to grow, partnering with Virgin Voyages gives us the unique opportunity to bring color to places people might have never thought possible before. We couldn't be more excited to leave our mark on the sea travel industry."
Of course, many reveals we've seen from Virgin Voyages focus on their design ethos, the "Modern Romance of Sailing," and tattooing is an excellent pairing.  Historically, tattooing in the western world comes from colonial sailors borrowing traditions from aboriginal tribes they met while exploring the South Pacific.  
All Squid Ink tattoos will be created with World Famous Tattoo Ink original vegan ink, which is recognized to exceed safety standards without the use of animal by-products or testing. In addition to tattoos, Squid Ink will also offer body piercings as well as permanent makeup treatments using vegan-friendly Perma Blend pigments.  The line will encourage its crew members to also express themselves through tattoos if they wish, and in a unique move for the cruise industry, the company has indicated that the hiring of shipboard candidates with visible tattoos is, "a-okay" with them.
In NYC This Weekend & Ready to Commit?
To celebrate the announcement, Virgin Voyages is teaming up with World Famous Ink and giving away 100 free nautical-inspired micro tattoos this Saturday, October 20, at Soho Ink in Manhattan, 285 Lafayette St, New York, NY 10012.  The first 100 participants who head to Soho Ink at 12 p.m. on October 20 will be able to choose one of 10 nautical inspired micro tattoos (you can see the designs here) to ink themselves with, and all who receive one of these tattoos will be entered to win a one in 100 chance to win a free Virgin voyage for two.* Can't make it this Saturday?  You can enter to win a free voyage (and a free nautical inspired micro tattoo while onboard)* now through November 16 by visiting www.virginvoyages.com.
*Airfare not included, other legalese and details can be found at virginvoyages.com.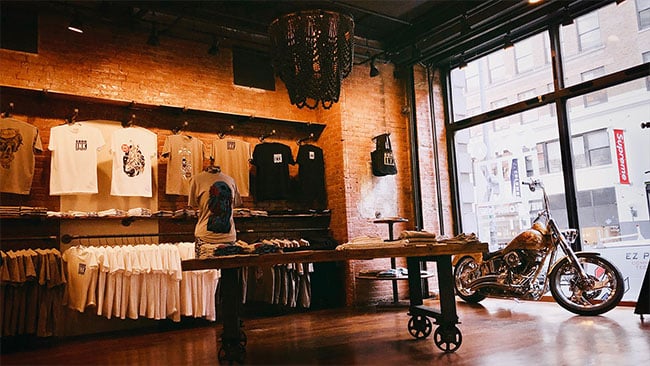 Billy's Take
This idea will certainly get a ton of press, but the true test will be in whether it sticks around.  Initially we were skeptical, because we don't generally associate cruising with getting tattooed, but go to any tourist hot-spots and you'll find loads of tattoo shops ready to help people make their vacation impossible for forget.  Further, the last decade has seen a rise in not only how many people get tattoos, but the appreciation for big-name shops and artists.  Virgin seems to be embracing all of these factors, along with the idea their their target demographic will be receptive to the idea.  We have to wonder if this won't be much more popular at the end of sailings though, as while tattooing over sunburn doesn't sound like fun, you really shouldn't go into the ocean after being freshly inked either.  This would be a consideration not just for the adventurous and newly-inked, but to those who may spring for the permanent makeup treatments.  These treatments aren't new to shore-side salons, but could be an interesting addition to even more conservative lines if this proves a success.  Will I get one?  It would certainly make for a good story...or post...or podcast.