Author: Bill May 17, 2019, Updated: February 6, 2020
Alaskan cruises visit many small towns and in general they've no shortage of ways to take in the beautiful scenery.  The largest city you might visit when cruising Alaska is the capital city of Juneau.  While visiting the capital may lead you to look for adventures in the city, beautiful Mount Roberts can be enjoyed in several ways, and is just steps from your ships gangway.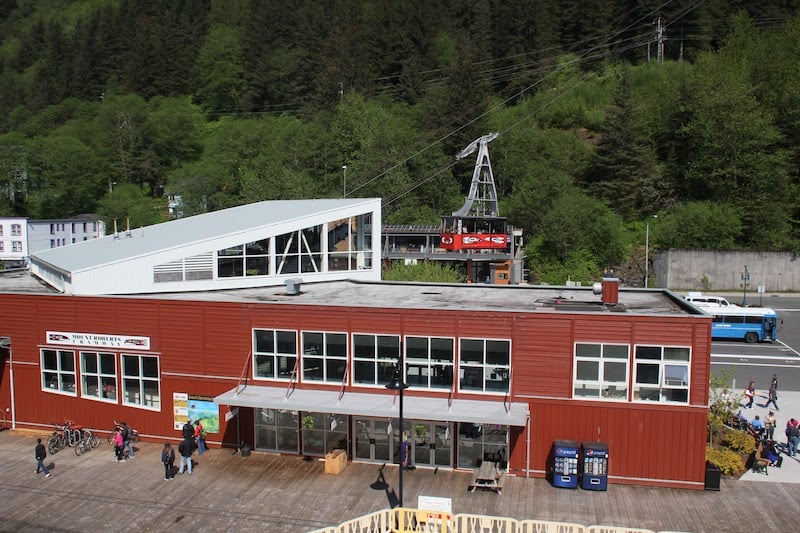 The Mount Roberts Tramway
About the Tramway
The Mount Roberts Tramway is an aerial tramway that runs five minute trips from the cruise port to the Mountain House and station near the top of the mountain - right by Mount Roberts Nature Center and Timberline, a bar and restaurant.  Operating since 1996, the tramway offers not only a quick way to get to beautiful views atop Mount Roberts, but also provides a really interesting perspective as you glide above the trees at a steep angle, while remaining safe and comfortable.  The design of the tram and stations make it easily accessible for guests in wheelchairs or with other mobility issues.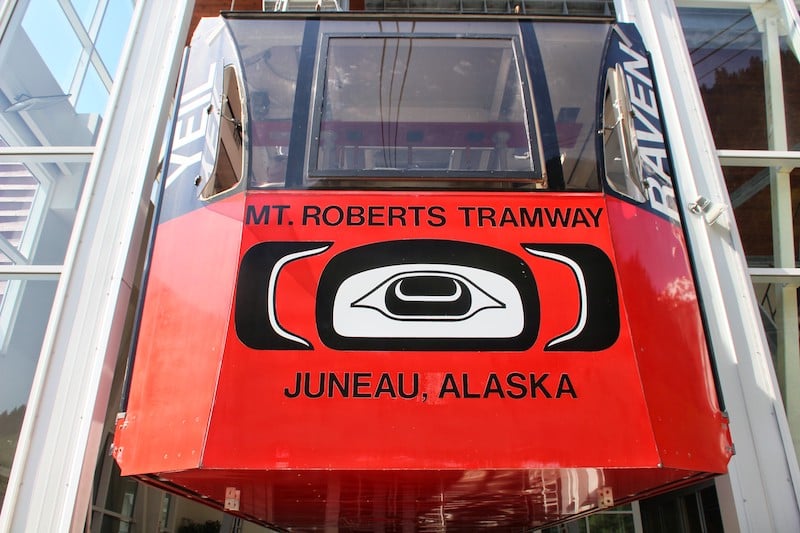 We enjoyed Alaska on our cruise aboard Oceania Regatta.  Check out photos and information about this beautiful ship - she's one of our favorites!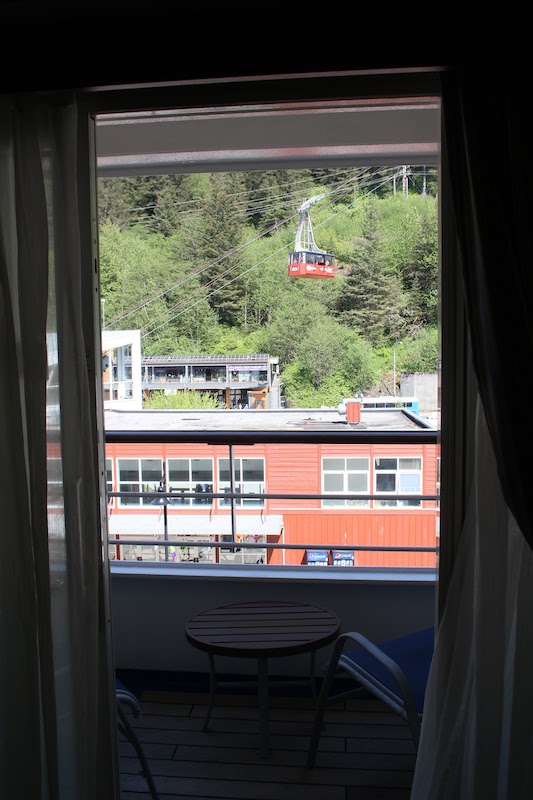 Tramway Hours and Costs
An all day ticket on the tramway may be as steep as the climb at $35 for adults and $18 for children - children two and younger are free.  Despite the high price, we were happy to pay it on our visit to Juneau, as it offers an experience you just can't get elsewhere.  For those who chose to hike up to the tram station (we'll cover this in a moment), tickets down the mountain are available for $10.  If you happen to be staying for a while, seasonal passes are available.
To get a ticket you simply walk into the station and pay via cash or credit.  Your ticket in hand, you're just a few more steps to the loading area.
Hours vary day to day, but as a general rule if cruise ships are visiting, the tramway is operating.  During the summer it's common for the tramway to start running in the morning or early afternoon and continue until 9pm or so.  You can call 907-463-3412 to confirm hours and check for weather-related closures.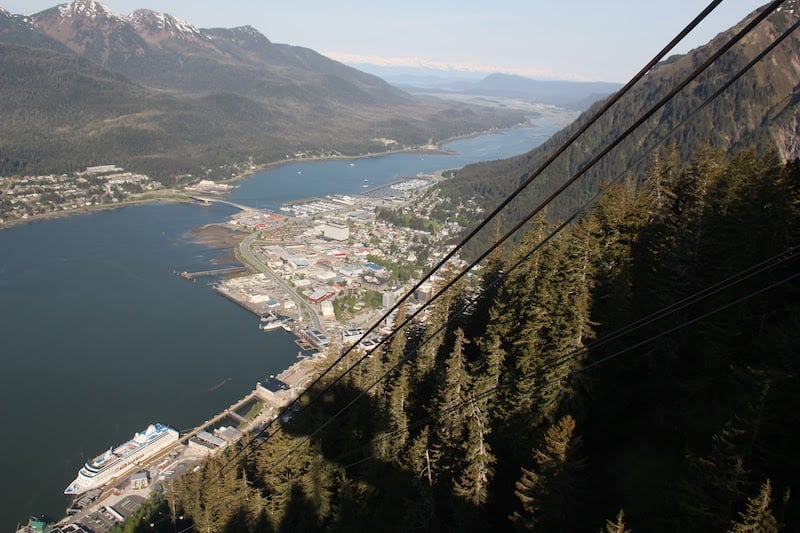 Hiking Mount Roberts
Your hike on Mount Roberts can start as soon as you get off the ship if you choose, as instead of the tramway, you're able to walk your way up from the cruise terminal to the Mountain House above.  We opted to take the tram though - partially for the experience, but partially so that we weren't too tired from the rather steep ascent to continue our exploration at higher altitudes.  However you opt to get to the Mountain House and surrounding area, once there you'll find places to get information, and a snack or drink.
Mount Roberts Nature Center
The Mount Roberts Nature Center has displays and information about the local flora and fauna, as well as hiking maps, and helpful experts on the wildlife and trails.  Additionally they offer souvenirs and local crafts.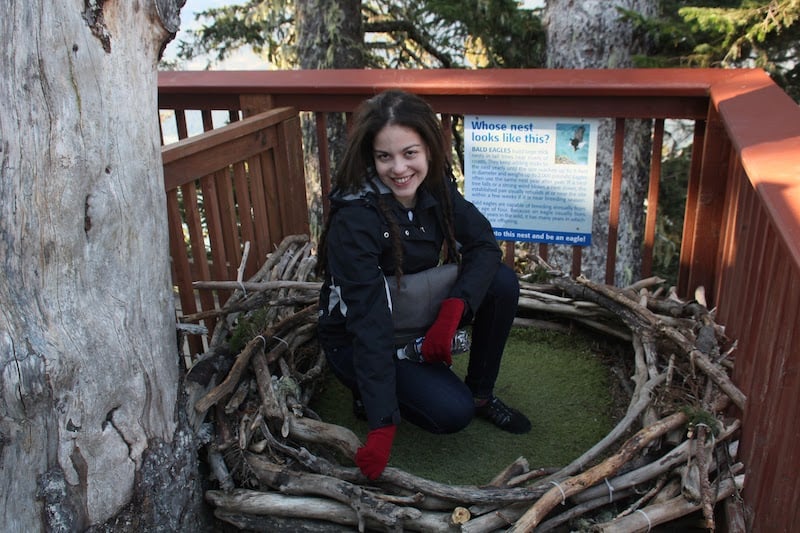 Timberline Atop Mount Roberts
I've been lucky enough to visit many beautiful places, and so long as it doesn't detract from the local experience, a nice bar always makes a beautiful place even better.  Timberline is a bar and restaurant that has a wide variety of local beers (and wow - Alaska and British Columbia have some great beers) as well as locally inspired cuisine.  The restaurant has large windows all around and the woodsy theme you'd expect from a tree-top lodge.  You can view the menu by clicking here.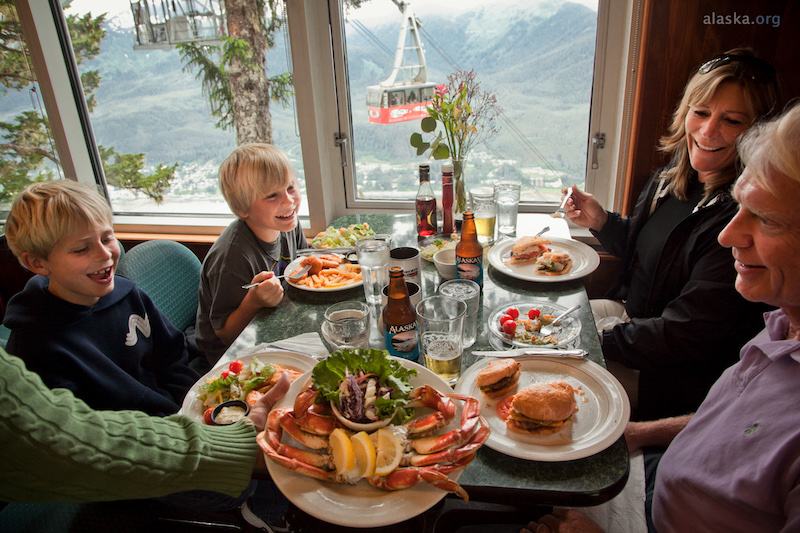 Hiking Trails atop Mount Roberts
There are a number of trails that start just outside of the Nature Center, and the staff at the center can guide you to the right one for you - as some are quite level and easy to walk (there is even a fully-accessible trail), while others involve slightly rougher terrain.  Either way, you should absolutely bring supportive waterproof shoes.  Even in the summer the mountain has snow as you hike to higher elevations, and the melting snow can make some parts particular muddy and slippery.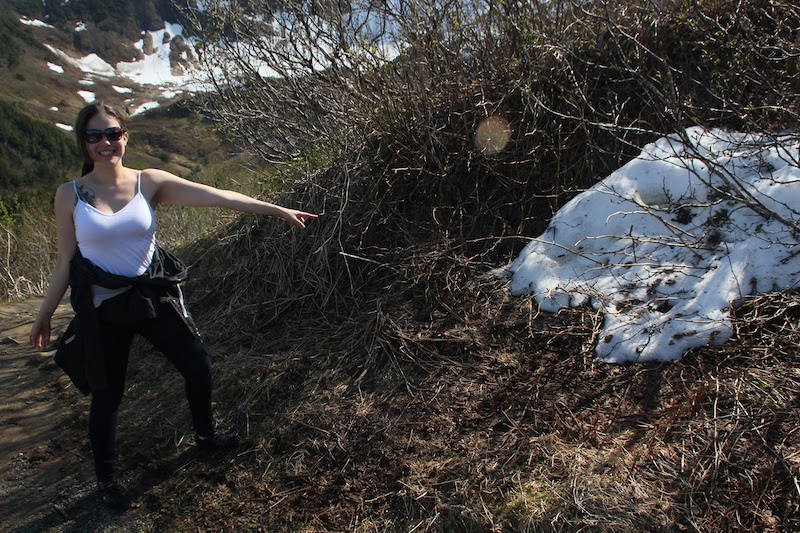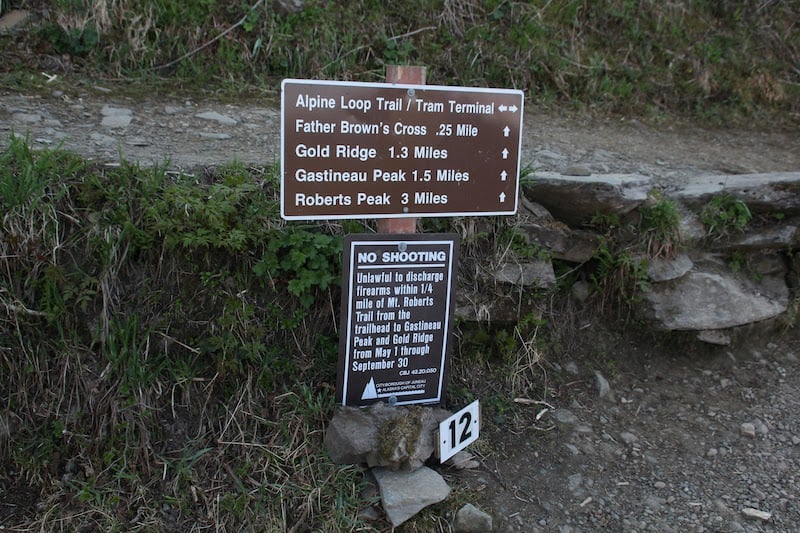 While the trails are well marked, we'll likely bring a map next time, because the natural beauty is such that paying attention to the signs was not our strong suit.  Additionally, we set out to go for just a short walk but ended up walking at least five miles - maybe much farther.  Around each turn it just seemed more beautiful than a moment before, so we continuously extended our journey.  Quite a few parts of the trail have decks or other areas you can stop, grab some photos, or even sit for a moment.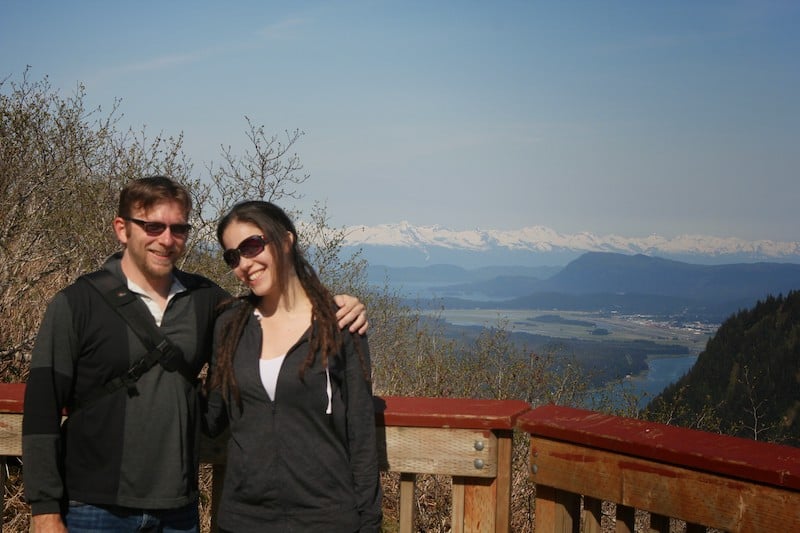 If you're feeling adventurous, one of the longer trails takes you high up to a point called Robert's Peak.  From here you can see clearly down to the cruise terminal on one side, and the other direction to the other end of the fjord.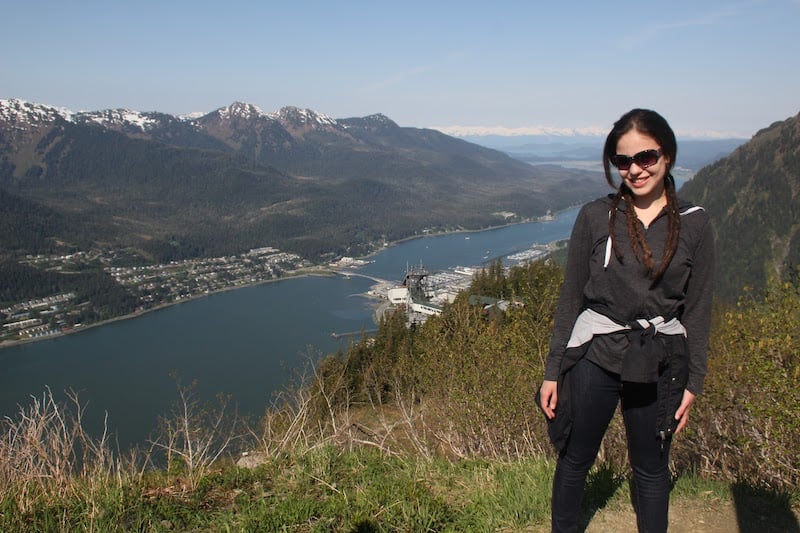 Wrap Up
Enjoying the tramway, trails, restaurant, and nature center at Mount Roberts is as easy as walking off your cruise ship while in Juneau.  It is of course, not the only thing to enjoy, as Juneau is the second largest city in the United States (by land area).  Start your day early (and dress in layers, as it warms up quickly) and hit the trails, but if you have time afterward, you can walk to the state capital, enjoy local restaurants, and take any number of tours - but we'll bet none offer views like this.