Author: Audrey November 4, 2023, Updated: November 4, 2023
Alaska always had that mystical appeal in my eyes. I had often dreamed of its awe-inspiring landscapes and formidable fauna. After spending most of my adult life sitting on school benches with my nose in my books, I finally got to plan my first "adult" vacation and my heart was dead set on visiting the Final Frontier. I was only recently introduced to the wonderful cruising world, yet, exploring the 49th state by sea seemed like the obvious choice.  
I wholeheartedly believe that to avoid deception, one should maintain realistic expectations at all times. As the trip got closer however, I couldn't help but project myself in the surreal Alaskan environment.   Lucky for me, all of my expectations were not only met, but exceeded!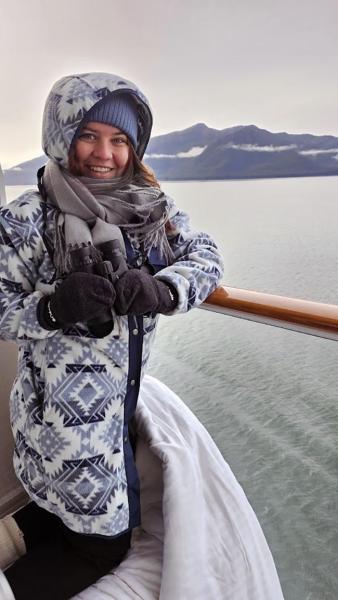 Boarding NCL's Encore on Oct 8th 2023, I was highly anticipating my vacations; febrile for a tad of new cultural and visual discoveries, but mostly longing for peace, rest and silence. Now looking back on this incredible journey, I thought I'd share the 5 most incredible ways in which taking a contemporary Alaskan cruise ended up exceeding all of my expectations. 
1. Mindfulness Unwinding (and all of the other trendy self-care terms)
I feel fortunate to be where I am professionally.  Still, my day (and evening, and night) job as an emergency veterinarian is packed with action, entails loud noises, is emotionally demanding, involves frequent sleep schedule changes and occasionally, retrieving a child's homework... No wonder that for weeks before this cruise, all I was dreaming of was the feeling of the cold wind against my face, the delightful sound of the waves crashing on the bow of the ship, the warmth of a fresh cup of coffee in my hands and the comfort of a blanket to be wrapped in.  In that sense, boy was I spoiled!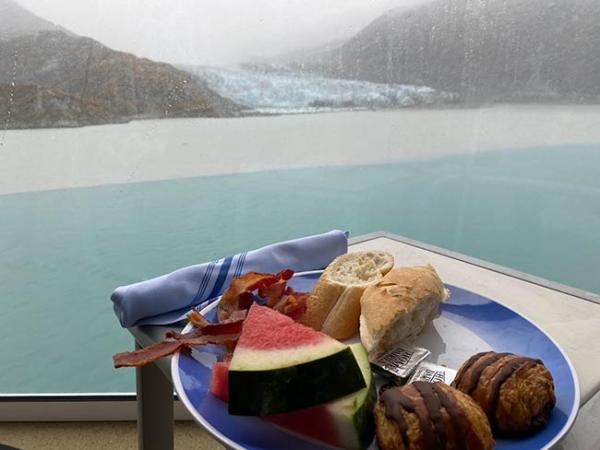 Needs to decompress and reinvigorate vary greatly from a person to another. For me personally, having access to a (very) early breakfast and settling in the Observation Lounge to witness the sunrise over beautiful Alaska was unparalleled. Letting natural light guide my sleep schedule also turned out to be very healing.
Most days, probably because of the cool weather, the outside decks were quiet and I got to sit on my own to rediscover a classic I had only previously read as a teenager ("Looking for Alaska" - what a concept!)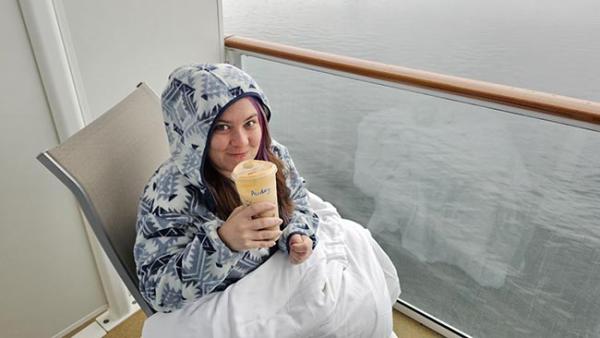 The ship had plenty of quiet nooks and crannies for me to escape the crowd and rest, but having access to a balcony from my own room allowed me to truly enjoy the sights and sounds nature had in store for me over our journey.  Thanks to my affable room attendant, I was able to relish all of it in the comfort of my own balcony duvet!
I genuinely lived the dream. 
2. No formal dress code
Every cruise I've had the privilege to be on before this one had been much closer to the equatorial line. Beside making packing much easier, the predictability of the weather also allows to plan for dressing up in the evenings. This cruising tradition is something  I've come to enjoy quite a bit. I was however glad to put it aside completely for my Alaskan cruise! Don't get me wrong, everyone is welcome to dress as they see fit, but on NCL, no dress code is enforced. Concretely, what that meant is that I could get an early breakfast in my jammies and wool socks, spend my days in joggers and keep my tuque on evenings when my hair was acting out without anyone batting an eye. 
Throughout the whole week, the only thing I really had to concern myself with was dressing comfortably and warm enough to enjoy my vacation to the fullest. As I tend to be the type to worry about what may or may not be appropriate to wear, it felt refreshing and liberating to only care about which soft sweater I felt like wearing at any given moment!
3. We lucked out
There's no other way to put it: as much as you may plan for your trip to go your way, there's always things that'll fall out of your control. One of those things is the weather. We purposefully chose to sail at the end of the season, which greatly increased the chances of rain and colder weather. Be that as it may, the sun ended up following us around to every stop during our week!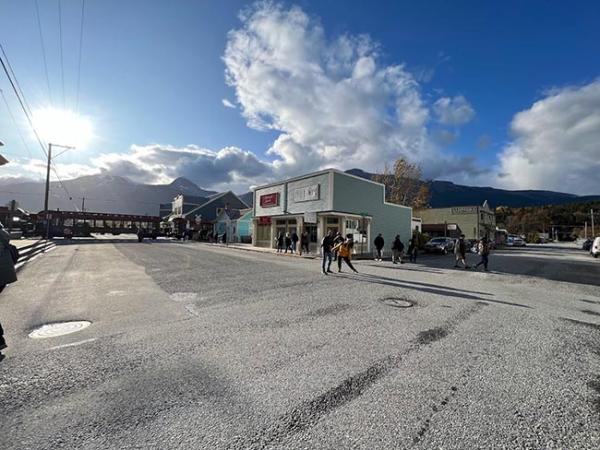 The rare moments of rain and rough seas only occurred on our sea days. As I was looking forward to that kind of cuddle weather, I made sure to enjoy every single minute of it as well!
We've also been blessed when it comes to wildlife encounters. These were unarguably the highlight of my trip. My everlasting child's heart melted with every new sight! On my very first morning at sea, I spotted a pod of orcas. We've seen countless whales (one of which breached continuously right under my balcony), seals and otters. While walking back to the ship after dark in Juneau, we also got to witness two wild minks fight. It was so mesmerizing I almost ran into a deer. Literally*.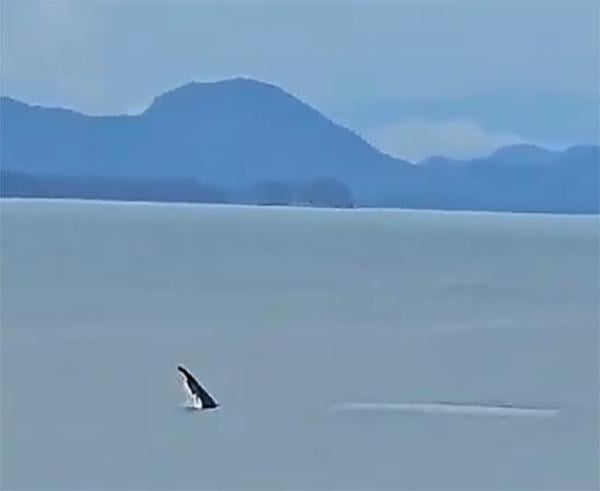 *No animals or Audreys were harmed during our adventures.
My only regret, and then again something that was entirely outside of our control, is that I didn't get to see the northern Lights. We kept track of our best chances to observe them over the week via the My Aurora application. Unfortunately, covered skies didn't allow for remarkable celestial visions.  
Although it was a bit disappointing, it gives me a great excuse to visit Alaska again soon! 
4. Flexible Schedule
Since rest and self-care was my main goal through this vacation, I allowed myself to take time on my own and go to bed early as often as I needed. Albeit soothing, I was afraid it might make it harder for me to participate in a lot of what the ship had to offer in terms of entertainment. I was wrong!
Early in the week, we were unable to attend the silent disco because of conflicting diner plans. I was disappointed to miss such an event as I've grown to like those quite a bit! To my pleasure, I realized several silent discos had actually been planned through our trip to ensure a maximum participation. A few days later, my friends and I were shaking our wool-covered booties to the rhythm of our favorite songs at a very decent and individually controlled volume!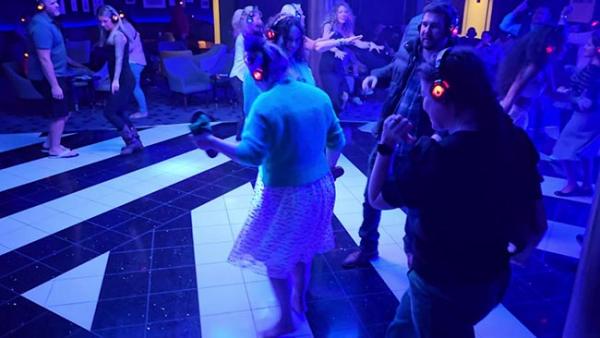 The same was true for most of the entertainment. Several representations of each comic and show onboard were offered. On the flip side, on our last night, we were also able to change our restaurant reservation last minute to accommodate the final show we hadn't made time for up to then. 
While on this topic, let me just highlight the quality of Encore's show "The Choir of Man". While not a breaching whale, that is definitely a delight you should ensure you don't miss if you are to sail on this ship!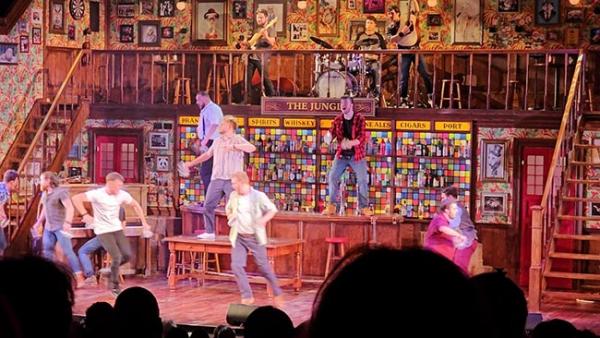 5. Sharing the fun 
As incredibly cliché as this may be, getting to share almost every part of this experience with friends I love made it so much more special. Traveling on my own is truthfully something I appreciate, but vacations surrounded with nice and witty people only multiplies the opportunities to have a good laugh and create lifelong memories (as well as the number of pictures you end up with). 
Whether we were hiding duckies, sipping coffee, soaking in hot tubs, celebrating a special birthday (hi Krystall), discovering new lands, tasting delicacies or just goofing around, they truly made my vacation fantastic and memorable. 
Find out more about our shenanigans on Encore and in Alaska through Billy's vlog on CruiseHabit's YouTube channel.
Thanks Billy, Krystall, Larissa and Mario <3
I'm looking forward to next time!